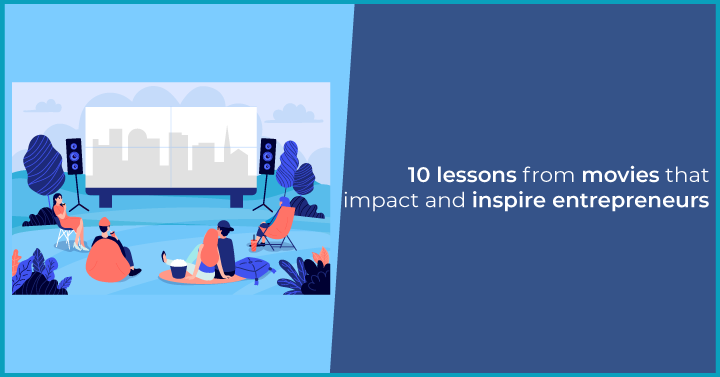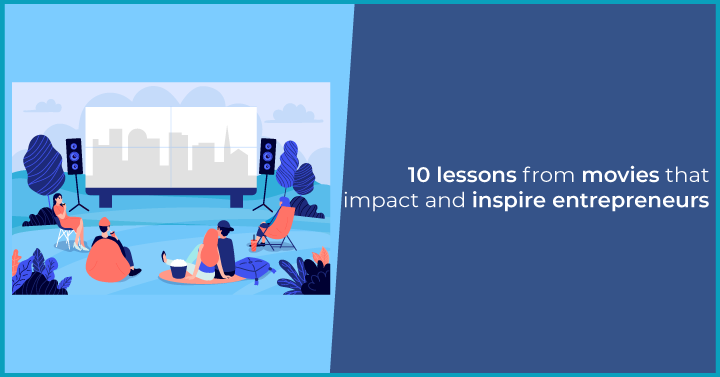 Have you ever felt uninspired or mentally blocked? We've all been there. It's even more acutely felt by entrepreneurs who are in the midst of putting the business plan they doodled on a napkin into action.
Encouraging you to relax and take your mind off your business troubles with a bunch of movies may seem counterproductive. But here's the thing; there are lessons from movies to inspire every struggling entrepreneur. It's about knowing what to look for.
From historical figures and autobiographical plots to dramatized biopics, watching the trials and triumphs of other people who have walked that path can help you rethink the way you're going about your own plans, too. Everyone can relate to trying times, more so when it's presented visually onscreen, with actors emoting feelings clearly through expression. It's the raw emotion you connect to, which influences your views on the ending. Business lessons from movies are taught even by secondary characters and villains. You now know people come in different shades!
Some days, things just don't go the way you planned for. And that's when you need a reminder that good days lie ahead.
As a movie buff, I thought it would be fun to dissect the best motivational movies based on the lessons they've left viewers with. Without further ado, here is a compilation of releases that are sure to put you in a better mood and help you refocus your priorities!
10 Inspiring Movies For Entrepreneurs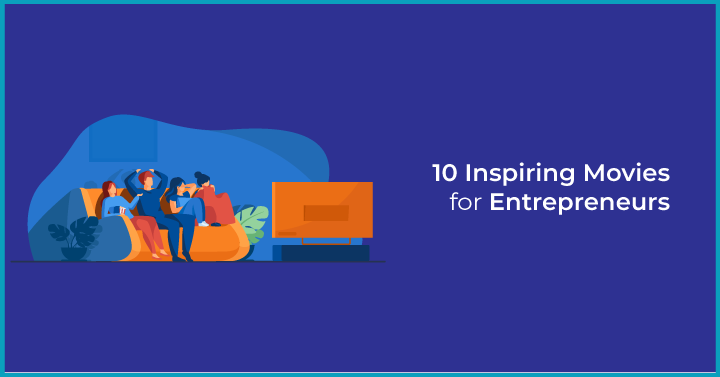 1. The Lion King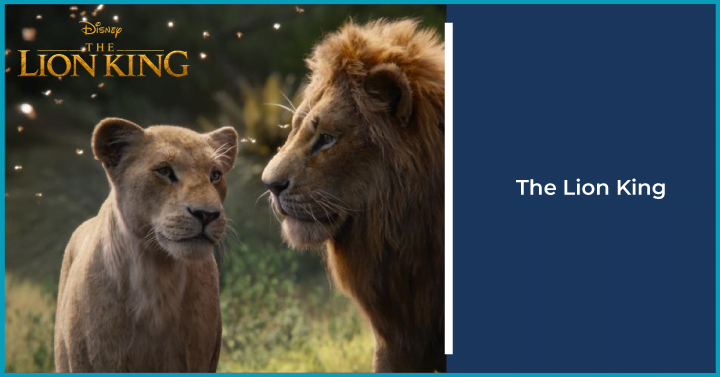 Summary
I know it's a little unconventional to start a movie list with a 1990's children's favorite, but bear with me for a minute. The Lion King follows the story of Simba, a lion cub who is ceremoniously welcomed into the "Circle of Life". He gets tricked into thinking that he's responsible for his father's death and subsequently runs away from the pride.
Movie moment
When Simba and his childhood playmate reunite, he finds out about the Pride falling on bad times at the hands of his uncle, Scar. The movie moment for me was definitely the confrontation between Simba and Scar. It's here that Simba learns the truth and reclaims his rightful place in the pride.
Why does this make the 'cut'
Besides taking calculated risks and educated guesses, entrepreneurship requires a person to brave setbacks. Up until the revelation, Simba ran away from his past to forget it. However, he is made to see that while the past cannot be undone, the future can be changed and he sets out to do so by returning back to the Pride. It's a lesson to all entrepreneurs that facing one's own fears is the first step to owning and overcoming it.
2. The pursuit of happyness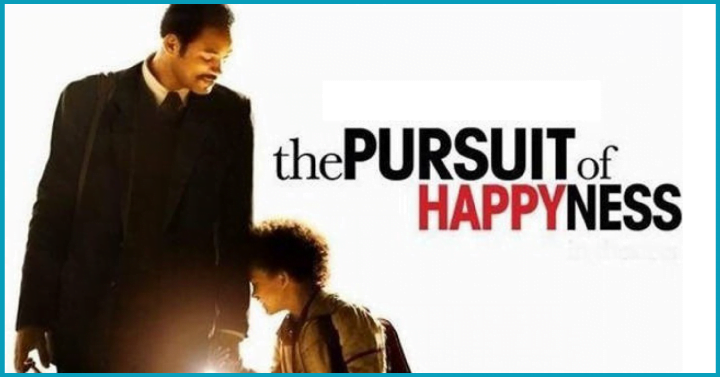 This biopic on American businessman Chris Gardner's real-life struggles grossed box offices worldwide when it released in 2006. It follows the life of a single, working parent struggling to raise his son while living on the brink of homelessness.
Movie moment
There are two moments here that are worth mentioning. One, is when Chris tells his son not to let anyone tell him he cannot do anything. Although he struggled, he kept it hidden from his son and coworkers while he hustled to make a living. And two, is when the unpaid internship ends and he is offered a full-time position before moving on to found his own brokerage firm.
Why does this make the 'cut'
The pursuit of happiness makes you appreciate how much a single, working parent struggles just to make ends meet. It also reveals how bad choices can impact relationships. It can lead to people leaving you and reassessing a reason to live for. In a way, the lessons from movies here is that we all struggle( some far more than others), and only perseverance and a strong belief in self can power you through the worst.
3. Joy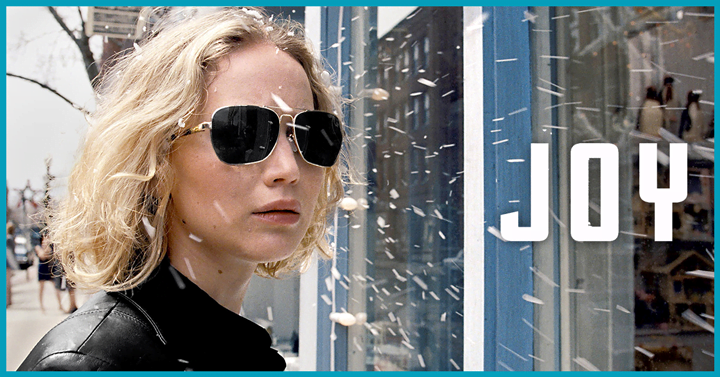 Summary
Joy follows the story of real-life businesswoman and Miracle mop inventor Joy Mangano. It starts with Joy's dysfunctional family life and how an idea for a self-wringing mop leads Joy to start a business and partner up with a manufacturing company that ill-advises her.
Movie moment
For me it was that payback moment when Joy confronts the manufacturing company's owner and threatens to file lawsuits for unlawfully patenting her invention. The epilogue shows how Joy goes on to sponsor other inventors while supporting her father despite his and her sister's attempts for joint ownership of the firm.
Why does this make the 'cut'
Most entrepreneurs aren't taken seriously in the beginning and are discouraged from pursuing an idea for many reasons. And what typically happens, is that the very same people who mocked or showed no support are the ones who want a cut of the profits when the business takes off. lessons from movies like these inspire entrepreneurs to keep believing in themselves and to do what it takes to prove one's calibre.
4. The Social Network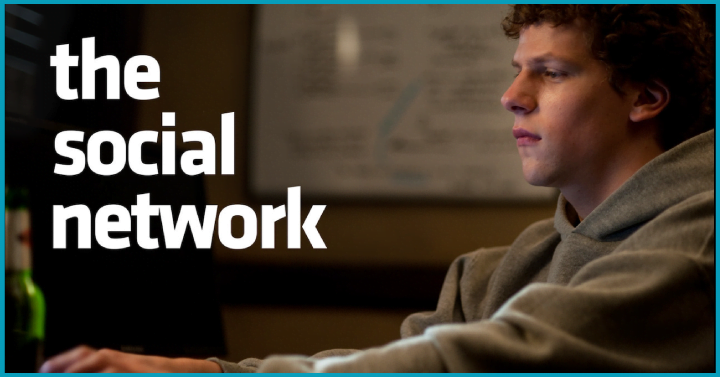 Summary
The social network is based on Mark Zuckerberg's time as a Harvard undergrad. It depicts the rise of social media into the billion dollar enterprise it is today. It was voted 27th among 100 in the best of the 21st century's list of movies to watch.
Movie moment
An intellectual property theft lawsuit is filed against Zuckerberg, which is dismissed without evidence and a lack of interest in the concept. However, the term "facebook me" garners interest and sees the networking site expand to other continents.
Why does this make the 'cut'
The Social network addresses fears of entering into business with a partner and how misunderstandings and decisions made without prior consent can derail even the best of friendships. In other words, it shows the ugly truth of life and how important it is to not lose sight of relationships even when working towards a goal.
5. Glengarry Glenn Ross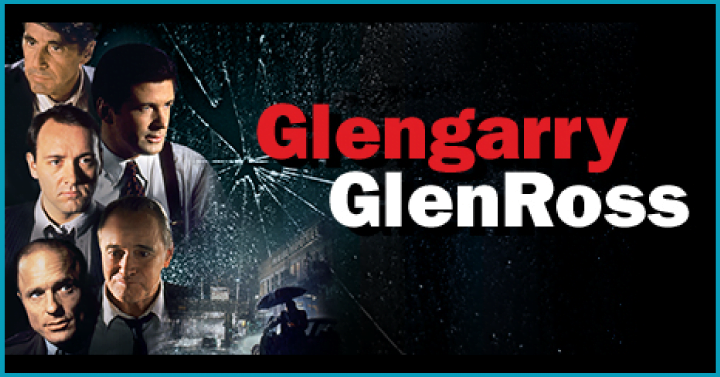 Summary
This movie shows the pressure of meeting targets during a volatility in real-estate sales season.
Movie moment
Alec Baldwin's "Coffee is for losers" speech on the floor when he teaches people how to sell and not to sell. He talks about tactics that get customers to sign on the dotted line and what it takes to come first place.
Why does this make the 'cut'
Who would not want to see a movie that stars Alec Baldwin, Kevin Spacey and Al Pacino? Besides this, the movie talks about survival tactics in a high-pressure environment so that you don't burn out.
6. Moneyball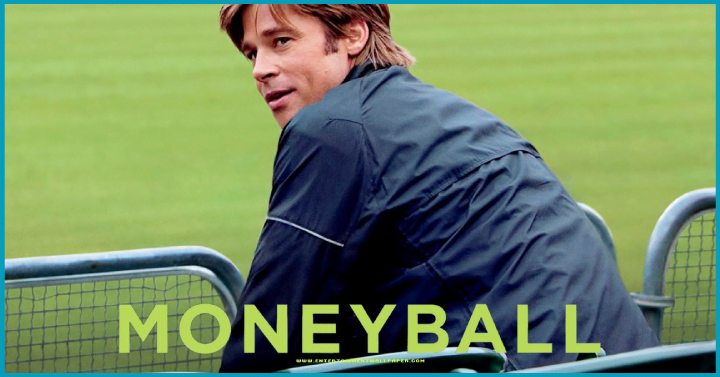 Summary
Moneyball is a sports story on the 2002 Oakland Athletics baseball team and stars Brad Pitt as Billy Beane, the manager who drafts members to his team using computer-generated insights.
Movie moment
When Billy remarks how the team winning the game can change the field.
Why does this make the 'cut'
The struggles Billy goes through to recruit members and to convince the panel the reasons behind his decision is something we can all learn a lesson from. He persisted even when he was questioned about offending talent scouts. The lessons from movies is inspiring for those who believe there's more than one right way to get the job done.
7. Jobs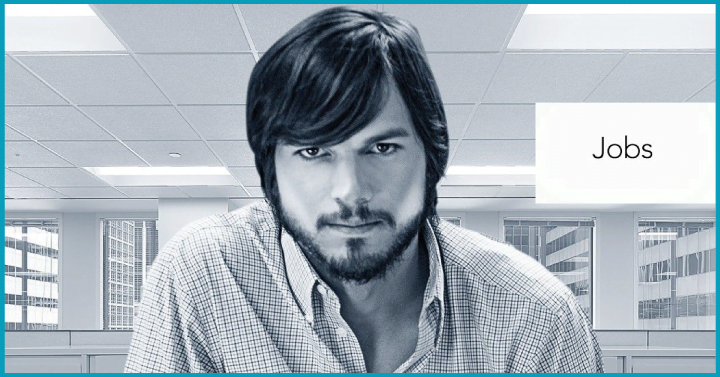 Summary
Jobs depicts how Apple Inc was founded and is based on its founder's real-life story. It talks about his successes, personal relationships and eviction from the very company he founded.
Movie moment.
When Wozniak demonstrates hooking up the computer terminal to a TV, leading to a prototype of the first Apple product. I like how it captures Steve's passion and rebellious spirit as he sees potential to market the technology revolution.
Why does this make the 'cut'
I personally found Steve Job's background quite interesting. He was encouraged by his adoptive parents to tinker around with tools which led to a lifelong passion for product innovation. One of the lessons from movies like these biopics is to never let your true passion die out.
8. The Bucket List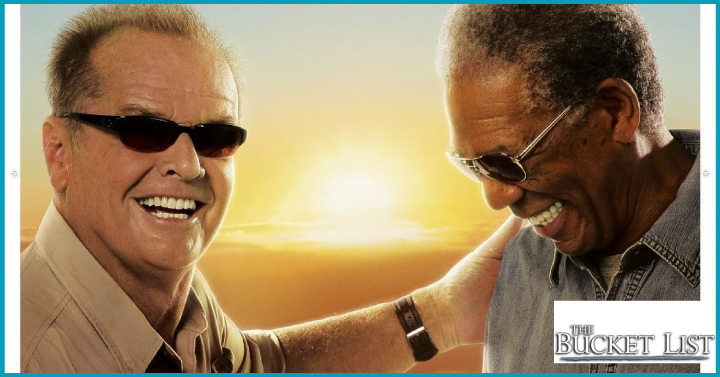 Summary
The Bucketlist is a story of two men who are terminal with cancer. They cross paths in the hospital and decide to live out the rest of their days with a bucket list.
Movie moment
When Jack Nickolson tells Morgan Freeman that they can do this. The journey and revelations along the way cement the two men's friendship.
Why does this make the 'cut'
An important lesson from this movie is that getting your business off the ground should not come at the cost of missing out on what life has to offer. It's okay to make a list of things you'd like to try and subsequently take a sabbatical to ensure you do them.
9. Pay It Forward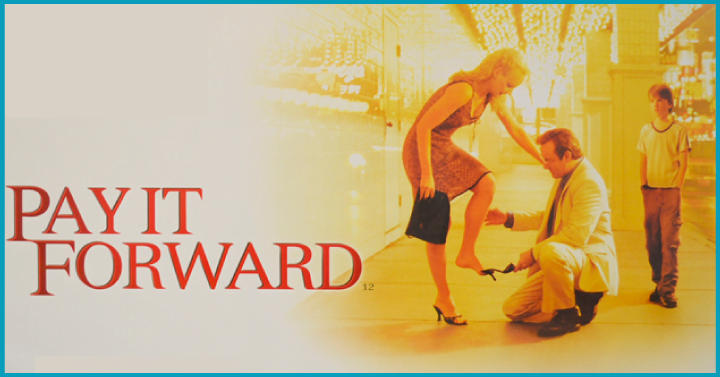 Summary
Pay it forward is a goodwill story featuring a young boy who wants to create a movement. It unveils the acts of kindness to random strangers who need help with something.
Movie moment
I like how Kevin Spacey's character is introduced as the social studies teacher who assigns the class the task of finding strangers to be kind to, and Trevor's mother's discovery of Jerry, the homeless man in her house.
Why does this make the 'cut'
The speech about taking the things you don't like and changing them is a message we all need to hear. It shows how paying it forward helps one accumulate good karma by simply helping others out and being more understanding of the struggles others go through. An entrepreneur can become an empathetic leader down the line only when he or she is able to recognize that the world can benefit from kindness.
10. The Devil Wears Prada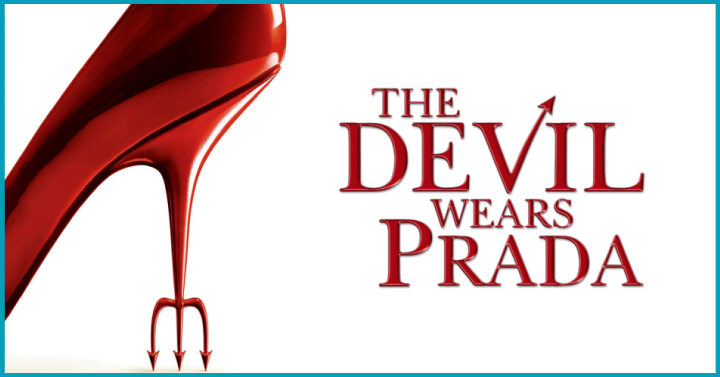 Summary
Based on the book by Lauren Weisberger, the Devil wears Prada is the story of fashion assistant Andy's experience working for Miranda Priestly, editor-in-chief of runway magazine.
Movie moment
When Andy makes the choice to leave the world of fashion behind following a bitter revelation by Miranda on how she herself has changed. The scene where she lands another job and is recommended by Miranda herself is something I still remember to this day.
Why does this make the 'cut'
I like how the movie shows Andy's priorities and outlook changing as she gets pulled in deeper into her work. It's a reminder to all entrepreneurs out there that the priorities shouldn't make you lose sight of who you are at the core.
What should I watch to be inspired?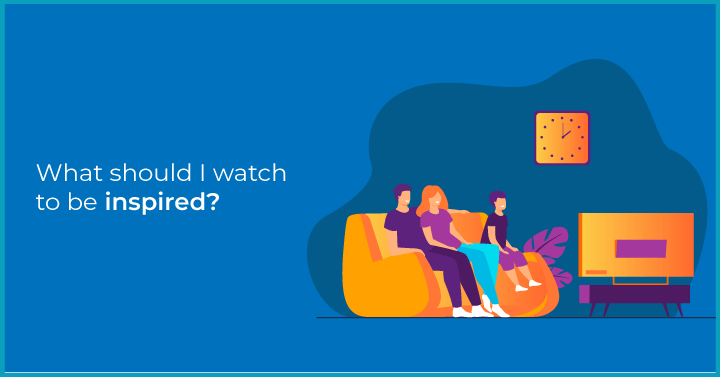 All of these movies have an important message to carry, from believing in oneself when hustling to remembering to slow down and appreciate the finer things in life. My personal picks would be The Pursuit of Happyness, Jobs and Joy.
I'm sure there are other great movies out there that I might have not watched. Which one do you think merits being talked about here?