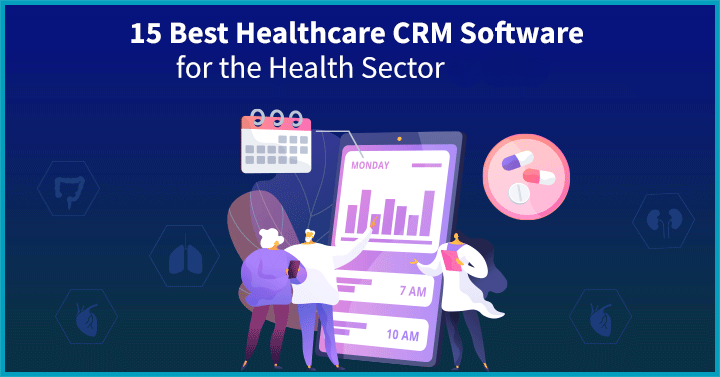 Healthcare organizations or hospitals deal with hundreds of people a day or even more. In order to maintain crucial databases on patient acquisition, their management and retention, you'll need a centralized system like CRM software. The best health CRM software will transform the way your organization handles data. Whether you are in the medical technology field or other healthcare firms, it's important to ensure data is secure, organized, and easy to access. 
To make an informed choice from a range of healthcare CRM companies offering you their platforms, take a look at 15 of the best health CRM software available out there.
1. What is a CRM System in Healthcare?
In layman terms, a healthcare customer relationship management system (CRM) is designed for specific use in healthcare facilities such as hospitals, laboratories, medical centers, or clinics. The primary goal is to acquire, interact and retain clients or patients. A comprehensive CRM system uses best practices through a unified platform to record and maintain medical databases , track appointments or schedules, generate different metrics and reports for analysis 
2. Benefits of Using Health Care CRM
The best health CRM software will provide a multitude of benefits to your organization and team. These include:
Simplify consumer communication: It safely stores patient information and liberates them from filling forms every time they visit. Customer support agents get immediate access to patient's relevant medical information and personnel schedules and can book appointments.
Segment audience by hyper-specific keywords and tags: Browse patient history and retrieve information with the help of specific keywords and tags for medical and research purposes.
CDSS (clinical decision support system): Provides doctors, staff, patients with person-specific information and knowledge in health care such as alerts and reminders, guidelines, focused patient data reports, diagnostic support, etc.
Login restrictions & data security: The software stores all patient data with password-protected accounts and any login from an unknown IP address will be denied. 
Automation of existing processes: Automates regular admin tasks such as entry of new patient information, booking appointments & confirmation, etc. and increases efficiency of operations.
Speed-up decision making: Faster and more efficient reaction to patient inquiries, and improves patient satisfaction by helping them with proactive management of their health status.
Prevent blocks in procedures: Ensures the patient journey from entry, consultation, support, and after care is smooth and hassle-free.
Not sure how you can find software that can give you all of that? No problem, we've compiled the 15 best health CRM software options available to you.
3. 15 Best Health CRM Software for the Medical Industry
3.1 Zoho CRM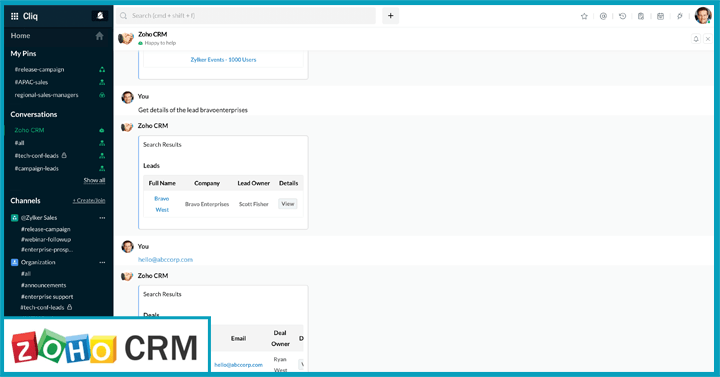 Zoho is a popular option among larger companies and health organizations. As one of the best health CRM software, this is a safe option if you're just getting started with CRM software, as it is simple to set up and manage for your routine processes, giving you more time to focus on your customers. 
Key Features:
Process management: Build your processes into the CRM for your team to follow, set up your rules accordingly, define a process for your team to review incoming information. 
Journey Orchestration: Track each patient's journey and use detailed reports to identify loopholes or delays in every stage and make improvements.
Customization: Customize the CRM to fit your unique requirements. Combine various features you need- collect information, view in different modes and filters, create layouts for various processes, multi-language and multi-currency support, etc.
Pricing Model:
Zoho CRM works on four pricing tiers, listed in monthly GBP cost.
Standard – £16
Professional – £28
Enterprise – £40
Ultimate – £52
3.2 Salesforce Health Cloud CRM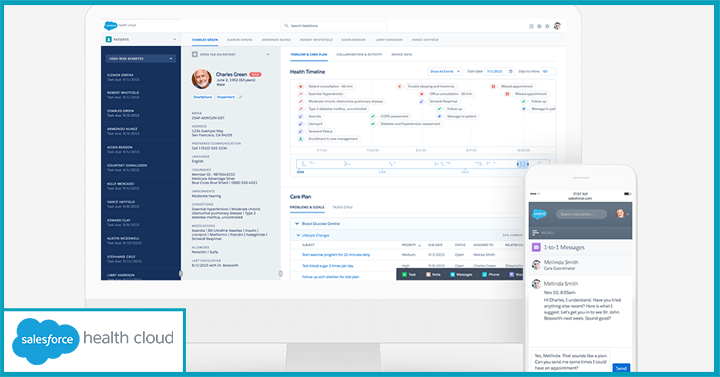 Salesforce Health Cloud is one of the best health CRM software for doctors that's dedicated to specialized healthcare. This platform is dedicated to providing specialist patient management tools as well as an all-in-one experience. Salesforce features mobile-first educational programs that empower your clinicians.
Key Features:
Drive patient outcomes: Empower customer service team to deliver exceptional and personalized patient experience.
Streamlined databases: Keeps all your data in one place and organized in ways that you require.
Mobile-first accessibility: Helps with educational programmes to support patients and dedicated tools to empower clinicians
Pricing Model:
You can try this platform for free but you must request a demo and give detailed information about your needs to receive a price quote.
3.3 LeadSquared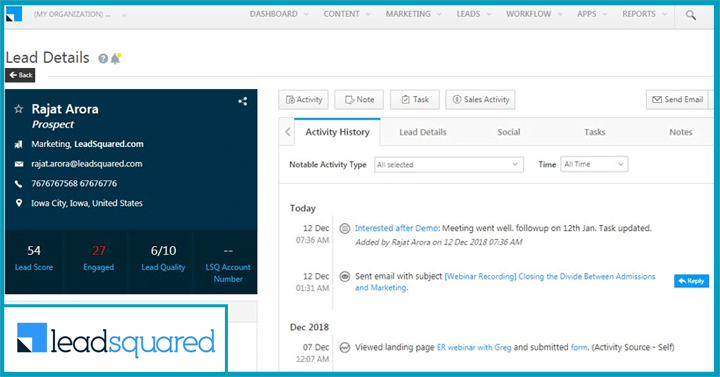 LeadSquared is a platform geared toward the marketing and sales side of the healthcare industry. With zero IT support, social media integration and marketing automations for meaningful and relevant conversations, LeadSquared can be your go-to choice as one of the best health CRM software.
Key Features:
Onsite caregiving: The geo-fencing feature allows agents to check-in within the perimeter of their office, and you can track their location history and offer meeting recommendations based on their geographical data. 
Appointment scheduling: Sync medical appointment scheduler with LeadSquared to ensure seamless and reduced wait times.
Customer portal: Upload documents and e-signatures without any hassle with LeadSquared's paperless system.
Pricing Model:
LeadSquared provides a free trial as well as four pricing plans depending on your needs.
Lite – $25 per user per month
Pro – $50 per user per month
Super – $100 per user per month
Ultimate – Custom quotes only
3.4 Veeva CRM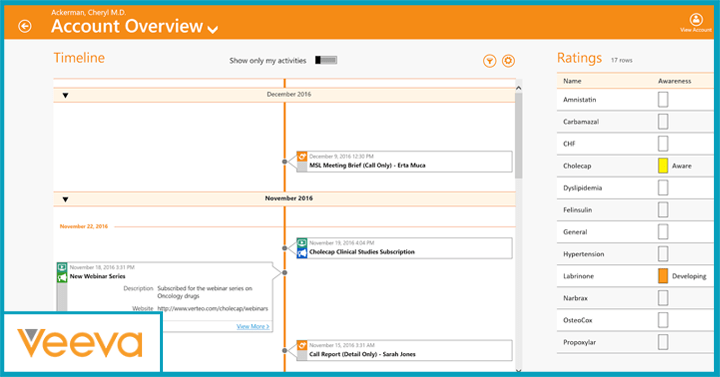 One of the best health CRM software in market places,  Veeva is dedicated to life science and healthcare users. It's also optimized for use across all devices including laptops, tablets, and mobile smartphones, which can be useful for teams that are based in different locations or on the move.
Key Features:
Vault MedComms: Easily manage all medical inquiries in one place. 
Medical CRM: Helps engage with patients and stakeholders digitally and in-person
Pricing Model:
Pricing starts at $200 per month per user, but highly depends on the products and services you choose. 
3.5 eHospital CRM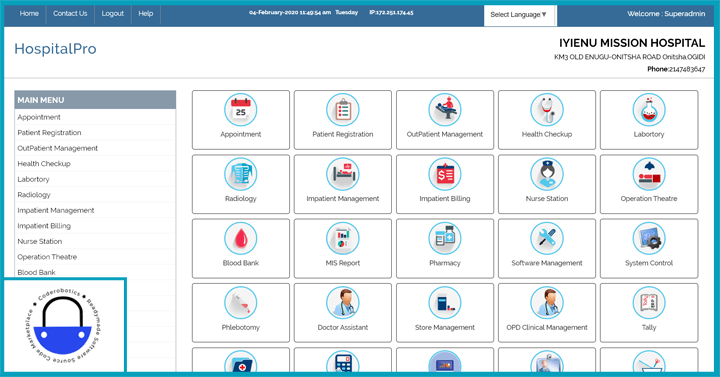 eHospital is one of the top healthgrades CRM and is able to fit perfectly into your existing routines and practices. eHospital is created to be an integrated hospital management system, making use of digital records and referral management features that you'd use every day.
Key Features:
Patient management: helps with appointment scheduling, patient registration, health checkup, out-patient management, etc. 
Secure digital medical records: Stores patient records, medical history and other information in one secure place.
Payroll management: Automates payroll, patient billing, and expense management.
Pricing Model:
eHospital requires specific information about your organization to give an accurate price quote.
3.6 Net Suite CRM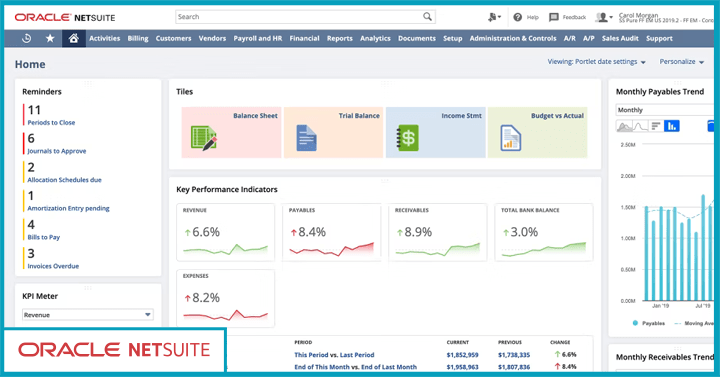 This CRM from Net Suite makes it on the list of best health CRM software as it offers a 360-degree view of your patients, team, and processes. It does this with a full suite of tools including marketing integration, team collaboration, and simplified record keeping. 
Key Features:
Marketing automation: Automate emails and messages to customers for acquisition and follow-up purposes
Partner relationship management: Set up processes to automate admin tasks such as patient registrations and appointment scheduling and reduce wait times
Pricing Model:
Request a product demo of your chosen tools for a quote.
3.7 Leadmaster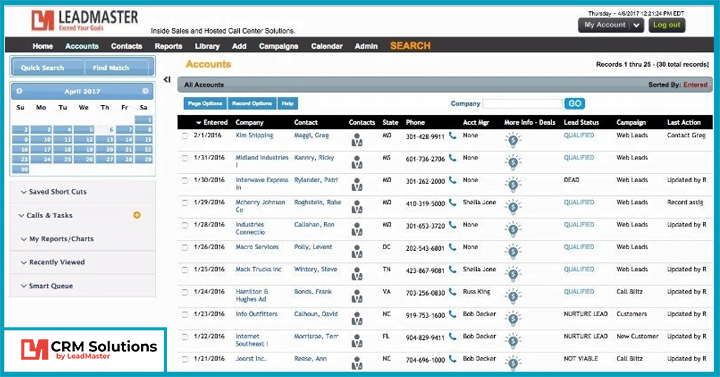 If lead generation, chasing, and onboarding is a priority to you, then Leadmaster is one of the best health CRM software that delivers on the most important parameters. This software features lead analytics tools to help you understand your potential consumers better.
Key Features:
Business rules and workflows: Customize the CRM the way you want and adjust the solution to your needs.
Closed-loop sales reporting: Online sales management system for healthcare with the in-built lead management system.
Lead nurturing: Built-in marketing features, letting you easily manage campaigns and nurture leads.
Pricing Model:
Leadmaster offers a free version and two paid plans.
CRM Xpress – $15 per user per month
Professional – $50 per user per month
3.8 Insightly Health and Wellness CRM
Insightly is the best health CRM software for creating and maintaining crucial consumer relationships. This is a platform designed for organizations that want to cultivate trust with their customers while creating powerful systems around that ethos. It does this through helpdesk features and customer journey tools.
Key Features:
Lead Routing: Track lead information, marketing campaign timelines, emails, etc.  
Centralize data: Capture and store data and create multiple reports in one place.
Workflow automation: Create multi-step business processes with workflow automation. Send emails, alerts, generate tasks, etc.
Pricing Model:
Choose from three tiers. 
Plus – $29 per user per month
Professional – $49 per user per month
Enterprise – $99 per user per month
3.9 PlanPlus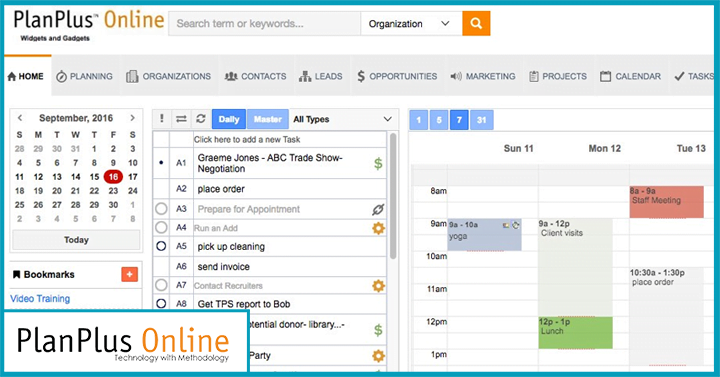 When you're searching for the best health CRM software in the market, don't miss out on platforms that offer CRM as a secondary element. PlanPlus is a productivity software provider primarily but its CRM offering also offers personalized task management and employee culture tools.
Key Features:
Can be used on mobile or even offline: iOS, Android, or tablet – this can be used without an internet connection.
All-in-one cloud based organizations: One place for all your data and records, organized the way you want- in the cloud.
Productivity tools: Use goal tracker, individual effectiveness tools for weekly and daily planning, mission statement builder, and more to build a culture of productivity.
Pricing Model:
PlanPlus provides a free trial, plus two pricing options.
Employees & individuals – $144 per year
Owners & leaders – $350 per month
3.10 VerioMed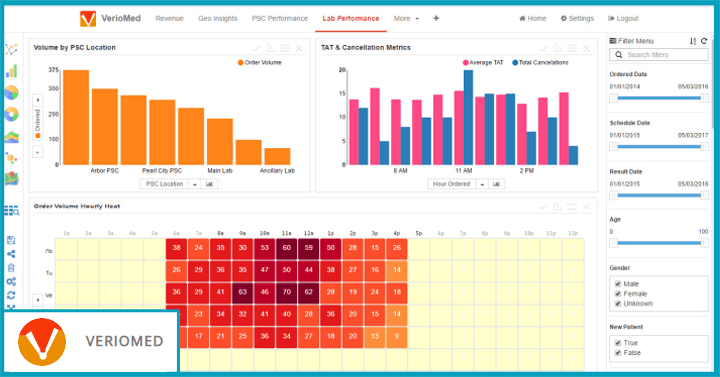 VerioMed is created specifically for labs. With this software, you'll be able to simplify reports, data entry, and client management with a clear and easy-to-use interface.
Key Features:
Improve test utilization: Gain deep insights into your lab and physicians test utilization to implement your utilization strategy for optimization. 
Operations insights: Monitor all sources of data and identify trends and anomalous behavior to alert departmental staff.
Prioritized action-board: Health meter action-board provides a prioritized summary of your clients so you can act faster.
Pricing Model:
VerioMed does not display its pricing but does offer free demos and custom pricing.
3.11 Trail Pharma CRM
Trail Pharma is a market-leading healthcare CRM. It includes features such as pharmacy management tools and individual profiles.
Key Features:
Emphasis on user productivity with intelligent planning
Manage doctor and pharmacist profiles
Automate your sales process
Pricing Model:
Trail Pharma provides a free demo but pricing is given on a quote basis.
3.12 Healthgrades Mercury CRM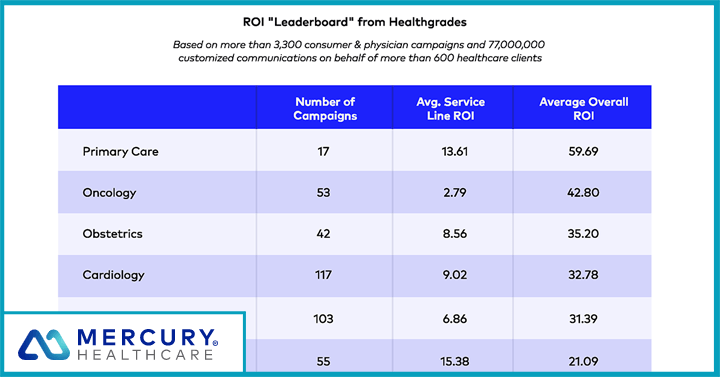 Healthgrades CRM is based upon the original healthcare management software. It's best suited to organizations looking to stay ahead of trends and engage with patients at every step, because it offers AI-powered insights. 
Key Features:
Curated data to optimize engagement: 360 degree views of patients, consumers, and market that are essential for patient acquisition and retention.
Marketing automation tools: Personalized messages to the right customers at the right time, manages engagement across channels with minimal human intervention.
Patient management: Patient-centric omni channel campaigns and workflow tools to motivate consumers to participate throughout their healthcare journey.
Pricing Model:
Healthgrades Mercury CRM does not provide pricing information but you can receive a personalized quote 
3.13 NexHealth
NexHealth emphasizes the patient interaction experience, giving you smart booking tools and consumer insights.
Key Features:
Real-time online scheduling: See doctors' availability in real-time and schedule appointments on-demand from any location or service. 
Automated marketing messages with customizations: Personalized text and email campaigns and embed online booking into patient emails and texts.
Reschedule missed appointments: automate follow-up messages and reminders and never lose any patients to lack of communication.
Pricing Model:
With a free demo to start with, you then have three packages to choose from. However, pricing is by request only.
3.14 Influence Health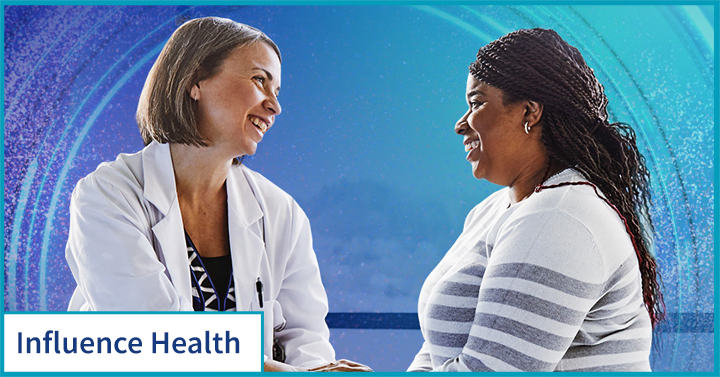 Influence Health is a system created for healthcare marketers in particular. Their process focuses on gathering important data, creating insights, and then giving actionable suggestions with specialist tools. 
Key Features:
Campaign management: Manage marketing campaigns and use tools such as predictive analysis and audience targeting
Medical History Record: A record of patient information and medical history can be entered and managed.
Patient Management: Automate tasks such as appointment scheduling, follow ups and reminders.
Pricing Model:
Influence Health provides pricing by request only.
3.15 Monday.com CRM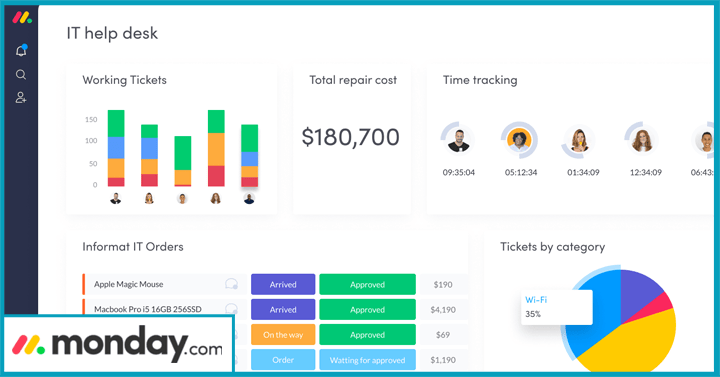 Monday.com offers a hassle-free health CRM software free trial. This platform is a well-known and reliable brand within the health and marketing sectors. It provides a wide range of tools for marketing, team management, and digitized records.
Key Features:
Consumer onboarding: Register new patient information onto the CRM with ease.
Team task management: Allocate resources and update changes in real-time
Campaign planning: Keep workflows running efficiently with marketing automations. 
Pricing Model:
Monday offers a free version and free trial, as well as four pricing levels, listed in GBP.
Basic – £7 per user per month
Standard – £9 per user per month
Pro – £14 per user per month
Enterprise – Contact for a quote
4. FAQs
4.1 Why should I use Health Care CRM in my hospitals?
Managing the many aspects of a hospital environment is complex, to say the least. By using the best health CRM software in a hospital setting, you are able to automate workflows to save time, improve efficiency, and most importantly – create a better consumer experience overall.
4.2 What is the best and the cheapest Health Care CRM?
When it comes to the management of your healthcare setting, you shouldn't use anything but the best health CRM software for healthcare. An underpowered and uninspired CRM system will only hurt your productivity. The cheapest options on our list are:
Zoho Best CRM for healthcare
4.3 What is the top Healthcare CRM in the medical field?
It's especially important to be able to rely on your software in the medical field, as it must be secure, easy to use, and functional on a daily basis. The best health CRM software systems designed specifically for the medical field include: