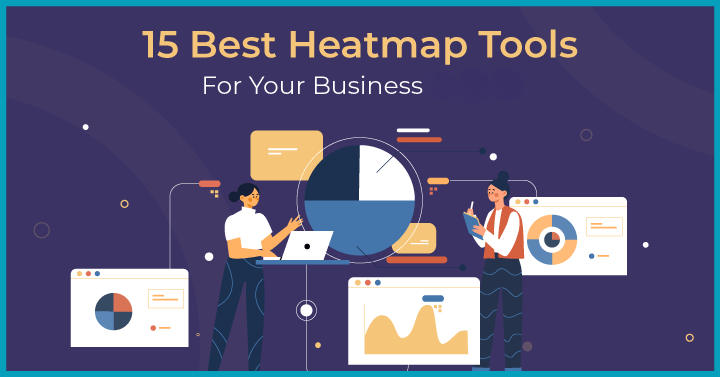 The best heatmap tool for your business will bring noticeable improvements to your company. These 15 best heatmap software tools are some of your choices, and they have a range of benefits. Heatmap software gives businesses important data so that you can make informed decisions that ultimately improve your bottom line.
Many heatmap software tools offer a diverse selection of features. This helps managers and web developers create better web pages that perform efficiently.
1. What Is A Heatmap Tool?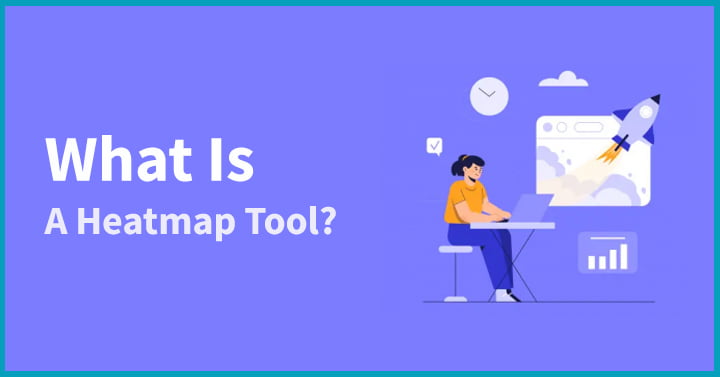 Searching for the best heatmap tool for your business? Looking for a way to easily see how customers interact? Want to learn how to maximize your web traffic? You need a heatmap tool that ticks all the boxes for your company.
But what is a heatmap tool and how can it help? Heatmap tools include software that gives business owners and web developers important data on the way your potential customers interact with your website is crucial information.
This differs from tools like Google Analytics because it offers you hyper-specific interaction data for any of your web pages. 
When you use a heatmap, it will depict a visual representation of user behavior on your website. It gives you a visual representation on exactly where your visitors are clicking, scrolling, and hovering on specific sections of a page. Usually this is done by showing 'heat spots' or dark coloured areas where high volumes have interacted and light coloured areas where the least interaction has taken place.
Deciding which heatmap tool is right for your business can be tricky, though. Heatmap software tools should have some of these features:
Mobile device support
Funnel analytics
Predictive analysis
Surveying
Monitoring in real-time
Based on the kind of goals set such as increasing sign-ups, retention or enhancing the user journey, you can choose the most effective one from a range of WordPress heatmap plugins and heatmap tools.
2. 15 Best Heatmap Tools for your Website for 2023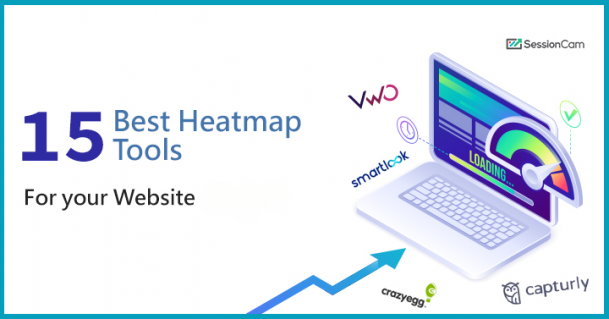 These are the best heatmap tools we've experienced, with cloud-based features and tracking for mouse-clicks, hovering, and scrolling as a minimum. 
We've highlighted the defining key features for each tool as well as their pricing model so you have all the information you need to make an informed decision for your company.
2.1 Inspectlet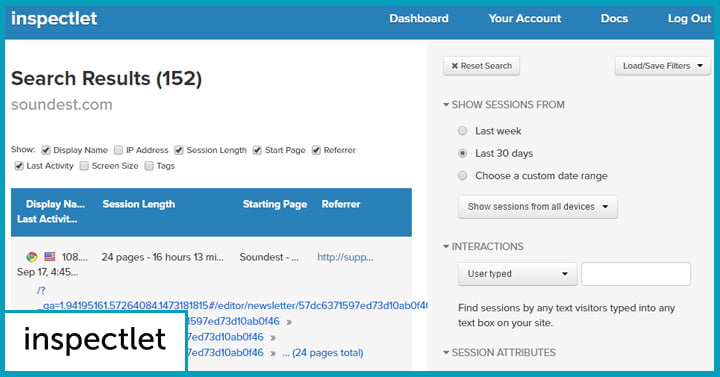 The best way to describe Inspectlet is through their tagline, they say that Google Analytics tells you what, but Inspectlet tells you where. This heat mapping tool prioritizes giving you a person-by-person playback of website interaction, making your analytics truly personal. 
This tool is for small to large companies, with a range of pricing plans. Inspectlet is designed for web developers who need individual feedback for their page visitors. It's an ideal choice for site managers who want a simple to install tool without a fussy user interface.
Key Features:
Playback with individual session recording to give you insight, which is particularly useful in cases of customer complaints or queries about your website
Highly specific filtering options so you can find the exact visitors you're interested in
Smoothly integrates for ease of use which means no integration is required and your managers save valuable time
Pricing Model:
Inspectlet features several monthly pricing tiers.
Free – $0 
Micro – $39
Startup – $79
Growth – $149
Accelerate – $299
Enterprise – $499
2.2 Zoho Page Sense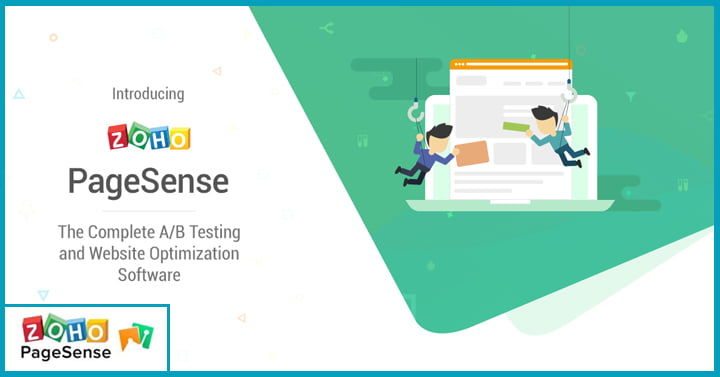 Looking for a heatmap tool online that can help your customer engagement increase? Zoho's Page Sense is an excellent Google heatmap tool for website optimization for large companies who already use Google.
Key Features:
Pricing Model:
Page Sense functions on three monthly pricing tiers with the option to pay annually. They list their charges in EUR and GBP.
Analyze – £16
Engage – £23.20
Optimize – £39.20
2.3 Crazy egg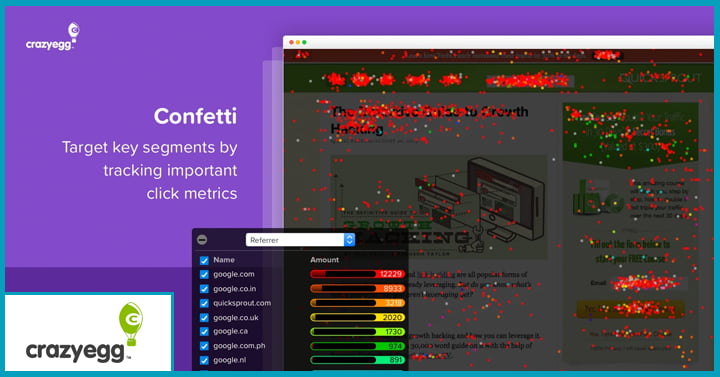 Crazy Egg is a tool designed to help you optimize your e-commerce customer experience journey This is perfect for smaller companies who want to start using heat maps along with A/B testing to improve website performance. 
This tool focuses on the purchase pathway, with attention heatmaps on product pages, ad campaign traffic tracking, and scroll maps to ensure your buy now buttons are properly placed.
Key Features:
Hotspots for your product and home pages to find out where your customers are looking and interacting 
A/B testing allows you to easily discover the best options for element placement
Snapshots is a feature that captures data of your web pages and creates five easy to understand reports for you to learn from
Pricing Model:
Crazy Egg features a 30-day free trial for users and their paid packages start at an affordable $24 a month.
2.4 Hotjar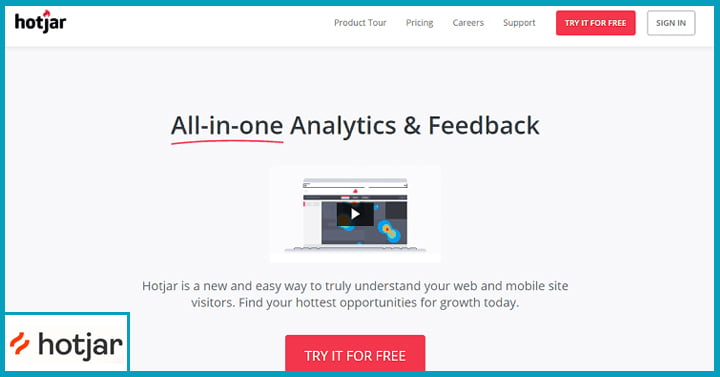 Hotjar is one of the best heatmap tool online designed for small to large businesses that rely on website insights to optimize their sales processes. Hotjar provides detailed website visitor data for managers, product designers, and researchers, making it highly flexible for a bigger team. 
Key Features:
Heat mapping allows you to visualize where your users are clicking, scrolling and hovering – and where they're avoiding! 
Feedback and survey options for user insights. This is done through a real-time suggestion box on your website, giving context to the feedback
GDPR and PCI compliant means that you can trust Hotjar to provide all of this crucial data without invading user privacy or breaching legal terms
Pricing Model:
Hotjar offers a free version, along with paid monthly tiers.
Plus – $33
Business – $164
Scale – contact for a price quote
2.5 Lucky Orange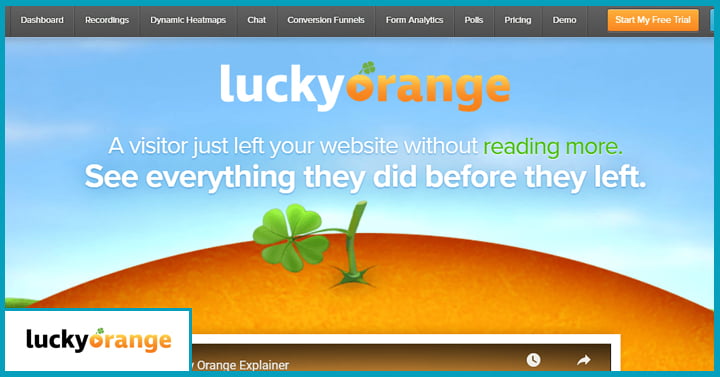 Lucky Orange is an all-in-one website optimization suite perfect for small businesses. As one of the best heatmap tools, it aims to streamline the way you get your user data in order to save you time. It utilizes essential tools such as dynamic heatmaps, live chat for feedback, and session recordings. 
Key Features:
Session recordings are an invaluable tool as they let you see what your user is seeing, and even see what went right or wrong for that particular visitor
Funnel conversions allow you to see the roadblocks in your funnel and why people may abandon their cart
Visitor profiles mean you can generate a valuable profile of your audience on an individual level
Pricing Model:
Lucky Orange offers a free version as well as pricing plans.
Starter – $10
Small business – $20
Medium – $50
Large – $100
2.6 Smartlook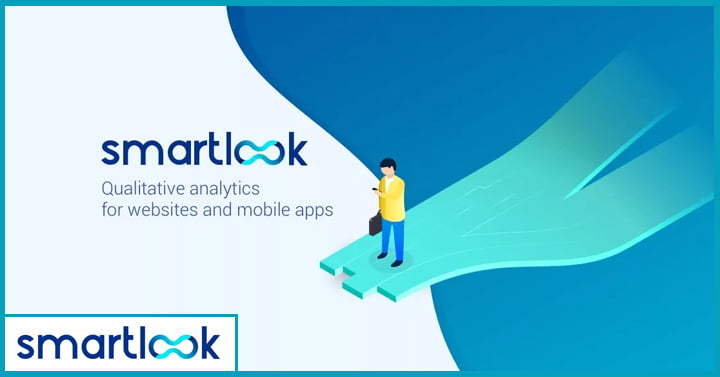 Smartlook gives you the benefit of a detailed heatmap tool that displays exactly what is catching the attention of your site visitors. This information is useful to companies that want to improve their user experience and increase their conversion rates. 
Key Features:
Session recordings give click-by-click playback for individual visitors, so you can find out why they purchased or why they abandoned the page
Event tracking so you can follow all user actions as they happen and start analyzing immediately
Mobile app analytics so you get data from mobile users too, which is crucial if you receive a lot of visitors using mobile devices
Pricing Model:
You can create a free account for personal use. The tiered plans include:
Startup – $31 a month
Business – $79 a month
Ultimate – contact for a personalized quote
2.7 VWO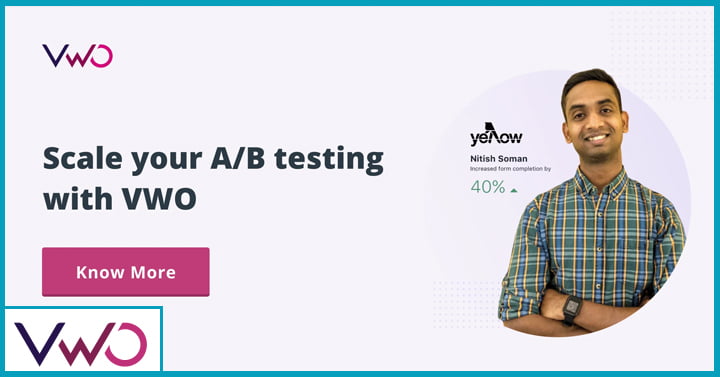 VWO is a fast-growing software that provides a VWO insights tool to companies of all sizes. The heatmap tool is particularly detailed, letting you choose to see a visual heatmap of user interaction hotspots, as well as more specific click maps, click areas, scroll maps, and element lists.
Key Features:
Multivariate testing with VWO allows you to test out the changes you've generated from your user data. Complete A/B testing on various elements of your site
On-page surveys give you contextual feedback on user pain points you need to overcome
Add observations to your heatmaps, leaving important notes at specific areas and timestamps for future reference
Pricing Model:
The basis conversion optimization essentials package costs $368 a month, with the higher tiers priced on request.
2.8 Clicktale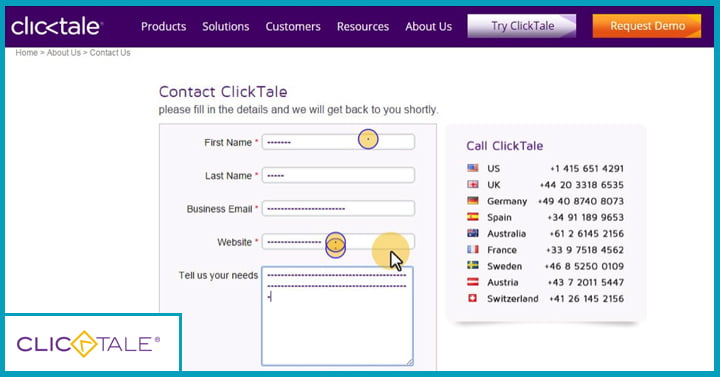 Clicktale (now ContentSquare) is a web-based solution for website optimization through heatmapping insights. Heatmapping displays a visual representation of where your visitors are clicking, scrolling, and hovering. Simply put, this heatmap tool uses colored zones to show you exactly where your visitors are looking. This tool supports SaaS as their primary users.
Key Features:
Zone-based heat maps provide key data on what's working and what's not working on your webpage, showing you precisely where users are interacting on each page
Analyze user paths to find out why users drop-off on certain pages
Struggle analysis allows you to retroactively optimize your user journey by analyzing struggle points
Pricing Model:
As is common, Clicktale does not offer upfront pricing, but rather offers custom pricing based on your needs.
2.9 Mouseflow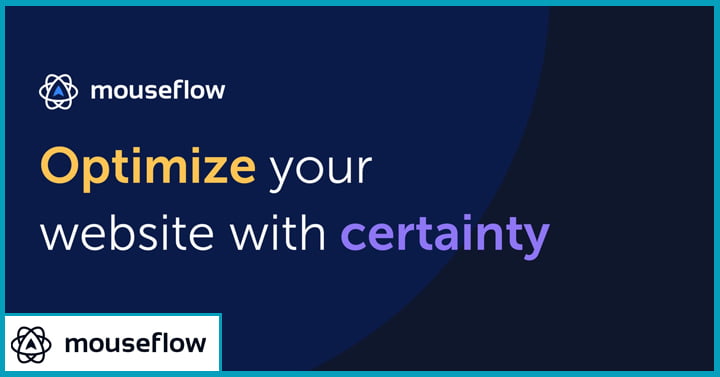 Mouseflow offers a practical and easy-to-use heatmapping tool for customer insights. This platform uses an analytics ecosystem to bring together all of the most useful and essential website interaction tools. Using the heat mapping tool and session replays you'll be able to optimize based on solid data and not just guesses.
Key Features:
Advanced integrations with your backend processes lead to a smoother transition, allowing you to get more out of the tools you're already using alongside Mouseflow
Session replays give you insight into visitors you've identified for further analysis
Multiple heatmap variants let you see second-by-second interactions with your site 
Pricing Model:
Mouseflow provides 5 pricing plans for different business sizes, including a free version and a free trial of each tier.
Starter  – $31.60
Growth – $107.90
Business – $216.80
Pro – $434.80
2.10 Fullstory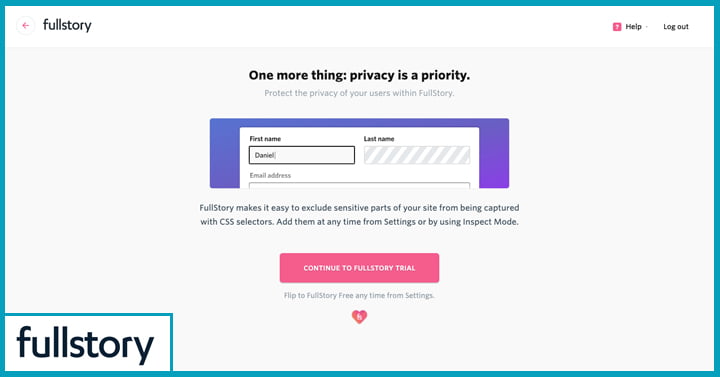 Fullstory provides a heatmapping tool that gives you insight into how each individual user interacts with your webpages. Fullstory also prioritizes how you use the data you gain from heat mapping, giving you use of analytics tools to improve brand image, optimize conversions, and gain visitor loyalty.
Key Features:
Analyze DX data to better understand your users and why they may abandon cart and what leads them to purchase
Integrate with existing tech to make this tool work within your existing workflow
Streamline captured data so that your data is reliable and actionable
Pricing Model:
Sign up for a free trial or contact Fullstory for a demo and price quote for their full feature plans.
2.11 FigPii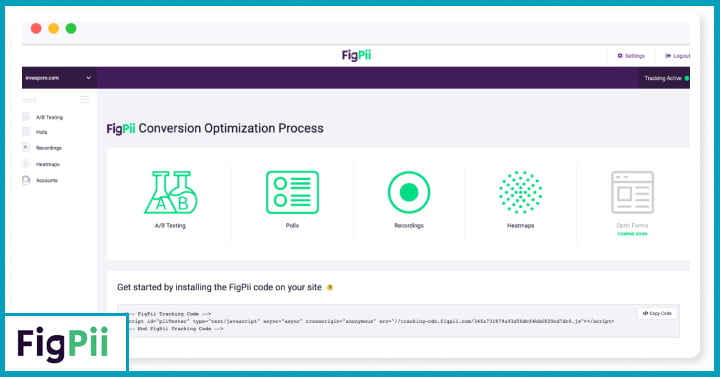 FigPii is focused on delivering its core tools in a highly-customizable way. They are an all-in-one platform that is targeted at small to midsize businesses that may be new to the world of website optimization and customer insight data. FigPii is the best heatmap tool if you're looking for suggestions and predictive analytics that you can action.
Key Features:
Data analysis with AI suggestions gives you intelligent ideas to test out instantly, saving your managers time
Analyzes struggle points so you can figure out why your users dropoff or don't interact with certain areas
A/B testing allows you to simultaneously test out two ideas on your visitors to figure out which works best
Pricing Model:
FigPii operates on four monthly pricing tiers.
Starter – $49.99
Small – $99.99
Medium – $199.99
Large – $399.99
2.12 Notify Visitors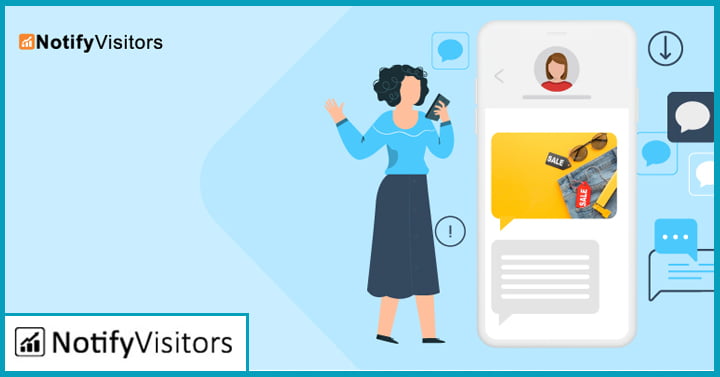 Notify Visitors is all about bringing your website optimization process into one place. If you already use heat mapping for your site but want to take things to the next level, this is the best heatmap tool option to improve conversion rates and focus on your specific users.
Key Features:
Full suite for conversion rate optimization
Full suite for customer engagement 
Full suite for analytics
Pricing Model:
Initial signup is free and pricing starts at $59 a month.  Notify Visitors requires you to contact them for more personalized or detailed pricing.
2.13 Browsee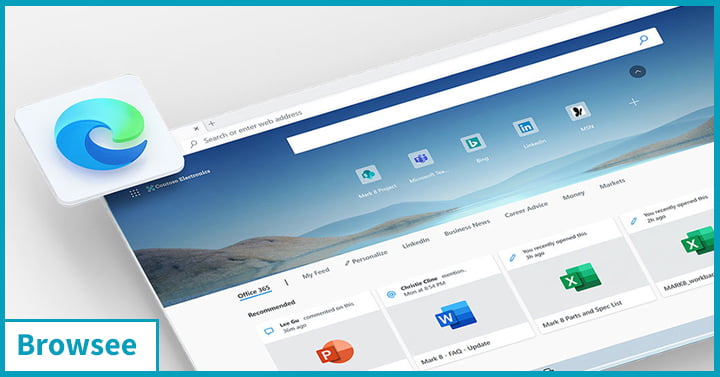 Browsee aims to help you improve your website user experience through heatmaps, testing, and analytics. This platform isn't the prettiest but it does focus on the heatmap aspect. 
Key Features:
Behavior tags on session recordings allow you to note where users may have been feeling lost, angry, or confused
Segment your heatmap data by choosing to view behavior from different sources, geographic regions, or click types
Limitless pages – don't worry if you have hundreds of popups or pages, Browsee easily generates heat maps for them all
Pricing Model:
There is a free version of Browsee, a starter tier at $12 a month, and a plus tier at $32 a month. This is a competitively priced option.
2.14 Session Cam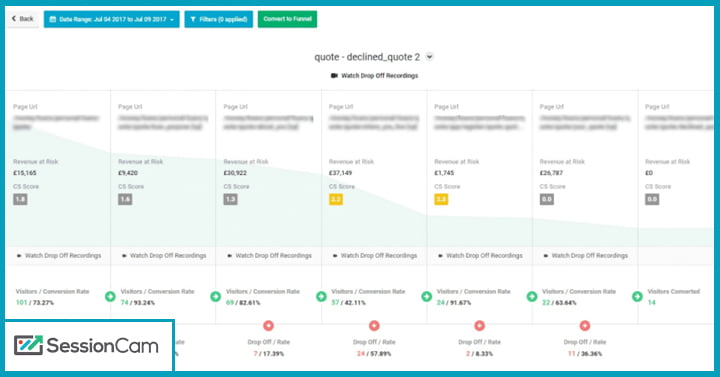 Session Cam (now partnered with Glassbox) is another DXI platform which is surprisingly fun to look at, with an emphasis on visuals in their heatmap tool.
Key Features:
An augmented journey map helps you find and fix UX problems in order to reduce abandoned carts and improve the customer experience
Real user monitoring, giving you detailed insights on particular visitors that are of interest to you
Mobile integration means you don't miss out on data from mobile users. In a world where most people access sites from their phones, mobile integration is vital
Pricing Model:
For both their optimize and enterprise packages you will need to contact their team for a price.
2.15 Capturly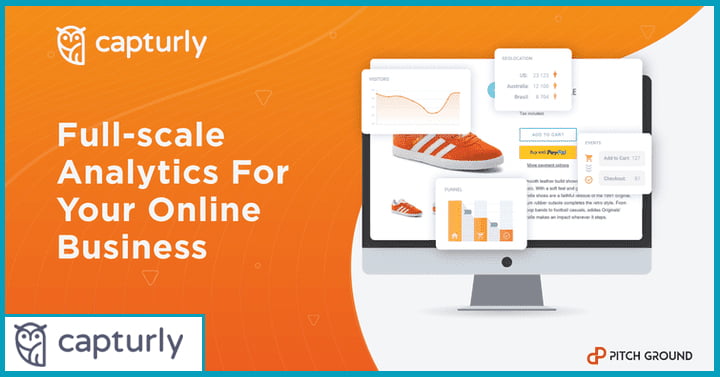 Have concerns over abandoned carts on your e-commerce site? Capturly is the best heatmap tool with software for businesses looking to grow by analyzing real-time interaction data to reduce drop-offs.
Key Features:
Advanced heatmapping lets you see where visitors are attracted and what they miss. View where users are coming from, where they scroll, and where they click
Up to 12 months data retention so you can continue to develop on the data you've compiled
Unlimited users and funnels means this is ideal for larger companies or businesses looking to grow
Pricing Model:
Capturly features a free trial and three monthly pricing tiers. 
Lite – $29
Growth – $79
Plus – $299
3. FAQs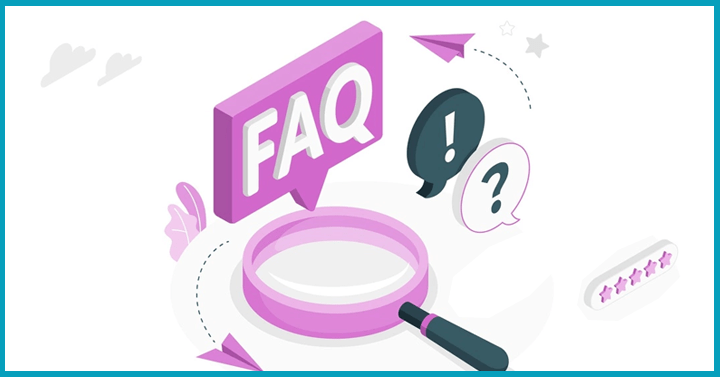 3.1 What are some important criteria you should keep in mind before buying heatmap tools?
The most important features in best heatmap tools are the ones that reflect your business goals. Essentially, all heatmap tools should include these key elements:
Tracking for clicks, hovers, and scrolls
Predictive analysis for funnels and customer behavior
Monitoring in real-time or playback for individual visitors
Easy to use on mobile devices for web developers on the go
Polling and surveying for ongoing improvement
3.2 What are some of the free best heatmap tools available?
The majority of heatmap tools offer a free trial or a free version, so always prioritize finding the correct software for your needs.
If you're looking for a free heatmap analytics tool, here are some of the heatmap tools that feature free versions such as HotJar, VWO, and  Smartlook. 
Most free versions of these platforms may not provide full functionality and  additional features. There may also  be limitations to the number of users or the amount of data that can be retained.