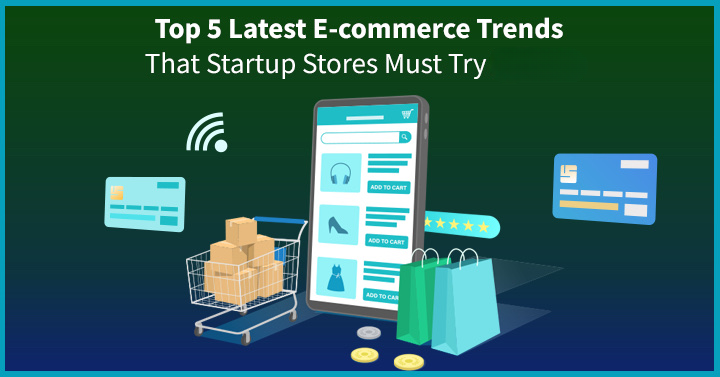 As technology evolves, eCommerce businesses flourish thanks to the spike in online engagement by shoppers.
It is inevitable that online shoppers will become more pretentious as the technologies refine.
By not meeting their advancing requests and needs, your online business may decline and fail.
As a result, it's crucial to stay on top of the new innovations and ensure they are implemented as soon as possible in order to gain a competitive advantage.
Startups need to do so especially: since they are just entering the market, they must adapt and offer something different in order to stand out from the competition and remain competitive.
Keep reading if this describes your situation as an online business owner.
With this article, we'll present you with the top five latest eCommerce trends that startup stores must implement in 2022.
Let's get to it.
1.   Innovative payments and fast checkouts
An online store's payment options are crucial to most customers. In fact, they want to pay using their favorite method, and if their favorite option isn't available, they may even leave the site and never return. This means you are losing a client and a sale.
It is therefore important to add at least the most popular payment methods to your e-store, such as PayPal.
There are new payment methods emerging, and many customers are choosing to use them to make their online purchases. Cryptocurrencies are one of these innovative payment methods. Because of their global spread, more and more companies are adopting this payment method on their website.
Due to the increasing demand for these types of payments, they are now easy and quick to integrate into e-commerce websites. It is, in fact, easy to integrate them with crypto payment processors, such as Coinbase Commerce.
Tips to add payments and fast checkout to your new e-store
Provide innovative payment options. Do your research online and find out what payment options shoppers appreciate most; when searching, consider the most innovative choices.
Ensure a simple and fast checkout process. Checkout is a key step in the purchase journey that can influence a buyer's decision. Long and complicated checkouts may dissuade a user from making a purchase. Thus, make it as fast as possible, potentially allowing One-Click Purchases, as Amazon does.
2.   Voice-based shopping
The proliferation of voice tools such as Alexa and virtual voice assistants on mobile devices has resulted in a new way to search online and make purchases.
People used to type what they were looking for before, but now a good percentage of online shoppers use their voice to search, buy, and do just about everything.
As a result, your website needs to be optimized for voice search.
Essentially, as you can imagine, typing and speaking are two different methodologies that require the implementation of different strategies.
In typing, people are more apt to write as few keywords as possible to make the process faster. Rather, when using voice tools, people are more likely to provide more details and extensive information.
Therefore, if you want to optimize your eCommerce store for it, you need to consider these factors.
Tips for optimizing your eCommerce for voice search
Target long-tail keywords. Following the points outlined above, targeting long-tail keywords instead of short-tail ones will help your eCommerce store rank higher on search engine results.
Use conversational language. While speaking, people tend to use conversational language, which differs from the one they use when typing. Therefore, you should optimize your eCommerce content to match this language style.
Build FAQ pages. You can also optimize your online store for voice search by building an extensive FAQ page, where you can include details about frequently asked questions. In fact, the majority of users who use voice tools and virtual assistants are frequently asking questions about the products they are using or looking for something new.
3.   Sustainability
The concern for the environment is increasing and spreading among customers and business owners worldwide. Due to this, customers pay more attention when purchasing online, checking to see if an organization uses sustainable production processes, sustainable materials, and sustainable packaging.
The concern is destined to arise in the near future, making sustainability a future eCommerce trend.
Therefore, as a startup owner, you need to incorporate sustainable initiatives from the beginning.
As soon as you implement them, make also sure they are well-visible on your website and let your customers know about your sustainable mission and policies.
You can create some brochures that outline your company's mission and your sustainable endeavors in order to achieve this goal. Check out some example brochures for a clearer picture.
Tips to make your startup online store sustainable
Make use of sustainable materials. To embrace the sustainability world, one of the first steps is to use renewable materials, such as organic or compostable ones.
Produce the products using renewable energy sources. Also, you can try to utilize renewable energies to help you make your processes more sustainable if you produce your products yourself.
Use sustainable packaging. You can also act on the packaging you use by choosing materials that are recyclable, etc. in order to make your startup store more sustainably minded.
4.   Artificial intelligence
Artificial intelligence is already a part of our lives and will become more prevalent over the next few years.
With artificial intelligence, it is possible to automate some processes that would otherwise require human effort and time. Using chatbots, for example, can prevent humans from having to answer customers' questions time and time again.
Artificial intelligence can also make predictions based on the data history of your eCommerce visitors, providing them with a more personalized experience.
For instance, it can auto-generate product recommendations or upselling and cross-selling strategies to encourage users to purchase complementary products alongside the ones they've already chosen.
You can find more information about AI and personalization trends in Whisbi's report with the latest eCommerce trends.
Tips to integrate artificial intelligence in your eCommerce
Integrate chatbots. Integrating chatbots in your online store can make your work more efficient, and ensure faster answers for clients and visitors, eliminate doubts, and speed up and drive sales.
Provide a personalized experience. Use AI to offer a more personalized experience to your customers through personal information (e.g., greet visitors by their first name when logged in), product recommendations, and cross-selling and upselling strategies.
5.   Social media and mobile shopping
Currently, the number of users using mobile devices has greatly surpassed the number of users using desktops.
In other words, most users are browsing the web and making purchases from their mobile devices.
As a result, you need to optimize your eCommerce website for mobile devices and ensure that shoppers have the best possible shopping experience.
You will need to optimize not only your website but also all the other channels that are part of your eCommerce strategy, such as emails.
If you are announcing a new product launch, for instance, you need to make your emails responsive and make sure that the layout is compatible with smaller screens. Make use of a ready-made product launch email template if you do not want to do it yourself.
Furthermore, more and more people are making purchases through social media channels. This means social media shopping is and will be a future trend in eCommerce.
Another predictor of the trend is the fact that many major social media platforms, such as Instagram and TikTok, have already implemented their own built-in app stores, enabling users to purchase their content without getting out of the app.
One of the benefits of implementing a social media strategy is that it does not require a large budget to execute. Therefore, even startups and small businesses can take advantage of this opportunity to sell more.
Tips for optimizing your eCommerce business for mobile and ensuring social media sales
Make your website responsive. Make the overall layout and every element of your eCommerce store 100% responsive. In other words, let your customers easily and quickly access and interact with your online store from any device (desktop, tablet, mobile).
Enhance the website's loading time. Visitors on mobile devices are less patient than those on desktops. Therefore, if your website doesn't upload as fast as light, users will leave it and go to one of your competitors' sites.
Compress Images Before Publishing. It is quite essential to compress image online before publishing; otherwise, your site's loading speed will increase, which will augment your bounce-back rate. You would have to reduce the image size, and for this purpose, you can use an image compressor to compress image size online. As it will help you to reduce image size but the quality will stay intact.
Therefore, you should ensure your site loads in no more than two seconds. You can do this by optimizing images and choosing optimized themes.
Use social media to your advantage. Make the most of social networks by setting up a professional profile and showcasing your products. In addition, use social media shopping in-app features so that customers can purchase your products through apps.
Conclusions
As technology advances, online shoppers' needs, preferences, and trends continue to change.
Any business, including startups, that does not follow these trends runs the risk of losing sale potential and even going under.
Thus, the only way to prevent this from happening is to ride the wave and implement the right strategies.
By taking into consideration the five latest eCommerce trends for startups listed in this blog article, you will surely achieve this goal.