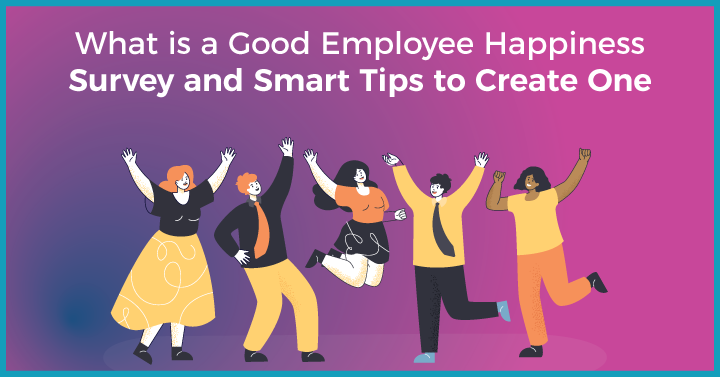 An employee happiness survey is an important feedback tool that helps companies understand their employee's experiences with the environment, policies and culture of their workplace. This entire process is  useful in helping you figure out what you can do as a company to ensure your organisation's overall  'happiness' and make changes that boost the productivity and morale of the workforce. 
In this guide, we will be going through all the aspects of an employee happiness survey that you should know about to ensure it is a success. 
1. What Is an Employee Happiness Survey?
An employee happiness survey is a questionnaire designed to evaluate how happy your employees are at work. A well-designed survey will help you gauge what is working for your organisation and what needs to change. 
Employee happiness is not just about feeling happy at work, it is also about feeling good enough to grow and expand within your organisation. It is about accepting constructive feedback and wanting to grow with the organisation.
2. Why Is An Employee Happiness Survey Important?
An employee happiness survey is important because it helps the company understand and make the required changes for increasing employee productivity. For a long time, an employee happiness survey has been a go-to method for companies to gauge employee happiness. 
It acts as a direct feedback tool and it is simple to execute on a larger scale as well. All you need to do is organise a list of employee emails and send the survey out to all the employees. 
Another very critical reason that makes an employee happiness survey important is that it shows that you care about your workforce. When employees feel appreciated, they are more productive. 
3. What Makes a Good Employee Happiness Survey?
A good employee happiness survey is one which features questions that cover a variety of topics pertaining to the employee lifecycle. The questions are designed to ascertain how employees feel about the current work culture, policies and environment.  
A good survey avoids any incorporation of corporate jargon or in layman terms or any kind of corporate speak into the survey. The aim is to make communication with your employees as direct and honest as possible. That is the only way you can actually get answers that reflect your company's satisfaction levels. 
The three spheres that a good employee happiness survey cover are,
Workplace culture
Management 
The actual job
4. How Do You Survey Employee Happiness?
 The best way to survey employee happiness is by designing a questionnaire and sending it out to your employees. Employee happiness is an important factor for companies to measure and understand as happy employees are known to outperform their counterparts by 20%. 
Along with sending out an annual survey, you should also focus on sending out small bite-sized surveys throughout the year and focus on real-time feedback. These will allow you to keep up with the pulse of the organisation, which is also why they are called pulse surveys (more on that later!). 
Cover a different aspect of the workplace every time. Some of the most common topics include- work-life balance, leadership, compensation and benefits, diversity and inclusion, company culture etc.  This makes it easier for you to compile the data and implement changes in real-time as issues crop up before they become bigger issues. 
The most important thing however is not just doing the survey, it is also acting on it. Unless you act on the findings of your employee happiness survey, it is pretty much a wasted effort. 
5. Types of Employment Happiness Surveys
5.1 Pulse Surveys
Pulse Surveys are small surveys that include a limited number of questions. These can be anywhere around 1-5 and this kind of survey is done on a more frequent basis. About once every week or fortnightly. These are great to track trends in your organisation and help you create happiness benchmarks over time. 
5.2 Flexible Survey  
Flexible surveys are ones that you send out to some employees at a time. These usually include one question which is often an extension of the pulse survey. If your pulse survey was regarding workplace culture and there were some people who scored the management low on feedback, an additional questionnaire can be sent to them to help elaborate on the issues they are facing. 
These are more in-depth questions and act as a supplement to the pulse survey.  With flexible surveys, the aim is to uncover actionable insights that help in making the best decisions for the organisation.
5.3 Annual Survey
Annual surveys are sent out once a year to assess the happiness of the employees. These are full-scale, long surveys that are designed to understand the happiness levels of the organisation as a whole. This acts as an internal review for all the departments in the office. They cover aspects like workplace culture, management, compensation structure, work distribution and more in detail.
6. 15 Questions That You Should Include In Your Employee Happiness Survey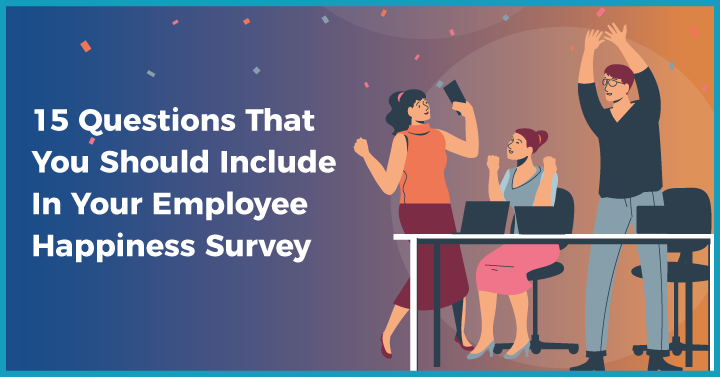 6.1 Do you connect with the strategic goals of the company?
It is important for the people to align with the greater goals of the company as a company is only as good as its employees. For you to ensure you are moving in the right direction it is essential that an employee feels like they believe in the ethos of the company and their personal goals are similar to the organisation. 
6.2 Do you have learning and development opportunities in the organisation?
Employees are happier in places where they have ample learning opportunities and they can chart a long-term career path. This question allows you to understand if you need to take steps to provide better learning and growth opportunities.  
6.3 How well does your team work?
A good team is essential for an employee to do their best work. Collaboration and teamwork are the difference between a successful and unsuccessful project. So, what you need to gauge is if employees are happy with the dynamic that exists within the team. 
6.4 Are you happy to be on the team?
It is important for an employee to be happy about being associated with their co-workers. When employees feel connected to their co-workers there is a higher chance that they feel happy at work. Co-workers are a very important factor when trying to understand the happiness levels of a person at a job.
6.5 Does your team help you in the completion of the work?
Often while working one might run into some roadblocks, it is important that they are comfortable enough to reach out to their peers to get the work done. If you find that an employee is unhappy with their team, it is important that you keep some time aside and work on team-building activities. 
6.6 Describe the level of support provided by your manager?
A big part of effective management is providing your employees with support. If you see that your employees are consistently turning in low scores for this question, there is a problem with the management. 
6.7 Are you comfortable giving feedback to your manager?
Managers might have more experience, but there is always a chance that a difference of opinion might come up between them and the employees. In such a case it is important that employees should be empowered to speak up if they feel that there is something that can help the situation. If they are scared to do so, it can have a negative impact on employee happiness. 
6.8 Is your management transparent?
Transparency in organisational terms equates to open and honest communication between you and the employees.  Your employees should be kept in the loop, irrespective of whether things are going well or not. Changes in policy, restructuring, and major changes in sales trends, are all events that affect the organisation as a whole and it is important that you keep your employees in the loop of what is happening. This question will help you gauge if or not you are doing a good job with it and if you need to make a change in your way of communication. 
6.9  How likely are you to recommend our company to others?
Your employees are the best ambassadors when you are looking to recruit talent. If your employees give raving reviews and recommend the company to other job seekers, then you know they are happy. If not, you need to start some damage control. 
6.10 Does your manager appreciate you?
For an employee to do their best work it is important that they feel seen and appreciated. If the answer to this is in the lower numbers, chances are the morale between your employees is low. As a manager, it is important that you both inspire as well as motivate and so appreciation is just one part of that conversation. 
6.11 Are you satisfied with the benefits and perks?
Benefits and perks can mean a number of different things like -is there a good leave structure, medical allowance or flexible working. You can't always provide your employees with a pay raise, but a generous employee benefits package goes a long way in ensuring that an employee is happy. If you find yourself scoring low here, you need to add more value to your employee packages. 
6.12 Does your company provide you with all the necessary hardware and equipment while working remotely?
Just providing remote work isn't enough, you also need to find out if your employees have the right set-up while working from home, If not then you need to provide the relevant requisites for them to be able to work comfortably and productively. These kinds of conversations often slip under the radar, and an employee survey can help you to identify such gaps and then work on it. 
6.13 Are you always working on billable /non-billable work?
Billable/non-billable work needs to be tracked efficiently especially if you are working with clients. Without the tracking systems in place, a lot of work can slip through the cracks and can lead to resentment among the employees regarding compensation. Including this question will help you better understand whether the current systems in place are working for your employees or not.
6.14 Are you productive while working remotely?
Remote work is not for everyone, and the set-up of working from home might actually translate to added pressure for some people. Navigating home duties and other disruptions while working from home is a task. We have all seen the numerous videos that have made their way to the internet during the work-from-home period of the pandemic. 
6.15 What is something the company can improve while working remotely?
It never hurts to directly ask what you can do to make your employees work from home easier. When you include this question, you just might get a solution that can universally help the other employees as well.
7 Templates For Employee Happiness Survey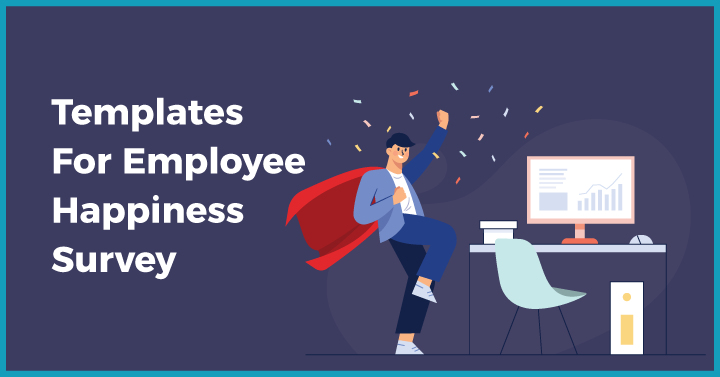 1. Pulse Survey
For Employees:
I am happy about being a part of this organisation
Strongly disagree |Slightly disagree |Disagree |Neutral |Agree | Slightly agree |Strongly agree 

I have a clear understanding of my career goals at the moment
Strongly disagree |Slightly disagree |Disagree |Neutral |Agree | Slightly agree |Strongly agree 

Your roles and responsibilities are clearly defined?
Strongly disagree |Slightly disagree |Disagree |Neutral |Agree | Slightly agree |Strongly agree 
Do you believe you are given opportunities to grow and evolve in the organisation?
Strongly disagree |Slightly disagree |Disagree |Neutral |Agree | Slightly agree |Strongly agree 
For Remote Employees:
Do you have the right resources to ensure that you can effectively while you work from home?
Yes |No
If not, what problem are you facing?
            ___________________________________________
Do you believe you can work from home productively?
Strongly disagree |Slightly disagree |Disagree |Neutral |Agree | Slightly agree |Strongly agree 
Flexible Survey Questions 
Using one sentence, give an honest comment on how transparent the organisation is?
Is there anything you would like to add to improve the happiness of employees at work?
8 FAQs
Do employee satisfaction surveys work?
Yes, employee satisfaction surveys work, provided you are able to draw actionable insights from the data collected and then implement the required changes as well.