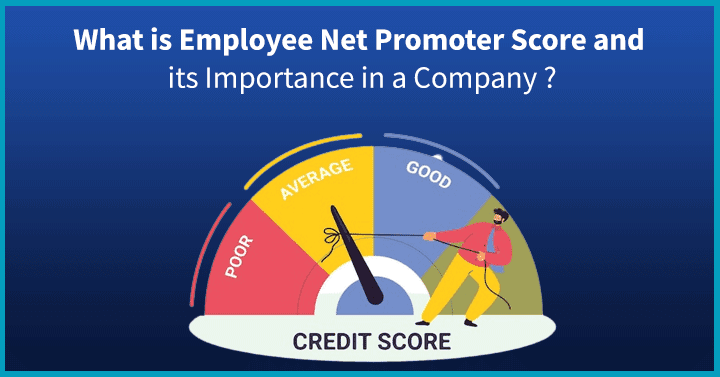 When you want to rank high on a "Great Place to Work" certified list or be a magnet for the best employee hires, how do you go about doing it? At periodic intervals, an organization will need to check in and see how their work culture is being perceived and also gauge employee happiness levels. Instead of using office moles, informal grapevine, suggestion boxes, or watercooler hearsay, consider a more credible and valid source- eNPS or Employee Net Promoter Score to measure real happiness or satisfaction at the workplace.
Now, what exactly is an employee net promoter score. Read on to gain valuable insights on what it signifies and how employer net promoter score can depict your organization's health chart.
1. What Is The Employee Net Promoter Score (eNPS)?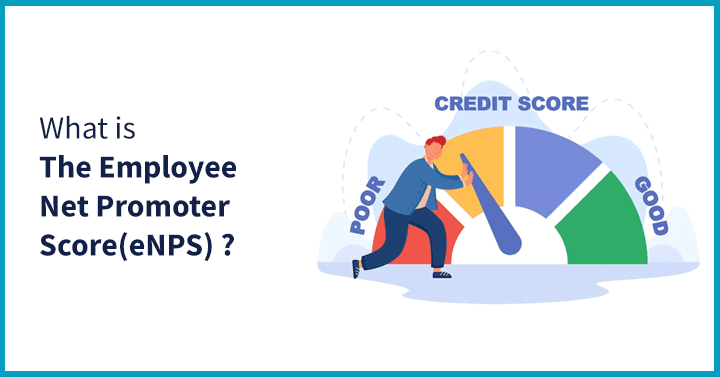 Employer net promoter score is a score-based system designed specifically to help organizations evaluate employee satisfaction and loyalty. This significant employee survey tool can be used to evaluate employee engagement and employee experience based on quantifiable results. The employer net promoter score tool makes it easy and convenient to gauge the effect of an organizations' people-centric initiatives and the results can be used to plan or re-strategize more effectively. This metric makes a valuable addition to employee survey tools as it makes a difference to not only your employees, but work culture and business goals too
The employer net promoter score is an extension to the NPS system, originally developed by Fred Reichheld, Bain and Co. and Satmetrix to evaluate referral behavior for brands. As an employee-centric tool, this scoring tool also uses a two-question based survey format for employees to rate.
The first question in the survey is a zero-to-ten rating-based question on how likely an employee would be to recommend the organization as a good place to work.
"How likely are you to recommend our organization as a great place to work to family and friends"
The second question would then request the employees to validate their scores with valid reasoning.
"Can you please help us understand the reason behind your rating?"
Interestingly, Apple was the earliest and largest company to maximize the benefits of using an employee net promoter score. They started during the 1990's, by conducting surveys every four months to find out the potential of being perceived as a great place to work.
2. Different Employer Net Promoter Score Categories:
There are three different types of employer net promoter score categories. These categories are generated based on the responses to the first of the two employee net promoter score survey questions. These include:
· Promoters – Rating of nine or ten
· Passive or Neutral – Rating of seven to eight
· Detractors – Rating of six or below
2.1 Promoters 9 to 10
Promoters are employees who scored 9 or 10 on the employee net promoter score scale. These are employees who are extremely satisfied and are most likely to recommend their organization as a great place to work. They usually have the highest engagement rates and also rate high on the loyalty quotient while providing the highest quality of productivity.
This kind of feedback gives organizations validation to understand what's going right and how they can leverage that information. The instances of what went well can be used as templates for success across other divisions. Employees who score high here also make the best company advocates for recruitment of potential hires.
2.2 Passives 7 to 8
Passives are employees who score 7 or 8 on the employee net promoter score scale. They maintain a neutral stance and are content enough but not entirely satisfied with the organization. These employees may find certain aspects suitable and are likely to exit the workplace if presented with a better opportunity.
They are neither going to promote the organization or say anything negative. An organization should consider the feedback on Passives and aim to change these to Promoters. Here the question needs to be, What needs to be done for them to change their opinion or what causes prevent them from referring to the organization. Based on these insights, the organization can foster a more open culture of feedback.
2.3 Detractors 0 or 6
Detractors are those who score anything below 6 on the employee net promoter score. These are dissatisfied employees and highly unlikely to recommend the organization. This is a red flag for the organization and this score would signify that corrective measures need to be taken to identify the root cause and how they can be addressed effectively. Data on Detractors give insights on recurring patterns that can be identified such as mismatched hires, gaps in work culture and more.
3. How Is Employer Net Promoter Score Calculated?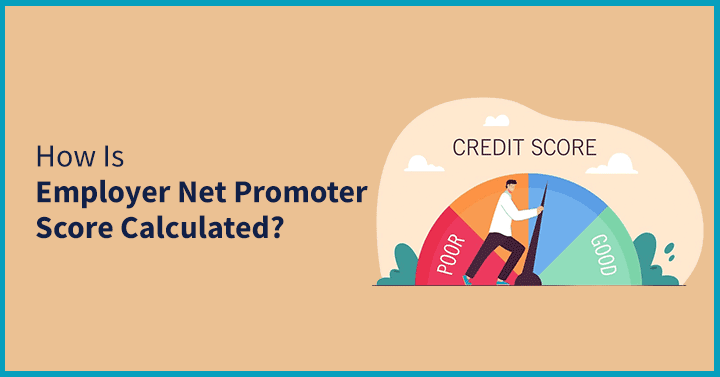 The employee net promoter score calculation is formulated as the percentage of promoters minus the percentage of detractors: An organization should have a higher number of promoters than detractors to get a higher employee net promoter score which in turn signifies more employee engagement.
The formula for employer net promoter score = % Promoters – % Detractors. Here, the percentage of passives are not considered
For example, if you survey 100 customers, and the result is made up of 70 promoters, 10 passives, and 20 detractors, your NPS would be 50 (70% – 20% = 50%).
4. Benefits Of Calculating Employer Net Promoter Score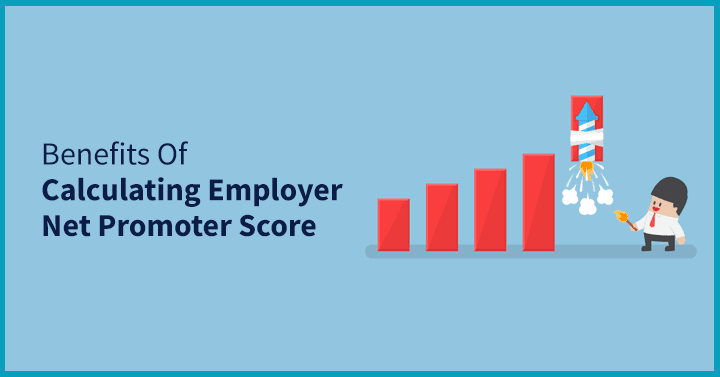 4.1 Helps you understand your employees loyalty
An employer net promoter score score is a good indicator of employee engagement and employee loyalty. The higher the score for Promoters, the more positive employee sentiment that it signifies. This helps gauge what factors are working well for employees and what makes them want to stay.
4.2 Reduces employee turnover
Scores of effective HR employment survey tools such as employer net promoter score will give a realistic picture of an organization's workforce. By focusing on the metrics for Passives and Detractors, you can create contingency plans to minimize or prevent high attrition rates and take corrective measures.
4.3 Good for benchmarking
With numeric data from employer net promoter scores, it's vital to set an employee net promoter score benchmark for an organization to measure against ongoing initiatives. It helps provide information on parameters and processes that are successful while showing you the gaps and minuses so you can take remedial measures. This helps to set uniform standards for qualitative work culture and higher Promoter scores.
5. How To Improve Employer Net Promoter Score?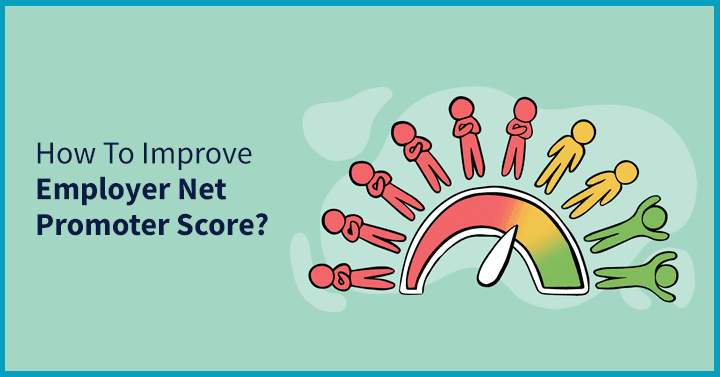 5.1 Measure the organization's employer net promoter score frequently
Creating regular employee net promoter score evaluations can provide consistent data and insights so the organization can take necessary actions based on the scores.
5.2 Monitor performance and encourage feedback
Organizations should use effective tools to monitor performance on a regular basis. This gives real-time insights on how the company is faring with respect to initiatives and work culture. Employees should be encouraged to provide feedback that will be actioned to make a positive impact to establish healthy trust and collaboration.
5.3 Take actions to create a positive workplace
With the quantifiable results that employer net promoter score provides, an organization can help in creating action plans to boost employee engagement and loyalty These could be to ensure more feedback sessions, team building activities, more health benefits, flexible work times and more to create a positive work culture.
5.4 Focus on improving employee engagement
Passives and Detractors give organizations plenty of scope to enhance the quality of employee experiences. It's a great way to bring in new engagement initiatives and boost the overall employee sentiment.
6. Limitations of Employer Net Promoter Score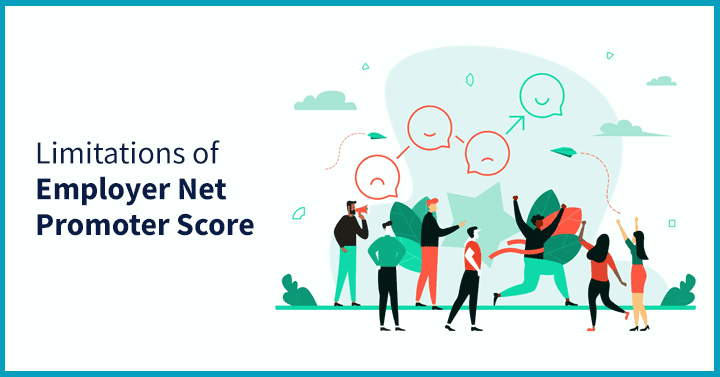 While the easy-to-use work culture metric offers a lot of pros, it's advisable to consider the cons as well so you can plan a balanced strategy on how to leverage eNPS
employer net promoter score may not be a direct predictor of revenue/performance or growth as it is primarily linked to employee sentiment which can be subjective.
Employer net promoter score indicates a result but does not provide detailed feedback on why the score is at a certain level, how it could be improved, or what roadblocks are preventing a higher score.
7. FAQs
What is a good employer net promoter score?
A good employer net promoter score above 0 is considered acceptable by leading organizations while a score between 10 to 30 is considered as good, and a score that exceeds 50 would be excellent.