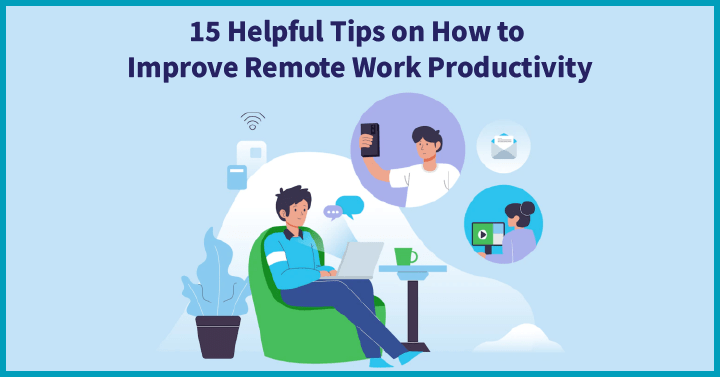 Work from home was a luxury provided by many organizations until the COVID-19 pandemic made it a necessity and the new normal. Though it turned out to be a boon in many ways, remote work also put forth some challenges. Working from home brought in feelings of isolation, and the lack of personal contact hampered work and made us question how to improve remote work productivity.
However, the past couple of years has proven that, when done right, remote work can actually enhance productivity. In fact, JD Edwards and American Express telecommuters have shown to be 25% and 43% more productive than their office-based counterparts.
So, if you are one of those organizations who prefer complete or partial remote working for your employees, read on to find out what you can do to help your employees stay motivated and productive.
1. Challenges of remote work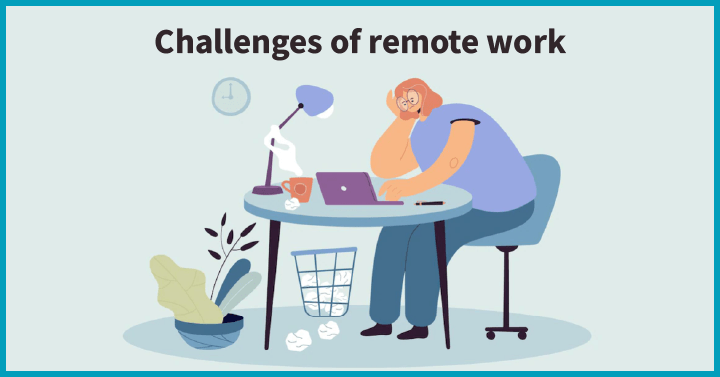 Face-to-face interaction. In-person interaction with colleagues and managers allowed us to solve doubts at any given time or recharge ourselves with quick coffee breaks or small talks. Remote working hindered that prompt communication channel and real-time access to people.
Social isolation. Lack of physical connection and mandated lockdown brought about a heavy surge of mental health issues during the pandemic, hindering the employees' daily activities and overall well-being.
Time management. Sometimes you get too carried away, and your 15-minute coffee break extends to a 3-hour nap. Or you just don't know when to stop and keep working past midnight. The blurred lines of work and office disturb the work-life synergy.
Bad health habits. Some of us used to run to work, freshen up, and start the day. With the bed and work in the same place, a sedentary lifestyle is rising.
Distractions. There are enough viral videos out there that show pets and children showing up in between conference calls. Not to mention the noise and other disturbances like power failure, loss of internet, even the sounds of household appliances. All these factors hinder effective working practices.
2. Tips on how to improve remote work productivity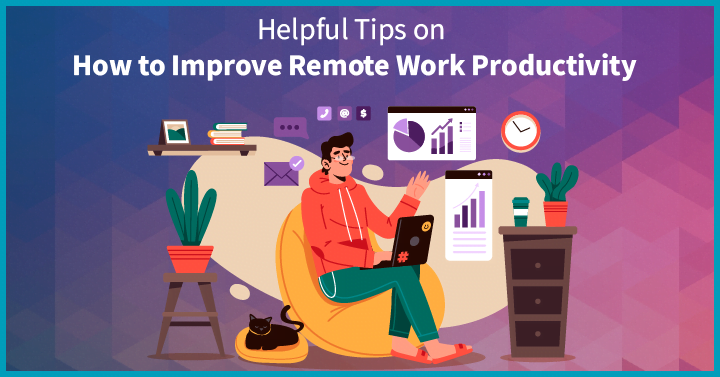 2.1 Ensure optimal workspace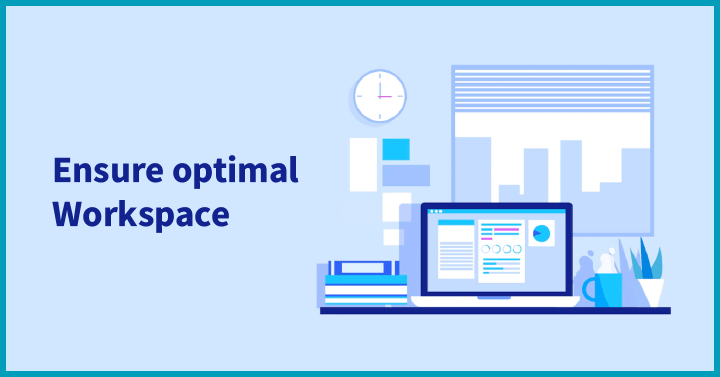 The first step for how to improve remote work productivity is to help the so-far-office-bound employees set up their own home office. Ensure that your employees have the required tools and ergonomics to facilitate an optimal working environment. You can either give them the finance needed to get their own home office set up or send them the required setup as a work from home gift.
2.2 Encourage to limit distractions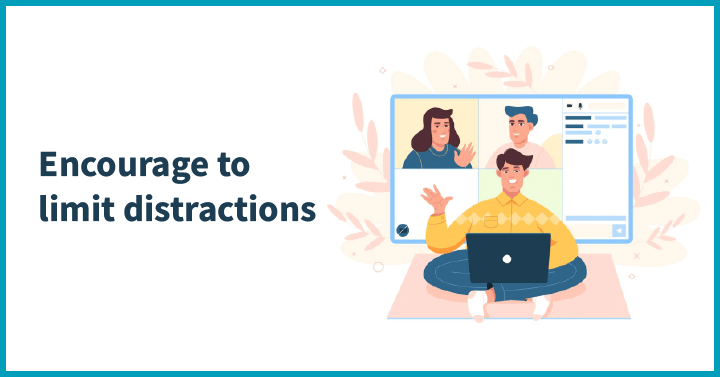 Yes, distractions are aplenty at home with the mobile phone right beside you, the options on Netflix, the lure of your bed, the enticing game on TV, the mysterious doorbell, and of course, the constant chatter and mini-discussions with family members. Advice your employees to set up their workspace as far away from the hustle of the rest of the house, ideally in a separate room.
You can also have them face a window that opens to nature to keep them refreshed and focused. Additionally, there are also smartphone apps and browser-based applications that you can use to limit distractions from shopping apps, unstoppable notifications, social media, and so on.
2.3 Inspire a morning/evening routine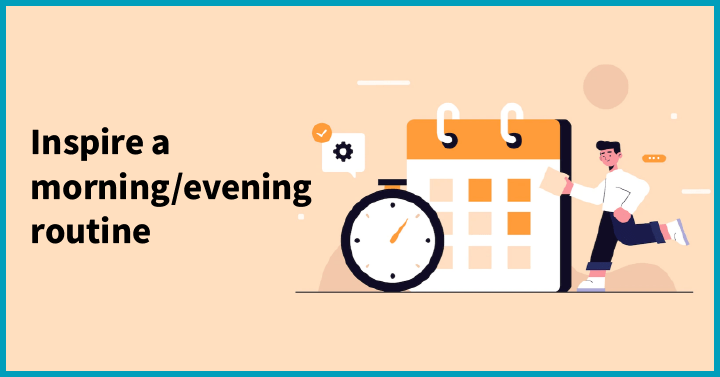 Mental and physical health should be a top priority for anyone enquiring about how to improve remote work productivity. A healthy routine brings discipline into your personal and work life. Structure the day like you would if you were going to the office.
Encourage employees to create a new or stick to their old exercise routine and end the day with a round of warm showers and calming meditation.
It is also essential to get started early, dress up for work, and avoid waking up 15 minutes before the login time.
The refrigerator and the snack box in the pantry can be quite alluring. But it is vital to eat healthy to have a crisp mind and physique, primarily when movement is restricted.
Take a walk outside after completing the work for the day and shorter in-house walks during your shift hours.
These practices will help your remote team be at their physical and mental best, thus boosting their productivity.
2.4 Provide regular breaks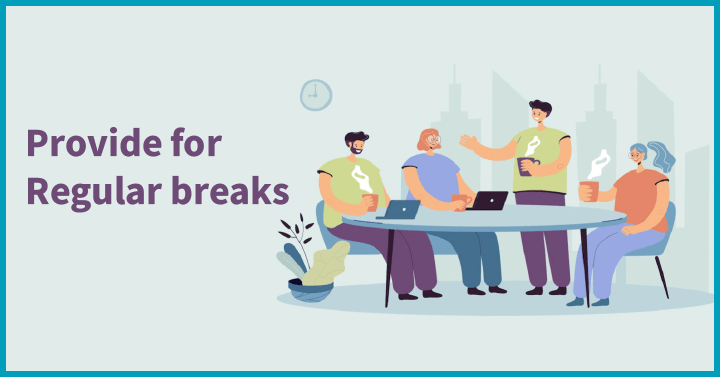 We all are guilty of taking lesser breaks than required or even the allocated breaks when we get immersed in work. Set a reminder to take breaks. Have a water break every hour. Walk around the house, and go to your terrace for a breather if possible. You can also indulge in some desk exercises to keep your blood flowing despite any inactivity. A couple of us found the Pomodoro technique of 25 minutes of work followed by a 5 minute break very helpful.
2.5 Use collaborative platforms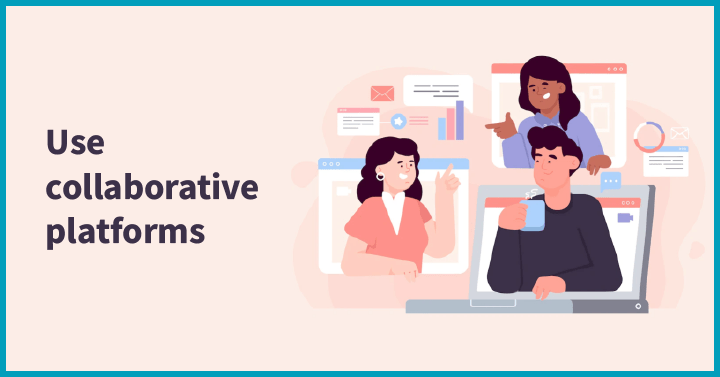 If you are looking at how to improve remote work productivity, sharing works and documents with ease should be a priority. A platform that helps you share documents, and keep track of progress in real-time would go a long way in enabling optimal teamwork and reducing time spent on back and forth emails, especially across time zones. Choose a collaborative platform that would suit your needs and implement it across the organization.
2.6 Establish clear communication channels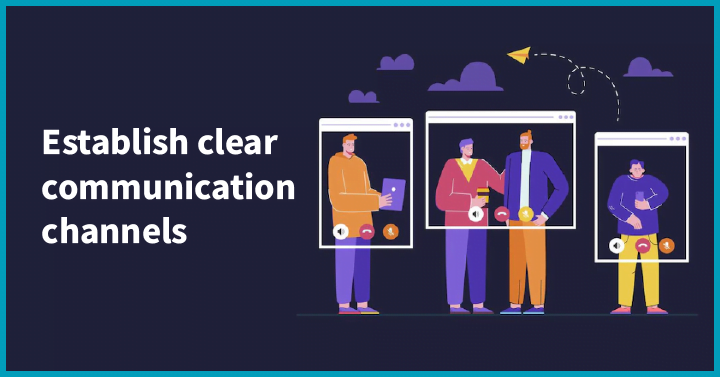 Basecamp founders Jason Fried and David Heinemeier mention that "When the bulk of your communication happens via email and the like, it doesn't take much for bad blood to develop unless everyone is making their best effort to the contrary." We agree with them, for even the most minor misunderstandings can snowball into a huge issue if not handled early on.
Set up proper communication hierarchy, right channels & protocols for synchronous and asynchronous communications, and reinforce the code of conduct to facilitate the same and minimize discrepancies.
2.7 Give a clear work schedule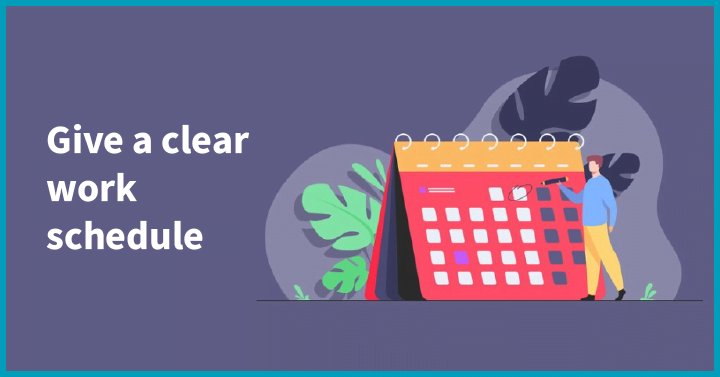 How to improve remote work productivity when the work-life boundaries are blurred? By establishing a clear work schedule and reasonable deadlines. It allows your employees to prioritize accordingly, thereby structuring the day better. They will also be able to complete their work within the deadlines if they strictly adhere to a schedule. Besides, they can finally attain a healthy work-life balance, preventing burnout or exhaustion from overwork.
2.8 Deploy time & work tracking software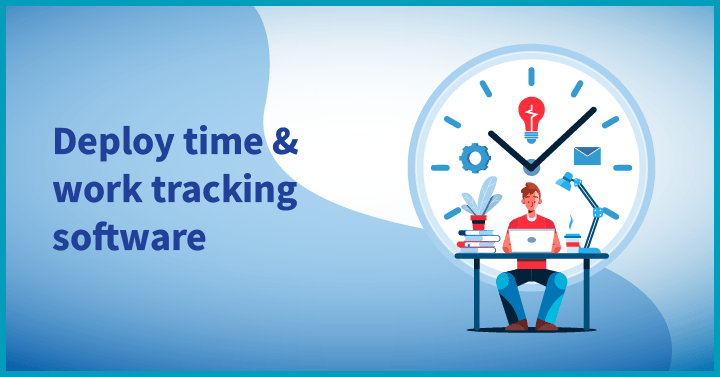 Like one of our managers said, "track performance, not people." If your organization runs on a project basis, more often than not, your employee doesn't have to be present for the entire duration of the shift. They can start work at 4 am and finish by noon or pull an all-nighter as long as they deliver their work on time. As an organization, you can encourage flexible work hours. You can also deploy a simple time and work tracking software or a full-fledged resource management software to keep track of their performance and meet deadlines.
2.9 Set clear goals and responsibilities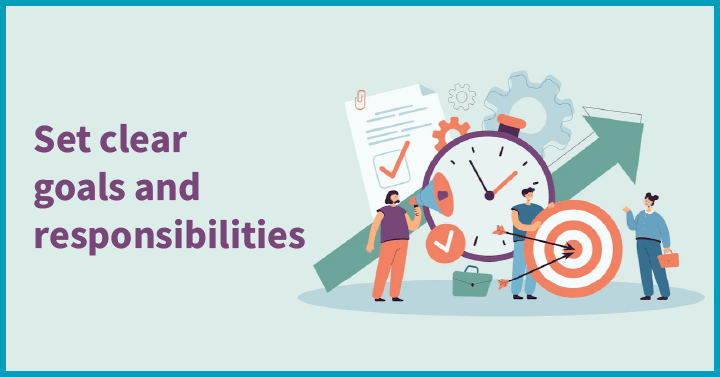 Somehow vaguely, this brings me the visual of Brooklyn 99's "Whodunnit" episode wherein a box of red sparkles explode on Jake Peralta's desk, and the squad wonders, "who has done this?" The hilarity of the scene aside, it would be a disaster for an organization to ask "who is/was responsible for a task" after it has been ignored or crossed a deadline.
Thus, it is vital to set clear targets and each team member's responsibility right at the start to eliminate such discrepancies and maintain the decorum. This way, everyone is clear on what needs to be done, and no time is wasted in looking for clarifications, thereby increasing productivity.
2.10 Organize real-time rewards & recognition programs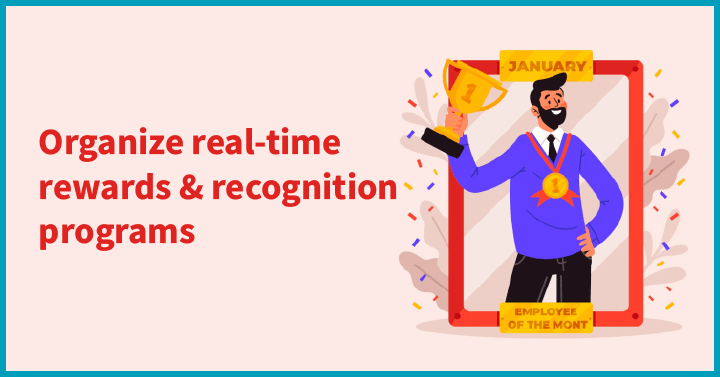 A happy way to improve remote work productivity is to appreciate good work soon after it is done. A little friendly competition on achieving goals and publicly incentivizing them for it acts as a motivating factor for your employees to give their best at work. Moreover, when employees see their peers getting recognized in real-time, it acts as a ripple effect in boosting productivity across the organization.
2.11 Check-in regularly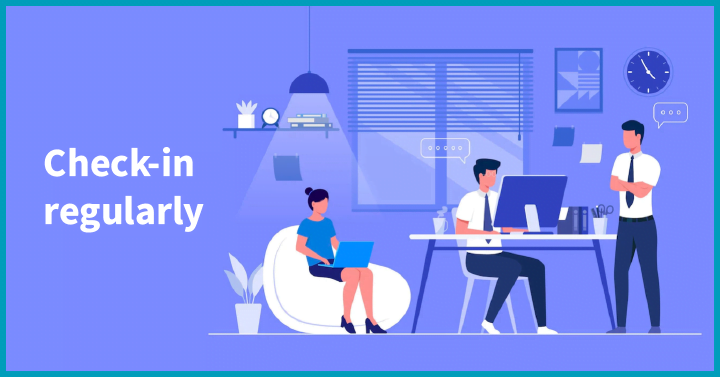 We have already seen the staggering statistics of social isolation. As a compassionate manager or a warm-hearted teammate, it is a nice gesture to check in with each other once in a while over messaging apps and have fun conversations. Also, remember to make quick checks on how the current system is helping them stay productive if anything needs to be improved or removed, if everyone is on the same page, etc.
Regular check-ins make your team feel valued, and this is also a good opportunity to get informal project updates. You can have your meetings over an excellent virtual meeting platform that provides voice and video chat options.
2.12 Foster employee health & wellness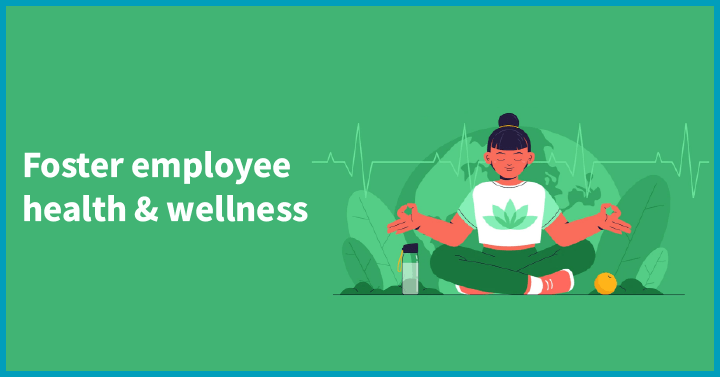 We have mentioned the importance of having a strict work schedule and a healthy morning & evening routine. What more can be done to improve remote work productivity by encouraging a healthy lifestyle for your employees? By actually implementing health & wellness programs in your office and providing them with self-care gifts.
Watch out for signs of exhaustion and burnout, give them stress-relief gifts, or offer free counseling sessions.
Organize wellness retreats or gift them with coupons for a day at a spa.
New parents and parents of small children need special attention, and you can ease their load with some thoughtful work from home gifts for moms and dads.
Set up a hotline or partner with a mental health service provider for employees to reach out anonymously.
Partner with a wellness center, gym, or yoga class to provide sessions at a corporate discount
2.13 Prioritize employee engagement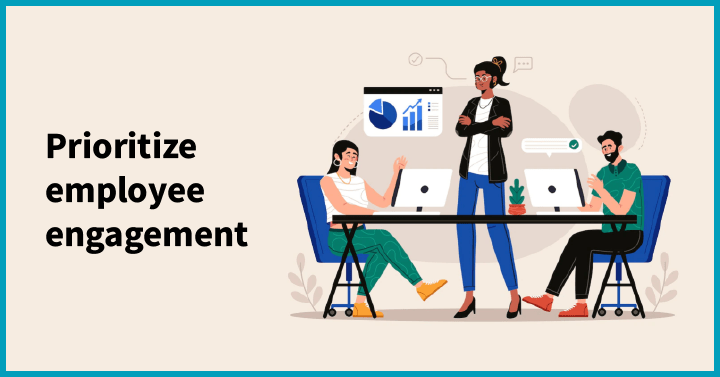 We always believed that a team that has fun together enjoys working together. Team building activities are incredibly vital to improving teamwork and productivity as it strengthens the bond with each other. A positive work environment encourages everyone to give their best. Here are some excellent tried and tested ideas for your next virtual employee engagement activity –
2.14 Take feedback and implement solutions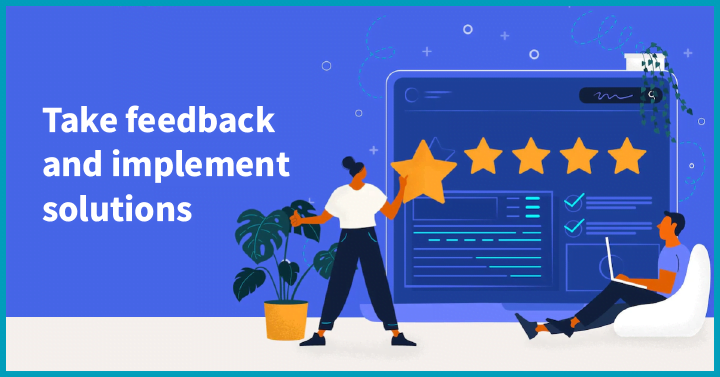 Another way to improve remote work productivity is to ensure your measures are working. Regular employee feedback and implementing appropriate solutions to fill gaps if any, help build a strong work culture. It makes them feel heard and understood. Taking suggestions will also help you know which tools and practices are redundant, therefore eliminating them. For example, if a few admin tasks are unnecessarily slowing the employees down, you can look into automation tools so they can focus on critical work.
2.15 Establish a hybrid workspace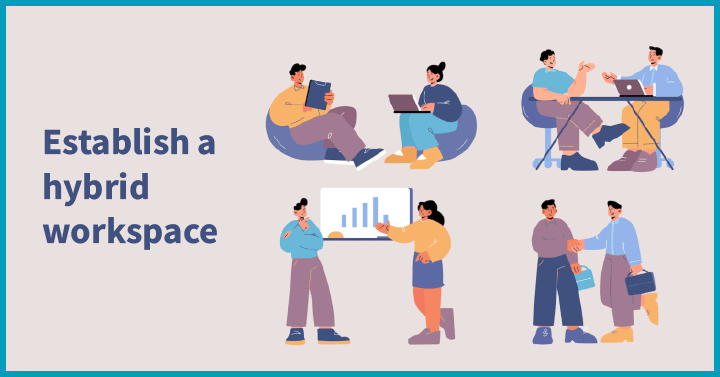 With many organizations considering a return to the office, giving your employees an option to telecommute for a predetermined number of days in a week would greatly promote a flexible work style and help maintain a work-life balance. When working on a project on a tight timeline, they need not waste time commuting to the office. If your employee has just had a baby, consider relaxing a few rules about working from the office. Provide a hassle-free environment for your employees so that they can give their best to a company that actually cares for them.
3. FAQs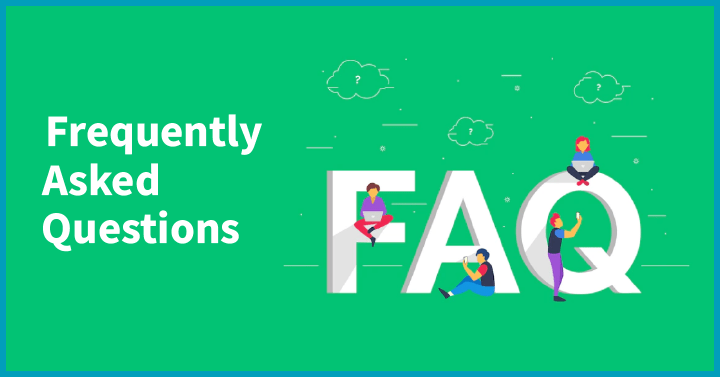 How to improve remote working?
An organization can improve remote working by ensuring the employees are equipped with ergonomic infrastructure, tools to stay connected during work hours, and promoting wellness and self-care practices.
What are some work-from-home strategies for companies?
Expand your workforce base since geography is no longer a limitation
Cultivate a hybrid work environment and flexible work timings
Provide sufficient employee support
Genuinely care for their well-being
Set clear goals, responsibilities, and communication hierarchy
Engage employees in team-building activities
Organize real-time incentivization of good work