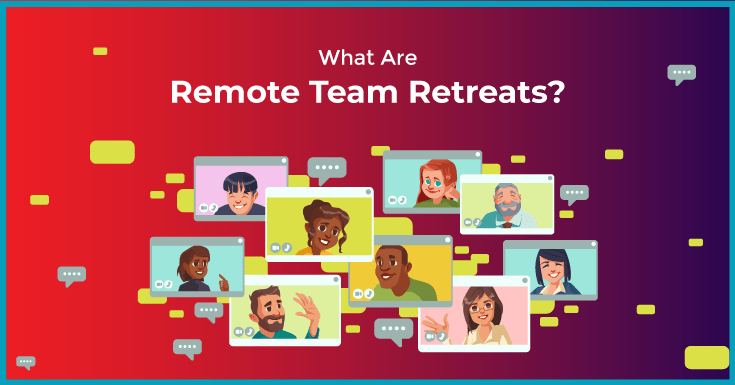 Companies that conduct yearly retreats for their workforce have always given employees something to look forward to in pre-2020. With the pandemic breaking out and clamping down on outdoor activities, physical retreats were out of the question. Businesses today are exploring innovative ways to encourage teams online in the form of remote team retreats!
Be it office or remote work; employees are on a fixed schedule to complete their everyday tasks. They communicate the necessary things with their immediate team and it ends there, giving no room for innovation or brainstorm ideas. This monotony leads to frustration and burnout down the line. Since remote working is here to stay, planning a virtual retreat could be the best solution.

Here is a blueprint on how to run remote team retreats successfully. Let us start with understanding the basics.
1. What Are Remote Team Retreats?

Remote team retreats are comprehensive team gatherings hosted via online platforms like Skype or Zoom. From newly joined employees to top decision-makers, everyone earmarks the time to connect, share valuable updates, and partake in fun activities.
The primary purpose here is to unplug from everyday duties and socialize with the rest of the team in building relationships and staying unified.
1.1 Why is a remote worker retreat needed?

Remote retreats give employees a break from work-related matters. It's a reboot and helps them de-stress, and have actual fun getting to know their colleagues in a holistic way. There is also the incentive to compete in inter-team activities to win prizes and feel accomplished. However, with your everyday work schedules eating up your time, employees don't get to socialize. Creative virtual retreat ideas strengthen your team, bring about bonding and enhance the employees' perspectives of a target-driven manager to a leader who helps to achieve better.
2. How to Run a Virtual Team Retreat- Best Practices

Outlining the main agenda behind the retreat is the first task. The plan must meet the goals of the retreat.
2.1 Appointing a committee:
Planning and executing an entire team retreat cannot be possible by one individual. You have to take care of all the arrangements, such as checking on tools and passwords, materials, employees' attendance, etc.. You can form the committee by simply asking for volunteers to join in or request managers to give a less busy resource who can help around. Their tasks may include:
Form a schedule and plan of events
Select team-building exercises
Design presentations and materials
Try & test technology
Track the attendance
Draft invitation online forms/posters
Form guidelines & set expectations for team interactions
Arrange for Meal coupons/ online vouchers, if any
Draft closing and feedback procedures
Listing and distributing tasks makes the team accountable and organized.
2.2 Event Outline:
An ideal virtual employee retreat has the perfect mix of discussions and fun. Include these elements to bring out just what you want:
2.3 Welcoming all the participants:
Extend a hearty virtual welcome to the retreat by greeting employees. The host can come in five minutes early on the schedule and can greet the participants by their name as they join the call.
Short and quick games to make the team members familiar with each other and participate actively in the event. Such games warm up the audience and make them receptive and alert for the upcoming activity
2.5 Keynote from the leadership sharing the updates (or changes, if any.)
It is a good practice for the leadership team to familiarize themselves with the rest of the team members and build rapport and it should be a part of the retreat's agenda.
2.6 Questions and Answers sessions or discussion:
Leaders can pick a set of relevant chat questions from the participants and address them with clarity. Such reciprocation from the management team gives better assurance to the employees.
2.7 Gratitude & Vote of thanks:
it is vital to be thankful for all the participants and value their presence. It goes to say that the organization finds their contribution as helpful and worthy.
2.8 Fun activities & bonding sessions to take over:
All participants from leaders to junior to take part in employee bonding sessions. Thereby creates a healthy work atmosphere.
Keeping this outline in mind, let us look for some fun ideas.
3. Virtual retreat activity ideas

3.1 Ice breakers or Warm-up Games
Remote team retreats focus on conveying your company's culture and how you expect employees to interact with one another. Some intriguing and engaging games ideas are:
This involves solving online puzzles or even riddles with your remote colleagues. It can be a brain-teasing virtual team-building competition. This virtual activity is ideal for groups that love solving complex problems and a little healthy competition. You could pair 2 or 3 participants in a team and see who cracks the code first.
A happy hour activity that is fun and easy as the host has a list of questions and is asked over a video call and a time limit to answer it.
Remote trips are online trips that can be hosted via platforms like Zoom, enabled by Google. They can be intriguing to people of all ages.
If bonding is on your mind, a cup of coffee adds the flow to it. Virtual coffee chit chats are good to refresh and create online engagements.
3.1.5 "This that" Questions :
Asking a set of "this that" questions are a fun way to help identify a colleague's preferences better.
3.1.6. Themed Hangouts :
You could create separate theme-based groups- such as for Sports fans, or Movie buffs, travel lovers, etc on the communication platform. Each one can choose and/or recommend groups for their teammates.
3.1.7. An online award show:
works perfectly in combining employee bonding time and recognizing talents. You can make it a bit more special by setting a dress code and clicking photos. There are no limits to creativity today; adding a crown or a sash around an employee- digitally can be something to consider including in the next employee newsletter or a web mailer.
3.1.8. Making Memories and sharing bits of motivation:
Even though most of your employees have participated in the remote team retreat, it is crucial to capture the moment as a souvenir of the fun times. This can be a hyperlink to a video montage that employees can view on the intranet or communication tools. There would be some workers who either missed the event entirely or dropped off due to connectivity issues. Recorded footage of the whole event would circumvent this issue, thereby helping them catch up on what they missed.
3.2 Enhance inter-team collaboration
If you intend to enhance networking in a team; Speed Networking is the right choice. You can have a random team generator tool to pair your employees into two groups. Then, give each pair a set of icebreaker questions and a time limit of five minutes to answer as many questions as possible. After five minutes are up, you can switch the pairs.
You can keep recycling the teams for more rounds.

One of the highly intriguing theories in psychology is the multiple intelligence theory. It goes to say that people possess various abilities. If harnessing the aptitude of every employee is your goal, then The Desert Island game could be useful. This is how it's played;
There are eight individuals, each one representing a different intelligence- such as math-logical, interpersonal, bodily kinesthetics, all stranded on a desert island. The participants must find ways to get to the mainland. Because the island has a finite amount of resources, your team must decide how to eliminate the individuals to ensure survival. The debates stemming from Lost Island Intelligences are excellent for learning about your co-workers' priorities and thought processes.
3.3 Rewards and Recognition Programs:
One of the best ways to recognize employee's efforts towards success is the R&R initiative and where else to do it but the retreat. A company-wide congregation attracts a lot of attention, and to be appreciated here means a lot to an employee.
Past the face-to-face possibilities to appreciate staff, managers today have online programs. These initiatives aim to acknowledge staff and appreciate them for their efforts.
These need to be practiced as a year-round activity or a post-appraisal pursuit to reflect in the retreat. Some of the ways of R&R include:
Manager-to-Employee Recognition: here, managers recommend employees, and the most recommended employee gets the award.
Peer-to-Peer Recognition: colleagues can commend their co-workers.
Performance-Management Programs: A centralized system to evaluate the accomplishments
Sending Recognition ECards: From a "thank you" card to "You did well" cards can boost employees' morale.
Social-Recognition Program: just like any social media platform, an organization can offer an app for social badges and "Kudos" to employees.
4. Key takeaways on remote team retreat ideas
Planning is the key, from appointing a committee to outline activities to running a successful remote retreat. Don't forget to send a survey across the organization, as feedback is valuable. Most of all, it is vital to connect with your employees and relish the fruits of hard work.
Work from home may seem tedious at times, and employees may experience burnout. A virtual retreat can be an effective solution to help the employees unplug. Hope you liked the ideas and thoughts shared in this article; feel free to tell us your remote retreats.