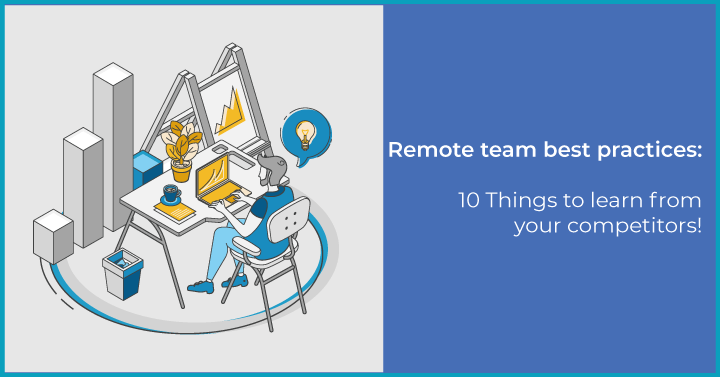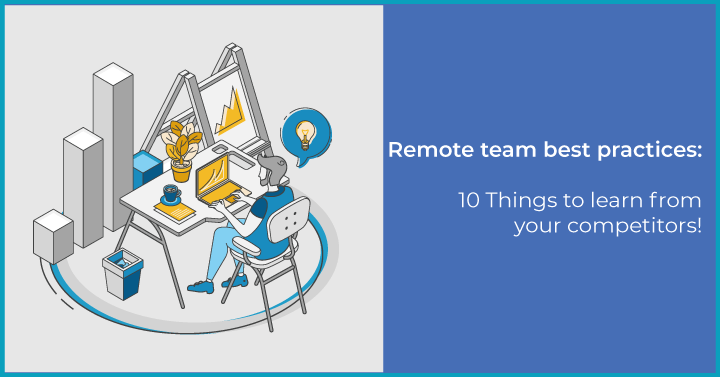 Managing remote teams best practices hinges on a manager's ability to expect the unexpected. Steve Jobs once said,' you can't look at the competition and say you're going to do it better. You have to look at the competition and say you're going to do it differently.'
I would like to add that we also look at the competition for inspiration. These especially include those who have exerted their leadership influence in a way benefitting the remote workforce.  It's about enabling self-governance within teams no matter the size and composition.
The goal of managing remote teams best practices is to keep individual contributors visible, engaged, productive, and accountable for what they do. But it's difficult to maintain this consistently in a practical setting. This is due to the changing priorities, lack of organization, and time mismanagement.
I always look up to seasoned managers, especially those who have managed and led collocated teams in the transition to remote work. After all, it's one thing to have bookish knowledge of management, and quite another to experience those challenges in real-life situations and compile one's own lessons on remote team management. Let us look at two companies that have brought remote teams together
How Do You Bring a Remote Team Together?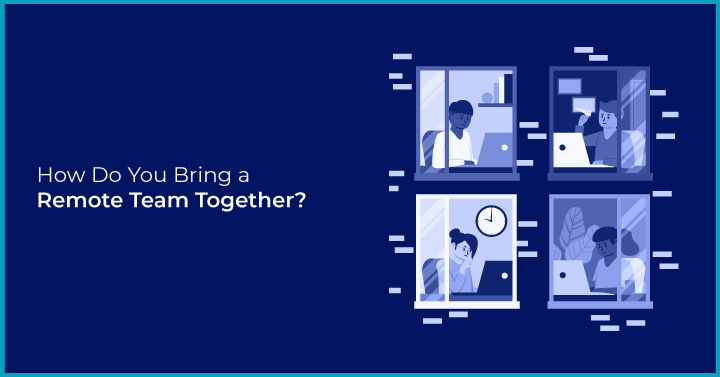 The first step in managing remote teams best practices is in bringing teams working remotely in different locations together. In the end, the focus should be on building an inclusive and supportive work culture.  A remote-first company is one that knits its people, processes, and tools together. It ensures remote employees have the facility touch base regularly by laying down the purpose and frequency of work-related discussions.
Take Zapier, for example. Zapier's workflow automation platform is frequently advertised on other solutions as a default integration and is considered one of the best app connectors out there. Zapier also happens to a fully private company with over 250 employees based in 24+ countries.
So how have they managed to stay remote for this long?
Wade Foster, one of Zapier's co-founders candidly talked about how work hours didn't line up in the early days. They weren't working together in one place because one, Zapier, was a side-project that couldn't afford an office at the time. And two, the founders were balancing other commitments. 2012 was the one and only time everyone was together. As more clients signed on to the platform, they ventured into hiring and took on former colleagues who were based in three different cities.
The hiccups they might have faced in the early days would have helped them understand how challenges impact different teams, and what can be done to ensure no one is left out of critical decisions that impact growth opportunities for both the business and individual. Zapier has also extensively documented their remote work policies and made it shareable to teams and other like-minded companies that have been thrust into a remote work set up suddenly.
Another company I learned more about over the last few hours was Automattic Inc, better known for its products WordPress, Gravatar, Tumblr, and Akismet. Their 1200+ strong team is fully distributed. Like Zapier, they also have a work policy called Automattic Creed. Everything you do when working remotely has to be more intentional, be it ensuring deadlines are met, scheduling a check-in, or following up on work progress. It's about replicating the office on a virtually accessible platform. Dedicated resources designed for remote teams help them feel more involved in decisions, actions, and conversations. It demarcates lines of authority, escalation levels, and provisions in the event of a member-facing difficulties. Let us now dive into the 10 managing remote teams best practices your competitors could teach you a thing or two about!
A 10-step guide to managing remote teams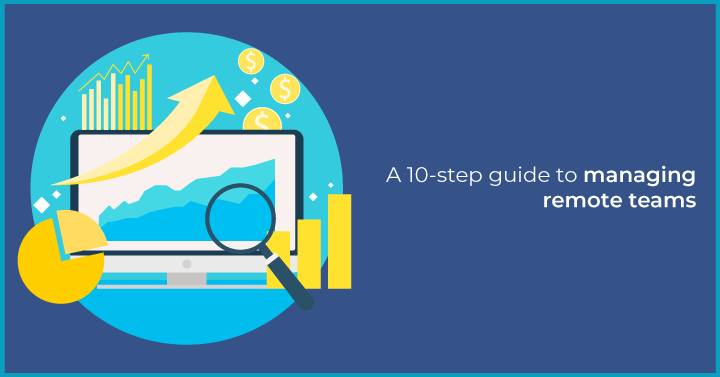 The right tools not only give you an edge in the marketplace, but also ensure your processes are followed as planned. It helps teams get better acquainted with each other, and establish bonds for the entirety of their association with the business. Here are remote leadership best practices to help you master control overwork;
1. Update company guides
Compile a remote work handbook that lists down procedures, communication etiquette, and processes. While it's preferable to upload it in a Cloud so that it remains there and gets automatically backed up if routine server maintenance takes place, make sure its access rights are on, with further modification rights limited to relevant and authorized organization users. These guides can be handed out to teams to refer to at their convenience whenever they're stuck.
2. Collective problem-solving
Problems are easier to resolve in a physical workspace. One, you are more familiar with the office layout (i.e where a member's cubicle is located), and when a member or manager you'd like to speak to would be available. When remote, however, this availability varies by the time zone different members are in. They can risk seeing your messages or calls late, which creates a bottleneck in progress.
The golden rule for managing remote teams best practices is to confirm everyone's availability before scheduling a brainstorming session. A moderator can preside this and set the agenda and ensure that the discussion sticks to it. Members can use the session to run through any problems they've been facing and be in a position to relate, empathize, and resolve.
3. KYEI (Keep your employee informed)
When you have a remote and distributed team, you cannot afford to have anyone go off the grid or on a tangent to goals. In the former scenario, the longer they are unresponsive, the more likely you are to assume the worst. In the latter, there's a disparity on what the priority should be.
One of the best remote team management tips I can offer is that you should always inform your teams of changes in company structure, governance, and strategy. They too have the right to know how these changes impact their line of work and future with the company. Therefore, loop them in on decision-making and get inputs on what actions they'd like to see implemented for process improvement. A different perspective on an existing problem could come from anyone, and incorporating your staff's feedback can help you fix existing problems and prevent new ones.
4. Invest in health and well-being
20% of remote workers reported struggling with loneliness, while the inability to unplug came a close second, at 18%. This is attributed to the fact that your new remote work routine leaves you housebound, without sufficient time to catch up with friends and family.  You can beat this with immersive team-building exercises that can be played online.
Now with Zoom, Google Meet and Skype, you can have your teams convene into breakout rooms to go over the rules and come up with a game strategy. Brain teasers, logic puzzles or even a gamified task can engage workers in a bit of friendly competition. You can even sign your team up for corporate wellness and fitness packages to nourish both body and mind. After all, a healthy body houses a healthy mind. Having something other than work to look forward to not only recharges remote employees but also enhances their performance when they resume work. You can even organize a remote meditation retreat with everyone for 5 to 10 minutes either at the start or towards the end of day, whichever time works best for you and them!
5. Clarify expectations
Communication is the glue that holds remote teams together. If you want your teams to shift their mindset from hours to results,  make priorities clear from the start. Convey them in advance, even before you draw up the schedules, so that you give the attention to the right work first.
Constantly changing priorities adversely impact deadlines and leaves the progress in the lurch. While it's ideal if priorities stay the same in terms of timeline, expected results, costs, and quality, in the event that something changes, the reasons for it being so, benefits and considerations are given have to be made clear to the team member(s) working on it so that they can accordingly adapt.
6. Hire the right people
A good hire gets work done, but a great hire reinforces a healthy work culture. A benefit of the remote workforce is that talent is globally available, which increases the size and diversity of the candidate pool. Onboarding the right people can not only take your business forward but can also open up avenues for new markets to get into. Professionals in your firm can even refer you to associates in their network who are their acquaintances for future roles, saving you hours and effort to source new candidates. The right people are a pleasure to work with because they collaborate rather than compete and share information, skills, and time with each other.
They form the core of high-performing, self-sufficient teams and facilitate smooth handovers and knowledge transfers. Remote hires also come at a lesser cost, not from cutting back on pay but more as a result of doing away with overheads. These include office space, in-house training, mentoring, and relocation expenses. You can still offer perks but at the fraction of the cost!
7. Revise your KPI
One should decide the key performance indicators based on the future they see for their business. It should include
Strategy and business goals
Expected outcomes
Compulsory and estimated effort hours.
Training and support provided
Workforce accountability
You should revise in accordance with remote work so that neither performance nor quality goes down. You should conduct employee assessments in a way that employees are able to better understand their strengths and weaknesses. They should also be able to seize opportunities for individual performance improvement.
8. Organize catch-ups
Divide the workday meeting times by importance and order. Start with a team-wide check-in for daily updates that you can consolidate later into weekly reviews. Avoid impromptu calls. Instead, drop a message or email to get onto a call so that you don't miss the crucial updates. Also, don't reach out to members only for work-related updates. Remember to make time for casual facetime as well to check in on the team. Factor in personal preferences before jumping onto a call. For example, would a member feel more comfortable opening up one on one over a group call? Are there conflicts of interest a manager needs to know about so that they can step in to avert a workplace crisis? Regular check-ins keep members in the loop. Moreover, it also creates the type of team dynamic that helps absorb the right people into the company.
9. Virtual "kudos" system
Did someone from a cross-functional team do a job well or go the extra mile? Create a "kudos" system to show your appreciation for said member. It not only gives recognition to that particular member but also indirectly advertises the bar expected of the rest of the team.
The system of remembering and rewarding talented employees can also lower absences and employee turnover. In fact, 13% of remote workers surveyed in a 2019 owl labs study said that they are more likely to stay on in their current job for the next 5 years than their on-site counterparts. 
This is in part due to the flexibility and work-life balance, but also in part due to the fact that remote workers are no longer thought to be unproductive sans direct supervision, and have proven themselves capable of staying productive! You can be as creative as you want with the kudos system. You can include virtual celebrations, coffee runs, social meets, or gift vouchers to e-commerce sites!
10. Make communication more intentional
Invest in the right technology stack with both online and offline capabilities. Equip remote teams with enterprise broadband and data plans as part of the expense package. This will enable them to remain online, connected, and engaged.
The remote team management tool you use should enable members to keep track of teamwork, interactions, activities. It should also simplify decision-making and planning and streamline actions so that everyone continues to be on the same page. When you make communication more intentional, no one wastes any time getting work off the ground. More importantly, different members can account for what they have completed and what they'll take up next.
How to be a remote manager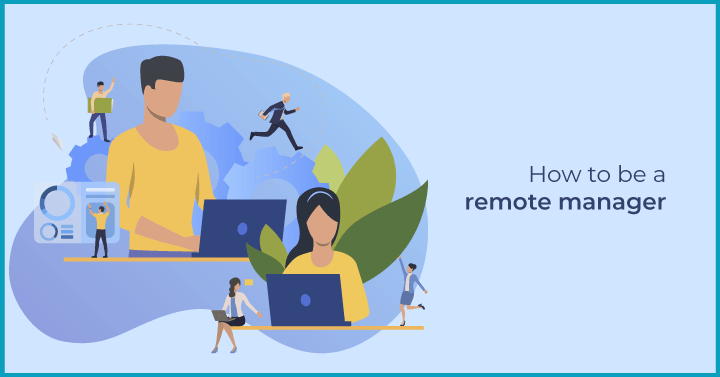 Remote work in recent times is more circumstantial than intentional. The onset of the COVID-19 pandemic resulted in more offices moving to a virtual set up. Remote work went from being on everyone's wish list to an actual way of working. Now that you have a distributed team, your managing remote team's best practices should include mastery over delegation. Even more importantly, a remote team manager should know when to step in and be able to observe how their team works with each other without direct supervision.
The managing remote teams best practices elaborated in this post apply to a manager just as much as it does to the team they're managing. After all, you're going to be fielding communication, moderating threads, and ensuring your work culture embodies the right principles. Ready to work remotely on a permanent basis now?