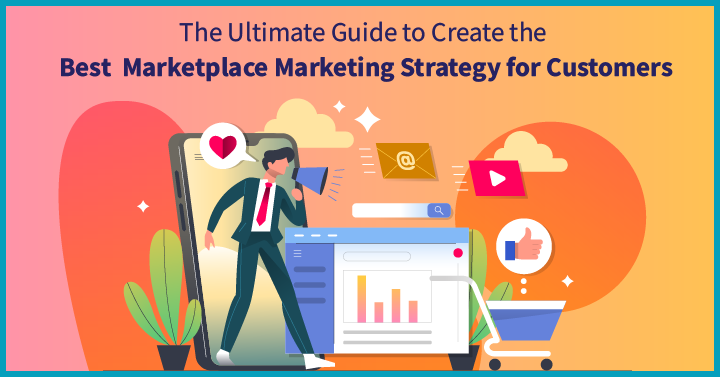 The trend towards e-commerce has only been accelerated by the recent pandemic, driving both businesses and consumers to make more of their purchases via the web. In this new reality, a multi-vendor site with a strong marketplace marketing strategy can strike it rich.
With so much at stake, understanding how you can create the best possible platform for both consumers and third-party sellers is absolutely essential in the rapidly growing and increasingly competitive world of online marketplaces.
1 What Is an Online Marketplace?
Online marketplaces are e-commerce platforms that connect third-party vendors to buyers. They can be extremely general in scope like eBay, dedicated to a more specific area like crafts-based site Etsy, or highly targeted like second-hand car seller AUTO1.com. Online marketplaces exist for B2C, B2B and C2C interactions.
2 Ultimate Marketplace Marketing Strategy 2023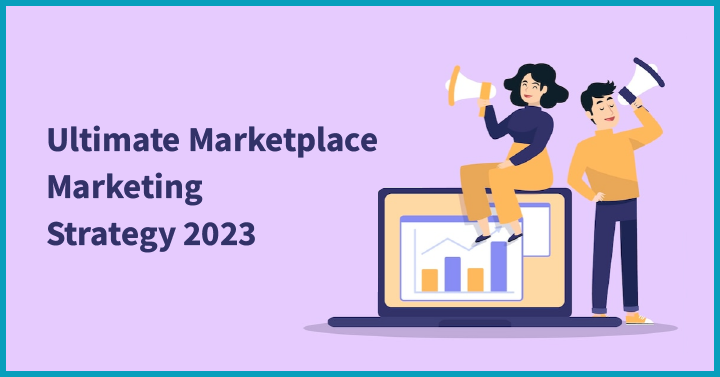 2.1 How Do I Attract People to My Marketplace?
Creating a successful online marketplace involves attracting both vendors to sell their goods and customers to purchase them. At the beginning, this can be particularly challenging because many vendors will first want to know your marketplace has lots of potential customers before they sign up, while most customers won't visit your site unless you already have a broad range of vendors available.
Despite this chicken-egg quandary, the best option is usually to focus on vendors first, since they have a greater incentive to become involved in a new enterprise that may open up new avenues of revenue.
2.2 How Do You Attract Vendors to Your e-Commerce Marketplace Site?
Do your due diligence when it comes to creating vendor profiles of the companies most likely to use your online marketplace. If you know what kind and type of products, categories and segments, you need to target, it's easy to liaison with relevant vendors. Once you have this in mind, you can more astutely utilize a combination of content marketing, paid advertising and social media to drive business to your platform.
The UI needs to be intuitive and easy to use. When building the core features of your marketplace, don't forget that ease of use is as important as functionality, since vendors who get frustrated with overly complex admin or product listing features are unlikely to stay with you for long.
Be Clear About Your Payment Model
Be transparent about the subscription or commission fees associated with your e-commerce platform in your marketplace marketing strategy. Unclear terms are a huge turnoff for third-party vendors who are worried about being cheated out of their profits or having an unsatisfactory ROI. Consider including dummy examples of the payment model to make it crystal clear.
If there are other digital marketplaces with a similar offering, you can consider seeing what companies are selling through them and then target them with a superior offering or marketing material that details why your product is best in class.
Bear in mind that one of the principal reasons vendors turn to online marketplaces is that they want to simplify their own operations. Proving you are a reliable partner when it comes to supplying logistical, digital and payment support will go a long way to building a strong relationship.
2.3 How Do You Attract Customers to the Online Marketplace?
Before taking any concrete steps, plan a marketplace marketing strategy for growth by analyzing your potential opportunities. While it can be adapted as you obtain further information, this preparation will provide a useful framework as you develop your e-commerce platform.
Learning about your customers should play an essential in how you develop a marketing strategy. If you are in the early stages and don't have much in-house data, you can do this through investigating your competitors and investing in market research papers.
Build a Platform with Simple UI for End Users
Shoppers will not want to spend a lot of time learning how to utilize your platform. That's why creating and testing the user interface and features of your online marketplace to make sure they are as intuitive as possible is key to increasing customers.
Create a Unique Landing Page
Drive leads by building a unique landing page. By directing people to this standalone page of your site, you can gather email addresses for marketing campaigns as well as web traffic data about your audience demographics.
Optimize the Website for Various Search Engines
SEO grows organic traffic for your e-commerce platform. As part of your marketplace marketing strategy, you will need to analyze keywords associated with whatever you are selling through tools like Google's Keyword Planner, which you can then incorporate into your website content. You can also improve your technical SEO through site audit tools and backlinking.
Promote the App on Different Social Media
By promoting your online marketplace through social media channels, you can reach a large audience of potential users. Optimize your social media pages by including concise details of your company and contact information. Join relevant groups and consider tags for your posts to build brand awareness. It's worth noting that Facebook and Instagram have in-built e-commerce functions already to facilitate seamless purchases.
Utilize PPC Advertising for Marketing Online Marketplace
Pay-per-click advertising is a necessary complement to organic traffic and is available from search engines and social media. It can be particularly helpful when you want an immediate boost to your pageviews, to raise your profile with your target demographic.
Collaborate with Influencers to Reach a Larger Audience
As part of your overarching marketplace marketing strategy on social media, influencers can not only help you reach a larger audience, but also give you access to followers associated with your marketplace's niche.
Use Email Marketing Strategies
Creating different email interactions for different kinds of customers lends a personalized touch to your marketing efforts. Through a coordinated email marketing campaign, you can drive vendors and buyers towards your online marketplace in a more targeted way.
Select Business and Warehouse Partners Carefully
Nothing puts customers off like a bad delivery experience. That's why you should pay close attention to your shippers and warehouse partners, putting them through a rigorous series of checks and inspections to ensure they meet your needs with minimal errors or delays.
Provide Different Payment Options
While debit and credit cards are fairly standard payment options, consider offering other choices to cater to your customer base, such as Apple Pay, PayPal, Klarna or even bank transfer.
Include Reviews and Ratings for Products
Building consumer trust is one of the biggest challenges for a new online marketplace, but a robust reviews and ratings system reinforces confidence and adds value to the buyer by allowing for comparison.
Offer Customers a Bonus for Every Recommended Person
Turning customers into brand advocates is a great way to attract new users and encourage more sales. In fact, brand advocates are twice as likely to influence a purchasing decision. Referral programs incentivize this behavior with free or discounted products.
Develop a Loyalty Program for Consumers
Loyalty programs foster repeat business but rewarding people for frequenting your online marketplace. These can be targeted at buyers but also vendors, as demonstrated by Amazon's Seller Rewards initiative in India.
Analyze the Marketplace Performance
Engage in a continuous process of data analysis to ensure your marketplace marketing strategy is paying dividends. If you have a low ROI, dig into the statistics to find out what tactics are attracting the most customers and which ones you can pare back or dispense with entirely.
2.4 How Do You Market Your Marketplace Website?
While it can be expensive, paid advertising is usually one of the pillars of online marketing, particularly when it comes to a new brand. Popular platforms to advertise on, such as Google, Facebook and Instagram, offer a mixture of PPC, display ads and native ads, which you can use to promote your marketplace to specific demographics. On LinkedIn, for example, you can target people by job role or company type.
Publishing blogs that contain valued-added information and include keywords that target people searching for your product niche is an organic way to keep traffic flowing to your website. This takes a little longer to get going than paid advertising, but in the long-term tends to deliver a better ROI. Make sure to check for common SEO mistakes like duplicated content and fixing broken links.
Social media can underpin other aspects of your marketing strategy. In addition to paid activities on the platforms, such as ads or influencer marketing, you can also use them to share interesting content to generate clickthroughs. Having a strong brand presence on social media not only builds awareness of your marketplace and generates traffic, it also legitimizes you as a trustworthy company.
Email campaigns can help you nurture both vendors and buyers through personalized communications. By segmenting your audience and creating different templates, you can show the optimum content at the right time to maintain high usership. This can be done through a mixture of emails explaining the unique, useful features of your online marketplace, highlighting items a customer might like based on their previous purchases or pageviews, or sending out timely offers to encourage engagement.
3 What Is Marketplace Marketing Strategy?
A marketplace marketing strategy involves putting together a plan to spread the word about your e-commerce platform to both vendors and buyers. It should clearly identify what costs are associated with each aspect, so that you can decide what initial budget you will need.
Having a marketing strategy will drive up your usership by increasing brand visibility, building credibility and just generally making you easier to find via search engines and social media, among other benefits.
4 What Are the Different Types of Marketplaces?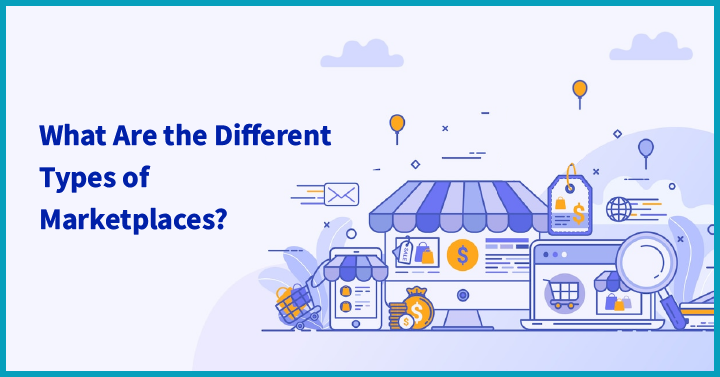 Vertical marketplaces are dedicated to a specific sector or category of product. Being more niche can make a business more competitive, as the specialization can lead to it being recognized as an expert or preferred seller in a particular field. It also means you can develop much more targeted marketing campaigns.
Horizontal marketplaces provide a broader array of items to attract a wider customer base. For example, instead of focusing on just shoes or athletic wear as a vertical marketplace dealing in only footwear might do, a horizontal marketplace might supply search results for all kinds of apparel.
Global marketplaces are the broadest type of online marketplace, selling a huge array of products to a worldwide audience. Amazon is the most comprehensive example of this type of vendor, offering a one-stop shopping experience that is attractive for anyone who wants to get several purchases in one place.
5 Why Are Online Marketplaces Booming?
Recent research suggests online marketplaces will account for almost 50% of all online sales in established categories by 2025. That's hardly surprising, given how useful they are for both sellers and buyers.
For sellers, online marketplaces offer a way to reach much larger audiences, potentially helping to boost sales. Appearing on a reputable e-commerce site can also build consumer trust in a brand while simultaneously removing the hassle of customer service.
For buyers, they greatly enhance convenience, since similar products can be directly compared against one another in terms of specification, price and company rating. Rather than visiting multiple sites, they can view a selection of options in one place.
They are also very attractive as a business model due to their increasing popularity. This has led to a significant amount of investment: around $139 billion US last year according to a report on online marketplaces released at the beginning of 2022.
6 How Does an Online Marketplace Work?
Online marketplaces can make money through several different models. One of the most common is subscription, where third-party sellers pay a set fee to list as many products as they want over a set period.
Other fee frameworks are based on sales (i.e., commission), amount of leads received (not necessarily resulting in a sale) or the number of product listings a brand places on a site. It's also possible to run an online marketplace based on a mixed model strategy.
In exchange, online marketplaces generally don't just list a third-party seller's products, but also undertake to help with order processing and payments, as well as providing access to data that can enable marketing based on SEO and keyword searches.
7 Different Types of Online Marketplaces
The largest online marketplace of them all, Amazon boasts more than 6 million unique sellers. Its vendors sell across a broad range of categories and geographies, making the platform a true global marketplace. The Seller Central portal allows users to monitor inventory, update listings, utilize consumer metrics tools and contact support, among other features. Fees are based on a combination of subscription, commission and shipping.
Rather than a typical online marketplace sales structure, eBay's hosts auctions for a broad range of products. Second only to Amazon in size, it caters for both B2C and C2C interactions, as reflected by its fee structure. Individuals who list fewer than 250 items per month don't have to pay for listings, whereas businesses that list more pay a $0.35 insertion fee. All sales attract final value fees. These vary by category, but most items attract a 12.9% commission or lower.
India's major digital marketplace player, Flipkart is another one-stop shop e-commerce platform, selling everything from groceries to scooters. Fees are charged based on commission (determined by category), shipping, cost of payment collection and an additional fixed fee that is based on the value of the item.
Etsy is a horizontal marketplace that focuses largely on creative handmade products and crafts-based items. The site offers customer support, seller guides and a simple interface to manage orders. Each listing costs money and each sale incurs charges related to payment processing, commission and off-site advertising.
8 FAQ
8.1 How Do I Build a Marketplace Platform?
The first stage of an online marketplace marketing strategy is to decide what area(s) you want to focus on, determine the demand and research your customers. You should also investigate any existing competitors.
Hire a Product Development Team
Now you have a clear idea of what you want to achieve, the next step is to discuss your options with several experienced product development teams. This will show you what is possible, the potential cost and the estimated timeframe. You can then decide which of the companies you want to work with to build your online marketplace.
Test out your concept with a minimum viable product. This way, you can gather feedback from a select group of customers and validate your premise before you invest the big bucks in a fully-fledged platform.
Once the final product is ready, your marketplace marketing strategy should turn to attracting both relevant buyers and sellers. This can be through a mixture of paid advertising, social media marketing and search engine optimization.