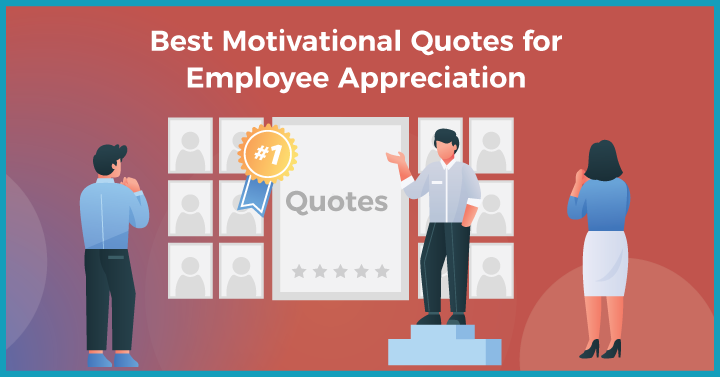 Do you focus on relieving tension with some apt yet funny phrases at the workplace? Or try to inspire staff with stirring words from some great achievers who have come before? Motivational quotes for employee appreciation can go a long way in creating an atmosphere that's conducive to productivity and positivity.
Here are some inspiring quotes that you can add to your repertoire.
1 Significance of Motivational Quotes for Employee Appreciation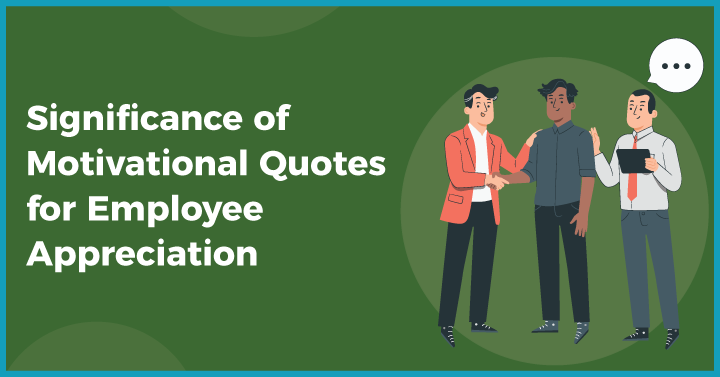 Motivational quotes can contribute to keeping staff engaged and switched on at work. This in turn results in higher productivity, better workplace satisfaction and lower stress levels. Motivating employees is key to driving efficiency as well as commitment and in every business, building a dynamic work culture that makes people want to strive harder and perform better.
2 Motivational Quotes for Employee Appreciation
"Talent wins games, but teamwork and intelligence win championships."
– Michael Jordan
"A successful man is one who can lay a firm foundation with the bricks others have thrown at him."
– David Brinkley
"Let no feeling of discouragement prey upon you, and in the end you are sure to succeed"
– Abraham Lincoln
"You were hired because you met expectations, you will be promoted if you can exceed them."
– Saji Ijiyemi
"People often say that motivation doesn't last. Well, neither does bathing – that's why we recommend it daily."
– Zig Ziglar
"Ability is what you're capable of doing. Motivation determines what you do. Attitude determines how well you do it."
– Lou Holtz
"A clay pot sitting in the sun will always be a clay pot. It has to go through the white heat of the furnace to become porcelain."
– Mildred Struven
"Luck is a matter of preparation meeting opportunity."
– Lucius Seneca
"You can worry about the competition…or you can focus on what's ahead of you and drive fast."
– Jack Dorsey
"The time your game is most vulnerable is when you're ahead. Never let up."
– Rod Laver
"You can't let your failures define you. You have to let your failures teach you."
– Barack Obama
"The way to get started is to quit talking and begin doing."
– Walt Disney
"If you're not making mistakes, you're not taking risks, and that means you're not going anywhere. The key is to make mistakes faster than the competition, so you have more changes to learn and win."
– John W. Holt, Jr.
"I'm a great believer in luck, and I find the harder I work the more I have of it."
– Thomas Jefferson
"When your work speaks for itself, don't interrupt."
– Henry J. Kaiser
"The sun himself is weak when he first rises, and gathers strength and courage as the day gets on."
– Charles Dickens
"The pessimist sees difficulty in every opportunity. The optimist sees opportunity in every difficulty."
– Winston Churchill
"When everything seems to be going against you, remember that the airplane takes off against the wind, not with it."
– Henry Ford
"Hard work spotlights the character of people. Some turn up their sleeves. Some turn up their noses, and some don't turn up at all."
– Sam Ewing
Sometimes, it is the people no one can imagine who do the things no one can imagine.
– Alan Turing
I always did something I was a little not ready to do. I think that's how you grow. When there's that moment of 'Wow, I'm not really sure I can do this,' and you push through those moments, that's when you have a breakthrough.
– Marissa Mayer
"You just have to keep driving down the road. It's going to bend and curve and you'll speed up and slow down, but the road keeps going."
– Ellen DeGeneres
"Develop success from failures. Discouragement and failure are two of the surest stepping stones to success."
– Dale Carnegie
"A dream doesn't become a reality through magic; it takes sweat, determination, and hard work. "
– Colin Powell
"Tough times never last, but tough people do."
– Robert Schuller
"When I let go of what I am, I become what I might be."
– Lao Tzu
"Twenty years from now you will be more disappointed by the things that you didn't do than by the ones you did do. So throw off the bowlines. Sail away from the safe harbor. Catch the trade winds in your sails. Explore. Dream. Discover."
– Mark Twain
"The best time to plant a tree was 20 years ago. The second-best time is now."
– Chinese proverb
"All growth depends upon activity. There is no development physically or intellectually without effort, and effort means work."
– Calvin Coolidge
"I wish I could tell you it gets better. But it doesn't get better. You get better."
– Joan Rivers
"Winning isn't everything, but wanting to win is."
– Vince Lombardi
"The difference between ordinary and extraordinary is that little extra."
– Jimmy Johnson
"Visualization works if you work hard. That's the thing. You can't just visualize and go eat a sandwich."
– Jim Carrey
"If two men on the same job agree all the time, one is useless. If they disagree all the time, both are useless."
– Darryl F. Zanuck
"In the confrontation between the river and the rock, the river always wins, not through strength but by perseverance."
– Louis Agassiz
"You can't use up creativity. The more you use, the more you have."
– Maya Angelou
"Greatness is not in where we stand but in what direction we move. We must sometimes sail with the wind and sometimes against it – but sail we must and not drift, nor lie at anchor."
– Oliver Wendell Holmes
"Failure is the condiment that gives success its flavor."
– Truman Capote
"No one can whistle a symphony. It takes a whole orchestra to play it."
– H.E. Luccock
"A river cuts through a rock not because of its power but its persistence."
– Jim Watkins
"To do anything in this world worth doing, we must not stand back shivering and thinking of the cold and danger, but jump in and scramble through as well as we can."
– Sydney Smith
"To win in the marketplace you must first win in the workplace."
– Doug Conant
"Clients do not come first. Employees come first. If you take care of your employees, they will take care of the clients."
– Richard Branson
"It's not about having the right opportunities. It's about handling the opportunities right."
– Mark Hunter
"There is no such thing as work-life balance. It is all life. The balance has to be within you."
– Sadhguru
"Don't be afraid to give your best to what seemingly are small jobs. Every time you conquer one it makes you that much stronger. If you do the little jobs well, the big ones will tend to take care of themselves."
– William Patten
"If the only tool you have is a hammer, you tend to see every problem as a nail."
– Abraham Maslow
"Ability is what you're capable of doing. Motivation determines what you do. Attitude determines how well you do it."
– Lou Holtz
"Winners take time to relish their work, knowing that scaling the mountain is what makes the view from the top so exhilarating."
– Denis Waitley
"We must all learn not only not to fear change but to embrace it enthusiastically and, perhaps even more important, encourage and drive it."
– Tony Hsieh
"The big secret in life is that there is no secret. Whatever your goal, you can get there if you're willing to work."
– Oprah Winfrey
"Everyone wants to be appreciated, so if you appreciate someone, don't keep it a secret."
– Mary Kay Ash
"The question isn't who is going to let me; it's who is going to stop me."
– Ayn Rand
"Whatever you do, do it with all your might. Work at it, early and late, in season and out of season, not leaving a stone unturned, and never deferring for a single hour that which can be done just as well as now."
– Margaret Fuller
3 FAQs
3.1 What Are Some Appreciation Quotes?
In addition to quotes by famous persons or successful businesspeople, you can also incorporate standard appreciation words when using the best motivational quotes for employee appreciation to galvanize them in pursuing their objectives. For instance, "You are a valued team member who always brings their best to every task they set their mind to."
3.2 How Do You Express Appreciation and Gratitude in Words?
You can loop in the best motivational quotes for employee appreciation that are popular, or you can get creative and come up with your own appreciation for good work messages for team successes. The most important thing of all is to know your staff and what will best inspire them.
3.3 What are the best appreciation words?
Some of the employee appreciation words that can promote a sense of positivity would be –  
"Thank you for your contribution"
"We value you for your hard work"
"Here's sharing some heartfelt appreciation your way"