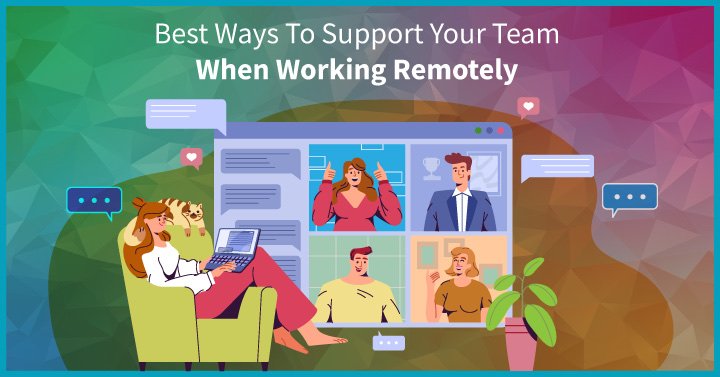 The format of remote work no longer surprises anyone. In times of hard lockdown, both businesses and employees appreciated the advantages and disadvantages of such work in their experience. Eventually, some returned to full-time work in the office, while others preferred to work as part of a remote team.
As you can see, team management is a necessary skill of a modern manager in remote work as well. It is not enough to just choose a convenient virtual coworking space. New challenges raise new questions. Let's talk about how to become a good manager and leader for remote workers.
Communicate with remote employees
Team management begins with proper communication. Communication is no less important for remote work. Employees need to be heard, supported, taught, not just forced to perform current tasks. Think of an ordinary office day: a break, a coffee break, a discussion of the latest news, a brainstorming session for ideas. Remote workers also need all this to work effectively.
Choose communication tools for different needs:
social communication software;
tools for messages and chats;
task management;
internal blogs and tutorials;
analytical tools for KPI measurement;
discussion forums;
space for the exchange of creative ideas;
chat for alerts;
employee profiles;
workflows.
So, rule № 1: if you want to become a good manager and leader, then communicate with your remote team in different formats.
Do not divide the team
If the business is in a mixed format, it is difficult to avoid the "central office syndrome". The workers you see live every day seem closer to you. You can talk to them more often during meetings, explain the task to them more carefully, and listen more carefully to their ideas. At this time, remote workers will not receive enough of your attention. This is a mistake for the manager. You need to unite people and build trust with colleagues. This is rule № 2.
Are you used to explaining tasks by drawing diagrams on a flip chart? Try to record your screen on Mac. This also works great.
Build loyalty with employees
Everyone is unique. The focus on teamwork is the best combination of these uniquenesses. This is rule № 3, which is important for remote work as well.
To successfully manage a remote team:
be fair to each team member;
establish transparent relations between employees;
do not limit communication with subordinates only to setting and checking tasks;
take an interest in people who work remotely in your team.
If you want to build trust with colleagues, start with loyalty. Teamwork arises only in a team where fair, transparent rules are established.
Learn to understand people
Empathy is an essential skill for a manager. Remote work does not allow you to see the mood and condition of employees when communicating in the office.
At the same time, at home, the employee may face many problems: malaise, additional household responsibilities, caring for family members. Take time for personal communication to understand people's feelings.
If you want to get to know the employees better, arrange informal communication for the remote team. There are many virtual teams building activities ideas. For example, have a virtual New Year's party or an unexpected online birthday greeting. Create positive emotions in the team. This is rule № 4 for a successful manager.
Support your team at the workplace
The employer creates the necessary working conditions. Due to the transition of employees to a remote format of work in business, there may be a temptation to save on job creation. We do not recommend going to extremes: savings on rent and utility bills are enough.
Remote work arrangements should not be considered as personal difficulties. The organization of remote work should not be considered as a personal problem of the employee. If your business is looking for real talent, then you will not lose the best because of the savings on the laptop. Offer employees equipment for remote work with a standard set of tools. Although this rule is on our list № 5, it can be a priority for the employee.
Focus on the result
If previously standard office work was based on hours worked, then remote work requires a new approach. Tracking and controlling the number of hours worked by a person becomes costly and inefficient. It is better to measure employee productivity by the results achieved.
It sounds difficult at first, but to become a good manager and leader, you have to learn to do it. Everyone benefits from this model of personnel evaluation. The employer gets better results, and employees work without undue pressure and stress. Let's call this rule № 6.
Make regular check-ins
Remote work also requires structuring and a set of rules. Agree with employees on the frequency of checks and the time of their implementation at the start. This is rule № 7.
Be flexible in setting meeting times. It is important to consider such things as different time zones and the personal nuances of each employee. Agree on a time to communicate with employees as business partners. It will be fair and convenient for everyone.
Create common traditions
Finally, rule № 8. Find out the interests and preferences of employees. We even recommend conducting a special survey. This will help you better understand the team and make communication interesting. Although you are separated by distance, people need to feel part of the community.
Remember how easy it is in the office to communicate in a "cooler" or "coffee break" format. Create something like this:
chat for informal conversations;
communication on personal topics;
shared entertainment.
The format will be suggested to you by employees, the task of the manager to ask their opinion and find common ideas.
Conclusion
The format of remote work is gaining momentum. More and more people understand its benefits: freedom and unlimited possibilities. Borders are being erased and obstacles are disappearing. Businesses are transferring entire destinations to a remote format.
Therefore, the need for managers who can effectively manage remote teams is constantly growing. It's time for you to become such a manager.