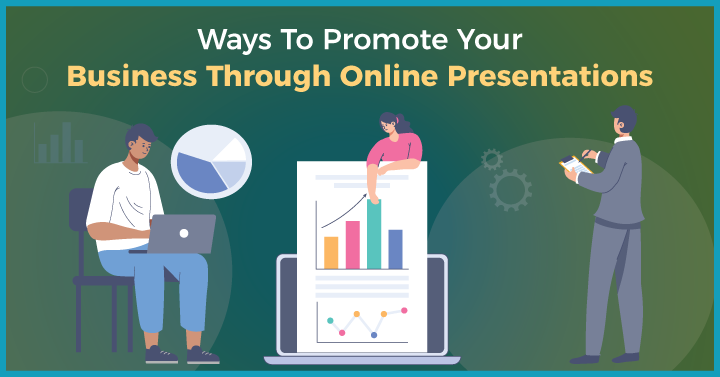 Often, you need to give long explanations to market your brand and help your clients. But not many people like to read long reports, and making video clips can be expensive and take a long time.
This is when online slideshows can help. They are a good way of explaining and selling your products to services that are also easy for people to use. 
What's more? If you place your PowerPoint presentations online in a manner that allows people to connect to them and end up sharing them, they make it possible for customers to come to your website and tell others about it.
Slides posted on popular internet platforms often get a greater placement in search engine results and therefore can push a significant volume of traffic to websites, which otherwise may not have powerful search visibility.
1 5 smart strategies to promote your business via digital presentations
Here is a list of five tried-and-tested methods to give more visibility to your business through online presentations. 
1.1 Tell stories of your business with slideshow makers
Narration is among the most interesting ways to communicate, and successive slide decks could be a potent narrative device to share a tale about your firm that can be seen and heard. 
Slideshows can demonstrate critical events for your company or your clients, as well as stories of success and life lessons.
People now have a huge number of products to choose from. This and several other things have also made their attention spans shorter.
Your presentation may be the very first time an investor, prospective client, or customer meets your product line. So you should make it matter.
In fact, your presentation is a great chance to tell people about your business and give them more brand exposure. And if you do it well, your audience will have a strong first impression of you that they will remember.
Greatest of all, this will push them to the next phase of the marketing funnel, where they will think about buying.
You can use this free online slideshow maker to tell an interesting and memorable story about your product. It helps you build stunning slideshows with professionally designed templates, media embed options, intuitive collaboration features, and slide design tools for everyone. If you're doing it virtually, there are many great virtual platforms for you to consider while sharing your story. 
1.2 Stand out from the rest of the crowd
Companies making and advertising similar goods and services compete hard with each other in the corporate world. You have plenty of competing companies and are trying to figure out how to stand out. Start by giving a perfect presentation of your product.
A sales presentation ought to be capable of leaving prospects and stakeholders with a profound impact. It would capture their attention so much that, no matter how much competition there was, they will always choose your brand.
If you've made a print or online catalog of everything your company has to offer, you could easily use this information to make a slide deck. Many online tools for making slideshows can turn a PDF version into a slide deck. 
But if you want to give your customers a unique experience, try putting the material of your catalog on slides instead of just uploading the PDF document. This method allows individuals to download and operate PowerPoint presentations without being connected to the Internet or a cell network. It's especially helpful if your employees or clients are working remotely.  
This is something that real estate agents and other companies do a lot. You also can connect to a particular slide inside a deck, which can help people find the answers they really need. Another great example would be the companies that offer the best LLC services. They give online presentations to educate entrepreneurs on the benefits and process of forming a limited liability company, making it easy and accessible for anyone to start a business
1.3 Build trust and long-term relationships 
Consumers will purchase and suggest brands that give them great experiences with their products and services.
But how would you tell your prospects about the value and products you provide? How would you make it more likely that a customer will buy from you?
The golden trick is to stand out with how you present your product. A good product description is a must in this case. But how you show your products to the customer could affect how they think of your company.
Throughout product presentations, you can show customers how the product works and what it can do for them. And if your sales team is doing it correctly, it can help you build a strong business relationship with prospective clients. In fact if you are able to support and motivate your sales personnel and show them ways that would bring out the best of your products, over time, the buyers will begin to believe your merchandise and then become committed to the brand.
As a company owner, the most valuable things you have are customer loyalty, consumer trust, and integrity. Customers will trust your merchandise and company more if you present it in an interesting way. Again, getting people to buy your product is all about how well you present it. You want people pulling out their cheques or proceeding to the next stage after your demonstration. 
On the other hand, presenting your products poorly could damage your brand. You may have a great product that could shake things up in a big way. But bad delivery will not only show that you don't believe in your product, but it could also make people not want to buy from you.
1.4 Exemplify your competence before stakeholders
Whether it's a refresher on buying property in Honolulu or bargaining and negotiating skills for tea entrepreneurs, slideshows predicated on your expert knowledge can help market your company and promote your brand.
If people keep raising the same doubts about a subject you know a lot about, you may need to put together a slide deck with answers.
Then, when the subject comes up in social networks or comment boards, you can put up links to the deck. When the deck is short, useful, or even enjoyable, users are more inclined to start sharing it and tell their friends about it. This is the best tool for marketing your business.
That's why it's essential to publish your slides by using an application that helps you seamlessly integrate them and monitor how often and by whom they're being used. It can result in business prospects and other contacts that can be helpful.
You can get the interest of venture capital firms and other funding agencies by creating an online "slide deck" that describes the market value of the company or startup concept.
Startup companies usually make them for pitch events, however, if you put it online, where search engines can index it, it could reach a larger audience.
Slide decks could also help you get in touch with other experts and groups that might help and improve your work.
Check on SlideShare for appropriate presentations or follow users who have skills that complement your own. You also can put their PowerPoint presentation on your website or post it on social media, which they'll probably find out about via their account analysis tools.
You can reach more people through your slide deck by putting quotes from them on your presentations and posting links to their web pages. 
If they look at their platform's metrics, they will see that people are coming to their webpage from your deck. 
You can also send an email link to the deck to let them understand you've used a quote from them or talked about them.
1.5 Share your presentations on several platforms
Use public places like corporate streets, sporting event spaces, bus stations, coffee shops, and amusement parks to get your brand noticed. You can place your PowerPoint advertisements in such places, and more customers will certainly observe your products.
PowerPoint is an excellent opportunity to show off the products and characteristics of your firm. If you are a presenter in your field, an intriguing preview of your company or organization will indeed help you to convince buyers. 
Also, it's good to create DVD replicas of the presentation so that you can easily give them to potential customers.
You can even use a service that lets you use PowerPoint to promote your brand. You can talk about what your products can do online. 
Illustrative slide explanations of your company and its products are a convenient and simple way to get in touch with customers and improve your search visibility. Webinars are another way to do things. 
You can start sharing your business slideshow through your own web page or on numerous slide-sharing internet sites to reach more people. Sharing your demonstration on your website shows your customers that you are an expert in a certain area. 
Sharing PowerPoint presentations on online sites that let you share slides is a good way to find potential subscribers. Millions of people have signed up for some of the most popular slide-sharing web pages. 
Such users might peruse your presentation or use it as a source in their own studies, which would increase the number of people who could see it by a lot.
You can consider sharing your business slides digitally with your followers, peers, and contacts if you use social media. 
You'll have to put your demonstration on your homepage or a slide-sharing homepage to get a URL, that you can then share on your social networks. 
Business social networking sites let you share specimens of your work, like slideshows, on your profile or in communities you subscribe to.
Again, video marketing is another great tool to promote your business. By utilizing special software, slide presentations could be turned into videos. 
You can make a video clip that loops or plays over and over again. You could use this kind of video at trade fair booths, in a retail outlet, or at the front desk of your firm to show off your business knowledge.
Slide shows can be turned into booklets that can be used for marketing or sales. You can publish slides just like they are, or you can copy/paste the content of the presentations into a word processor program to make a handbook. 
Online print-on-demand services and local printers can print, organize, and staple the manuals to make a competent sales and marketing piece that you can offer to people or mail to prospective consumers.
Conclusion
Use the PowerPoint software to its fullest to grow your business and find new ways to make money. 
Use any of the above ways to make your presentations more interesting. You will, in fact, be able to get a lot of folks to buy your goods and services.