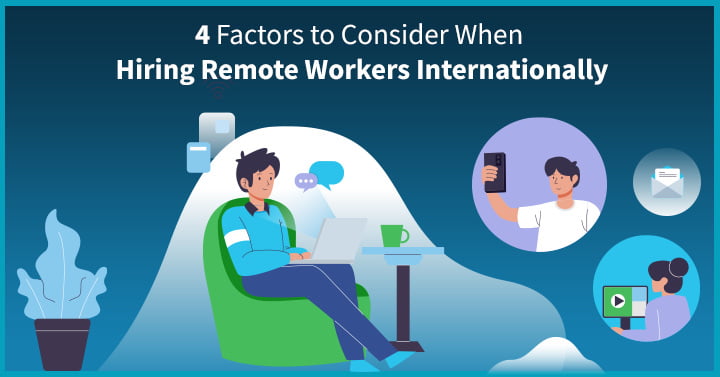 Is your company looking to hire remote international employees? That's probably likely because the trend for at-home jobs has recently exploded. A study by Upwork estimates over 36 million Americans will be remote workers by 2025.
The current boom in remote work and its projected rise means the U.S. will likely see more companies adopting work-from-anywhere policies. When it comes to hiring international workers, you'll often encounter differing labor laws and regional tax regulations. These specifics can present some difficulties, but there are several options to make the process easier.
Here's what to consider when hiring remote workers from around the world.
Establish a Local Entity
Setting up your legal entity is a wise choice if your company intends to hire many international employees or have additional interests in the country. You can do so by establishing a subsidiary or a branch in your nation of choice. Creating your entity can prove to be an expensive decision, but it lowers employment compliance risks.
An additional benefit is the flexibility and control you'll have during hiring. You won't need to outsource any aspect of the process to a third party.
The first step in setting up your local entity is to begin the establishment process. Depending on your country of choice, this likely involves the following steps:
Fill out application forms
Provide appropriate documentation
Obtain property and register your company address
Hire a local director
Pay all necessary fees
Acquire a business license
Open a local bank account
Register for Social Security and with the local tax authorities
Set up local staff payroll
Stay up to date with local laws and regulations
If your company plans on hiring just a small number of remote employees, ensure you consider the cost of establishing your entity before you proceed. It may cost up to $500,000, depending on your country and industry.
Consider Hiring Remote Contractors
Another option when hiring remote employees is to advertise the position as a contractor. The advantages include a company sending a contract, transferring payment and confirming work is done promptly. The contracted worker is technically self-employed and thus responsible for their taxes and financial contributions.
Ensure you ask questions about the remote work situation and how they think they'd adjust. Look for those who demonstrate a history of working independently or highlight leadership experiences in military or service work.
Be specific about the remote contractor position in your employment offer. Because there are a strict set of rules governing contractor classifications, you'll want to guarantee your job doesn't violate these regulations well in advance.
You'll likely want to consult with your legal counsel before proceeding with tax withholding for your international remote contractors, as you must handle the taxes correctly. Otherwise, you'll be fined. All international remote workers will need to complete a Form W-8 BEN to document their status. If the contractor meets all criteria, they likely won't be subject to withholding.
A downside to hiring remote contractors is that companies have less control over production and, as a result, there is a decreased connection between employees and contractors. Often this can translate into workers not feeling as loyal to the company. Authorities can also determine that a contractor doesn't meet self-employment standards, meaning your business would have to pay back taxes, contributions and perhaps even penalties.
Utilize Business Partners
If you'd prefer to hire remote workers as an employee rather than a contractor, you could network with your business connections to assist in the process. After interviewing a candidate, request one of your trusted suppliers or contacts put a worker on their payroll to cover regional tax regulations. This approach would greatly help you with the employee management process, and the remote worker would stay under your administration.
Because the business contact would be handling payroll and taxes on your behalf, it's vital to have confidence in the local company.
Use an Employer of Record (EOR)
If you'd prefer a more formal approach to remote employment options, using an EOR could be a wise choice for your company. EORs are local third-party entities that serve as intermediaries between employer and employee relationships. They function in legal and regulatory roles overseeing immigration, employment and payroll requirements.
If you choose to go this route, any remote worker you hire will technically have the EOR as their registered employer. However, the EOR has no administrative or supervisory role in your employee's position. Your company will still retain all control over employment decisions and day-to-day work duties.
Some of the most significant benefits of utilizing an EOR include arranging all worker visas and work permits, preventing employment delays. EORs serve as a buffer between you and the government, managing all necessary labor laws, staying compliant with payroll and advising you on any basic employee severance pay.
How to Hire Remote Workers Internationally
Hiring can be complicated, but it doesn't need to be. These international remote hiring tips make things much easier. Simplify the process by determining the best approach for your company and proceeding with confidence.