When you're asked the question "tell me about yourself" in interview scenarios, it might sound incredibly vague. However, it's often the first question hiring managers ask potential employees.
Not only that, but most interviewers are looking for specific kinds of answers. It's therefore very important to be prepared, so you're not caught out right at the start.
To read our all-inclusive article that covers a wide range of tips and best practices on how to ace your next remote job interview, click here
1. Why Do Employers Ask "Tell Me About Yourself?" 
Don't be deceived by the question. Hiring managers aren't asking you to give a potted biography of your entire life since childhood. Neither are they looking for you to recite verbatim your curriculum vitae. Instead, the inquiry allows them to ease into the interview. You can think of it as an icebreaker, designed to get the conversation flowing and begin the process of assessing whether you're the right person for the job.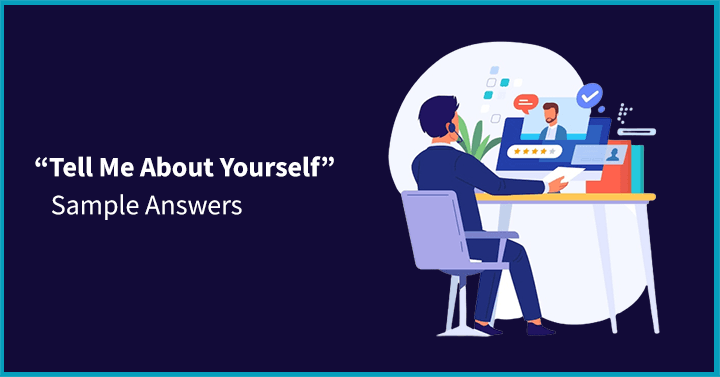 2. Tips for Answering "Tell Me About Yourself"
2.1 Form your answer according to role and company 
Remember that the principal aim of the interviewer is to identify the candidate who, firstly, is the most qualified for a role and, secondly, is a good fit with the company's objectives. Tailor your response so that in telling the hiring person about yourself, you're actually telling them how your past can help shape their business' future. There are probably some points on your resume that aren't all that relevant to the job in question. Telling someone about yourself means you can spotlight the best, most suitable bits.
2.2 Know your interviewers 
Depending on the stage of your application process, you might want to alter your responses slightly. If you're initially speaking to a recruiter or a human resources person, your answer can be more general, sticking to how your experience fits with specific aspects of the job description. If you are speaking to someone who will be your direct boss or part of your team, you can get a bit more technical about your skills. For example, you might explain to a recruiter that you know how to use particular pieces of software that are listed as requirements, but to your potential line manager, you might go into details of the software features you utilized.
2.3 Keep it professional and positive 
As mentioned above, you shouldn't fall into the trap of detailing your personal history with your "tell me about yourself'' interview answers. Instead, stick to your professional past unless directly asked about hobbies in a follow-up question. Also, remember to keep it positive. Just as there may be a time to bring up your recreational activities, there may also be a time when it is helpful to discuss things that didn't work in past roles, as a way to discuss how your former jobs have helped improve your strategies. Having said that, since hiring managers normally ask you to talk about yourself at the beginning of an interview, it's best to stick to the good stuff at first.
2.4 Don't recite your resume 
The person recruiting will already have been through your resume. In all probability, they'll even have it in front of them during the interview. They will not need you to recite it to them. If there's one point to keep in mind all the time, it's that interview questions generally are about zeroing in on the parts of your experience that are most relevant for a specific job. When you're telling someone about yourself, pick a few bits that can lead to further questions and further answers.
2.5 Practice your answer 
You want your responses to sound natural, but you don't want to stumble over your words or waffle on about something entirely irrelevant. That's why it's absolutely essential to practice your answer. It might seem counterintuitive, but practicing your answer will make your response seem more natural and fluent, as well as build your confidence that you can provide cogent comments. It might be helpful to record yourself speaking, so you get an idea of how you sound and ensure it doesn't come across as over-rehearsed or wooden.
3. Three Steps to Answer the "Tell Us About Yourself" Interview Question
3.1 Share relevant job qualifications and experiences 
Re-examine the job description, re-examine your resume and match the two together. The first step really is as simple as that. What parts of your experience can be finagled into your "tell us about yourself" interview answers, in order to showcase your talents as they relate to the position and the company? Just remember to try and keep it natural.
3.2 Highlight your skills 
Similar to your experience, you should take the time to think about how your skills fit the job description. Additionally, you could think about situations in the position you are interviewing for where those skills will come in handy. For example, if you know how to use Google Analytics and the job description mentions making quantifiable improvements to web traffic, you could easily link talking about yourself to talking about how you can benefit the company
3.3 Describe how the role fits your career goals 
Most companies will want to know not only what you can bring to a role, but also that your long-term goals can be achieved within the business. Hiring people is a time-intensive, resource-intensive activity, so interviewers pay attention to a candidate's vision of the future. Telling them about yourself and why the role fits with your career goals can become an added incentive for them to employ you.
4. "Tell Me About Yourself" Sample Answers
Putting together the tips and steps above, you should be able to craft your own answers, but here are some examples to get you started, from answering "tell me about yourself" in a customer service scenario to a journalism situation.
"Well, I first got into journalism when I joined a local newspaper, so I've had experience working in a small, close-knit team before. We had to deliver content to strict deadlines. You know, I think that early role was what initially made me realize the importance of fostering a positive group dynamic. Especially when it comes down to the wire, having a good rapport within an editorial team means that people are always willing to step in and take over tasks if one week someone is struggling under their workload for whatever reason."
"So, I actually transitioned into data science about five years ago. Previously, I had worked as an accountant but wanted to do something more creative with my love of numbers. I think what drew me to data science is that I'm quite good at seeing patterns in unstructured data and creating models to process that data, as I did at my last company to improve business operations."
"OK, sure. I've been working in customer service for a decade now. Most recently, I worked at an insurance company, but in the past, I've been in a variety of different industries dealing with clients, which I think has made me very adaptable to new situations. I was really interested in this managerial role because I've been looking for the right opportunity to take that next step in my career, and that kind of customer-facing position you are looking to fill is something I've had lots of experience with."
5. FAQs 
5.1 What are the different variations of "tell me about yourself?" 
Bear in mind that not all hiring managers will phrase the question exactly the same way, even if the meaning is identical. You might also be asked: "tell me a bit more about your background?" Or: "can you just take me through your resume briefly?" You might need to rephrase some of your prepared answers, but the salient points will remain pertinent.
5.2 "Tell me about yourself" sample answers for freshers
If you've only just graduated, you probably won't have much experience beyond perhaps a few internships. That's absolutely fine for entry-level jobs, though you'll still need to make yourself stand out from other freshers. For example:
"I just completed my degree in public relations and am looking at openings that fit with my desire to work in a social role where I can put my interpersonal skills to use. I actually ran the Opera Appreciation Society at the university and was able to increase membership by 15% after I took charge, largely through a few tailored events that marketed the group to a wider segment of the campus."
5.3 "Tell me about yourself" sample answers for experienced candidates
Conversely, if you've been working for a number of years in your chosen field, you'll have lots of past employment to draw upon for examples of your skills. For instance:
"Most recently, I was working for a GP clinic, running the reception desk alongside one other person. As you can probably imagine, it was a very busy environment, with people constantly coming into the practice or ringing up on the phone. It really helped me hone my organizational skills and made me more adept at prioritizing tasks, as well as bringing me to the realization that I cope well under pressure."