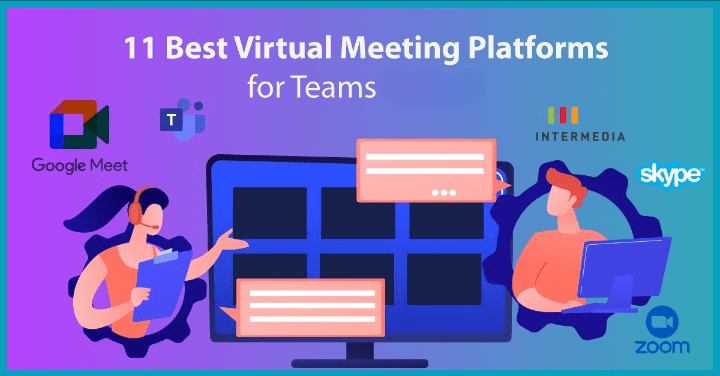 Virtual meeting platforms have become immensely popular, thanks to the advancements in cloud technology and in part due to the COVID-19 pandemic. Today, most businesses use conferencing solutions for meetings, updates, and general communications.
Virtual meeting platforms are not designed to replace in-person meetings. Instead, it simply helps teams to dial in from wherever they are based. This way of meeting significantly increases business inclusivity for firms choosing to embrace the rise of remote working.
The global virtual meeting software market size was USD 12.11 billion in 2019 and is projected to reach USD 41.58 billion by 2027, exhibiting a CAGR of 17.0% during the forecast period.
But the question is, which virtual meeting platform is ideal for businesses employing a remote workforce?
Well, I've got you covered! This post will discuss a list of the best virtual meeting platforms facilitating team engagement and collaboration when working from home. Keep reading!
| | |
| --- | --- |
| Virtual Meeting Platforms | Pricing Models |
| Microsoft Teams | Microsoft 365 Business Basic: $5 /user/monthMicrosoft 365 Business Standard: $8.90/ user/month |
| Skype | Free AccessSkype for Business starts at $2- $5 per user per month |
| Google Meet | Google Workspace Essentials: $8 user/monthGoogle Workspace Enterprise: $18 user/month |
| Zoom Meeting | Pro Plan for small teams: $15,572/year/license Business Plan for small business: $21,230/year/licenseEnterprise-level plan: $24,769/year/license |
| Intermedia | Lite Plans: $10 user/monthPro Plans: $13 user/monthEnterprise Plans: $18 user/month |
| Ringcentral Meeting | Essential plan: $20 user/monthStandard plan: $28 user/monthPremium plan: $35 user/monthUltimate plan: $50 user/month |
| Zoho Meeting | Introductory Tier: $2.50 host/monthMeeting-25 Tier: $5 host/monthMeeting-50 Tier: $7.50 host/monthMeeting-100 Tier: $10 host/month |
| Click Meeting | Live: $25 per monthAutomated: $40 per monthEnterprise: Customizable |
| Cisco WebEX Meeting | Starter: $13.50 host/monthPlus: $18 host/monthBusiness: $27 host/month |
| Facetime | Free Access |
| GoTo Meeting | Professional Tier: $14 host/monthBusiness Tier: $19 host/monthEnterprise Tier: Custom quote needed |
1. What are Virtual Meeting Platforms?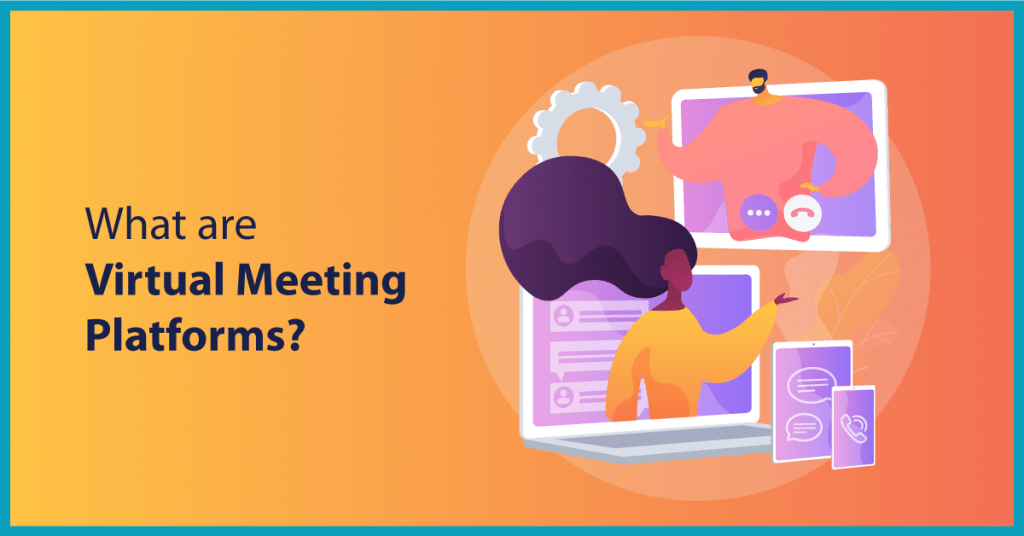 Virtual meeting platforms or online meeting platforms are software applications that bring people together over the internet, regardless of their geographical location. Commonly, this software includes video conferencing functions and features like chat and screen sharing. In addition, it allows people to share information, experiences, and data in real-time.
Virtual meeting platforms are also called online meeting platforms or web meeting platforms that use Video Teleconference (VTC) Software.
These online meeting platforms bring a lot of natural convenience to businesses. It reduces expenses and allows broader Information sharing in real-time. Plus, it helps in fostering inclusivity, productivity, and collaboration in a virtual team. For instance, what was once seen as a challenge to meet and greet a co-worker virtually is successfully replaced by waving at one another on-screen through virtual meeting options.
As of now, the world may be edging back to semi-normality.
What will be the scope of virtual meeting platforms in the future? Will the popularity of online meeting platforms diminish over time?
Not according to a London Business School survey which says that by the end of 2021, more than half of the workforce will permanently shift to remote operations.
There are several advantages virtual meetings have over collocated stand-ups. One, video conference platforms can support large meetings and online events, which allow you to communicate with huge, dispersed groups for various functions such as sales presentations, employee training, and much more. Plus, sometimes getting everyone together at the same time can be the biggest challenge. So, in this case, the ability of virtual platforms to record and share meetings expands your reach to a larger audience.
Ready to learn more about striking features of virtual meeting platforms that can benefit your business? Let's get started.
2. 11 Best Virtual Meeting Platforms for Teams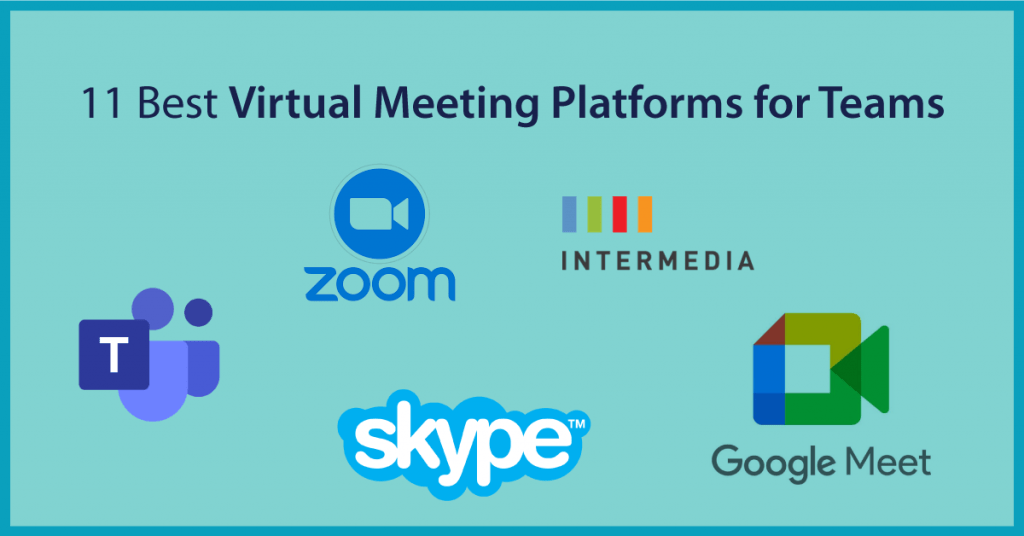 2.1 Microsoft Teams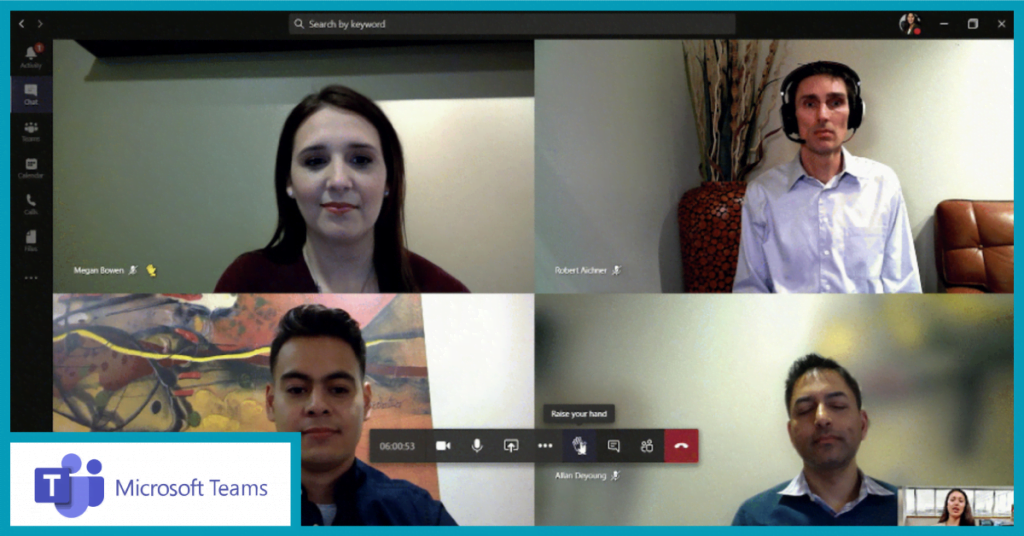 'Ideal for businesses that need robust & secured remote solutions'
Microsoft Teams is a collaboration app and is best suited for businesses of all sizes. It is considered to be one of the best platforms for virtual meetings. The free tier offers video conferences for up to 300 people and other functions such as screen sharing, recording, group calls, and document sharing, etc. The app delivers its full features on Business or Enterprise versions. It offers instant chat functionality, plentiful integration options, live captions, and other customizable features.
As it is one of the most popular online meeting platforms, it also provides excellent administration support. All in all, this virtual meeting platform is the market leader in digital conferencing. It is ideal for businesses who are looking for robust digital collaboration workspaces.
Pros:
I like the fact that the platform can accommodate up to 10,000 participants
Another feature that I liked about Teams is the secure cloud storage which also allows editing files directly via drive without even downloading it.
The platform also provides an easy file sharing option among team members for up to 1TB
Cons:
The camera quality seems a bit lower compared to other platforms.
The Graphical User Interface (GUI) can be improved more.
Key Features:
Full-suite Microsoft 365 integration
Custom backgrounds & blur technology
Voice-Over-Internet-Protocol (VOIP) & Private-Branch-Exchange (PBX) calling features
Pricing Plan: The free version of teams is accessible for all users for an unlimited period. The Microsoft 365 Business Basic and Standard plans cost $5 and $8.90 per user per month respectively.
Free Trial: The business basic and standard version provides 1-month free trial
2.2 Skype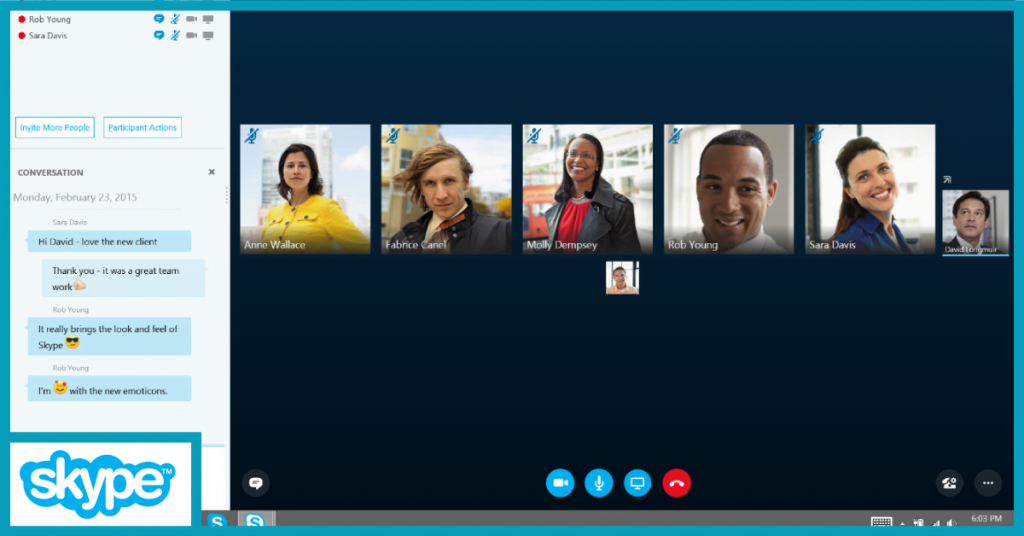 'Best video meeting platform for easy and free interaction'
Everyone I know has a Skype account, and as I recall, Skype was the default meeting software in the early and mid-2000s. However, its popularity decreased severely due to the slower upgrades and the advent of other rival apps.
But now Skype has made a comeback with instant messaging, audio and video conferencing, screen sharing, recording, and document collaboration making it one of the best platforms for virtual meetings. This virtual platform is still the best option for new businesses and budding start-ups due to its free and secured service options.
Pros:
The free desktop version of Skype provides a virtual team meeting size of 50 participants.
Skype can also be used on browsers eliminating the need for additional applications.
It has a remarkable ability to transfer large files via chat.
It is widely used and is one of the most popular online meeting platforms.
Cons:
I have often experienced poor call quality, and skype often drops the line.
It's missing a whiteboarding feature, which would have been helpful for brainstorming sessions.
Key Features:
HD video calls & live subtitles
Cross-platform support (Windows, iPhone, iPad, Android, Xbox, OSX)
Sharing the screen and recording
Pricing Plan: Skype for Business starts at $2- $5 per user per month. There is also Skype credit or subscription options available for international calling. It cost $2.99 per user per month. However, the pricing options of calling may vary in other countries.
Free Trial:
The service is typically free as long as you keep your communication and collaboration strictly among skype users.
2.3 Google Meet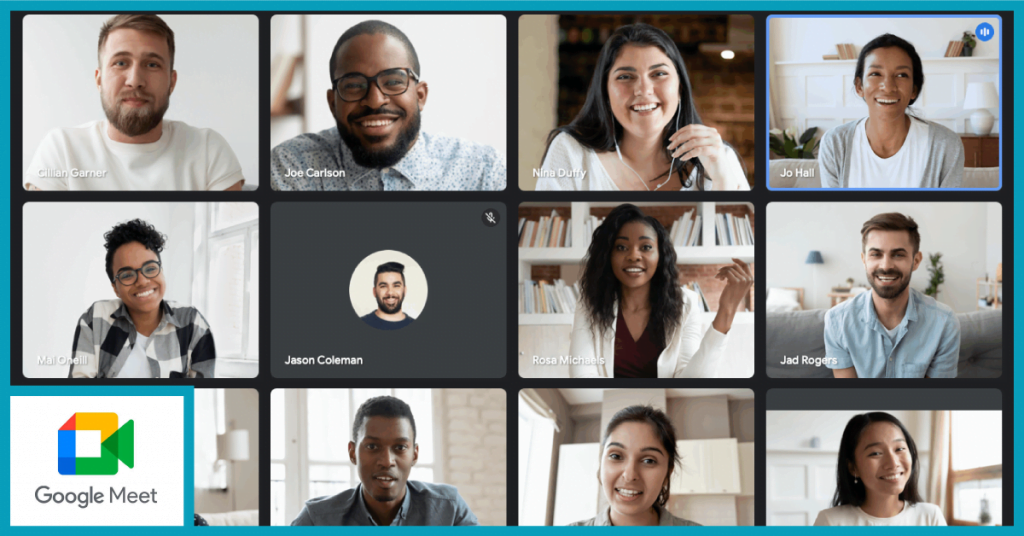 'A suite of secure & cloud-powered web conferencing solution'
Google Meet is the upgraded version of Google Hangouts, known initially as G Suite. One of the key advantages of this virtual meeting platform is that it provides a complete web app experience. In addition to being one of the best virtual meeting options, it helps touch base with teammates through group chats and group calls.
Users can also download dedicated mobile apps from the PlayStore and AppStore. It can easily be added as an extension to chrome or integrated with other conferencing gears such as Cisco, Skype for business, etc. This is perfect for businesses of any size that do not want to spend enormous monthly costs to host video conferences.
Pros:
Less data consumption during video conferencing.
It integrates very well with Google calendar making it easy to schedule events and meetings.
It provides dial-in numbers for users.
Often considered to be the best video conference platforms
Cons:
Despite major collaboration features, it lacks call recording options.
Requires G-suite account to start a video conference.
Key Features:
Google workspace integration
Easy and fast interface
Cloud-powered video conferences
Pricing Plan: Google Meet provides a free subscription plan for all users. The workspace Essential plan and Enterprise plan cost $8 and $18 per user per month, respectively.
Free Trial: A 30-day free trial is available in both Essential and Enterprise Plan
2.4 Zoom Meeting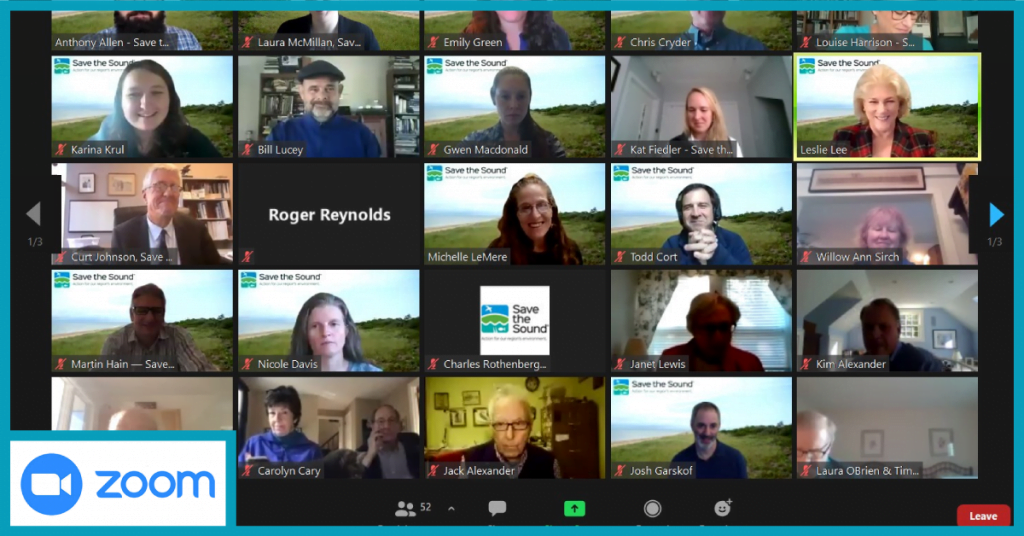 'The popular & affordable video conferencing suite'
Zoom is one of the most popular online meeting platforms and market leaders in conferencing platforms used by individuals, small businesses, and enterprise-level organizations. This virtual meeting platform is ideal for conducting team-building activities, professional meetings, interviews, training sessions, etc.
It offers collaboration and chats features that are end-to-end encrypted. All the virtual meeting sessions can also be recorded as local cloud-based files. In addition, it comes with automated call scheduling, screen sharing, and other collaboration features.
Pros:
The attendees do not need to have an official zoom account to participate in the Zoom meeting. Instead, they can simply tap on a URL generated by the host.
In addition, registered users can create a virtual room and host meetings for up to 1000 attendees.
The video calling quality is very impressive; no buffering or image distortion is experienced.
Cons:
Zoom emails links and room/meeting IDs can get a little confusing at times for new users.
It would be nice if zoom could add better chat features.
Key Features:
HD video calls
Easy-to-use interface
Built-in security features
Pricing Plan: Zoom pricing starts with Pro Plan for small teams at $15,572 per year per license. Business Plan for small business at $21,230 and Enterprise-level plan at $24,769 per year per license.
Free Trial: Zoom provides a feature-rich basic plan for free. There is no trial period for other plans.
2.5 Intermedia AnyMeeting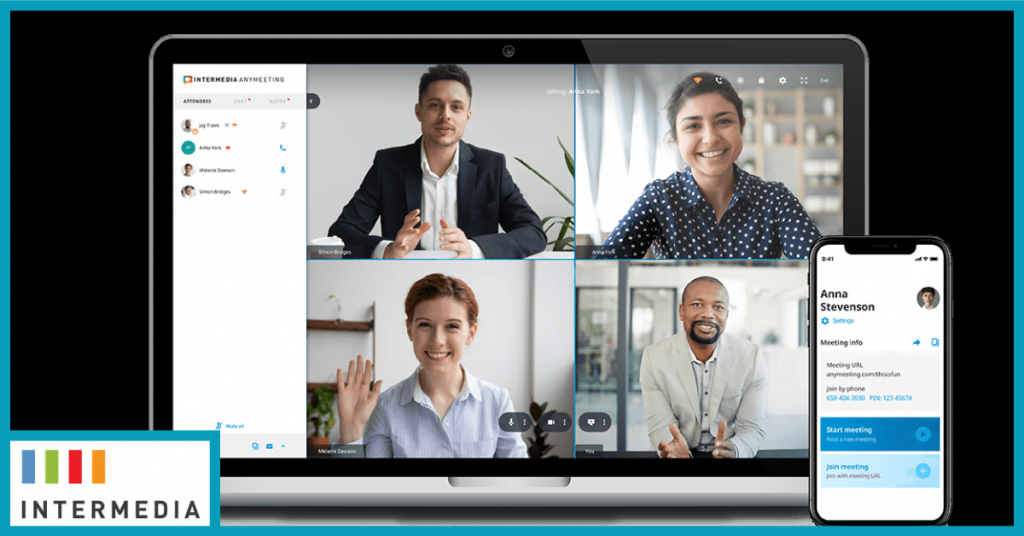 'A powerful video conferencing platform for businesses of all sizes'
AnyMeeting began in 2017, and now it has already expanded to more than 1 million user base. It is a communication platform with instant messaging, flawless audio/video calling, recording, and screen sharing functions. This makes it a great virtual meeting options
The hosts can create unique URLs, access unlimited cloud storage, and easily integrate it with other management tools like MS Teams, Slack, Google, etc. All in all, AnyMeeting is a well-designed and easy-to-use collaboration tool that works perfectly fine under low bandwidth.
Pros:
There's a built-in innovative meeting assistant that handles automatic meeting transcription setting it apart from other video conference platforms.
Another feature that I like is the customize background option available during video calls.
The host can set meeting passwords for additional security as one of the virtual meeting options.
Cons:
Screen sharing can be laggy sometimes.
UI could be improved as it seems a bit outdated in comparison to other competitors.
Key Features:
Artificial Intelligence capabilities
HD video calls at 720p
Screen annotation and VOIP & PBX features
Pricing Plan: AnyMeeting has three subscription models, namely, Lite Plans, Pro Plans, and Enterprise Plans. It cost $10, $13, and $18 per user per month, respectively.
Free Trial: It offers a 30-day free trial option for all its subscription plans.
2.6 Ringcentral Meeting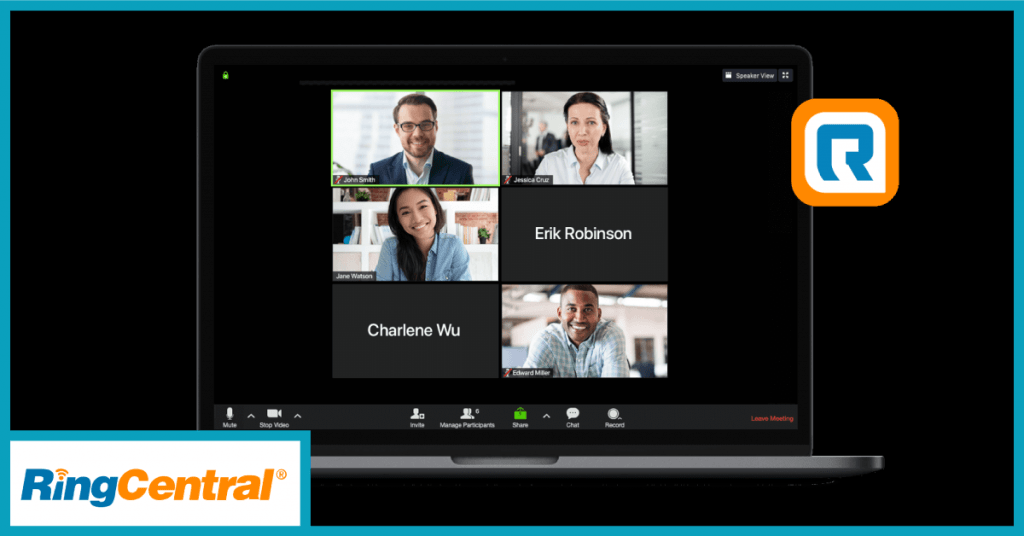 'A collaborative solution that unleash the full potential of your business'
The RingCentral platform initially offered Voice-over-IP (VoIP) solutions before growing into a virtual meeting platform. This online meeting platform provides video call scheduling, recording, screen sharing, annotation, and in-built chat functionalities.
It can also easily be integrated with digital collaboration tools like Google, MS Teams, Slack, etc. Dial-in features for numerous countries, intuitive interface, noise cancellations are other collaborative abilities of this platform.
Pros:
It can also work on web browsers eliminating the need for additional applications.
One uncommon functionality is the analytical feature that enables admins to monitor the software usage and issues.
Automatic call recording and forwarding options are available.
Cons:
It takes 24 hours to generate reports and gives real-time reports only if you use a standard business plan.
The platform is on a quite pricey side.
Key Features:
Multi-language support
Cross-platform Integrations
In-depth analytical dashboard
Pricing Plan: RingCentral offers a generous free plan service to all users. It has four subscription models, namely; Essential, Standard, Premium, and Ultimate plan. All of which cost $20, $28, $35, and $50 per user per month respectively.
Free Trial: 30-day free trial is available for all subscription models.
2.7 Zoho Meeting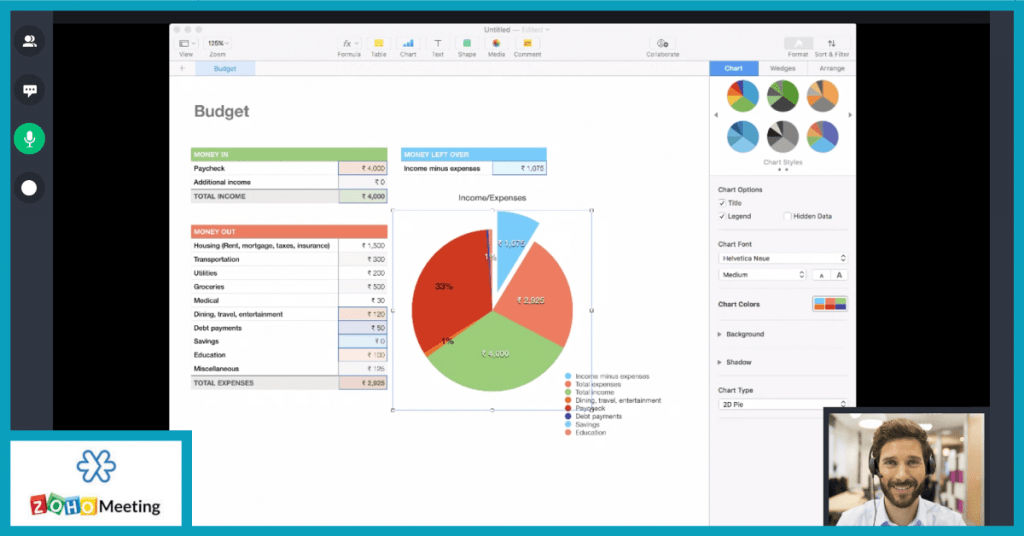 'A full-suite browser-based conferencing solution'
Zoho has grown to a 50 million user base worldwide that offers tools for webinars, training, and online meetings. It is a web browser-based virtual meeting service that integrates with Google Calendar and provides a basic screen sharing facility.
This virtual meeting platform is the best video conference tool for smaller businesses that want to have a low-cost solution or those that have previously invested in Zoho's CRM products. It offers integration, webinar solutions.
Pros:
It supports a maximum of 100 attendees in a video conference.
In-session chat functionality is available.
I find the polls and voting function very useful during the team meetings.
Cons:
I feel it should include video recording and other missing features to make it more competitive.
Customer support isn't available by phone, so one needs to raise a ticket through emails.
Key Features:
Interactive virtual meeting features
Integration functionality
Webinar solution
Pricing Plan: The Free plan allows users to host meetings with limited features. The pricing model starts with Introductory Tier followed by 25 Tier, 50 Tier, and 100 Tier. It cost $2.50, $5, $7.50, and $10 per host per month.
Free Trial: 14-day free trial available.
2.8 Click Meeting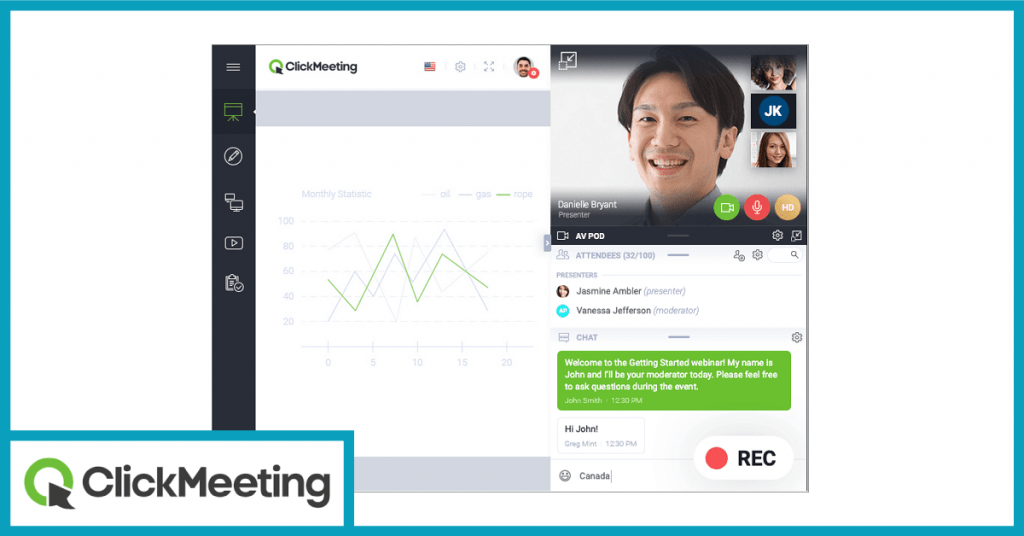 'A feature-rich online meeting platform for webinars & events'
ClickMeeting is one of the most popular browser-based virtual meeting platforms for hosting training classes and webinars. It is chosen by thousands of trainers, tutors, salespeople, marketers worldwide. This video conference platform is specialized in webinar features such as live, automated, paid, and on-demand webinars.
Other features that make it a strong contender as the best platforms for virtual meetings include video conferencing for up to 25 participants, multi-lingual support, translation, screen sharing, etc. The platform is fully customizable and is packed with a backup recovery system, excess data storage, security, and full redundancy. This virtual meeting platform is best for businesses looking for both video conferencing and webinar features at a fairly reasonable price.
Pros:
The webinar room can accommodate up to 5000 attendees in one go.
The platform has an easy event creation/scheduling function.
It allows various types of media such as YouTube videos, slideshows, and polls.
Cons:
No desktop sharing on Chromebooks or other non-Mac/non-Windows devices.
Difficult for new users to adjust audio and webcam features.
Key Features:
Q&A sessions and live Polls
Integration with analytics and marketing tools
Webinar features
Pricing Plan: The Live and Automated plan costs $25, $40 per month whereas the pricing of Enterprise plans depends on the customization any business needs.
Free Trial: 30-day free trial available
2.9 Cisco WebEX Meeting Center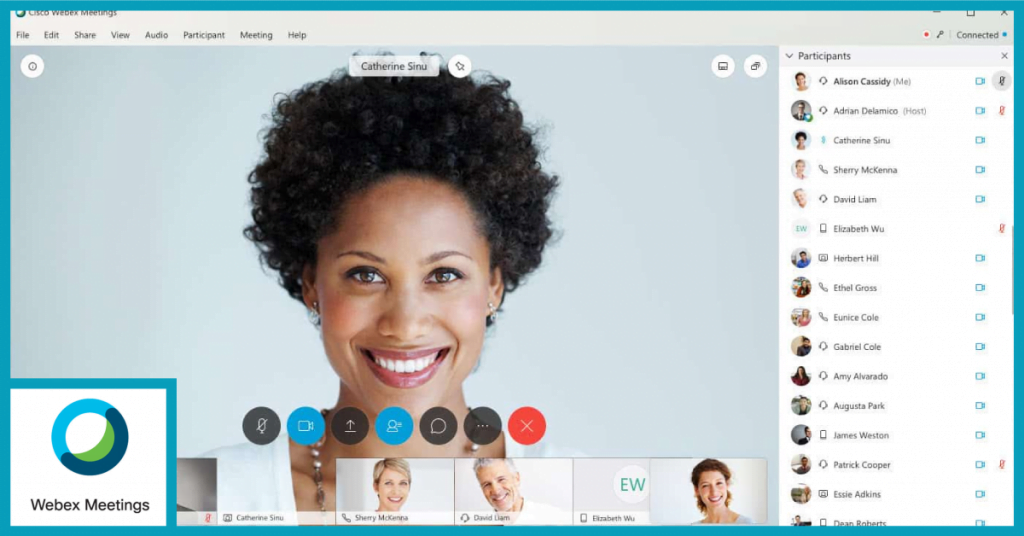 'The intelligent conferencing solution for modern businesses'
With a name like Cisco behind it, my expectations from this software were very high, and I wasn't disappointed. Cisco Webex is a virtual meeting software intended for enhancing communication and collaboration in businesses. With its intelligent controls and robust security, Webex is helping companies to stay connected with its easy to use video conference platforms features. It is loaded with HD video calling, screen sharing, recording options, private chat rooms, noise cancellations, etc features.
The software makes virtual meetings more inclusive. In addition, it enhances the attendee's engagement with polling and Q&A features. This virtual meeting software is fully packed with cognitive collaboration features and is best for teams of all sizes.
Pros:
The free plan tier supports 50 participants per meeting, with meeting times capped at 40 minutes and 1GB of cloud storage.
The platform supports 100+ languages with real-time translations and automatic transcriptions.
It enhances the speaker's audio and removes extra background noises.
Cons:
The Windows app for Cisco Webex can be made more user-friendly and easy to use.
Video meetings consume a lot of internet bandwidth.
Key Features:
Cloud storage
HD video calls
Up to 100 attendees
Pricing Plan: WebEX provides a generous free tier plan. Other subscription plans include the Starter plan at $13.50, Plus plan at $18, and the Business plan at $27 per host per month.
Free Trial: 30-day free trial available
2.10 Facetime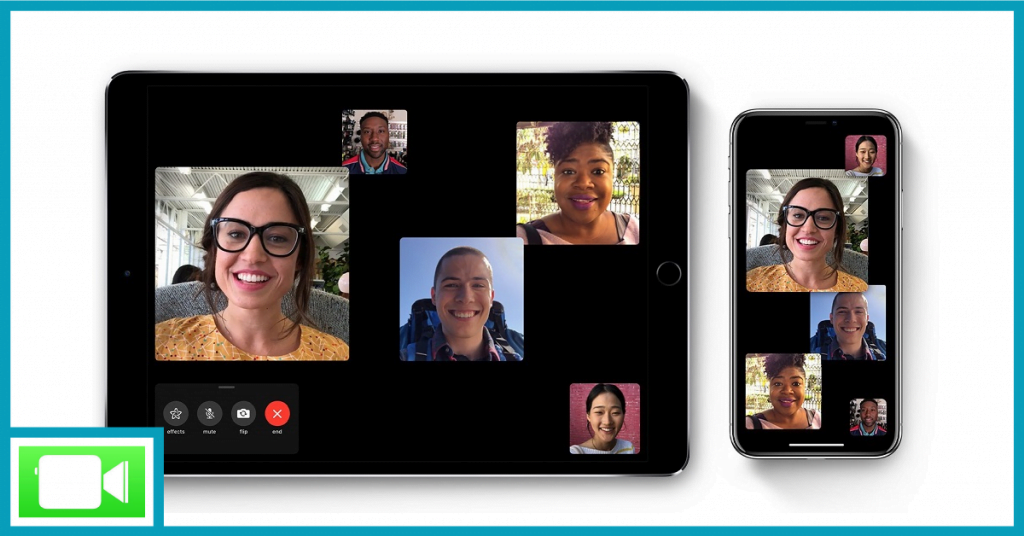 'Best Group video chat app for Apple exclusive'
Apple's free FaceTime is built into iOS devices and is available on iPhone, iPad, Macs, and iPod. It offers a remarkable performance of video chat, great resolution videos, and easy controls. Calling FaceTime with iPhone 4 is simply as easy as calling regularly. Just choose a contact, then press FaceTime to start the call.
From a business perspective, this virtual meeting app is best for Apple users to collaborate easily, host virtual meetings or engage in one-on-one calls.
Pros:
One of my favorite aspects of the FaceTime app is that its interface is very easy to use even for first-time users
The video chats are very responsive. Hence, there is no lagging in information sharing.
Users can reach their contacts by just using their phone numbers or Apple ID.
Cons:
FaceTime is exclusively for Wi-Fi calls only.
This app uses an enormous amount of data.
Key Features:
Easy-to-use interface
Intuitive video chats
Quality-rich calls & responsiveness
Pricing Plan:
Free Trial: N/A
2.11 GoTo Meeting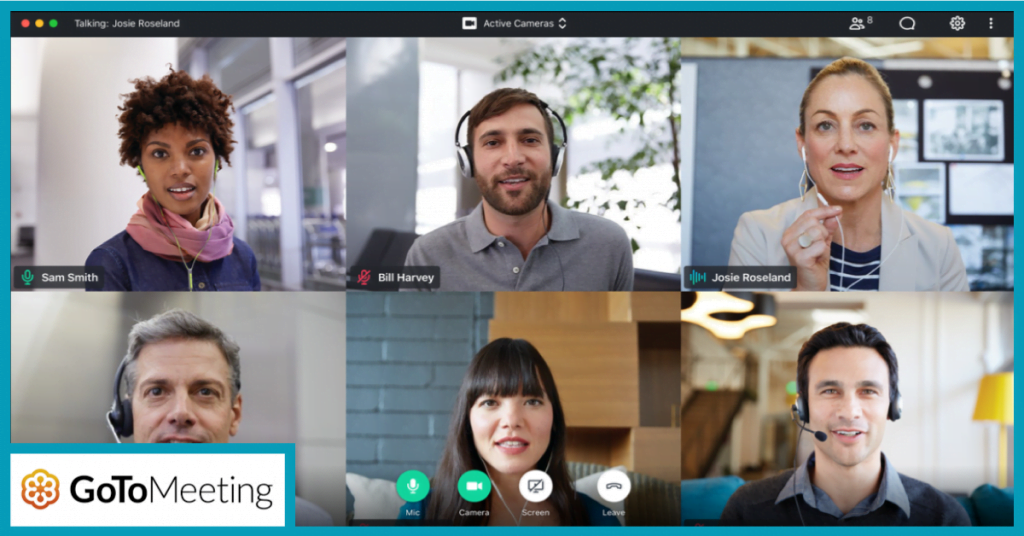 'For a fast and reliable professional virtual meeting solution'
GoToMeeting is one of the prominent industry leaders in virtual video conferencing and collaboration for businesses around the world. It offers face-to-face HD meets, in-meeting chats, conference calling, screen-sharing features. It has got a user-rich interface (UI) and supports both mobile and desktop platforms.
There is also a create meeting routine option available for hosts to customize the meeting by setting a colored background, custom URL, etc.
Pros:
There can be a maximum of 500 participants in a single meeting.
It has a smart assistant feature that transcribes meetings automatically, makes the purchase worthwhile.
The other collaboration software like MS, Google applications, and GoToMeeting Scheduler are easy to integrate with the platform.
Cons:
When looking at the pricing model, I feel it's quite on the pricey side. Plus there is no free plan as well.
The recordings can only be stored in the cloud for a maximum of only one year.
Key Features:
Unlimited cloud recording
Automatic transcription
Smart assistant
Pricing Plan: The online meeting plan offers users Professional Tier and Business Tier that costs $10.20, $14, and to purchase Enterprise Tier custom quote is needed.
Free Trial: 14-Day Trial Available
Given the detailed description of all virtual meeting platforms that can empower your teams to be productive and collaborative in real-time. Now let's understand what key features to look for when investing in a virtual meeting platform.
3. Some virtual meeting platform Features to Look For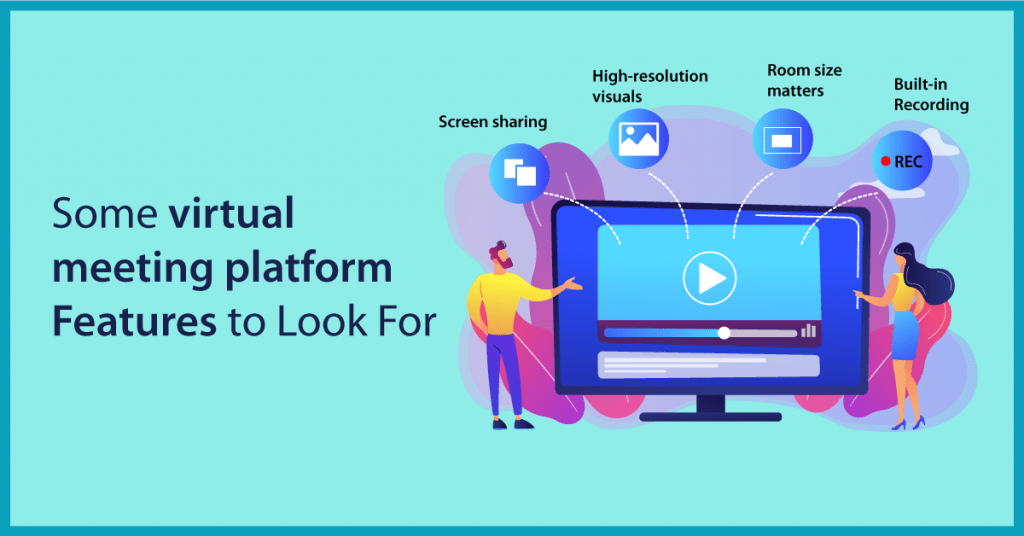 Are you looking to buy virtual meeting software for your firm but don't know where to begin?
Video conferencing apps vary greatly in functionality, pricing, and overall capability. Therefore, before settling for a solution, you must be aware of the key features other competitive platforms are providing. So that you choose a flawless and best-fit virtual meeting software that caters to your business needs.
Here is a look at the key features in any video conferencing software:
3.1 High-resolution visuals & best sound quality
In the realm of video communications, nobody wants to experience pixelated visuals and fluctuating audio. With HD video and superior audio quality, your team can have the best digital experience. This will eliminate echo, maximize comfort, and help in enhancing the aesthetic appeal of your meeting space.
3.2 Screen sharing
Screen sharing allows webcasting to go beyond voicing over the phone or to view the webcam stream of your colleague. It allows you to perform visual activities, and virtual presentations, so that you may share live feed with other participants. It also enables the swift flow of information and insights in real-time, keeping the meetings engaged.
3.3 Room size matters
The most critical thing to identify in a virtual meeting platform is to check the size of the meeting rooms. For example, for one-on-one meeting sessions, any virtual meeting platform with a video conferencing function is sufficient, but this won't suit bigger rooms with hundreds and thousands of attendees.
3.4 Built-in Recording
Most video conferencing platforms usually have a basic recording feature, but you must also look for a platform that offers limitless cloud storage, as well as easy sharing capabilities. For example, as the meeting or webinar session ends, the platform must have click and share options to share the recordings with multiple participants.
4. FAQ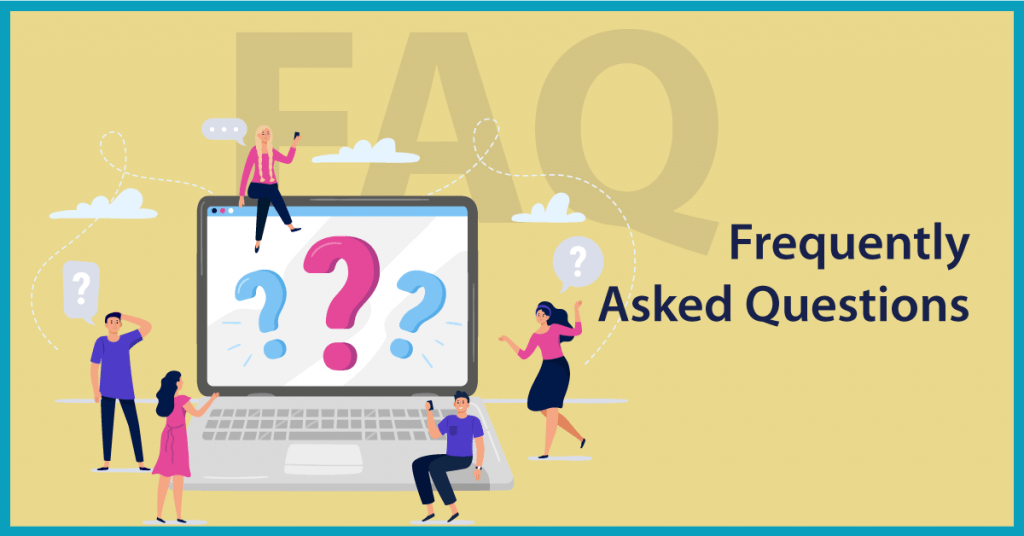 4.1 How to choose the best virtual meeting app?
When it comes to picking a virtual meeting platform for your remote team, you need to check overall video conferencing features, functionalities, and utility measures. Screen sharing, HD visuals, high-sound quality, built-in recording, integration are some of the must-have features to look for before choosing a virtual meeting platform. However, the best online meeting app is the one that caters to your business needs and keeps the budget in check.
4.2 What are the advantages of virtual meetings?
Virtual meetings offer a myriad of benefits, such as;
Improve collaboration and communication with remote teams, clients, and partners
Cost reduction, especially travel costs and the need for internal meeting spaces
The chance to record meetings and use for future reference
Broader Information Sharing to a large pool of participants
Increase Inclusivity and productivity in the workplace
Ease in sharing visuals and documentations with the attendees
4.3 How do I host a virtual meeting for free?
You can look for virtual meeting platforms that offer free services like Skype, Join.me, zoom FaceTime, and other apps. These apps let you organize a virtual meeting session, invite a certain number of attendees and provide screen sharing and recording options to host a meeting successfully. Also, if you have a busy schedule and trouble keeping track of your commitments, booking software can help. You can use it to set up appointments with clients, coworkers, and vendors so that you won't have to forget about your virtual meeting.
4.4 Do virtual meeting platforms actually help with team building?
Yes, virtual meeting platforms can help in team-building and enhance collaboration. With a stable internet connection, teams can connect for both work or non-work-related meetings and strengthen relationships. It brings remote teams together and enables them to share vivid experiences and expertise.
4.5 What are the best video conferencing for small business
The best virtual meeting platforms for a small business covering essential functions and features are Google Meet, Zoom, Zoho, Skype, GoTo Meeting, Microsoft Teams, etc. These applications are cost-effective and deliver the right solutions within the Small Business Video Conferencing category.