According to
Apollo Technical,
over 94% of service professionals work over 50 hours per week. and many of these people also work the weekends. The same report claims that 72% of Americans consider the work-life balance potential when applying for jobs. As employers, one way that this can be immediately improved is by integrating a Flex Friday program, and the rewards are quite beneficial. So, what are Flex Fridays?
This article will explore what the program comprises, how it works, and the benefits it can offer to both employees and employers.
1. What Are Flex Fridays?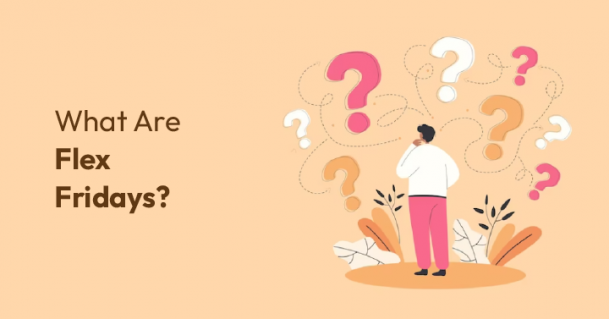 Flex Fridays
(or Flexible Fridays, to be clear) are when employers give their team the autonomy to choose how they wish to spend a day of the week. Friday, one could assume, but there is no reason why this couldn't be applied to other days of the week too. Here are a few examples of activities that employees have the option to take during their flex Fridays.
Meetings

: No meetings are penciled in for Flex Fridays, meaning that employees can use this time to prioritize or spend time pursuing other personal endeavors.

Education

: Employees have the option to use this day to focus on education.

Personal Time:

They can spend time reading, exercising, or spending time with their loved ones.

Freelancing:

Employees are free to pursue other self-directed work or freelancing, for further personal development.
2. Importance of Flex Fridays for Employees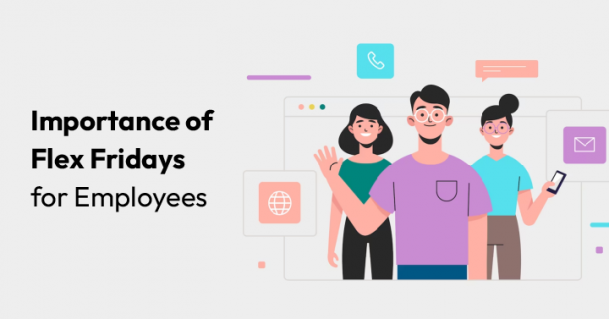 2.1 Increased Productivity
Does it sound counterproductive to claim that offering your staff the option to do fewer working hours can actually increase overall team productivity? Well, that's because programs like Flex Fridays work miracles for team morale, which creates good energy that gets things more done.
Some studies
even claim that the four-day week is more productive than the traditional 5-day week.
2.2 Improved Work-Life Balance
This strategy is sure to improve the work-life balance of your team, resulting in happier, healthier workers who are potentially more excited to come to work. This is because they get more time to work on other projects or spend time with their families. The reduction of stress and the opportunity to balance home and work life will improve their overall quality of life and even motivate them to do more. This can be a large catalyst for increased productivity, higher employee satisfaction, and the increase in motivation that you are looking for.
2.3 Higher Employee Satisfaction
When employees are given an increased sense of autonomy, their satisfaction as a member of your team goes up. Reducing the amount of time spent commuting to the office or being in the work environment will lead to stress reduction, which will increase overall job satisfaction.  All of these factors combined contribute to higher employee satisfaction. A way to aid in this is through team building activities. Platforms like Hooray Teams can help you conduct activities like Paint and Wine Class Online and increase satisfaction among your employees.
2.4 Increased Creativity and Innovation
Those asking themselves "What are flex Fridays?" are sure to have been stuck in a work conundrum, only to step away for a while, and once returned, the solution presents itself. That's what Flex Fridays can help you do. More time off means time to reflect, if subconsciously on the projects at hand, which means that the work completed in the remaining days gets tackled in more creative, innovative ways. 
3. What Are Some of the Best Practices to Implement Flex Fridays?
3.1 Establish Clear Guidelines
The best strategy in terms of how you should approach Flex Friday as an employer is to set and establish clear guidelines. For instance, you might want to put a rule in so that employees are required to make their request of how they wish to spend their Friday by a certain date, and there should be a clear procedure if they wish to change it. You can also mandate that a certain number of staff can be off, and alternate roles are undertaken weekly or fortnightly or set other rules.
3.2 Encourage Communication
Communication is key, whether in terms of how you approach your staff or how they approach you. There are actions you can take to ensure this. One is by simply telling them so, while it can also be done through staff messages posted in the staff room, faculty settings, one-on-ones, or group staff emails where larger team sizes are involved.
3.3 Provide Training and Resources
Depending on your department and how it is run, you may need to implement some training to implement a Flex Friday program. A convenient communication portal is one such resource that may be necessary. But also, you may need to train staff to be autonomous, especially if they are new.
You should also clearly define the goals and objectives of the program, and offer time management training in order to prepare employees for their self-directed time. This way they can set their own goals and manage their time efficiently. Also, it's important to highlight the specific activities that your staff can undertake during this time. If all of this is combed over thoroughly, your company stands the best chance of running its flex Friday initiative smoothly/
3.4 Set Realistic Expectations
It's important to set sustainable and realistic expectations when you run a Flex Friday initiative. For instance, you will need to reschedule meetings that would have happened on Fridays and communicate the new time and date to the team. Also, you will have to account for the people undergoing remote or hybrid working schedules too. With them, you should consider establishing boundaries so that they are clear on deadlines and also on meetings that they will now have to attend virtually.
3.5 Emphasize Accountability
When situations become more autonomous, it is vital to emphasize accountability. For instance, if a member of your team takes Friday off consistently to spend time with their family, and isn't getting their work done on time, you as the employer can't be held accountable for integrating flex Fridays. Instead, you must make a point of informing staff that they are accountable for managing their workload if they decide to take the bone. Also, getting employees to communicate with you about works in progress is a good idea, as this maintains their accountability. Also, make sure that they are aware of deadlines and when rescheduled meetings are occurring so everyone stays aligned with project goals and tasks
3.6 Encourage Experimentation
Getting the work-life balance right depends on the individual, and nobody's needs are identical. So, why not encourage your staff to experiment with the flex Friday opportunity over the course of the coming months? You can try and analyze which days of the week seem to be the best fit for an in-office arrangement, explore different options to conduct meetings and encourage feedback from employees on the ground realities of how it's panning out. This way they can figure out (in a truly autonomous fashion) what works best for them
3.7 Continuously Evaluate and Adjust
You can always revise and re-implement the program in an optimized way if it doesn't work out the initial way that it's integrated. Be sure to communicate it with your staff to get the best results - after all, they are working with it just like you. The generation of what are flex Fridays and what they can be is greatly influenced by the staff. Further down, you'll see that many of the big companies running it are focused on what their employees want.
4. Why Should You Choose: Flex Friday vs. 4-Day Week
4.1 Flexibility
Flex Fridays offer employees the ability to work from home or adjust their schedules on Fridays, while a 4-day workweek typically involves working longer hours for four days in exchange for having one extra day off. If you wish to place more control over your schedule and work location, then Flex Fridays might be the greater of the two choices.
4.2 Workload
Typically, the workload of a four-day week is greater than that of a five-day week, which has the potential to be a more stressful time frame, depending on the nature of the work. Conversely, the Flex Friday program offers employees the ability to divide their workload into how they see fit. Not all of their tasks have to be completed by the end of Thursday, as they can choose to split their time between Friday if they wish. Ergo, the workload has the potential to be more balanced.
4.3 Productivity
The four-day week is reportedly more productive than the five-day week, due to higher job satisfaction and the work-home balance. If this interests you, it's a good way to go. But the Flex Friday program offers both as well. It offers employees the choice of being more productive during the four days or working extra hours. When implemented, it might make the office more productive still. According to
Procotol
, 44% of employees take Flex Friday as an opportunity for mixed-use, i.e they spend some time working and personal time also. This would indicate that a substantial number of employees would prefer to work on Fridays.
4.4 Company Culture
Autonomy is a big factor here - company culture is hugely influenced by it, in that the independence of your staff will increase their job satisfaction, leading to a more positive culture. In that sense, the flex Friday program wins, because it offers employees the choice. Whereas the four-day week is more commanding, in that employees don't have that choice.
5. What Companies Are Offering Flex Fridays?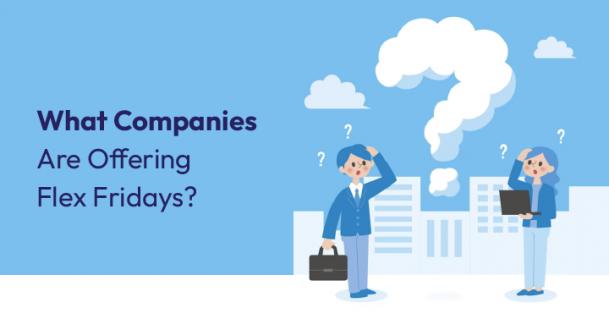 5.1 Salesforce
While
Salesforce
doesn't explicitly use the term "flex Friday" they do speak at length about flex work being a team sport and boast of "no meeting Friday", which falls directly under the banner of a flex shift. Due to this, they discuss how remote working has been highly effective for them over the past 20 months and counting. Salesforce is a very successful business and is only growing more by the day.
5.2 Dropbox
Dropbox
is a renowned company that developed one of the very first Cloud storage systems when the necessity for them came to be. After trying a four-day workweek with excellent results, they are now running their team with flex day schedules. In their
article
, they discuss the importance of asking employees what they want, and the value of constantly improving flexible work schedules. This shines some light on their efforts to improve and optimize their flex initiative.
5.3 Hubspot
Hubspot
is a CRM platform that puts every aspect of a company scaling into one location, and they're doing a very fine job indeed since its inception. They have a smooth UI and are accessible to businesses of all kinds. Recently, they published an interesting
article
detailing the benefits of flexible schedules, including the use of flex days, and four-day weeks.
5.4 LinkedIn
What are flex Fridays if LinkedIn isn't making use of them? Linkedin is one of the top social networks for careers. But they're not just a website, they run a big operation, and Flex days have provided them with boons. LinkedIn
reports
on the value of flexibility, and how more employees want this today. They also claim that the "pros outweigh the cons" when it comes to flexible working schedules.
Conclusion
What are flex Fridays if not a way to increase morale, improve employee retention, and boost overall office productivity? Like the four-day week, they are a great way to achieve all of these elements in 2023 and many more.
If you are looking for other useful tidbits on how to run your office, then why not take a look at our
other resources
to develop, grow, and optimize your working day and that of your staff?
6. FAQs
These are days when you, the employee, can choose what you wish to do on that day. You can pick between taking a four-day week and a three-day weekend and splitting your time fifty-fifty. You can also work remotely or hybrid. It all depends on your employer, but the system is designed to improve work-life balance. 
If you are contemplating what are Flex Fridays and what they can be, then here's a tip: They can be introduced as flex shifts. Flexi shifts are shifts taken voluntarily by staff during flex days - so if you are one of the employees who choose to work rather than take the day off, you will technically be working a flex shift.
What is a flex position work?
A flex position is a set-up where the employees work full days but with the option to adjust and vary their working hours. In this arrangement, staff still generally have core working days.
What does soft Fridays mean?
A soft day (it could be any day, not only a Friday) is a day that has no meetings, and generally no mandatory work. It gives the staff the autonomy to pick their own day. If it's a Friday, this is a treat to look forward to.