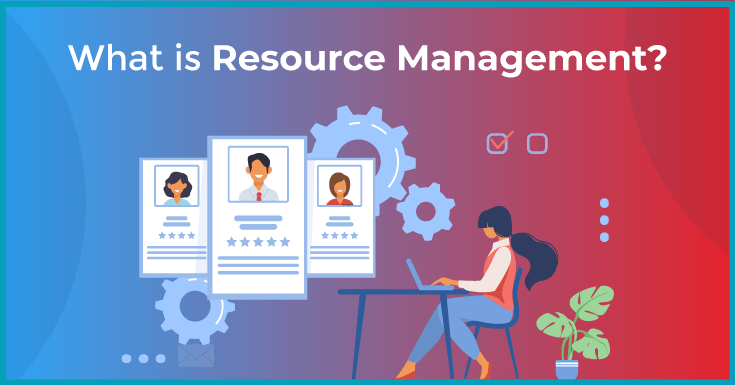 Resource Management as a concept has historically been viewed as an offshoot or a component of project management. And while that stands true the importance of ensuring you have the right resources for your projects has become an increasingly important factor for organisations in order to ensure project success. With its rise to prominence, the resource management software space has also grown, with a whole suite of tools available across industries and company size. And for that reason, we've brought it upon us to find the best resource management software in the market!
In this post, we'll be answering commonly asked questions about resource management and its relationship with project management while also analyse the 26 best resource management software in the market in 2021. Take a look and let us know if we've missed out on any!
1. What is Resource Management?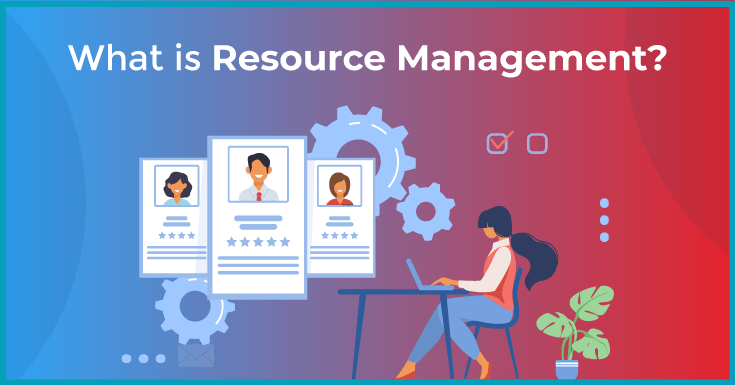 Resource management is the process of utilizing your company's resources in the most effective and efficient way possible. The four pillars of resource management are:
Absolute visibility into resources and projects.
Finding and deploying the right resources to the right jobs.
Utilizing resources optimally, i.e. neither over nor underutilized.
Foreseeing the capacity required to meet future requirements.
Resources can either be staff or non-human resources, depending on your company type. Non-Human resources for example can include vehicles, machinery and essentially anything that delivers output for the company.
Resource management enables you to drive projects with the exact resources. It entails planning, tracking, and optimizing the utilization of resources so that tasks, activities, and functions within a project are staffed.
2. What is the difference between Resource Management and Project Management?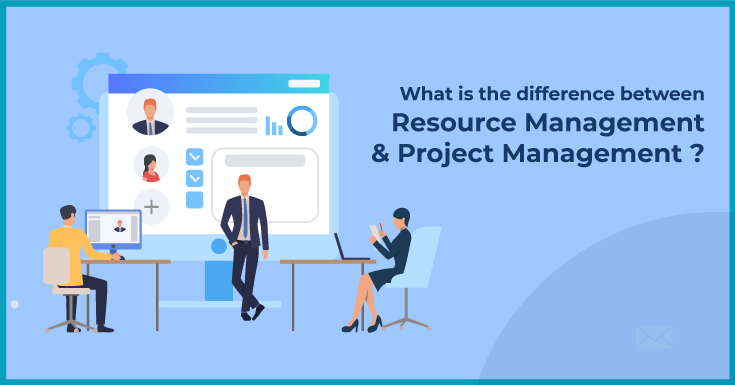 Resources and projects are interdependent,i.e., One cannot exist without the other. Resource management and project management are distinct disciplines, their similarities and differences are listed below.
Resource Management
Project Management
1. Goal
Resource management is carried out primarily by resource planners and managers.The goal is to ensure there are sufficient resources for current and pipelined projects.
1. Goal
Project management is carried out by project managers and project teams who follow project methodologies to structure its initiation, kickoff, execution and closing. The goal of project management is to ensure the timely and quality completion of projects.
2. Functions
Resource management enables managers to detect and close skill gaps ahead of the curve. It also alerts the organization of resource insufficiencies , benched potential and excesses in order to take action.
2. Functions
Project management ensures that project constraints such as time, scope, quality, resources and costs stay under control. The project manager reviews workflows and works closely with resource managers to reassess resource requirements for projects.
3. Benefits
Resource management queues skills by project, resource profiles by relevance and availability, location and priority in order to staff the pipeline. It enables resource managers to give project managers realistic effort estimates against project hours provided.
3. Benefits
Project management queues projects by billing worth, resources required, priority and ROI. This enables project managers to ascertain the skills to pick from the resource pool available.
Resource Management and Project Management Comparison Table
3. Why is Resource Management Important?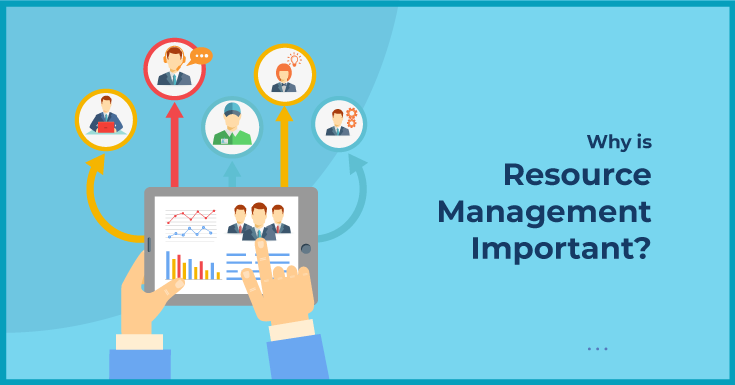 A 2018 Wellingtone study revealed that resource management accounted for 25% of project management processes that added value. Resource management is essential for companies. It gives businesses an overview of the resources available and the projects, services, activities, tasks, and functions they need and utilized.
It lets project managers structure their project schedules around relevance (fitment). A platform for managing resources enhances the capacity of the skills pool to optimize project processes.
The signs of poor resource management are hard to miss. For one, it is attempted when the project is in progress rather than before it commences. Predictably, staffing imbalances ensue. Some projects have fewer or more resources than managers need.
Consequently, thinly stretched resources end up putting in more overtime and experience fatigue and stress. Excess resources end up on the bench, where they remain until they are assigned work or train in other knowledge areas. And this is impossible to do with conditional visibility.
The bench strength keeps growing until the only cost-cutting option you see is to make resources redundant! And it does not end here. The process of firing and rehiring becomes cyclic in line with projects coming in or drying up.
Unnecessary restructuring is not only costly but also damages your reputation. After all, no one would want to work for a business that is known to have high attrition and employee turnover. With the best resource management software, managers can work towards the shared goals. Be it ensuring projects stay on track or assuring an adequate supply of relevant resources.
4. What is the difference between Resource Management, Resource Planning and Resource Scheduling Software?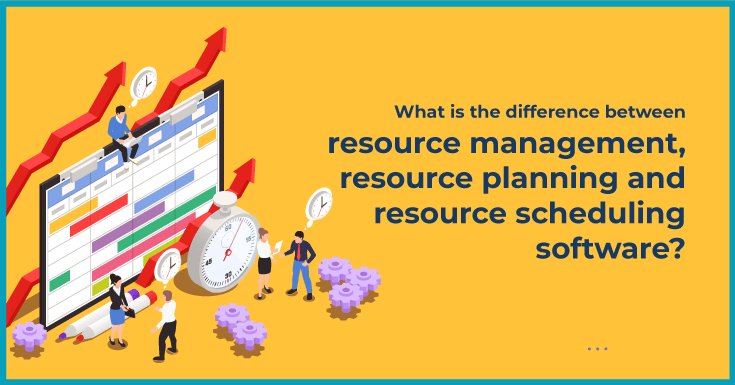 While the terms have a bit of an overlap, there are differences between managing, planning, and scheduling resources. A resource planning software lets managers create a resource plan after identifying the type of and cost of resources needed for a project. Adjustments made to a resource plan impact scheduling and managing a project's constraints.
A resource scheduling software is also called a resource allocation tool. It creates resource schedules and syncs them to the master schedule. It helps managers to know what the workload looks like against the project duration. They can see the team and individual schedules across days, weeks, months, or even a year.
A resource management software is a tool that unifies all the elements of resource management. Be it identifying resource requirements to planning, allocating, and optimizing the resource pool. The best resource management software gives a bird's eye view of all resources and projects. It generates resource scenarios for future projects. This helps you save considerable time and costs on staff projects, tasks, functions, and services.
The Best Resource Management Tools of 2021
1. Saviom Enterprise Resource Management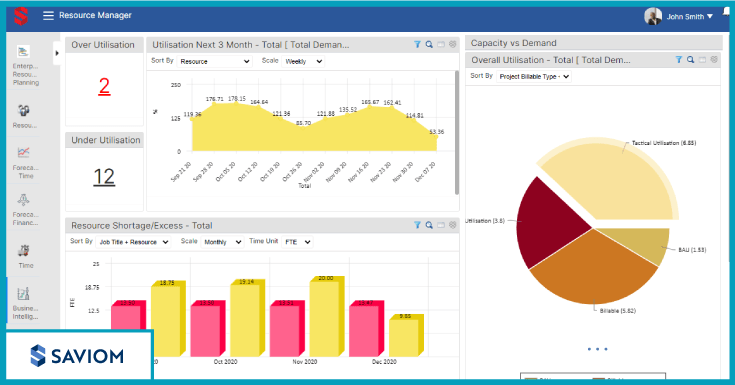 About
Saviom is a family-owned business based in Sydney, Australia. Founded in 1999 by Indo-Australian entrepreneur and ex-project director Om Prakash Gupta. The company's enterprise resource management, project portfolio management, and workforce planning product suites delight customers in 50+ countries. Clients include Honeywell, Schneider Electric, and Laing O' Rourke.
Resource Management Features
Saviom's resource management platform features a Gantt-scheduler, matrixed project allocations, and Business Intelligence dashboards. Additionally, reports such as capacity vs. demand reports, booked vs. actuals, cost reports, are highly customizable. You can log in to the resource portal to see the project schedule, active projects, and resources booked. The viewing pane comes with an advanced search function to filter resources using parameters such as department, role, and location.
Pros
It is simple to reshuffle resources across projects using the drag-and-drop facility.
Resource utilization is color-coded to make it easier to identify over and under-utilized resources.
Bulk booking automatically fills up the schedule, reducing manual efforts.
The generic resource feature lets you create a resourcing scenario to identify the resource type needed for a particular project.
Planned and actual hours let you compare the exact time taken to complete a task or project against the estimated time. You can obtain actual hours from integrated timesheets and booked hours from the project estimation.
Besides existing features, the tool can be configured according to business needs. The dashboards, reports, sections, and portals are all configurable so that you can leverage the tool at scale.
Cons
On-page chatbot and service ticketing system would be a nice-to-have feature.
A licensing guide to explain how the pricing works would be helpful.
Company size and type
Saviom Enterprise Resource Management is best suited for mid to large-sized companies. It is used actively by professional service consultancies, engineering, architecture and construction firms, accounting and auditing, and I.T firms.
Pricing
Not listed on site. There are options to try for free and book a demo and discovery call.
2. Hub Planner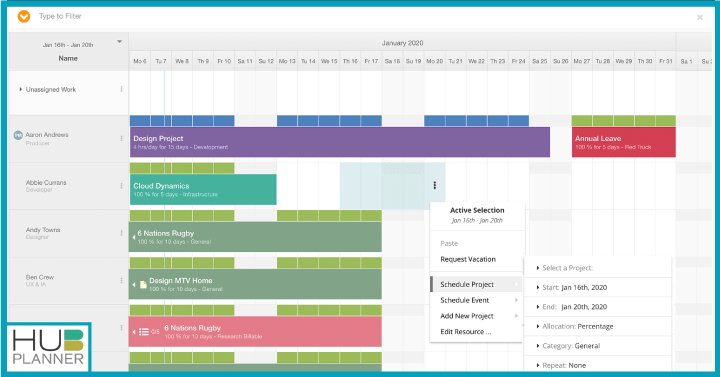 About
Hub Planner are the trailblazers of Resource Management. Founded in 2013, out of Stockholm, Sweden, Hub Planner are the leading providers of Resource Management software to a global audience including AT&T, Adidas and Ogilvy.
Resource management Features
Hub Planner has a beautifully designed drag and drop scheduler that lets you view resource availability and schedule teams to projects. The integrated time tracker lets you measure the actual and forecasted time it takes to finish thereby enabling project managers to gauge individual performance accurately. 
Other core features include a powerful real-time reporting engine for capacity planning and pipeline forecasting. With the scheduler, you can bill projects dynamically and calculate the spend.
Pros
Comes with a 60-day free trial.

Users can get the resource plan overview in a click.

It integrates with others tools such as invoicing which makes tracking incomings and outgoings easier. 

Very easy and simple to book resources on the Gantt-scheduler.

Managers can view inflight assignments and reshuffle as and when priority moves up or goes down. These changes get reflected on team schedules in real-time.
Cons
It was not possible to track time on a task level using categories. It would have been nice if the tracking time feature had a start/stop timer function.
Company size and industry type
Hub Planner is great for mid and large-sized businesses for any industry, ranging from healthcare project management to retail and higher education. 
Pricing
Pricing is available online -> https://hubplanner.com/pricing/ -> Starts at $7 pm (Plug & Play for the features that you need and Premium for the full suite of Resource Management features). 
You can also make use of the 60-day free trial.
3. Forecast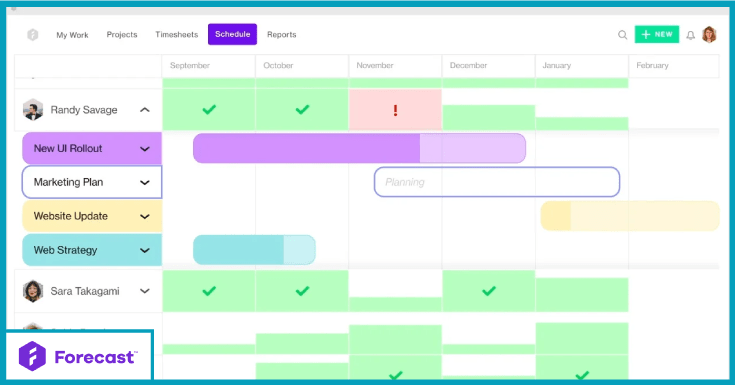 About
Forecast is a product platform containing work automation, project management, and resource management. Founded in 2016, it has offices in Denmark and the United Kingdom. Clients using Forecast include Nexus, Etain, and Adeo Group.
Resource Management Features
Resource management features include workload visibility, resource utilization, and time registrations. Forecast uses AI to learn prior work and generates suggestions for task work hours. You can also adjust workloads and set optimal standards so that work finishes with better efficiency. Forecast also has work automation, project management, team collaboration, business intelligence, and project accounting, in addition to resource management.
Pros
Lightweight and scalable for project planning
The capacity planning tool lets users know who has the bandwidth and who's busy.
Easy to get started on.
Cons
Doesn't integrate well with the Harvest time app.
The project visualization is a bit scattered for bigger teams within large organizations.
Company size and industry type
Forecast works great for small, mid, and large-sized organizations. It meets the resource management needs of creative agencies, computer software, and financial firms.
Pricing
There are three plans, of which the Lite and Pro annual plans cost $29 and $49, respectively. You can reach out to the sales team for the plus plan's pricing.
2. 10000 ft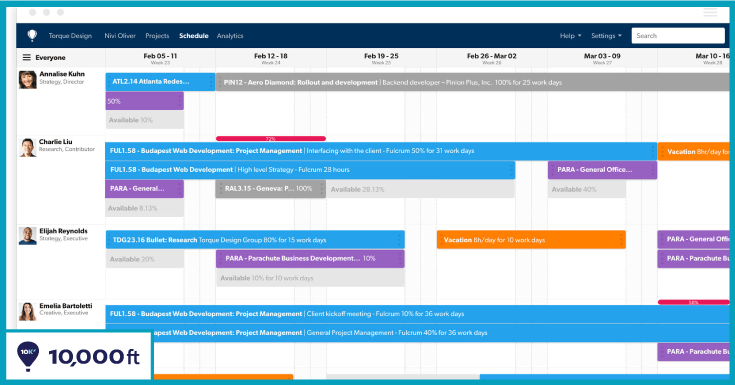 About
10,000 feet is Smartsheet's best resource management software. Smartsheet was developed in 2005 and acquired 10,000 ft in 2019. The company has offices in the U.S, Australia, and Scotland. The tool is used by many Fortune500 companies, including Atlassian, Accenture, and Ogilvy.
Resource Management Features
10,000 ft features resource allocation, utilization reporting, project planning, and time tracking.
Pros
Uses smart logic on files and documentation.
Accurate time reporting and monitoring.
Can build teams for multiple project portfolios
Can see Projects on a calendar view.
Cons
Some users report the learning curve to be steep, given how feature-rich it is.
Does not provide for local server installations.
Users have to keep saving work as they go along, the auto-save option not available.
Company size and industry type
Smartsheet solutions are suited for small/mid-sized firms as well as enterprises. The industries it targets are financial, healthcare, retail, engineering and construction, higher education, the federal government, technology, manufacturing, telecommunication, energy, and utilities.
Pricing
Contact Smartsheet for 10,000 ft's pricing plans.
3. Runn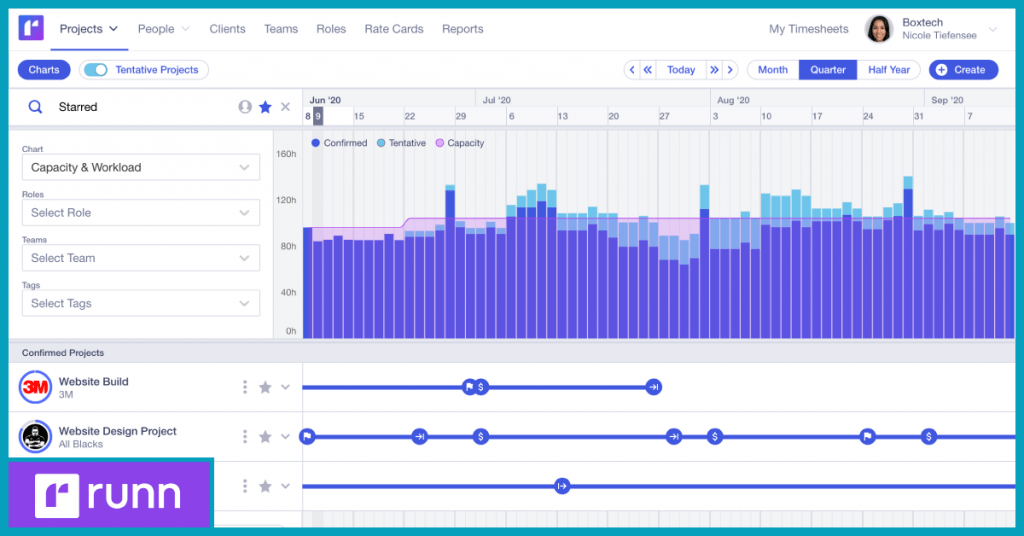 About
Runn is a resource planning and forecasting tool founded in 2018. The company is fully remote, with its home office in New Zealand. Clients that love Runn include Studio24 and OsoMarDigital.
Resource Management Features
Besides project management, the resource management features comprise resourcing and scheduling, people management, financial forecasting, timesheets, reporting, and roadmap. Runn makes planning simpler with filters to help the resource planner view resources by role, team, or tags.
Pros
You can assign work to a team member by simply dragging and dropping them onto the project.
You can watch the budget change in real-time when creating assignments.
Users can view the total capacity and check the percentage of a person's actively assigned time. Further, you can see which works are billable or non-billable daily, weekly or monthly.
Everyone can see upcoming milestones and determine which phase the project is in.
Assignments can be repeated every week or extended to a different number of weeks, saving you hours creating them all over again.
Cons
Due to the lack of built-in time tracking, some users report having to integrate Runn with Clockify or similar tools.
Users with a diverse, pre-existing stack of integrations reported it to take a considerable time for Runn to work well.
Company size and industry type
Runn is just three years old and is growing. At present, it caters to small-sized design agencies.
Pricing
Pricing starts at $10 per person per month, and there's a 14-day free trial. The Startup plan is free, while the enterprise edition merits a longer conversation with the sales team.
4. ResourceGuru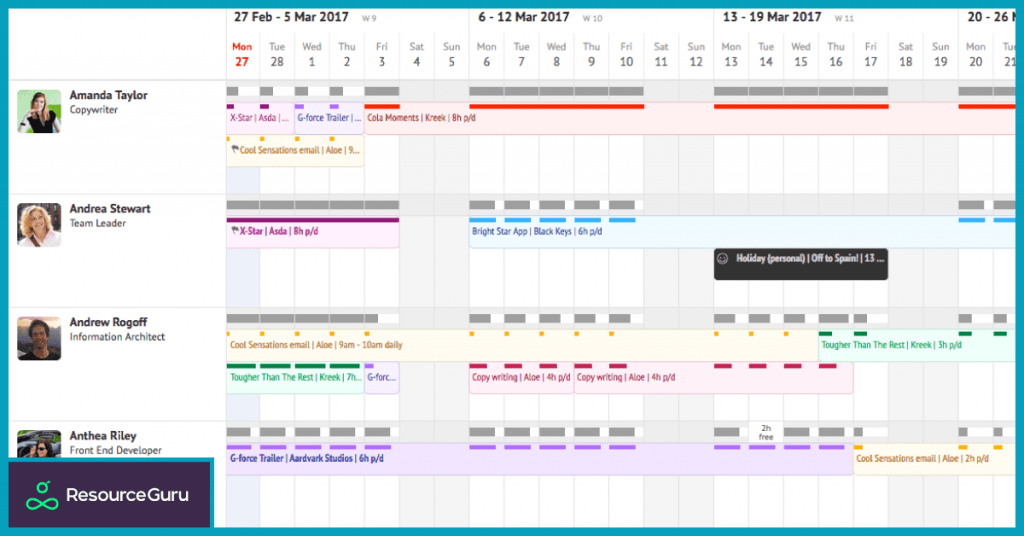 About
ResourceGuru makes it to the list of the best resource management software in the market. Founded in 2012 by Percy and Andrew in the U.K., it has a customer base of 21,000+ users, including Publicis, Accenture, and even NASA!
Resource Management Features
Resource scheduling, resource management, leave management, project management, meeting room booking system, capacity planning, and project forecasting report.
Pros
The scheduling UI is straightforward and easy to get access.
Historical online database.
It is a very responsive product innovation team that acts on customer feedback.
Cons
You cannot filter projects by region, city, state, or custom tags like skillset and software requirements.
No audit trail.
Company size and industry type
Mid and large-sized organizations benefit the most from Resource Guru's plans. It is currently catering to software, business operations, automobile, consulting, and retail industries.
Pricing
The three plans are Grasshopper ($2.50), Blackbelt ($4.16), and Master $6.65)
7. Float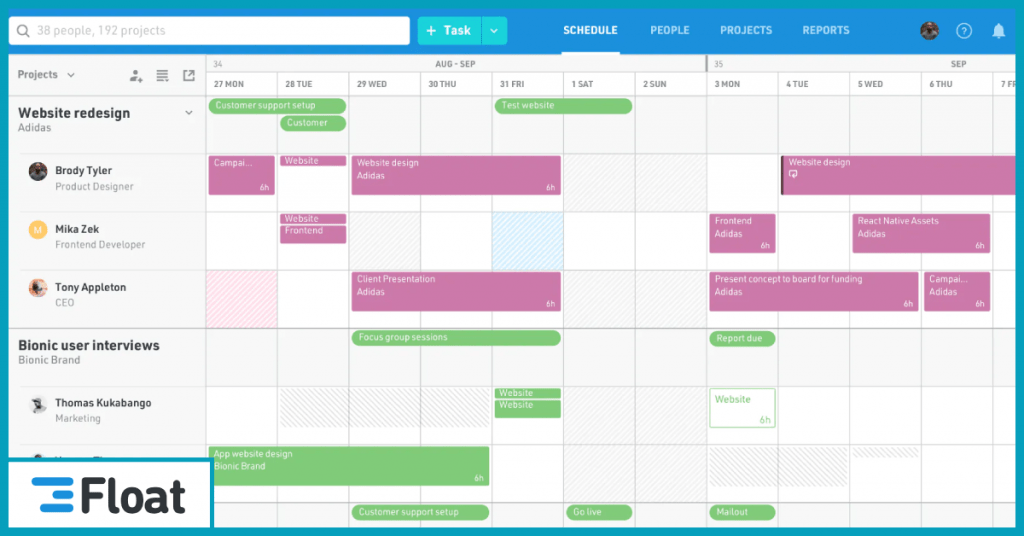 About
Float is a resource planning and management software. It was founded by Glenn Rogers, Lars Gelfan, and Yaron Schoen in Brooklyn, U.S, in 2012. Like Runn, Float is staffed by an entirely remote team based in 20+ cities around the globe. Clients include MetaLab, Buzzfeed, and Social Chain.
Resource Management Features
Capacity management, resource scheduling, forecasting and reports, and time tracking are the core resource management features. Capacity management lets you track the status of workloads, time-offs, and capacity available for future projects. Like Saviom and Runn, Float uses a drag-and-drop interface to create, alter and update the project schedule.
Pros
You can track incoming and outgoings and set a budget to forecast costs.
The tool lets you compare scheduled hours with the actual time taken to complete tasks.
It is Multi-device compatible. You can access your schedule from anywhere, make updates, and record hours on the mobile apps.
Cons
Some users report having a problem with the department dropdown under "projects."
Other users report it is difficult to divide projects into sub-tasks.
Company size and industry type
Float is used by team sizes between 10+ to 1200+. It is best suited for design and advertising agencies but is also used by auditing advisories like Deloitte.
Pricing
Resource planning costs $6, and it's $10 with time tracking.
8. Planview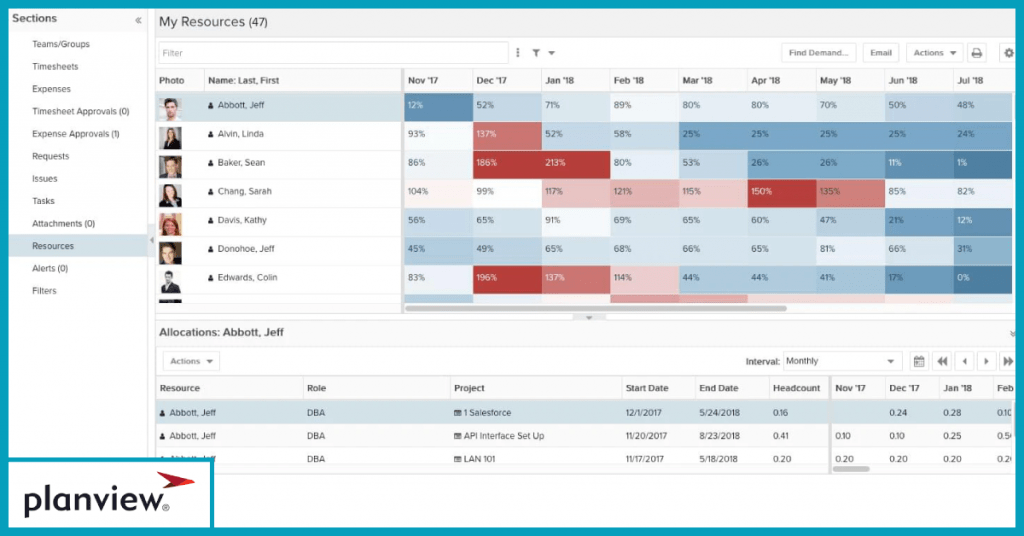 About
Planview is a work management and project portfolio planning tool with built-in resource management. Planview was founded in 1989 in Austin, Texas, U.S, by Patrick Durbin. Their extensive client list of 5000+ features Citi, Arizona State University, and Cambia.
Resource Management Features
Planview's resource management tools come under the PPMPRo kit. The features include What-if Scenario planning, resource capacity and demand planning predictive, portfolio analysis, time tracking, and real-time tracking analytics.
Pros
You can access information on resource allocations and optimize utilization at any level- by portfolio, project, role, or individual.
Real-time visibility into resource utilization, cost, capacity, and availability
Users can track resources and monitor progress by project, program, or portfolios.
Re-plan your portfolio when either project needs, or resource availability changes. The forecast is optimized in minutes.
Cons
Users report that the views can get crowded on the dashboard.
The cue-card functionality was dropped as a feature in place of a dropdown, which some users miss.
Company size and industry type
Planview caters to mid and large-sized companies. It can be used by organizations with a dedicated program management office, ranging from banking and insurance to information technology and software development.
Pricing
There's a 30-day free trial for all Planview products. Get in touch with sales for team plans.
9. Ganttic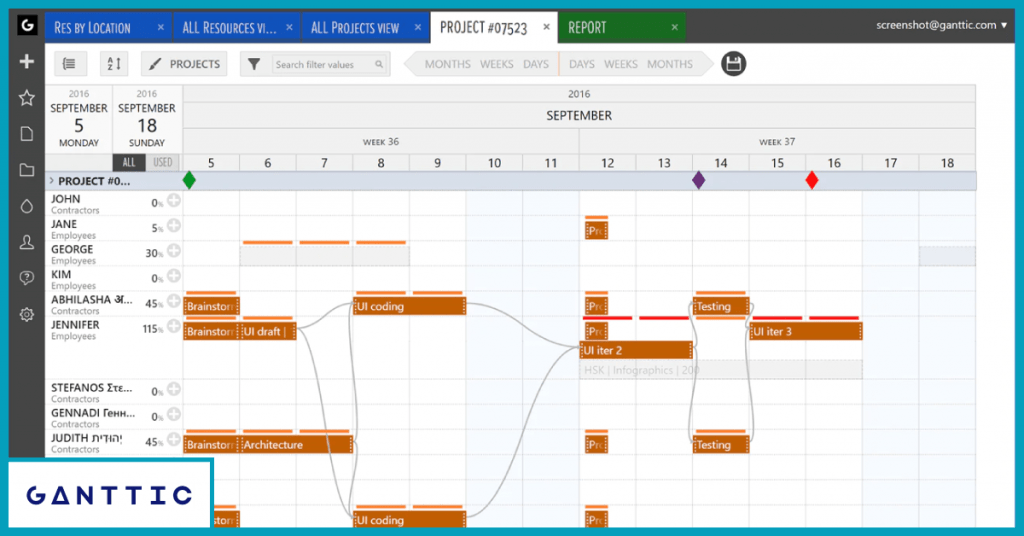 About
Ganttic (formerly Yutiti) started out as a scheduling tool in 2008. Two years later, it expanded into a web-based resource allocation software. Ganttic is based in Estonia, with clients including Viewpoint construction software, Monday Interactive Marketing, and Wincor Nixdorf.
Resource Management Features
You can personalize resource plans for projects. Features include workload control, resource history, resource tracking, advanced task timing, used time, utilization graphs, and reporting analytics.
Pros
You can plan by an effort by setting the start date; the rest is done by the planning tool.
Resource grouping lets you assemble teams across different locations by the skills available.
Highly customizable over and above existing features and dashboards.
The reports are task, resource, and project-driven, giving more comprehensive data on inflight and work-in-progress projects.
Cons
Difficult to split blocks of bookings.
Some users report there to be restrictions in viewing technician workloads together.
Company size and industry type
Ganttic is a great scheduling and planning tool for large resource pools. Industries using the tool are construction and engineering, marketing and advertising agencies, information technology, and gaming solutions.
Pricing
Pricing depends on the number of resources. It is free for up to 10 resources. The Pro20 costs $1.25 (for up to 20 resources),Pro50 costs $1.18, and the Pro150 is $0.99 (for up to 150 resources).
Similarly, the Pro250, 500 and 1000 cost $0.92, 0.76 and 0.5.
10. Journyx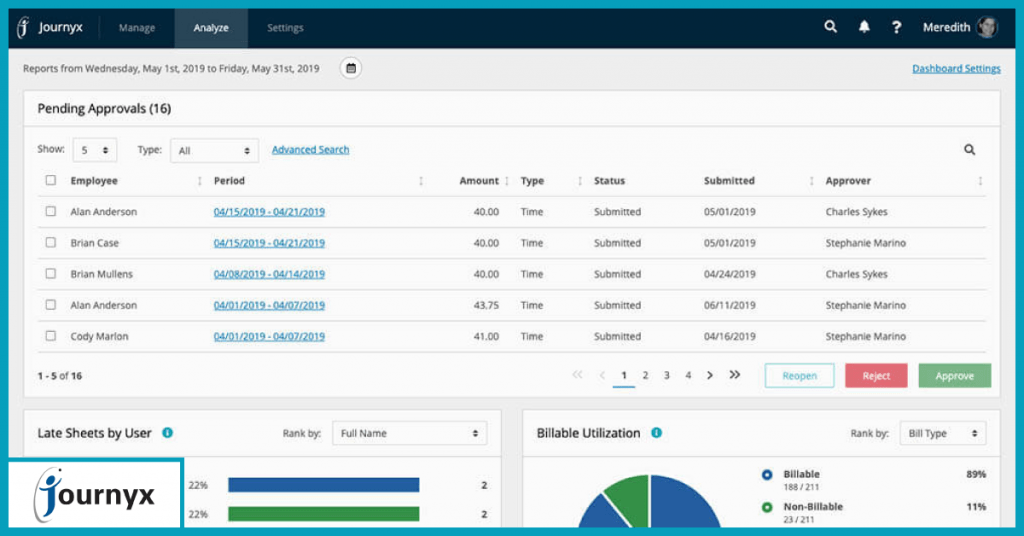 About
Journyx is a time and expense tracking resource management software based in Austin (Texas), U.S.
The company was launched in 1996 and has clients such as Honeywell, Boehringer Ingelheim, and Corpro.
Resource Management Features
Journyx products are XJ (Time and expense tracking), PX (resource management), and WX(timesheet). The resource management features within Journyx PX are resource planning, allocation, project cost accounting, and financial forecasting.
Pros
Real-time visibility into resource usage on both project and non-project activities.
Gantt interface displays all resource schedules and aligns them to ongoing work.
One system for all types of work-recurring, one-off, administrative, deadline-driven, billable, and non-billable projects.
You can create project plans comprising task lists, start and finish times, effort, and cost estimates.
Mobile-friendly enables you to track time, expenses, and resource utilization while on the go.
View team and individual requests for extra time.
Tech support is very responsive and takes feedback to product R&D.
Cons
There have been complaints of the tool User Interface, with some reviews on Trustradius. It says that the UI needs improvement in displaying dashboards and mobile accessibility.
Company size and industry type
Journyx is suited for small and large teams in organizations, although only the time tracking plan would be affordable to smaller firms. At present, it is used extensively by finance, consulting, engineering, Research, and Development industries.
Pricing
Plans are as follows
XJ (Project Time tracking): $12
PX (resource management and scheduling): $18
WX(timesheet): $5
11. Meisterplan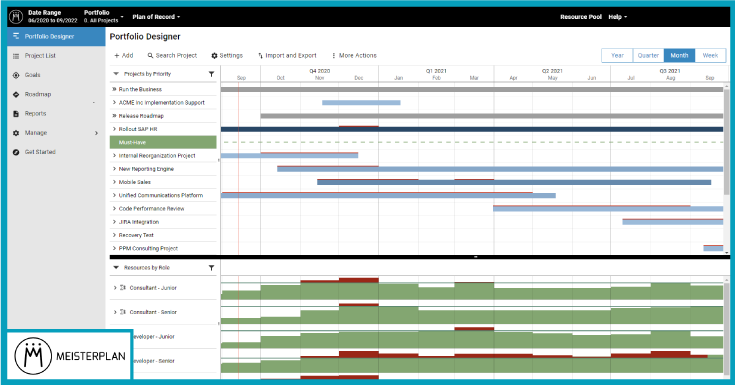 About
Meisterplan is one of the best resource management software to improve capacity planning. Johannes Koppenhoefer and Joerg Leute came up with Meisterplan in 2013. Meisterplan, based in Germany, has 350+ clients, including Trafag, Volkswagen, and Nordex.
Resource Management Features
Meisterplan's resource management works standalone as well as with Project portfolio planning platforms. It comprises portfolio designer, capacity planning, allocation heatmaps, tactical resource planning, and roadmap views. It also has an extensive reporting and analytics suite.
Pros
Check the interactive Allocation Histogram for information on your resources, capacities, and allocations
Run scheduling simulations to see the impact on resource utilization.
Easier to build teams based on skills availability status.
Get accurate resource availability after factoring out vacations, time-offs, and leaves.
Very easy to set up, with hands-on customer support.
Cons
At present, you can't change primary data inside the system natively. A user has mentioned that one has to take an import-Xls and re-import changes.
Company size and industry type
Meisterplan is the best resource management software for mid-and large-sized companies. The solutions are tailored to serve clients across sectors. They include financial services, health & life sciences, higher education, energy, engineering and construction, and information & communication technology industries.
Pricing
There's a slider to add the number of resources, starting from 50 to 5000+. The price changes accordingly.
12. Mavenlink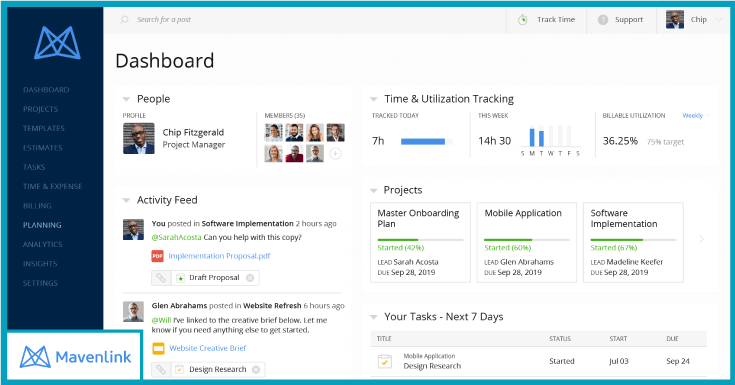 About
Mavenlink is a resource management platform primarily for professional services and marketing teams. It was founded in 2010 by Ray Grainger, Sean Crafts, and Roger Neel. Mavenlink is based in California, U.S, and has clients like RPI consultants, Butterfly, and Health Catalyst.
Resource Management Features
Mavenlink's master planning lets you manage resource allocations, view workloads and resource availability. You can foresee the availability of resources and book capacity accordingly onto confirmed projects. The critical resource management features are planning, shaping, resource requesting, team builder, resource forecasting, and resource recommendations. You can share files, update task dependencies, and use built-in timesheets to assess if projects are ahead of or on schedule.
Pros
Resource recommendations identify project attributes and list out available resources that match the requirement.
The team builder enables managers to construct team scenarios for a project. It gives visibility into the resource pool and adjusts team size to make the right staffing choices.
Master planning lets you change resource plans and see how it impacts profit margins and project timelines.
Cons
Paid time-offs are challenging to enter because the interface is a bit outdated.
Customization options for project tasks are limited.
The time tracking facility for tasks is clunky – at times doesn't show up after a refresh. Meaning, you might lose some work and end up redoing it.
Company size and Industry type
Mavenlink is suited for small to mid-sized firms that operate in the professional services space.
Pricing
There are four plans- enterprise, premier, professional, and teams. Pricing is tailored to company size, sector, and industry.
13. TogglPlan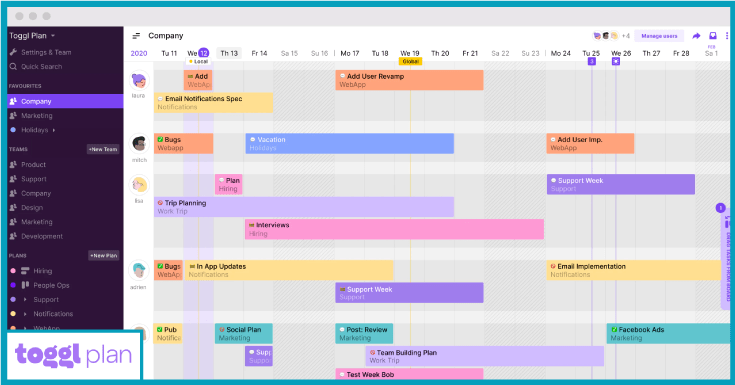 About
TogglPlan is a resource planning software based in Tallinn, Estonia. The team is fully remote and emerged in 2017. Their client list extends beyond 4000+ customers and includes Airbnb, Netflix, and Stripe!
Resource Management Features
Project management, team planning, and task management are Toggl's core functions. Under team view, you can get group overviews and create task boards to manage them better.
Pros
The timer is easy to use. You can also record time on the Toggl mobile app.
You can organize work by client, project, and resources with labels.
The reporting suite is very detailed and displays the work hours to clients in real-time, making invoicing and account management transparent.
Cons
Time-consuming to add new clients/projects.
The tool only keeps track of time by a week. So you can only see it weekly rather than for the entire month.
Company size and industry type
Toggl's products add value to companies managing teams of large strengths in mid to large multinational corporations. They range across sectors like financial and design project management.
Pricing
Team plan costs $8 and Business $13.35 per user per month. It's free for a solo user.
14. Scoro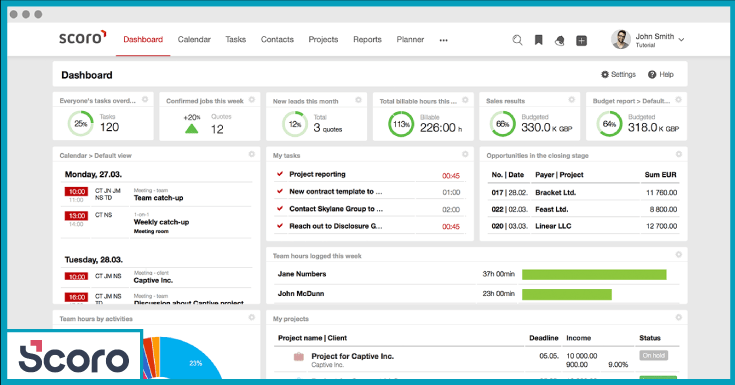 About
Scoro was founded in 2013 by tech evangelists Fred Krieger and Priit Matiisen. It is a work and business management platform used by over 30,000 users across the globe. Scoro's customer base includes Stramark, Grant Thornton, and World light media. The company has offices in the U.K., Europe (Latvia, Estonia, and Lithuania), and the U.S.
Resource Management Features
It has a Real-time customizable KPI dashboard, project progress reports, time tracking, and billing for work. There is a template library for quoting, invoicing, and contract management.
Pros
Setup is straightforward on a clean, readable interface.
The dashboard is device-friendly and displays information whether you're on mobile or web. Compacts information to fit small screens.
Work tracing creates a path that you can go forward or back on to the previous task.
Cons
1. Cannot synchronize contacts with Gmail.
2. The sales pipeline is missing the function to track the time of a quote changing.
Company size and industry type
Scoro meets the requirements of small, mid, and big firms. The industries using the tool include creative agencies, professional services, building & construction, business consultancies, educational & training institutions, legal services, information technology, architecture, and financial services.
Pricing
Four pricing plans, which are (in USD)
| | | | |
| --- | --- | --- | --- |
| Essential | Work hub | Sales hub | Ultimate |
| 26 | 37 | 37 | Contact sales for pricing |
15. Robin Powered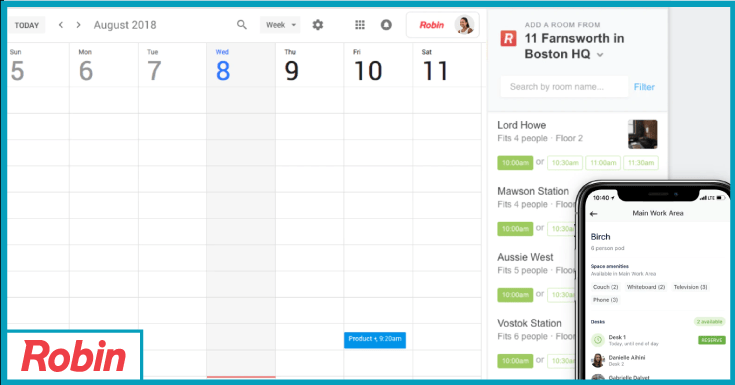 About
Robin Powered is a workplace management platform released in 2014. Based in Boston, U.S, Robin Powered offers solutions for hybrid workplaces. It is used by the Australian Catholic University, Maxwell Health, and Dyn Empire.
Resource Management Features
While not a primary resource management platform, Robin Powered has desks and spaces as its products. The features let you reserve spaces for a hybrid workforce. You can find or book desks, look at desk utilization data and create permissions. This goes to restrict movement around the office by the resource role, calendar, department, and location.
It lets you plan and experiment with the office layout, visualize the capacity and meet people where they are.
Pros
You can check who was at a particular location during a specific time with desk check-in data.
Economize the office space by limiting the free desks to the staggering capacity
The drag-and-drop maps are interactive. They show mobility changes around the offices as desks and areas are occupied or freed up.
Cons
RobinPowered's idea of resource management is a rather unconventional one. It's more of space utilization and optimization tool.
Company size and industry type
Small, mid-sized, and large organizations powered by a hybrid workforce can benefit from using Robin Powered to ease office transitions. Their clients operate across various industries, from higher education and advisories to information technology.
Pricing
Plans for Basic and Pro are $1500 and $3,500 per year, respectively. You can opt for the Enterprise plan if you're looking for something more all-encompassing. Reach out to the sales team for a quote.
16. ClickUp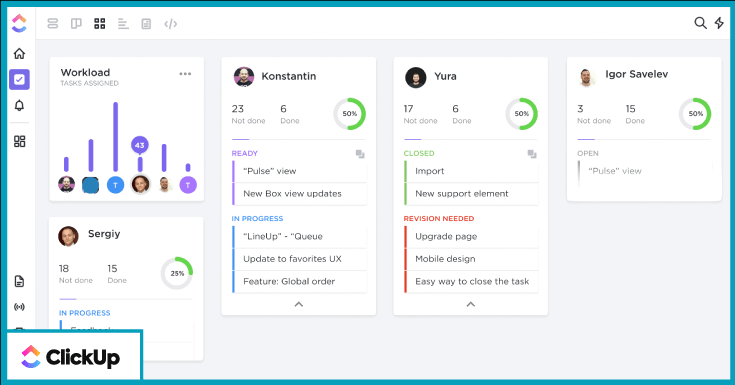 About
ClickUp is a project management software founded in 2017. Based in San Diego, U.S., ClickUp is used by over 200,000+ teams, including Google, Booking.com, and Uber.
Resource Management Features
ClickUp features mind maps, dashboards, Gantt charts, notepads, forms, sprints, and time tracking.
Pros
The Gantt chart visually represents the project schedule and resources assigned.
It integrates documentation and contains a central file repository so teams can upload, access, review, and collaborate on files online.
You can track resource time on projects to know where maximum time and capacity go.
On-demand demo accompanied by 24-hour support.
It has a chrome extension and integrates with Slack, G-Drive, and GitHub.
Cons
Feature-heavy, which can get overwhelming if internal processes aren't prepared beforehand.
You can attach tasks; however, the formatting needs work. Users report that mailed tasks are tough to read.
Company size and industry type
Suitable for teams between 10-10,000. ClickUp is used by professionals across several industries, such as marketing, project management, human resources, business operations, design, finance, sales, and enterprise.
Pricing
Free, the unlimited plan starts from $5 per user per month
17. Deltek Vision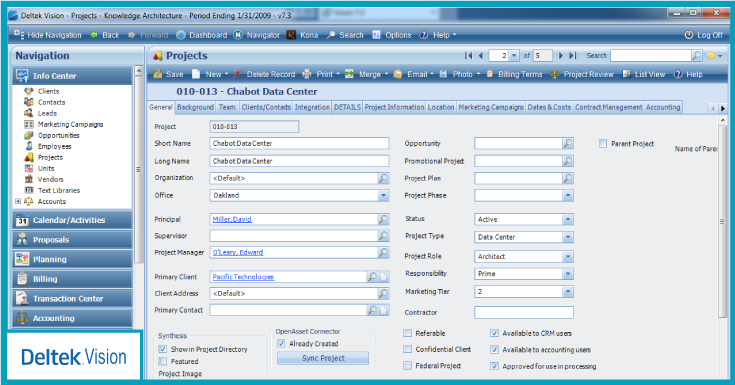 About
Deltek is a robust project portfolio and resource planning tool with a diverse product stack. It's headquartered in Virginia, U.S, and was founded in 1983. 30,000 clients are on board, including Mott MacDonald, Apex Engineers, and Amazon Web Services (AWS).
Resource Management Features
Resource optimization, resource planning, and utilization. You can build WBS structures, set schedules, build teams, and use generic placeholders to reserve resources.
Pros
The dynamic search option makes finding available resources easier. You can filter by skills, type of contract or certifications, and more.
Can assemble teams and assign multiple resources to multiple tasks.
The information center lets you create your user-defined fields, grids, and views.
The reports are generated based on the workflows, which are user-customizable
Cons
UI looks outdated.
Project details sometimes get truncated and do not load when expanded.
Company size and Industry type
Large-sized organizations. Deltek caters to sensitive and confidential projects across Aerospace and Defense, Architecture, Engineering, and construction. It also serves accounting, marketing agencies, and the energy, oil, and gas sectors.
Pricing
Not listed on site. Contact sales for a quotation
18. Workfront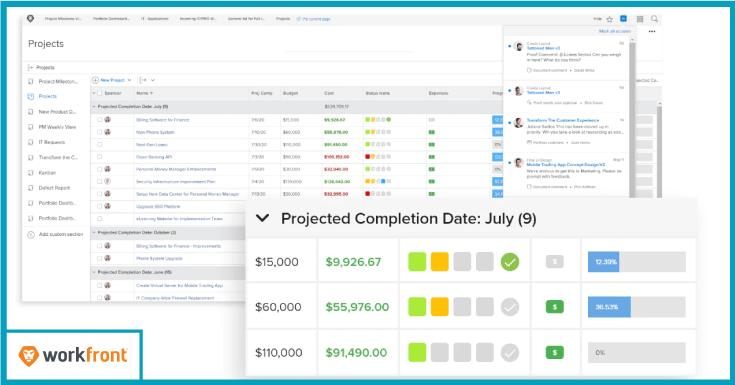 About
Workfront is an Adobe offering. It is a work management tool used by over 3000 customers like T-Mobile, The Home Depot, and Seventh Generation use.
Resource Management Features
Workfront's resource management features comprise scenario planning, workload balancer, and resource scheduler.
Pros
You can see the team capacity from a single place and subsequently assign work. You can even free up resources once work is done.
The workload balancer lets you allocate optimal workloads by individual, role, and teams.
Users get a real-time view of resource utilization and project progress.
Cons
The tool is missing a risk proximity feature that one user feels could help realize how close the project is to risk.
Product support has been a bit slow on the uptake in customizing Workfront for some customers.
Company size and industry type
Workfront can be used for team sizes between 100 to 10,000+. The plans are categorized by department and include marketing, IT, agencies, product development, and professional services.
Pricing
There are three plans– Enterprise, Business, and Pro. You have to send a pricing request for the plan you pick.
19. Active Collab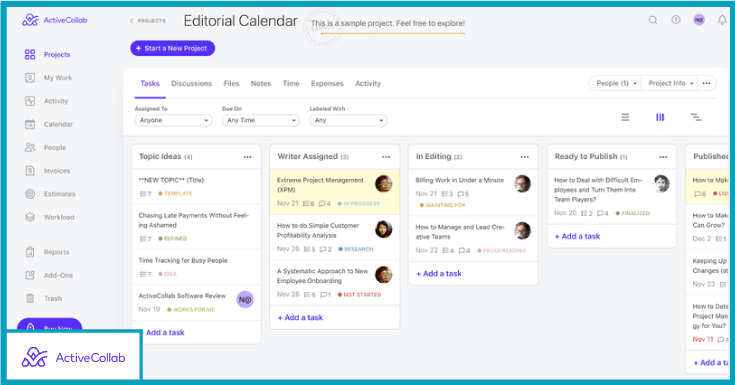 About
Active Collab is a project management tool with workload management. It's an open-source project that has helped out 50,000+ teams worldwide. Active Collab has offices in the U.S and Serbia, with customers including Air Canada, IKEA, CASIO, and Cisco.
Resource Management Features
While primarily a project management tool, Active Collab also features workload management, time management, planning, communication, and collaboration.
Pros
Dashboards are feature-rich and display data on resources, tasks, skills-in-use. You can choose the format of project time too.
Some users like the option to self-host, which other tools did not offer.
Features that work well include task lists, Kanban boards, time tracking, notifying, and assigning.
Cons
Doesn't integrate with Gitlab.
Cannot upload multiple files and create an archive.
Company size and industry type
Active Collab is excellent for small businesses and mid-sized firms. The industries that it presently caters to include creative teams, agencies, marketing and SEO, start-ups, designers, and development.
Pricing
It starts at $6.25 per member per month. If you're looking for the Get Paid bundle that includes online transaction reports, it's an additional $3.
20. Resource Hero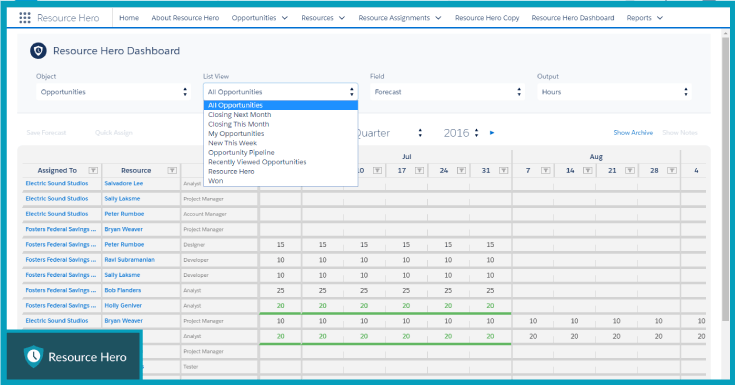 About
Resource Hero is a Salesforce native project and resource management software. It is a single system for tracking time, gaining insights, and forecasting work. Resource Hero was founded in 2013 (incorporated in 2015) by Pinaki Kathiari and William Kuehler. Their customer base includes
Resource Management Features
Resource Hero is a resource planning tool that features time tracking, project health tracking, resource management, quotes and invoicing, and Salesforce integration.
Pros
The forecast matrix lets you see resource availability for demands weekly, monthly, quarterly, or yearly.
The blended rate, total forecast hours, and total forecast revenue are all auto-calculated.
Custom sorting to only see projects you're working on.
The mobile interface lets you input time on the go and looks at time entries entered.
Cons
The synchrony with other tools you may be using throws up conflicts. There is insufficient data on how this impacts usage.
Company size and industry type
Resource hero works for both small businesses and large global companies. They have about 500 users at present and serve professional service companies.
Pricing
It starts at $11 per user per month.
21. Teamdeck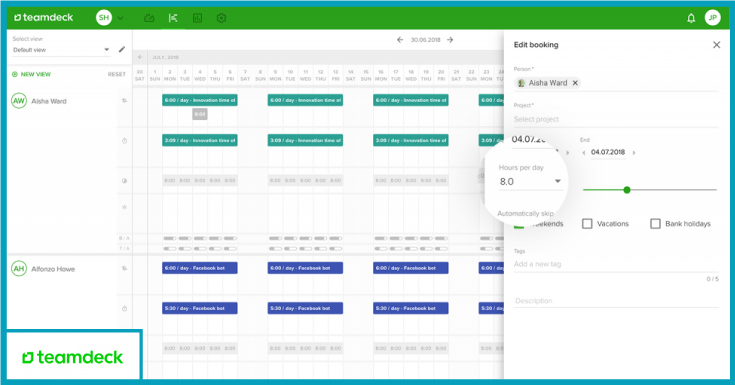 About
Teamdeck is the best resource management software for remote teams. It is based in Poland and is used by companies like Significa, Tintash, and BrainStation 23.
Resource Management Features
Core features include resource scheduling, leave management and timesheets, and time tracking.
Pros
A comprehensive calendar for team allocations, public holidays, and leaves (sick/casual/annual) generates actual availability.
Many users approve and like the timesheets and time tracking feature for Teams. It compares entries to predictions.
Generates timeline and financial reports, which forms the basis for setting KPIs and
Cons
Can hang and be a bit slow at times.
Company size and industry type
Team deck serves creative agencies, software houses, product teams, finance and operations teams. The size of companies can range from small to large.
Pricing
One plan with all features for $3.99 per user per month.
22. Silverbucket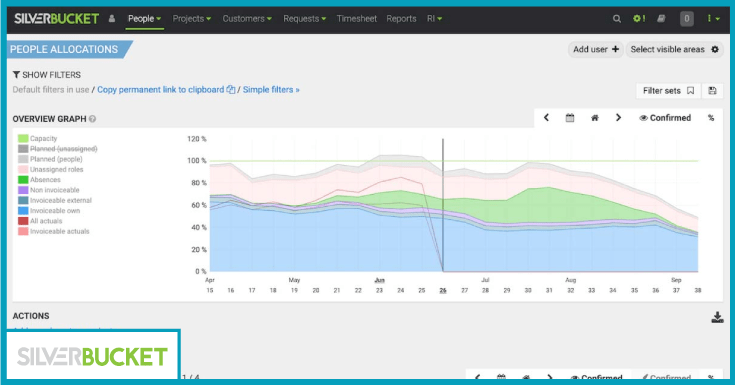 About
Silverbucket is a resource planning tool. Located in Tampere, Finland, Silverbucket was founded in 2010 and is used by 25,000+ users, including Sweco, Leanware, and Tengbom.
Resource Management Features
Silverbucket's project resourcing features include employee availability, project allocation, actual vs. planned hours comparator, and an invoicing calculator.
Pros
Performance dashboards generate both past and forecasted resource information to economize accordingly.
The skills management tree lets you add different levels of competencies, certifications, and upgrades.
The project risk management feature makes it easy to categorize risks by probability and impact to identify their occurrences. You also have the option of defining your risks per project.
Cons
Customers report that the utilization rate report is missing the person selection. More so, it does not calculate the totals for a selected period.
A good resourcing tool but lacks the granularity for cost and capacity forecasting.
Company size and industry type
Silverbucket is suitable for small and medium enterprises managing agile teams. The industries it caters to include information technology and software engineering services, design, financial and professional services.
Pricing
Plans start from $9 per person per month. There's a slider to increase system users, which changes the price.
23. Primetric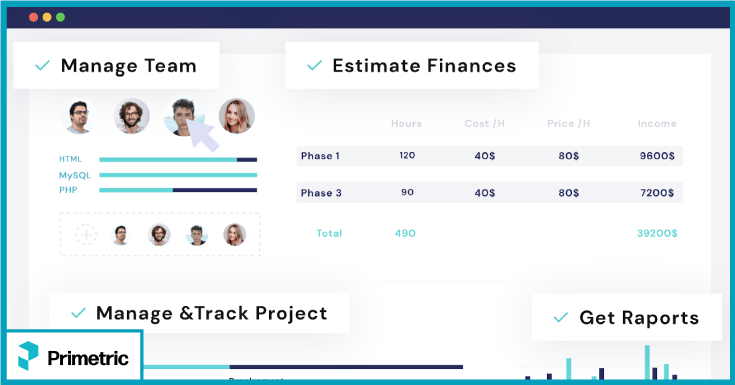 About
Prometric is a financial, project, and resource management tool based in Poland. It was launched in the market in 2016 and had 2000+ customers. Some names include Setapp, The Da Vinci studio, and Grinn.
Resource Management Features
Resource planning, skills and resource management, project management, business intelligence, finance, timesheets, and time tracking.
Pros
Easy to update the competency database and scan for skills availability for projects.
You can select the employment type and set working hour terms to match against project hours. A useful feature if you're employing a hybrid and contingent workforce.
It has centralized leave management to customize holidays based on the employee's geographical location.
Cons
UX reportedly takes some getting used to.
Company size and industry type
Prometric is best for small and mid-sized teams. Software firms are their largest account, the information technology industry.
Pricing
Standard plan costs $171, premium $252 and for custom quotes, try the Enterprise plan.
24. Tempo planner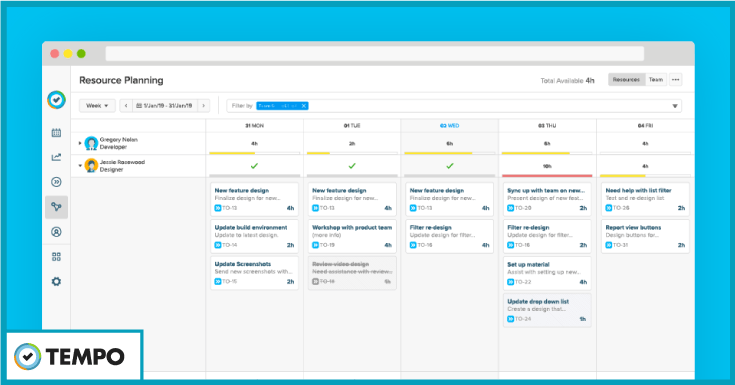 About
Tempo planner is a resource planning product offering found in the Atlassian marketplace.
Resource Management Features
The primary features within the Tempo Planner are resource planning, capacity reporting, and reflect-on-plans. You can find resources by using filters such as teams, users, and roles before designing an effective plan.
Pros
It can be hosted on the cloud, server, or data center.
Reports are dynamic.
Can account for how holidays impact workloads.
Lets managers plan and approve work and time-off requests.
Cons
I wouldn't call this a con as such, but it helps if you're either technology-driven or already familiar with Atlassian products.
Company size and industry type
Compact and large-sized contingent teams. Beneficial to software development and information technology industries.
Pricing
$10 for 10 users and $11.75 for 11-100 users.
25. Kelloo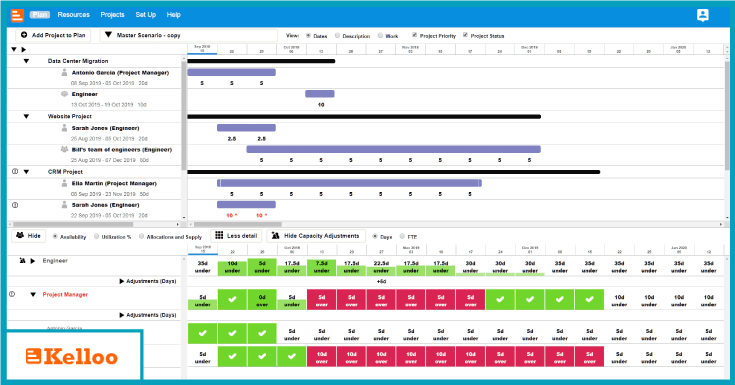 About
Kelloo is a resource planning tool that unifies people, projects, and portfolios. It's based in the U.K and was released in the market in 2016.
Resource Management Features
The core Kelloo features are capacity planning, resource management, portfolio management, resource planning, and agile resource planning. The reporting analytics feature utilization, availability, forecasting, and dashboard reporting.
Pros
You can make changes on the drag-and-drop scheduler.
Scenario modeling helps you size up the capacity and demand to determine taking on new work.
You can plan for resources in days, FTE, or agile user stories.
Cons
It is missing a time tracking feature that can sync with utilization to show the hours spent against revenue.
Company size and industry type
Great for small to mid-sized teams across marketing, design, and project management industries.
Pricing
Free 30-day trial. Pricing starts at $22.87 per resource for ten resources.
26. Epicflow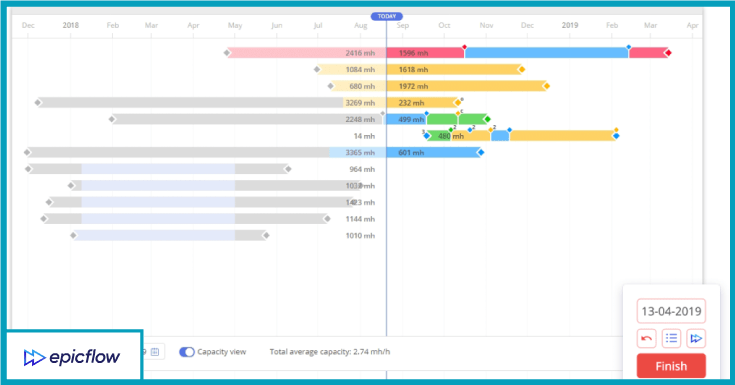 About
Epicflow is a project resource management tool. Released in 2006 and headquartered in Amsterdam, Netherlands, Epicflow has over 3000 users, including dutch telecommunication companies KPN and VieCuri.
Resource Management Features
The features within Epicflow are pipeline (for projects, priorities, and milestones), project creation, Gantt charts, dashboards, pipeline filtering, task lists and cards, material resources, what-if analysis, resource management, burnup, budget, and historical load graphs.
Pros
You can manage multiple projects simultaneously without losing track of the resources leveled, exchanged, released, or rolled off.
Scenario modeling through what-if analysis helps estimate the capacity available and qualified for pipelined work.
Quick to set up and use on the mobile app version.
Integrates with JIRA, Oracle Primavera, MS Projects, and HRM systems.
Cons
The steep learning curve as with any project software.
The data on some reports, such as the bubble chart, was unclear to a cohort of users.
Company size and industry type
Organizations of any size can benefit from Epicflow's solutions. At present, their clients operate in the technology and telecom sector.
Pricing
The price packages aren't listed on the website. You can schedule a demo with the product experts to get specific quotes.
27. Retain International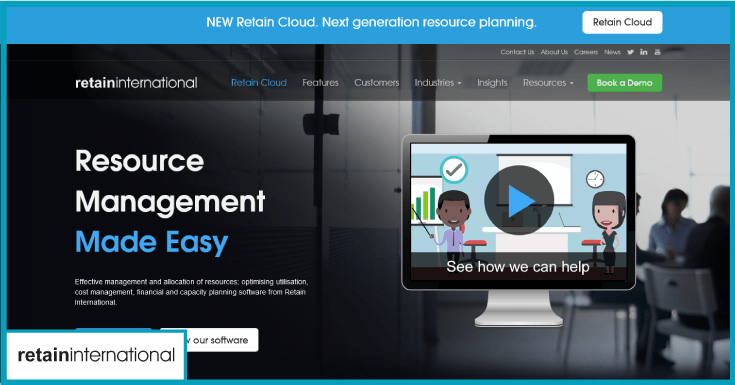 About
Retain International is a resource allocation and management software. It was founded in 1992 in the U.K to meet the professional service industry's resource planning needs. Customers who love retain include Capgemini, KPMG, and ATOS.
Resource Management Features
The list of features includes asset scheduling, resource allocation, staff scheduling, equipment scheduling, demand forecasting, and talent management.
Pros
The interface is user-friendly and simple to navigate
The forecast report lets you match availability and relevance for pipelined projects.
Reports are granular and customizable.
Cons
Features have stayed the same for some time. There have been no new releases in recent times.
Company size and industry type
Retain Cloud is beneficial to organizations of all sizes. The industries that Retain International caters to are legal, professional services, and IT services.
Pricing
The price packages aren't listed on the website. You can book a free demo with the product experts.
SorryIWasOnMute's Recommendations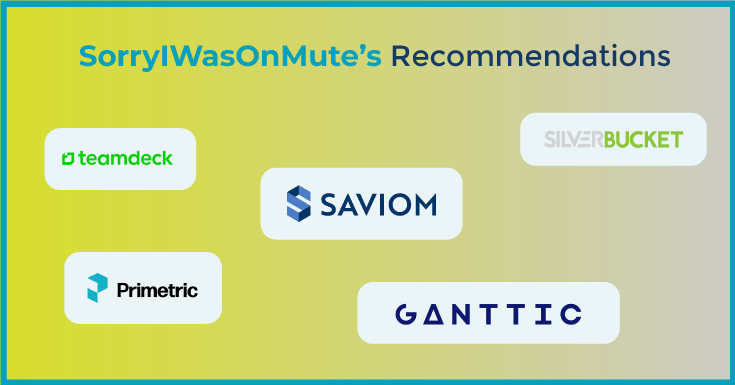 Our top five picks for the best resource management software are
If you're looking for a bang for your buck, we think Saviom and Teamdeck merit consideration. Saviom's licensing gives you endless customization, meaning that you get the tool you want and grow at scale. The Team Deck also has a fixed price for all plans, which is great if you want to experience resourcing efficiency economically.