In today's dynamic and hyper-competitive business landscape, market trends, and customer demands are constantly evolving. To stay afloat, organizations must plan current and future resource requirements to meet their operational and strategic business goals.
That's why adopting a robust resource capacity planning tool has become the need of the hour for business profitability and sustainability. It helps companies streamline their planning process, identify potential bottlenecks, and take corrective actions ahead of time for successful project delivery.
However, with so many tools in the market today, finding a suitable resource capacity planning software can be utterly confusing. So, to simplify the process, we have enlisted the top 10 capacity planning software for 2023!
In this article, we'll provide an extensive product review and highlight their unique features and benefits, along with screenshots of every tool.
Let's begin.
Top 10 Resource Capacity Planning Tools
Selection Criteria of Capacity Planning Tool:
In our search for the best resource capacity planning software, we have analyzed the most popular tools in the market. Let's take a look at five selection criteria that we used to review and compare these tools:
1


User friendliness & Navigation:



A user-friendly interface enables you to navigate and understand the tool's features easily, thus reducing the learning curve. Additionally, it allows users to filter and drill down relevant information quickly and save time. Therefore, user-friendliness and easy navigation are key features to look for when looking for a robust capacity planning tool.


2


Configurability & Scalability:



A tool should have a flexible architecture to accommodate the specific needs of your business. For example, can it handle your current needs, as well as your future growth? Will it handle increasing volumes of data without compromising its performance or accuracy? Hence, a highly configurable and scalable tool is necessary to meet your organization's evolving requirements.


3


Multi-dimensional Forecasting:



Multi-dimensional forecasting is a critical feature that enables organizations to predict future resource needs based on historical data, trends, and other factors. This capability can help organizations optimize their resource efficiency and performance. As a result, advanced forecasting is a must-have for any good capacity planning tool.


4


Integration capability



When buying any software, testing out how it effortlessly integrates with your existing business applications is essential. A robust capacity planning software should seamlessly integrate with your business ecosystem to provide a single version of the truth.


5


Built-in Reporting Analytics:



Built-in reporting analytics such as graphs, capacity vs. demand reports, configurable dashboards, data visualization, etc., allows users to monitor KPIs, identify performance gaps, and make data-driven business decisions. Further, the software should enable you to export data in various formats, such as CSV or Excel, to facilitate further analysis.


6


Pricing:



Pricing is a critical consideration, and it's essential to conduct a cost-benefit analysis to evaluate whether a tool is worth the investment. Additionally, maintenance, training, and support costs should be factored in when selecting software to ensure that it aligns with the organization's budget and needs.

Best Resource Capacity Planning Software Overviews
Most Powerful Capacity Planning Tool for Enterprises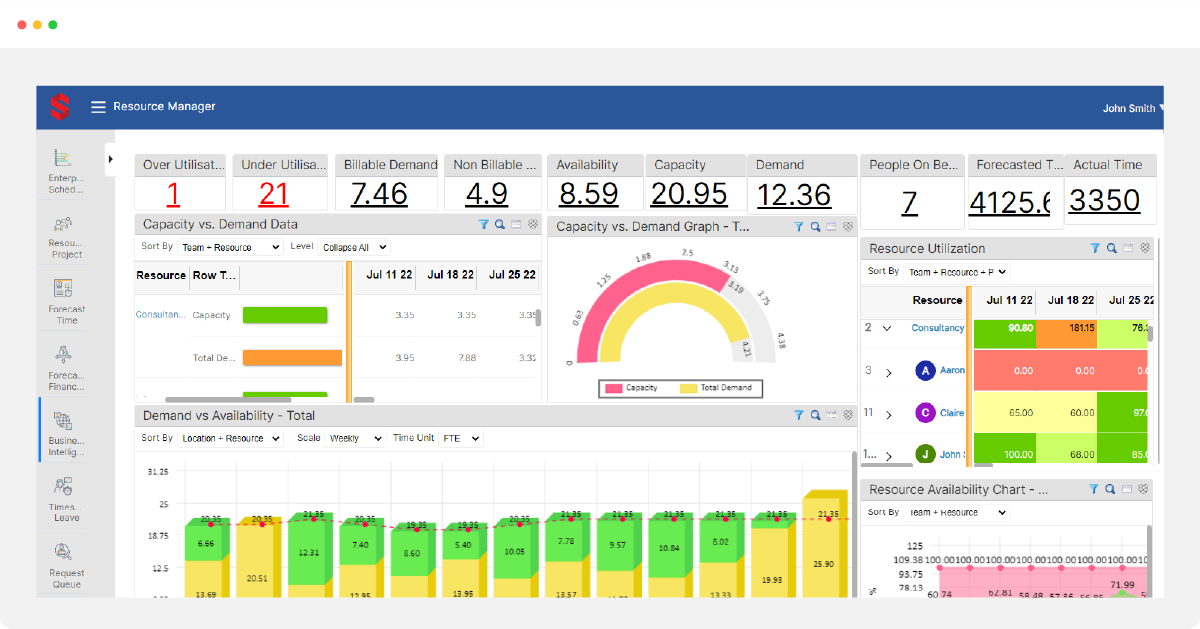 Suitable for: 
Medium to enterprise-level organizations

SAVIOM capacity planning tool is designed to help enterprises build an optimized workforce and future-proof their business. With a robust client base of Fortune 500 companies across 50+ countries, Saviom has established itself as a market leader in this space.
What makes Saviom unique?

Saviom is equipped with advanced forecasting capabilities that help in proactive demand management. The tool enables companies to forward plan pipeline project requirements and identify potential resourcing bottlenecks. Besides that, the capacity vs. demand reports helps identify workforce shortage/excess, minimizing last-minute firefighting for skilled employees. Utilization heat maps help overcome under/overutilization and optimize the workforce. Forecast vs. actuals helps improve future estimations of work.
The people-on-the-bench and project vacancy reports play a vital role in effectively allocating resources to high-priority work and reducing bench time. Furthermore, the customizable dashboards and BI-powered analytics provide insights into critical financial metrics such as cost, revenue, profit margins, etc., allowing you to control the project budget ahead of time. Overall, Saviom and its outstanding range of features is a valuable addition if you are looking to streamline the capacity planning framework.
Key Features:

Advanced forecasting & capacity planning
Customized dashboards, portals, analytics, and reports
Real-time resource optimization, modeling & simulation
Early warning system & integration capabilities
In-built timesheet module
Pricing:

Saviom has a tiered 
pricing model 
that varies depending on the number of power and lite licenses. They offer a 
60-day free trial.
Resource Capacity Planning Software for Professional Services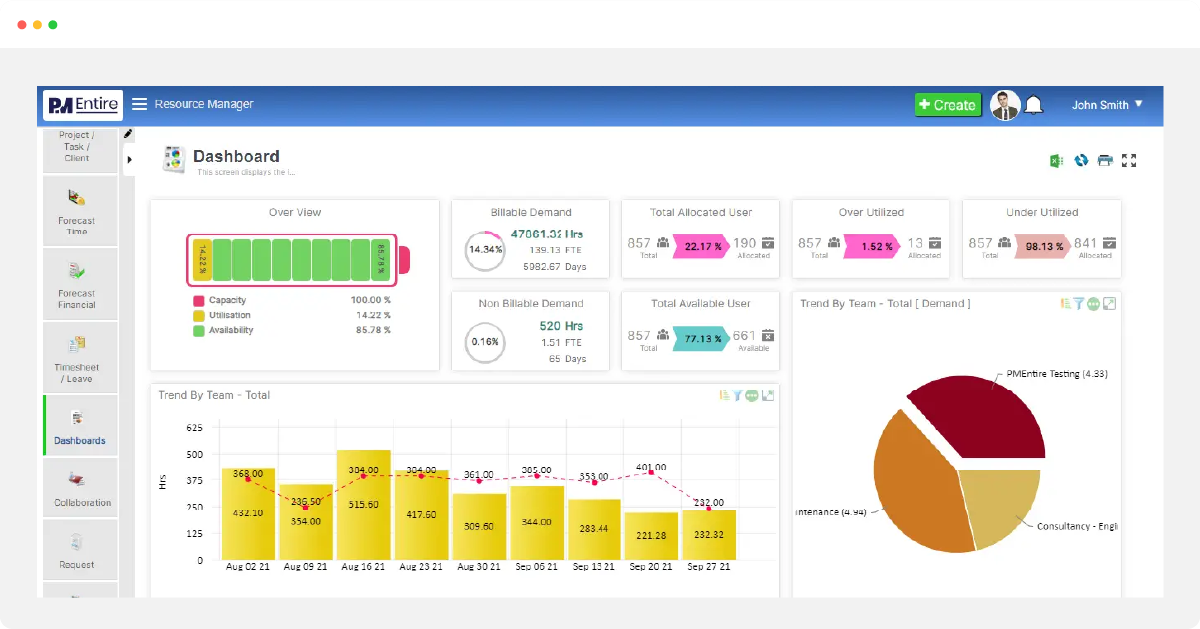 Suitable for: 
Small to medium organizations

PMEntire is a next-gen capacity planning software equipped with powerful features that help organizations gain foresight into the future and beat market volatility. The tool's BI-based forecasting capabilities are unparalleled, allowing businesses to accurately predict pipeline resource demand and identify capacity vs. demand gaps well in advance.
What makes PMEntire special?

The tool lets users forecast and track critical metrics such as project financials, vacancies, people on the bench, resource utilization, and risks. In addition, the platform's customizable dashboards and real-time reporting provide insights into resource excess/shortages and help managers take suitable course-corrective actions. Being a highly configurable and user-friendly software, PMEntire is one of the most well-rounded capacity planning tools on this list.
Key Features:

Advanced forecasting and early warning systems
Real-time Business Intelligence
Customizable dashboards, reports, and analytics
Seamless integration capabilities
Pricing:

Pricing is available on request. PMEntire offers a 
60-day free trial.
One-stop solution to simplify people management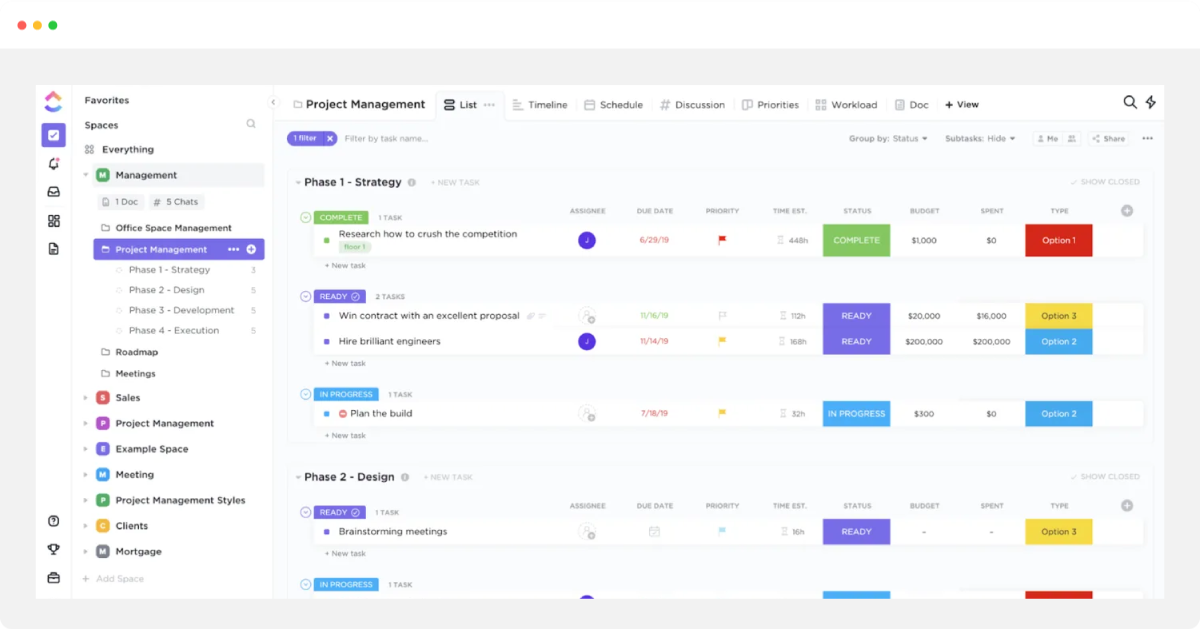 Suitable for: 
Small to large-size companies

ClickUp is an all-in-one work management solution with powerful capacity planning functionalities that improves resource efficiency.
What makes ClickUp special?

The platform's customizable dashboards offer a multi-dimensional overview of resource workload and project progress. This visibility enables users to address talent shortages and scheduling conflicts. Additionally, ClickUp's calendar view allows organizations to view their resource allocation by day, week, or month, which can help them plan their resources for future engagements. Other vital features such as intuitive design, advanced analytics, time tracking, and pre-built integrations make ClickUp an ideal capacity planning tool for dynamic businesses.
Key Features:

Multi-dimensional views
Multi-dimensional views
Time tracking capabilities
Configurable templates
Pricing:

The ClickUp 
pricing model 
includes Forever Plan, which is free; the Unlimited plan is $5 per member per month; the Business plan is $12 per member per month, Business Plus is $19 per member per month; and the Enterprise plan has custom pricing.
Best for Capacity Planning solution for Project Teams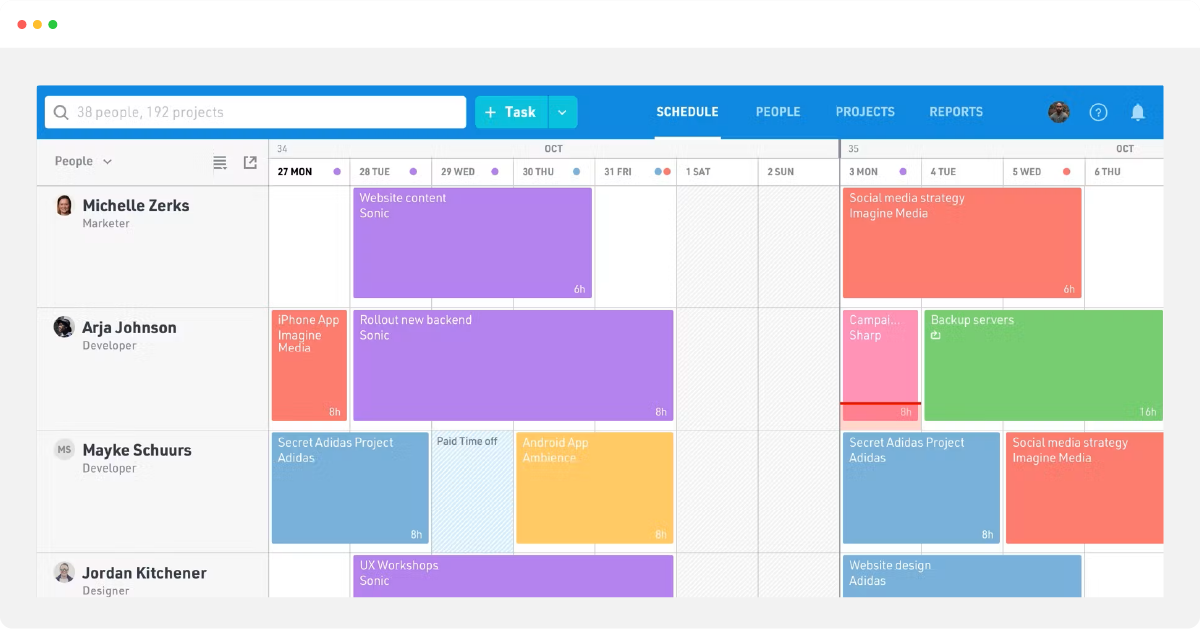 Suitable for: 
Small to mid-size companies

Float is a top-tier capacity planning tool that allows organizations to centralize their resource data and assign the best person for the job every time.
What makes Float special?

The software is equipped with forecasting systems that help predict resourcing needs proactively. In addition, the intuitive dashboards offer a real-time view of team schedules, helping managers proactively anticipate and resolve scheduling and allocation bottlenecks. A standout feature is the tool's ability to set custom availability for team members, allowing you to take into account sick leaves, vacation time, and PTO. Moreover, Float offers robust reporting and analytics that generate customizable reports on capacity, utilization, and project timelines. Therefore, the excellent array of functionalities and configurable settings make Float a suitable choice for teams of all sizes and industries.
Key Features:

Resource forecasting
Real-time dashboards
Time and expense tracking
Dynamic reporting tools
Pricing:

The different  
pricing model 
includes Resource Planning is $6 per person per month; Resource Planning + Time Tracking is $10 per person per month. Float offers a  
30-day free trial.
Basic Capacity Management Tool for Every Business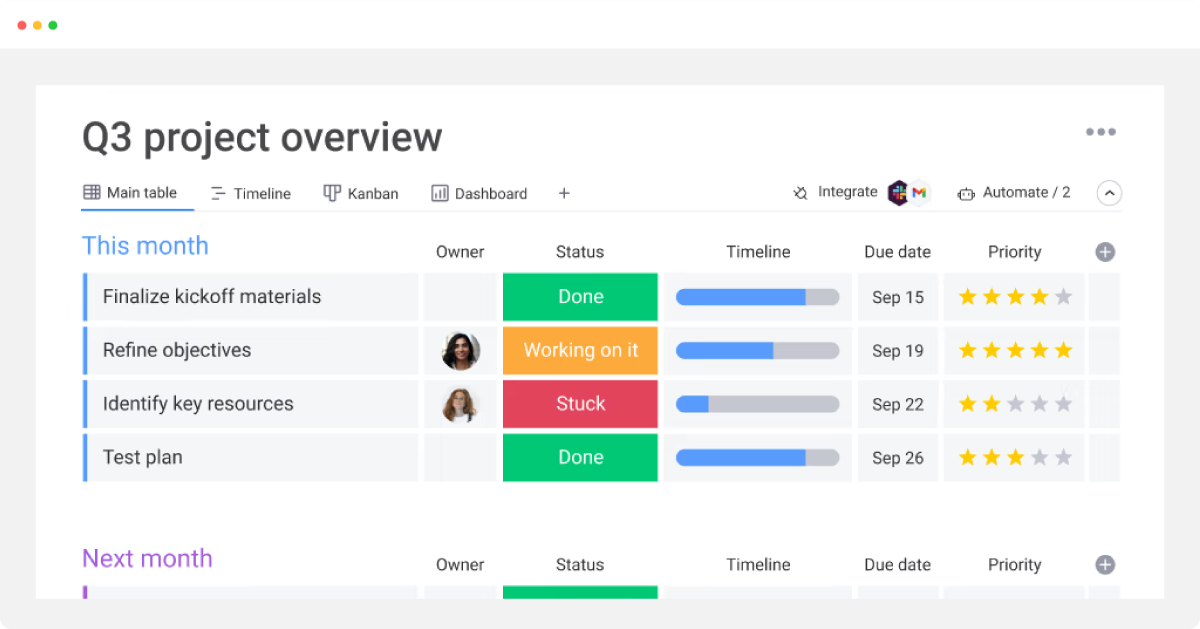 Suitable for: 
Medium to large enterprises

Monday.com is a versatile platform with an advanced capacity planning module that allows organizations to predict and manage team capacity across all projects effectively.
What makes Monday special?

The tool enables businesses to plan future resource requirements based on accurate forecasting. In addition, the configurable, multi-dimensional dashboard and reports allow you to visualize team members' workload and identify any potential capacity issues. Users can also view data in different formats like timelines, calendars, or Gantt charts to see their team's capacity and availability. Monday.com's resource capacity planning software can help you optimize resource schedules and stay on top of the projects.
Key Features:

Dynamic forecasting capabilities
Customizable fields and multi-dimensional dashboards
Time tracking
Business tool integration
Pricing:

Pricing 
starts from $6/user/month. The platform offers a free version for up to two users. The pro version 
offers a 14-day free trial.
Purpose-built Solution for Dynamic Businesses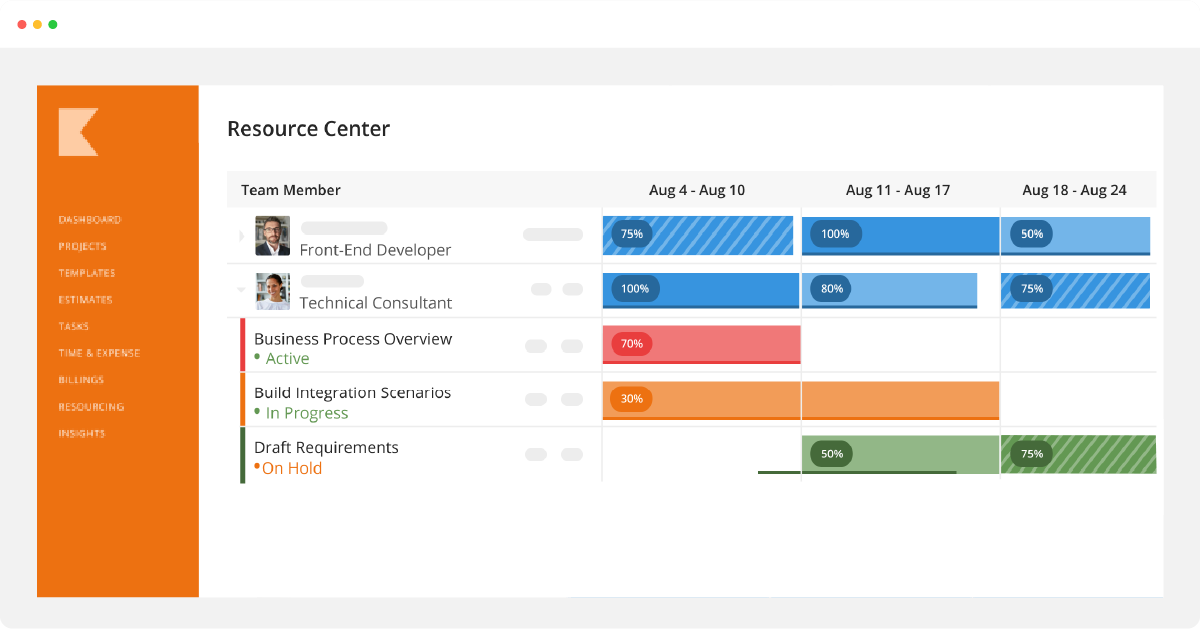 Suitable for: 
Small to mid-size Professional Service Organizations

Kantata has an excellent suite of capacity planning capabilities that enables PSOs to balance supply vs. demand and stay ahead of ever-growing client expectations.
What makes Kantata unique?

The software's forecasting module uses advanced algorithms to predict project timelines and resource demands accurately. Moreover, the tool's custom dashboards allow managers to visualize data, recognize skill gaps, and identify development opportunities. In addition, the insightful reports and analytics provide information on parameters such as unstaffed demand, remaining capacity, and soft/hard allocations that help companies optimize their resource efficiency. Altogether, Kantata's powerful planning abilities and minimalist UI make it a top-notch choice for all businesses.
Key Features:

Capacity management and advanced forecasting
Task scheduling and management
Customizable fields, dashboards, reports, and templates
Timesheet management
Pricing:

Pricing 
information is available on request. Kantata offers a 
free demo.
AI-driven Resource Capacity Planning Software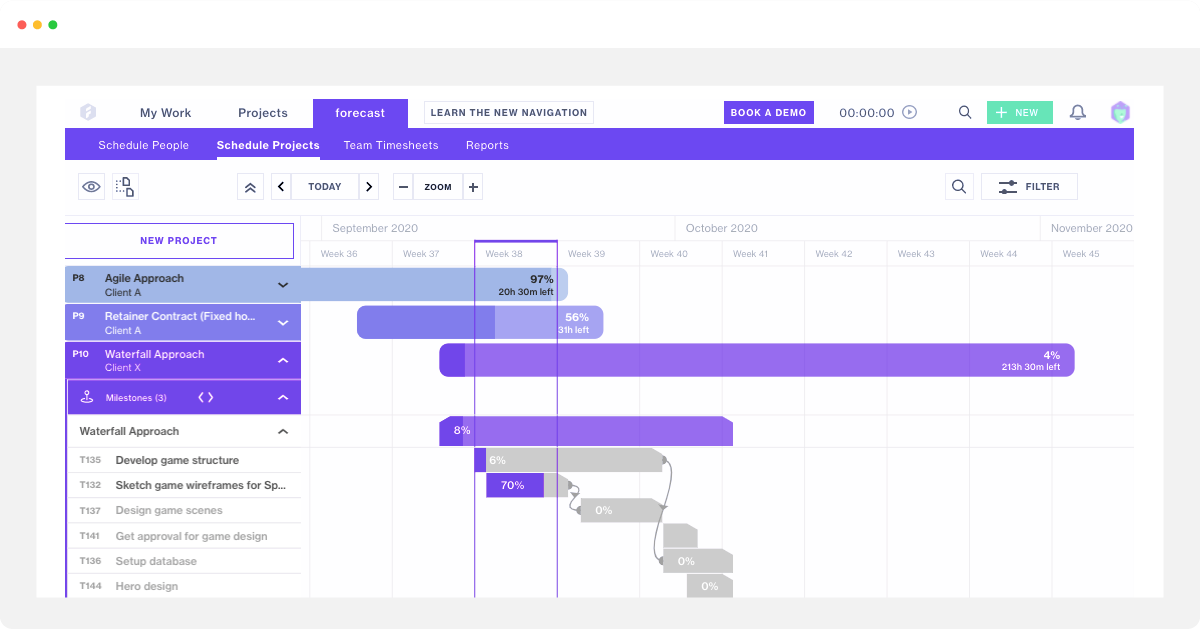 Suitable for: 
Mid to enterprise-level organizations

Forecast is an AI-driven native platform that offers top-quality capacity planning functionalities to help businesses anticipate future resource needs and optimize project staffing.
What makes Forecast unique?

The software's powerful forecasting capabilities provide realistic resource estimation based on organizational data. This helps managers avoid workforce shortages or unnecessary hiring. In addition, the visually appealing and interactive UI offers real-time visibility into resource workload and capacity. Moreover, the BI-enabled reporting and analytical tools provide moment-to-moment insights at the project and portfolio levels. Therefore, Forecast is the perfect capacity planning solution that helps eliminate silos and ensure everyone is working towards the same goal.
Key Features:

AI-assisted capacity planning and management
Project planning and scheduling optimization
Time tracking and management
Business Intelligence and real-time reporting
Pricing:

The 
pricing details 
include the Lite plan is priced at $29 per seat per month; the Pro plan is priced at $49 per seat per month; and the Plus plan price is only available on request. Forecast offers a 
free demo.
Smart Capacity planning tool for small yet dynamic teams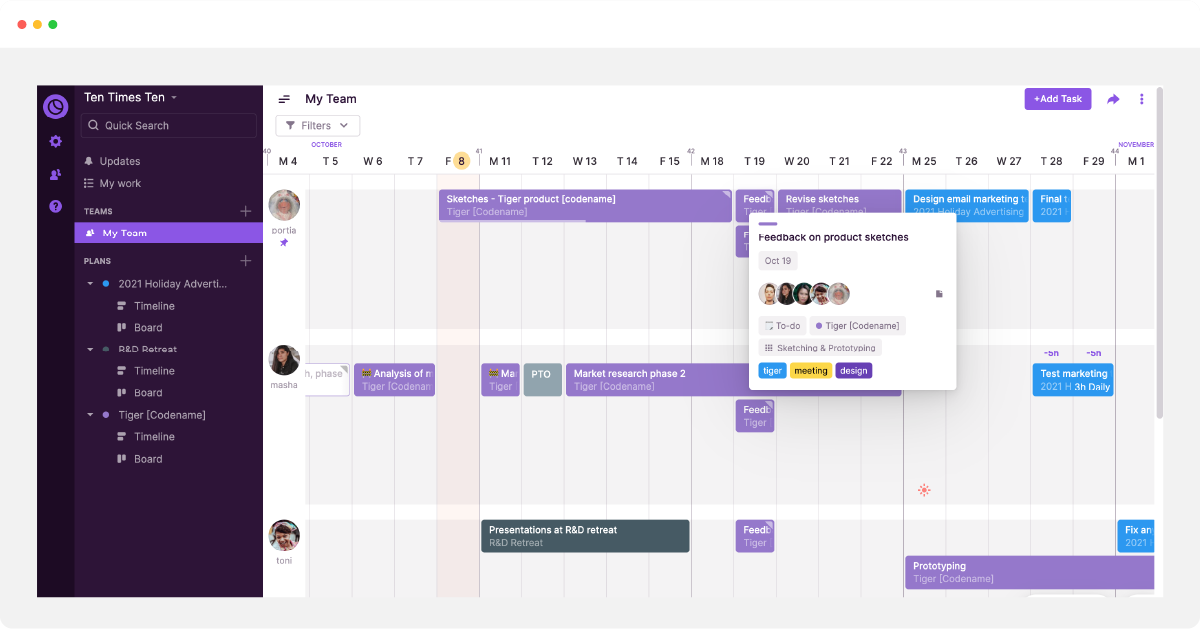 Suitable for: 
Small to mid-scale firms

Toggl Plan is a comprehensive work collaboration tool with robust capacity planning features that help fast-moving teams visualize and manage capacity effectively.
What makes Toggl Plan special?

The software allows managers to plan ahead for long-term requirements and identify skill gaps. Moreover, it enables you to plan your team's capacity by setting the number of hours or days that each team member is available to work. Toggl Plan's real-time updates, time-tracking functionality, and powerful reporting tools work in tandem to help businesses avoid last-minute rush and scheduling conflicts. Ultimately, the Toggl Plan's intuitive design, configurability, and ease of use make it an indispensable tool for project managers and team leaders.
Key Features:

Capacity management and forecasting
Task management
Customizable dashboards and reports
Time tracking
Third-party integrations
Pricing:

The  
Pricing 
information for Toggl Plan includes a free plan is for solo users, the Team plan starts at $8 per person per month, and the Business plan starts at $13.35 per person per month. Toggl Plan provides a  
14-day free trial.
Simplified capacity planning software to optimize workloads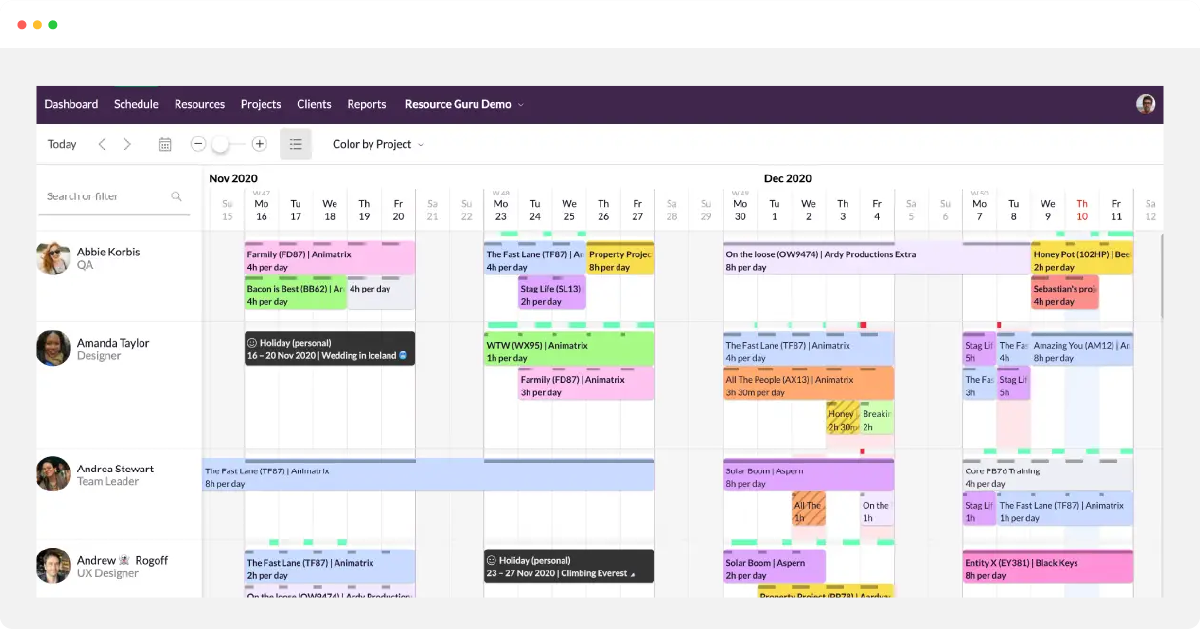 Suitable for: 
Businesses of all sizes

Resource Guru is dynamic capacity planning software that provides organizations with a clear overview of the entire resource pool and facilitates better decision-making.
What makes Resource Guru different?

The tool's unique waiting list functionality helps you predict future capacity needs and mitigate skill shortages before they become a crisis. Another key feature of Resource Guru is its customizable scheduling options, which allow you to track your team's availability and schedule them for projects. In addition, the insightful reports can be sliced and diced to view metrics such as utilization, capacity, staff leaves, etc. Based on these data, managers can maintain an equitable workload among team members and avoid burnout. Altogether, Resource Guru and its comprehensive set of features can help businesses plan resources more effectively and ensure successful project delivery.
Key Features:

Resource forecasting capabilities
Multi-resource bookings
Advanced clash management
Personalized dashboards
Leave management
Robust reporting tools
Pricing:

The  
Pricing plans. 
of Resource Guru includes the Grasshopper plan starting at $2.50 per person per month, the Blackbelt plan starting at $4.16 per person per month, and the Master plan starting at $6.65 per person per month. Resource Guru provides a 
30-day free trial.
Real-time Capacity Planning Solution for small project teams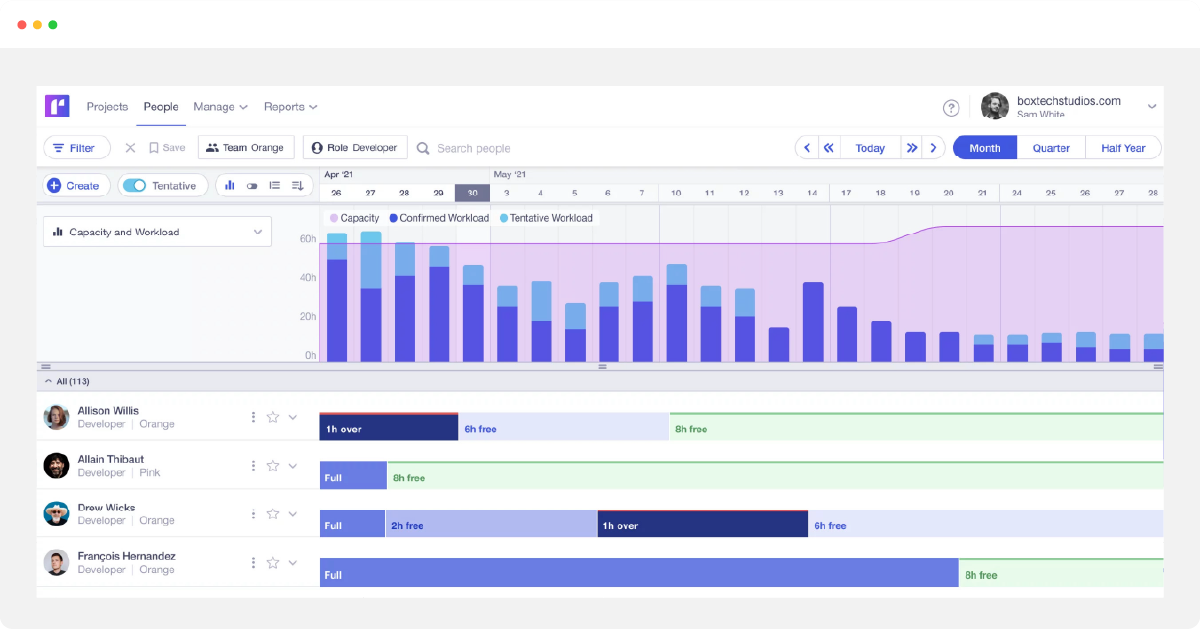 Suitable for: 
Small to medium companies

Runn is an advanced capacity management software that enables companies to balance workloads and optimize team performance.
What makes Runn unique?

The platform's forecasting capabilities lets user anticipate resource requirement for pipeline projects and bridge the gap with appropriate treatments. The real-time dashboards and data-driven reports enable you to forecast and monitor utilization rates and team capacity. Furthermore, the UI provides real-time visibility into resource availability and upcoming leaves/holidays, which comes in handy when managers organize schedules and assign roles. As a whole, Runn is an excellent capacity planning tool that helps businesses to prepare for future projects and scale operations sustainably.
Key Features:

Customizable views
Project forecasting and planning
Timesheet tracking and management
Business Intelligence and reporting tools
Pricing:

Runn offers 
pricing  
plans as follows; the Startup plan is free for up to 5 people. The Pro plan starts at $10 per person per month and the Enterprise Plan has customized pricing. Runn offers a 
14-day free trial.
Other Resource Capacity Planning Tools
Still, looking for an alternative solution? Check our list of additional capacity planning software.