1. What Is Employee Branding?
Employee branding is about turning every member of staff into an ambassador for your company. Ideally, you want your internal stakeholders to be passionately aligned with your corporate culture and values, so that they can then espouse the benefits of working with your organization to potential hires. This positive messaging can also have an effect on the perception of your business in the eyes of existing customers and prospective clients.
2. Why Is Employee Branding Important?
2.1 Improves Online Visibility of the Firm
Staff praise for a business on social media or other digital channels can improve the profile of a firm. This can have the knock-on effect of boosting organic traffic to your website. In other words, it's a free form of marketing.
2.2 Increases Employee Engagement and Productivity
When an employee branding strategy is successful, it can raise morale and increase the efficacy of existing staff. If people believe in the purpose and mission of a business, they are more likely to be engaged and productive.
2.3 Helps in the Hiring of Top Talent
A good reputation can make it easier to attract the best talent. Individuals who have valuable, in-demand skills and experience are more likely to choose to work with a firm that has positive feedback from existing employees.
2.4 Low Employee Turnover
If people are happy where they work, it naturally follows that they will be less likely to leave for other opportunities. Getting everyone on board with an organization's objectives and values using employee branding can be key to achieving low churn rates.
2.5 Reduces the Hiring/Firing Cost
Negative perceptions of a brand can make it more difficult and expensive to hire the right team. In fact, it can make the process 10% more expensive. Utilizing employee branding, hiring can be made substantially cheaper.
3. What Is the Difference Between Employee Branding and Employer Branding?
Employer branding is solely based on influencing external perceptions, but employee branding tends to place its emphasis on influencing internal stakeholders. Having said that, if your employee branding is strong and your staff enjoy working at your company, this will also affect your employer branding positively.
4. How Do You Create Employee Branding?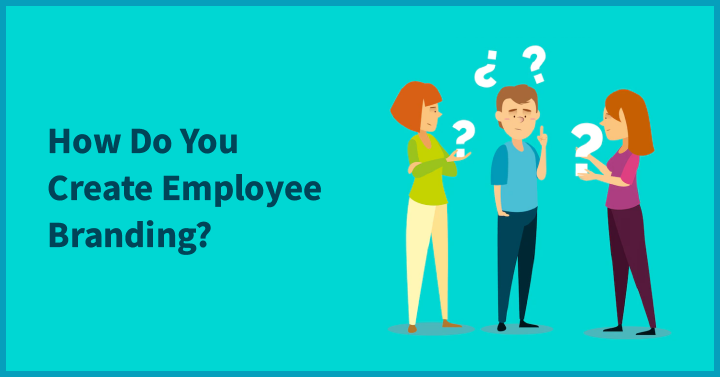 4.1 Identify Your Company's Culture and Values
Company values define what's important to a business. These might be based around things like innovation, customer satisfaction or diversity, depending on the type of firm and the industry. Having a set of stated values clarifies to everyone, both internally and externally, the organization's goals as well as its purpose. Many companies create a webpage where people can easily find details on their stated culture and values, as well as having a section dedicated to these on their LinkedIn profile.
4.2 Make Employees Aware of Your Firm's Brand
Once you've formulated the kind of company culture you want to exist, don't forget to tell your employees! Make sure that staff are aware and understand what your organization stands for and how it is unique compared to competitors. You can do this by holding training sessions for new hires or organizing regular refreshers to make sure the company values remain fresh in everyone's minds.
4.3 Encourage Employees to Give Positive Reviews on Social Media
Encourage staff to share their positive working experiences on LinkedIn, Twitter, Facebook, Instagram – really, any social media channel. Engaged employees can be an effective marketing mechanism for a brand, so make sure their stories are being distributed, either through their own social media channels or on the company's official social media.
4.4 Optimize Your Hiring Strategies
Review and revise your hiring procedures regularly based on employee feedback and analysis of the efficacy of your onboarding. A good employee experience is key to employee branding, and that all starts with the interview process. Especially with the advent of review sites like Glassdoor, poor recruitment practices can have negative impact on your ability to attract top talent.
4.5 Improve Employee Engagement
Staff should feel they are in the loop regarding what's happening at the company generally, rather than just receiving information about their particular department. Regular communications through emails or newsletters help build up a unified sense of purpose and increase investment in the business and its goals.
4.6 Take Feedback from the Employees
Part of creating good employee branding is guaranteeing that staff have a channel to make their voices heard. This not only plays a part in employee engagement, but it can also give managers and senior executives a steer on areas that are ripe for improvement. Plus, there are numerous survey tools available on the market today that can help you gather this data with ease.
4.7 Make Effective Use of Social Media
Going beyond just reviews, there are other creative ways you can use social media as part of employee branding. For instance, share daily snapshots of a normal working day or send shout outs to individuals who have been doing a particularly good job. You could even work a virtual wall of fame into your social media feed.
4.8 Be Consistent in This Process
Whatever you decide to prioritize as part of your company values and brand image, the delivery of that information to employees should always be consistent. Unclear messaging or constantly changing focuses can derail your efforts towards developing a successful employee branding strategy.
4.9 Regularly Monitor the Key Metrics
There are a few key metrics you can track to help keep your employee branding initiatives on track. For example, what is the employee retention rate? How many applicants do you receive through referrals? What is the incidence of stress-related burnout? What are employee satisfaction levels like in relation to criteria like office environment and refreshments? This data will give you a good idea of how much your staff enjoy working at your business and how you can boost their contentment.
5. Employee Branding Examples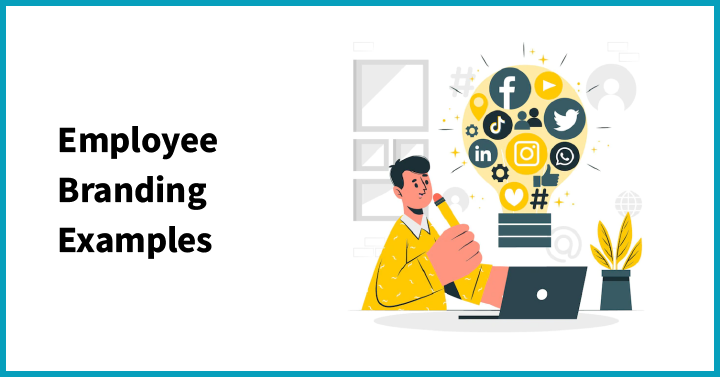 5.1 Google
Google's About us page is a great example of a company setting out its culture and values via a clean, clear website. You can see that they've chosen to focus on their technological innovations as well as promoting diversity and inclusion. This is bolstered by stories from various staff about why they enjoy working at Google.
5.2 Apple
Another big business that has a clearly executed employee branding strategy is Apple. On the Life at Apple page, you can see that they are keen to emphasize their policies around inclusion. They also highlight a diverse set of staff who explain how their passions in life align with their work at Apple.
5.3 Starbucks
Starbucks has a specific Instagram account (@starbucksjobs) that they use to promote their recruitment. Here, they share positive employee accounts of their daily routines, highlight the benefits associated with a profession at Starbucks and spread the word about some of their community programs.
5.4 Adobe
Partnering with employee advocacy specialists EveryoneSocial, Adobe has built up a comprehensive employee branding strategy. A cornerstone of their approach is encouraging staff to share their experiences at Adobe on different social media sites through the hashtag #AdobeLife. While there are some regulations in place regarding what employees can and cannot post, the crowdsourced nature of the initiative lends it a greater authenticity.
5.5 Salesforce
Salesforce's LinkedIn page features a section dedicated to exploring life at the company. Here, they spell out their core values (trust, customer success, innovation and equality), as well as putting a spotlight on their employee health and wellbeing program. They even have a dedicated site that details their employee benefits by region, accompanied by personal stories from staff singing the company's praises.
6. FAQs
6.1 What are the Three Components of Employee Branding?
There are several different ways to break down the function of employee branding, but one is to divide the process into perception, alignment and motivation. Perception is all about ensuring your staff have a clear, accurate idea of what the company does, how it's unique and why it's a good place to work. Alignment builds on this foundation to establish that everyone is working towards a common goal based on a common understanding of the corporate culture and goals. Finally, when staff are aligned to the business' vision, this should translate into motivation to sing the praises of their workplace, either through social media posts, review sites or other media.
6.2 What is an Employee Branding Strategy?
An employee branding strategy should outline how you intend to foster identification with company values in your staff (e.g., through training sessions), before demonstrating how you plan for the concept to positively impact the business (e.g., through testimonials that drive talent through the door).