If you're thinking about switching permanently to a hybrid work policy at your business, you're not alone. Following the pandemic, many companies have realized they can save money on office space and utilities while maintaining the same level of productivity as before. In fact, some of the world's largest, most prosperous brands have already made the move, including Google and Meta.
Before you take the leap, however, it's essential you have a well-considered set of guidelines in place to regulate how your organization treats employees that work from home either part time or all the time. So, what does hybrid mean in work terms?
1. What Is a  Hybrid Work Policy?
A hybrid work policy implies staff will work a certain number of days from home and a certain number of days from the office. A comprehensive work policy typically defines a hybrid work schedule, eligibility criteria and the best practices for process implementation within an organization
2. How to Create a Hybrid Work Policy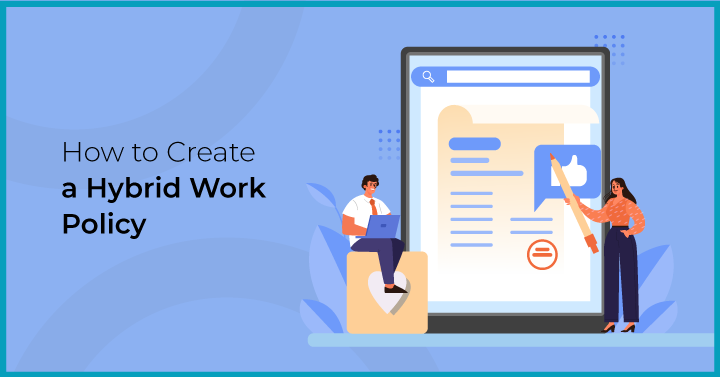 2.1 Determine the Timings of Work
Begin by defining what hours and/or days of the week you expect individuals to work. For instance, will you have set work hours (e.g., 9am to 5pm) or will you instead keep the timing flexible but require a particular number of hours per day (e.g., 7 excluding lunch)? You may decide to have certain days when people are expected to attend the office. 
Alternatively, you may opt to allow each person to determine for themselves which days they work from home, as long as they come into the workplace at least twice a week. There are all sorts of variations possible, you just need to decide what works best for your business.
2.2 Explain to the Employees What to Expect at Work
Part of making a hybrid work policy a success from the offset is ensuring everybody understands how it will function. There may be certain roles that need to be predominantly office based while other roles can be easily accomplished from home. As long as you have clearly thought through aspects like eligibility and availability, it should be easy to communicate how everything will run. 
Just make sure you take the time to sit everybody down and go through any queries or qualms before greenlighting your approach.
2.3 Provide the Right Tools and Software
Before implementing hybrid working, make sure you have purchased the necessary software to make the concept viable. If you opt to hot desk in the office, for example, is there an interface for staff to book workspaces? Do you need a project management system so everyone can keep track of ongoing tasks? Most offices will, at the very least, need to settle on one or more digital communication tools, such as Microsoft Teams for video calls or Slack for chat conversations. 
Perhaps most importantly of all, you should ensure that there is a shared calendar function so that colleagues can see one another's availability and whether they are working remotely or in the office.
2.4 Establish Clear Rules 
Nobody wants to fall into bad working habits due to a lack of clear regulations surrounding your hybrid work policy. Some things to consider are whether you want staff to establish ahead of time which days they intend to work from home and how they should communicate their daily availability. 
Your hybrid work policy needs to be transparently codified in a place everyone can access, such as the company intranet or server, so that it can be easily consulted in case of doubt.
2.5 Plan the Timings for Collaboration and Communication
One of the most challenging aspects of having remote working teams is ensuring they can still get together when required to collaborate on tasks or communicate updates. Most of the problems around this can be solved with the right scheduling and planning software.
 The key is to ensure that everyone has enough notice to plan their days around any team activities so they can then still set aside time for individual assignments.
2.6 Communicate the Legal Rights That Remote Workers Have
Each country has its own regulations regarding the rights to which remote workers are entitled. For example, some countries require companies to cover staff expenses related to a home working space. Others now have legislation that means businesses are legally obligated to consider work-from-home requests after an individual has worked with a company for a set period of time. 
This is a fast-evolving field, so make sure your human resources department is on top of the latest developments.
2.7 Discuss the Compensation and Benefits Policies
Regardless of legal requirements associated with hybrid working, you may decide to offer compensation for any work-related expenses, such as mobile phone charges, electricity costs or internet connectivity. If you will only infrequently require your hybrid staff to come into the office, an attractive perk might be to cover their travel expenses. 
Particularly given today's precarious economic climate, it's worth considering how you can offset global inflation for your workers, especially if your hybrid work policy means you are making savings on office space rental.
3. Hybrid Work Policy Template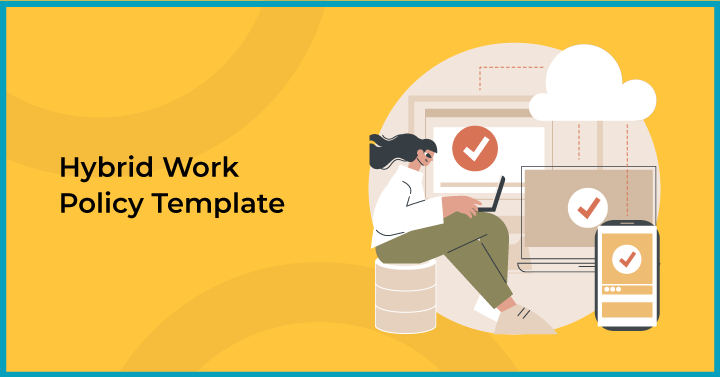 3.1 Purpose
This policy is designed to promote and regulate hybrid work at [Insert Company]. 
3.2 Scope 
This hybrid work policy covers all arrangements related to work from home between 2 and 4 days a week.
The stipulations here apply to full-time staff only and are not valid for part-time staff or freelancers.
3.3 Eligibility
Only employees whose duties do not require them to perform tasks in the office regularly may apply for hybrid work. This decision should be made in consultation with line managers.
Employees should have worked with the company for a minimum of 3 months before requesting hybrid work.
3.4 Expectations
Staff should communicate their office days to their colleagues a week in advance using the company's human resources information system. These may vary from week to week.
While staff may work in any location of their choice when not in the office, they should bear in mind that they will be expected to be aligned with the time zone of the office headquarters.
If productivity drops or there is repeated failure to reply to communications in a timely fashion, the option to hybrid work may be rescinded.
3.5 Software and Supplies
[Insert Company] will supply laptop, stationery and other supplies as required by the individual's role.
Employees will be expected to install Slack and Zoom to communicate with colleagues and clients. These will be provided by the company at no cost to the individual.
3.6 Compensation and Benefits
Applying for remote work will not affect the agreed contractual compensation of any member of staff.
Hybrid work staff can apply for an allowance to pay for phone bills, electricity and other expenses incurred while working from home.
3.7 Procedure
Staff wishing to apply for hybrid work should first discuss the potential arrangement with their manager. Once this is done, they should email their request to human resources, CCing their manager in the communication.
4. Hybrid Work Policy Examples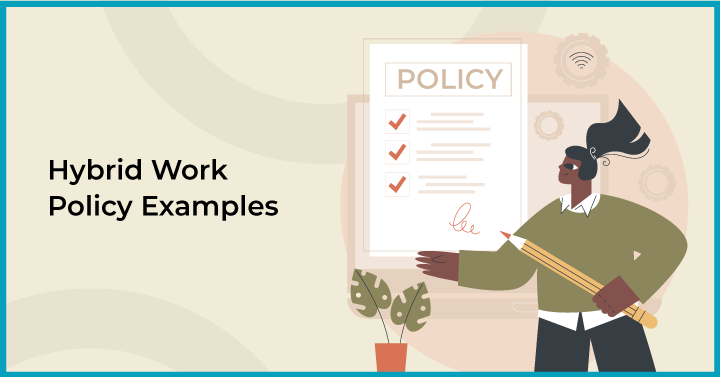 4.1 HubSpot's Three-tier Hybrid Work Arrangement
HubSpot offers its staff a choice between three different work options: @office, @home or @flex:
@home involves mostly working from home, only heading to the office a couple of times per quarter. HubSpot consults and supplies these employees with any equipment and set-up they may need.
@office involves going into one of HubSpot's global offices at least 3 days per week. Employees that choose this option have a dedicated desk for their computer and other tools.
@flex involves spending 2 or fewer days per week in the office. These employees are given a "hotel desk" (i.e., a temporary workspace) as well as help with their work-from-home set-up.
4.2 Google's Hybrid Policy
Google hybrid work policy consists of several key tenets:
Most staff have the option to work three days a week in the office and two days from anywhere they desire. The in-office days are specifically designed to be for collaboration and communication, and as a result are often determined by department and role.
Employees have the option to apply for complete remote working, though this is not expected to be offered as standard. 
Work-from-anywhere weeks allow all staff the option to work up to 4 weeks a year somewhere other than their principal office.
In general, there is a greater emphasis on letting staff choose which Google office they wish to work from in the world, providing it is feasible with regards to their responsibilities and scheduling.
4.3 Facebook
Facebook's parent company Meta has arguably the most ambitious remote working policy. It has continued to endorse its pandemic-era policy of allowing all staff to request to work from home full time should they wish to do so. The only caveat is for those whose jobs require them to complete in-office tasks. As evidence of Meta's dedication to the concept, the company announced it is undergoing a major restructure regarding its office space in 2022.
4.4 Slack
Slack's parent company, Salesforce, calls its hybrid work policy Success from Anywhere. Like HubSpot, this is based around three pillars:
Flex, where employees work 1 to 3 days in the office per week, in order to facilitate meetings and collaboration.
Fully remote, where employees who do not need to attend the office can work from home full time.
Office based, where employees are expected to come into the office 4 to 5 times per week. This is limited to those whose jobs predominantly involve in-office tasks.
5. FAQS
What Is a 3-2 Hybrid Work Schedule?
A 3-2 work schedule is a hybrid work model that stipulates 3 workdays in the office and 2 workdays remotely (or vice versa).
Can Hybrid Job Be Fully Remote?
Hybrid work refers to a blend of in-office and remote work. As such, a hybrid job would not normally be fully remote, though the terminology at different companies may differ.
What are the benefits of Hybrid work?
Some benefits of hybrid work are:
Employees have the flexibility to choose when to come in and which days to designate as 'remote' days, ensuring that they can work in an environment that aids in their productivity without compromising their well-being.
Employees can switch between mobile and desks to stay in touch with colleagues. Those workers whose work is manually-intensive can gradually ease into digitization by familiarizing themselves with tools that automate such work.
You, as a company have access to a wider talent pool

You can downsize and economize the office space according to the footfall. Hybrid work arrangements mean that you won't need all your employees at once, and thus save approximately 20% on real-estate and your usage of resources.
What Is Hybrid Work Vs Remote?
Hybrid work involves working a certain number of days from the office and a certain number of days from home or another third location of the employee's choice. Remote work refers especially to working outside of the office.
What Is the Difference Between Hybrid and Flexible Working?
Flexible working is a much broader term than either hybrid or remote working. Depending on the company, it may refer to the fact that staff can work either partly or fully remote. Additionally, the concept encompasses things like flex time, where staff can choose what hours, they work.