Most interview questions revolve around what skills you can offer a company and how you could fit in with a particular team. "What is your work style?" is no different.
As with many job interview queries, this seemingly innocuous inquiry is often asked because there are a few specific things the hiring person is looking for in your answer.
To read more articles on our interview preparing series, you can check them out below :-
Read our interview article on describing your work ethics here
Read our interview article on how to talk about yourself here
Read our interview article on how to follow up through an email here
Read our interview article on what makes you unique here
Read our interview article on why you are the best person for the job here
Read our interview article on what you can contribute to the company here
Read our interview article on crafting a winning resume using the STAR framework here
1. Why Do Employers Ask About Your Working Style?
There are two main reasons potential employers ask the "What is your work style?" interview question. First, they want to make sure your values and attitude align with the company's corporate culture. Some businesses have a more hierarchical setup while others are more collaborative. Your work style will need to be a good match, so make sure you do your research beforehand.
Second, they want to check your style of working matches with what's required of a role. There will be some attributes specific to a job and some which are more universally desired. While adaptability and organization are common buzzwords, the important thing is your answers should be backed up with specific examples from your past.
2. What Are Some Common Work Styles?
Before conceptualizing your practice answer, it might be helpful to consider the common work styles found in offices.
2.1 Logical, analytical, data oriented
People with this work style are strongly reliant on data to develop pragmatic solutions to achieving objectives. Their reliance on linear thinking can sometimes mean they struggle with creativity, but this is balanced by a clear-sighted digestion of the available facts.
2.2 Organized, plan-focused, detail oriented
Attention to detail is the strength of this work style, which usually entails in-depth research, risk analysis and a strict adherence to quality standards. People with this type of work style tend to make good project managers and administrators.
2.3 Supportive, expressive, emotionally oriented
If you are good at developing strong interpersonal relationships and have excellent communication skills, then this is probably your work style. People with this work style are often essential in a team to ensure everyone is working in harmony to meet the overarching goals.
2.4 Big picture, strategic, idea oriented
These are the individuals with the creativity to spawn innovative ideas. While they often need to be supported by others who can analyze the practical details of a project, big-picture people are the ones who can see strategic potential in a new undertaking.
3. What Is Your Work Style Examples?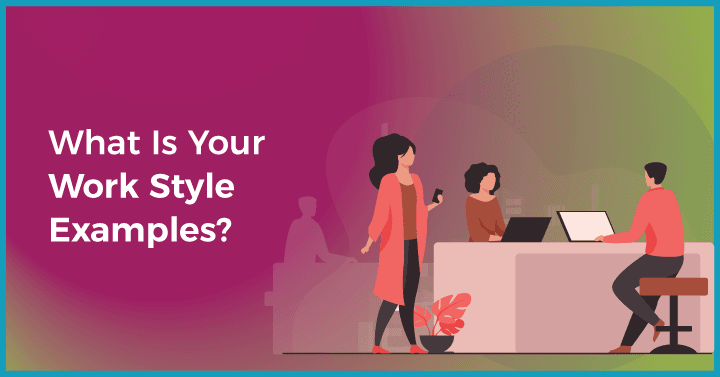 Your answer to the "What is your work style?" query will not only depend on your seniority, but also on the type of role you're applying for, as explored below.
Answer Template 1: Content Writer
Content writing generally requires a person to have good attention to detail, excellent research skills and a talent for creating text that has a high degree of scannability. This might translate into the work style described here.
"My work style is a combination of methodical and creative. I approach each writing task with a clear idea of the objectives of the piece and the intended audience. I then try to come up with inventive ways to express what I want to say with a high degree of clarity and readability."
Answer Template 2: PHP Developer
PHP developers often work independently on aspects of projects but also need to have good communication skills to relay how their work is coming along and to keep team members in the loop.
"I have a very self-reliant way of working that means I require little supervision when fulfilling tasks. Having said that, I also appreciate the importance of maintaining good lines of contact with colleagues and always sharing a regular schedule of updates with the wider team, so everyone is on the same page and there are no miscommunications."
Answer Template 3: Marketing Manager
An answer to the "What is your work style" interview question for a marketing manager role needs to address both leadership approach and analytical mindset.
"I'm very systematic when it comes to my work style. I first carefully assess the data we have on the target groups identified by the C-suite, then I develop a strategy that fits with the available resources. Finally, I assign specific objectives and deadlines to each member of my team in order for us to achieve the strategy. On the last project I worked on, the result of this work style was a growth in sales of 10%."
Answer Template 4: Graphic Designer
One of the key aspects of a graphic designer's work is often adaptability – not just in terms of having to adapt to new clients and their requests, but also in terms of being able to adapt to the ever-evolving software that's available on the market.
"I would describe my work style as agile and broad-minded. I always make sure to leave room in a project for any adjustments a client might need. Even if I might have a different opinion from a client regarding the best way to approach an assignment, I always try to work with what they desire while offering constructive advice to make sure they will be happy with the finished product.
4. Tips for Answering This Question in the Best Possible Way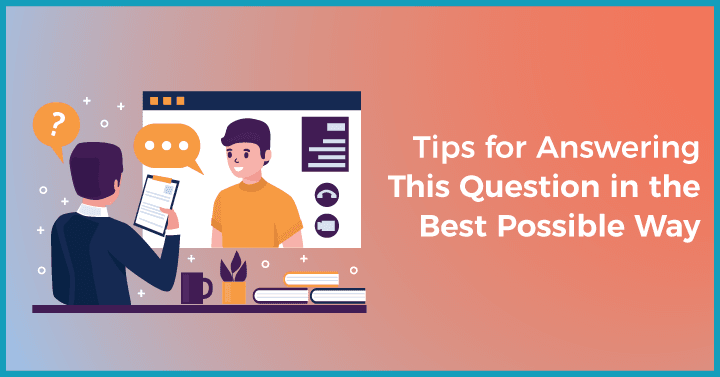 The above templates may not directly address the job opportunity you are applying for, but each adheres to some general tips that are worth touching on briefly.
4.1 Prepare a well-structured answer ahead of interview
It always helps to plan your answers to common interview questions such as "What is your work style?" Before meeting with a potential employer, make sure you've practiced at least one example of how you might respond, so as to ensure you are fluent and confident.
4.2 Be honest
If you're wondering, "What should I say is my work style?" - honesty is the best policy. Don't inaccurately sell yourself as having a particular work style because it's what you think the hiring person wants to hear, otherwise you may not be able to deliver as expected if you are hired, ultimately leading to dismissal during the probation period.
4.3 Be specific
Try and give examples of how you embody a particular work style or quality. For instance, rather than just saying you're organized, explain a scenario where that was in evidence or show how it is important for the role you're applying for.
4.4 Explain about your collaboration quality
All roles require some degree of collaboration. Whether you've worked on projects with intimate, in-office teams or undertaken siloed objectives that were mostly discussed digitally, those details can be used to highlight your appropriateness for a role – just make sure you consult the job description first so you know you're on the right track in terms of message.
4.5 Avoid cliches
Even if asked to describe your work style in 3 words, make sure you give context for each point. Just saying you're a team worker or idea oriented won't help you stand out from other candidates, but stating your work style is idea oriented and backing it up by explaining a creative solution you came up with for a previous issue is useful.
4.6 Don't fumble while answering
This ties in to preparing a well-structured answer, as you're less likely to fumble over your response if you've taken the time to properly practice your interview answers. However, make sure you aren't too rigid either, as you want to be able to adapt your replies based on your interaction with the hiring person.
4.7 Use proper adjectives
There are many adjectives to utilize to describe your working style, from 'methodical' and 'conscientious' to 'proactive' and 'tenacious.' Sit down with a cup of coffee, tea or other beverage and have a proper ponder about the way you best like to work, which adjectives are most apt and what experiential examples you can use to back up your selection.
5. How to Answer the Question "What Is Your Work Style?"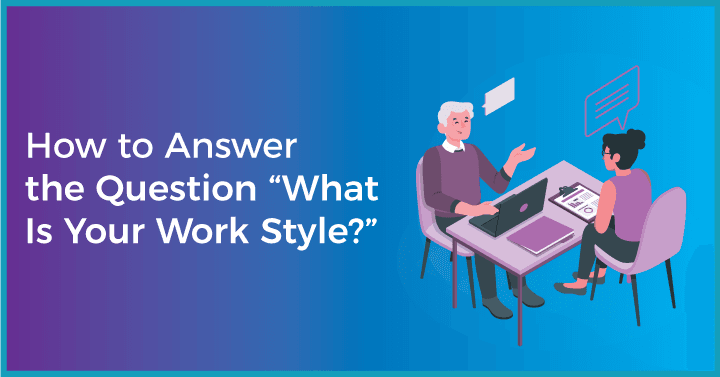 How you answer "What is your work style?" will depend on the degree of experience you have in a particular field or industry.
Answer Sample 1: For Freshers
New graduates can draw upon either internships, classwork or any clubs they helped manage during their college years to demonstrate the way they achieve tasks.
"I would describe myself as having a very flexible working style. My degree included modules where I had to work within a team to achieve a particular goal as well as modules that completely relied on solo effort. In both cases, I felt comfortable adapting to the necessary requirements, whether that meant drawing upon my collaborative side to complete group work or upon my self-disciplined side to write essays to tight deadlines."
Answer Sample 2: For Mid-Senior Level Employees
Once you have a bit more experience to draw upon, it should be easier to describe your working style in a manner that shows how it applies to the job description.
"I'm a very reliable person who prides themselves on their organization and dependability. At my last company, we would often have several projects on the go at the same time, but I was always on top of each one and had them completed on time and within budget. In fact, my process of working meant we were usually finished at least a couple of weeks ahead of schedule."
Answer Sample 3: For Managers
For managers and executive roles, the answer to "What is your work style behavior?" will most likely discuss how you take charge of a team to some degree, as that will be one of your main responsibilities.
"My style of leadership relies on giving each person in my team enough space to do their best work. I'm a strong believer in encouraging staff to come up with their own solutions and organize their own work schedules. At the same time, I also clearly express my expectations ahead of time so they know what should be achieved."
6. FAQs
What are 3 words that best describe your work style?
While this question is partly a variation on the typical "What is your work style?" question, it also can help you to frame your answer. Having three different attributes of your work style to discuss means you can show off more of what makes you an ideal candidate for a role.