What lies at the core of an effective performance management process is a manager who can actively review the work of an employee. They are the ones who set guidelines and evaluate results to ensure that they continue to add value to the business. However, in a remote setting, this is easier said than done. With distributed teams across the globe, not only is communication and collaboration challenging but so is evaluating their performance. So what can you do then? How can you establish a bulletproof performance management process that is fair, equal, and beneficial to your organisation? In this piece, we discuss the following points— 1) Set clear metrics and OKRs 2) Focus on the output 3) Trust your employees 4) Create a 360-degree feedback loop 5) Ask your employees to self-evaluate 6) Encourage 1-on-1s 7) Managing accountability 8) Reflect on the purpose behind your business Read on to know how these eight tips can be implemented in your performance management process, especially when working with remote teams.
1. Set clear metrics and OKRs
It's simple — a goal cannot be achieved if no one knows what it is. When working with your virtual team, the first step in the performance management process is to dictate your expectations in clear and specific terms. It's always a good move to talk to your employees about the goals you wish to achieve. This, in turn, drastically reduces the need for micromanagement and will ensure that you're not disappointed in the finished product. When everyone is on the same page, you form meaningful and professional relationships that strengthen your brand.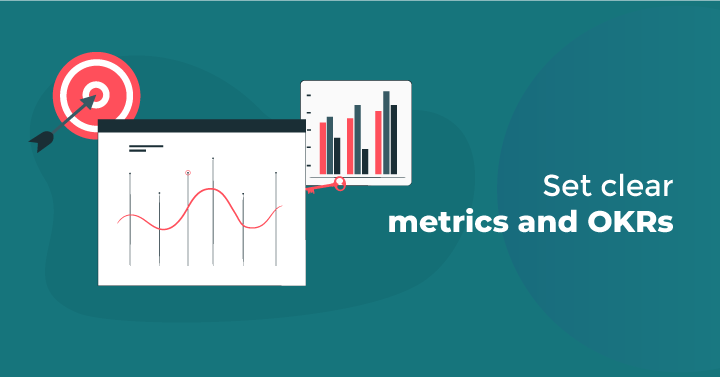 How can you set OKRs?
A simple but powerful metric that is often used to measure performance is customer satisfaction. However, like any other metric, it can only be measured if a predetermined benchmark has been set. Other common OKRs include community engagement, number of products sold, number of clients, and even positive feedback. The key is to create metrics based on the expectations for the employee and then measure their performance based on the expectations. Setting up the right OKRs will allow your virtual team to align their tasks accordingly, irrespective of their geographical location. This makes the entire work process much more streamlined — an indispensable asset when working with remote teams.

Always

use the right tools

to create OKRs.

CultureAmp,

Koan

,

Timely

,

SimpleOKR

are some examples of great tools that can help you visualise how individuals and teams are contributing to the overall goals of the organisation. They can also be used to

manage your remote team

, track progress, share tasks, and reflect on the growth of the business. You can also create your own simple spreadsheet with different objectives. You can then track results for your team on a regular basis. The idea is to build a system that is simple, easily accessible, and efficient. 
2. Focus on the output
How does one quantify efficiency? Does being professionally dressed, coming to the office on time, and being glued to the laptop all day considered as signs of efficiency? If yes, then how do you evaluate remote employees? After all, you can't hover over their desks every hour.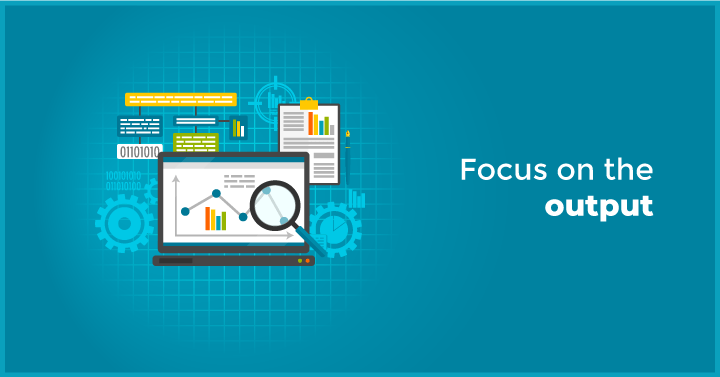 In a remote setting, the most you can do is to check when they're logging in and out, and the quantity of the work they do. But is that really a sign of efficiency? 
In a nutshell, no, not at all. You can try to be an obsessive or controlling boss, but in reality, at the end of the day, all that really matters is the output. An employee can spend hours on end working on a piece of software, but if the end result is a shoddy product with a ton of bugs in it, what's the use? And that means that it's time to focus on sustenance. 
How can you do that?
By shifting the metrics from "hours spent working" to "the quality of tasks accomplished." By forcing your employees to work for hours on end and produce an enormous amount of work, you're causing them to burn out. The foundation of a good performance management process is to determine outcomes — whether an employee is successfully meeting the measurable benchmarks and goals. 
The simplest way to go about this is to hold weekly meetings with your remote team and give them a clear-set task list with negotiated deadlines. You can either use standard KPIs, online time-cards, or even other cloud-based applications to track these metrics. 
When working with a fully-distributed team, you can even have 2 or more employees working on the same project. This will help you evaluate quality and quantity more accurately, and will determine if an employee is the right fit for a particular task. This is true regardless of the environment you're working in. Some employees may perform certain tasks better and faster than others, making your evaluation that much easier. 
3. Trust your employees
Theone common thread that runs deep across every single method of managing remote teams, is trust. And this works both ways.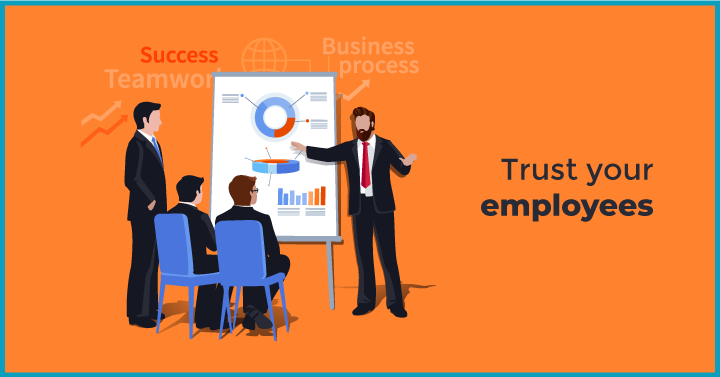 First, employees should be able to trust that their managers are keeping their best interests at heart. Similarly, remote managers must be able to trust that their employees are engaged, motivated, and productive at work, even though they're not in the same room. While a small part of this trust is built during the hiring process, the rest is built slowly, one positive interaction at a time. 
Why is trust so important in the performance management process?
How you evaluate your remote employees largely depends on how much you trust them. And that's why it's crucial to get it right and make sure that your business and your employees are benefited from the performance review process. Talk to them, establish a healthy line of communication, and understand where they are coming from. 
Instead of filling out weekly timesheets that can undermine the trust you have on your employees, establish a set of easily measurable deliverables. These deliverables have to be clearly communicated to your remote team.As long as the criteria are met and the business goals achieved, you don't have to worry. 
4. Create a 360-degree feedback loop
Poor communication is one of the biggest pitfalls when working with remote teams. Failure to establish honest and transparent two-way communication can most certainly cause the downfall of the entire team. And that's why consistent feedback is essential.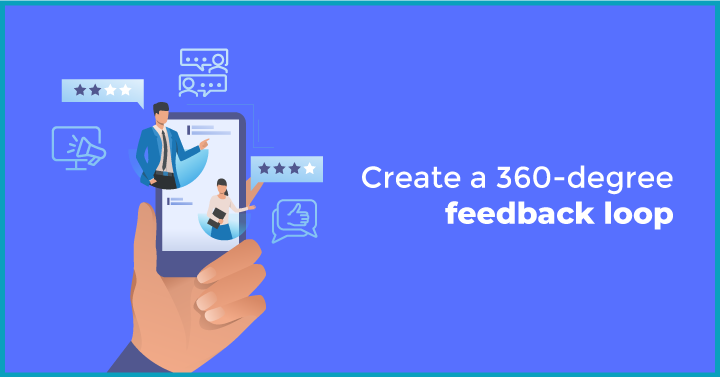 The best way to do this is to simply ask team members to arrange feedback sessions with each other. They can either pick specific people to be a part of their "feedback circle", or they can even be paired at random. Once they have their own circle, they can share valuable insights and feedback with each other. 
It can be something as simple as failure to address a potential problem ahead of time which led to significant delays, or something as complex as the working style of a co-worker. Honest and effective feedback is truly invaluable. 
There are so many different ways to schedule these 360-degree reviews. Some common methods include —
Using feedback applications 
Apps like
Impraise
and
Engagedly
allows you to schedule recurring 360-degree reviews to help your team members grow positively. You can schedule feedback every two weeks, weekly, or even every quarter — the choice is entirely up to you and how your team works. These apps also allow one's work and performance to be visible, making regular feedback conversations and reviews easier. 
You can simply schedule a feedback session for your team at your convenience using
Google hangouts
. It's simple, efficient, and does the job. The advantage of scheduling calls through your calendar is that it won't be overlooked by you or your team. 
Unable to talk in real-time, via apps, or even via a simple video call?ust create a template or framework that can help condense thoughts into writing. It can be as simple as a list of 3 things your employees wish to change, roadblocks they encountered, and skills they would want the team to improve. And that's that. Once you receive the feedback from your virtual team in the written form, you can go through it and jot out the next actionable steps.  
In any of these three cases, simply putting aside the time to hear from your team not only helps them feel appreciated, but also plays a significant role in the performance management process. 
But that's not all.
Positive feedback is important too
Apart from the scheduled feedback sessions, cultivating a positive feedback habit because it can be a great motivator. Not being in the same office space, can create an environment where your virtual team doesn't feel as connected. But by giving them positive feedback regularly, and encouraging them to celebrate successes, even if it's just online, you're making them feel recognised and appreciated.  
5. Ask your employees to self-evaluate
Self-evaluation is an important and controversial step in the performance management process. In fact, according to a
Harvard
article, an employee can either get overconfident and set higher goals than they can possibly achieve. Or, they end up attributing their success to talent and skill only, overlooking the external and environmental factors.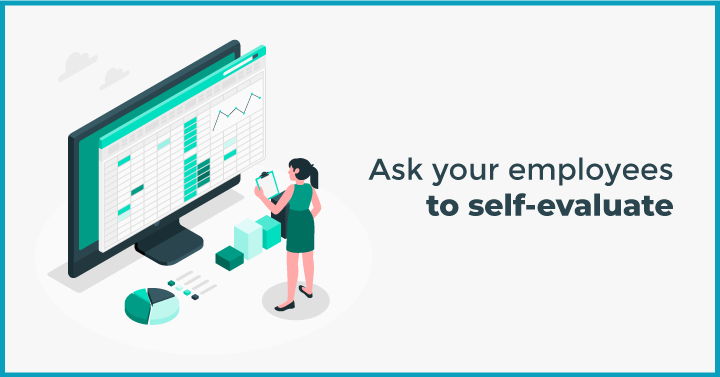 So when evaluating your employees, you can compare how they see themselves vs. how other employees see them vs. how you, as a manager, view them. Self-evaluation also makes employees feel like their own perspective matters, leading to more engagement — something that is very important when working with virtual teams. 
Also, keep in mind that the primary goal of self-assessment is to help you understand how people saw themselves and how others saw them. You can then see if there's a big disconnect there. Because you're working remotely, it isn't uncommon to experience some disconnect, especially because almost all communication is through emails and instant messaging apps. In such cases, wholesome feedback can prove to be invaluable. 
6. Encourage 1-on-1s
While giving and receiving feedback, tracking OKRs and outputs are some of the surest ways to establish a well-rounded performance management process, one aspect is often forgotten. 1-on-1 conversations.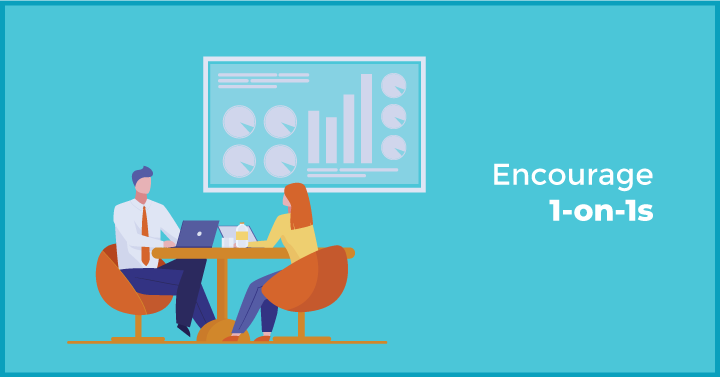 You're working in a remote setup, you don't see your team as much as you would like, and all you have at your disposal are instant messaging apps and video-calling software. So, the only way you can have an informal conversation with your team is through 1:1 calls. 
What is the relation between 1:1 calls and performance?
Setting up a personal conversation, especially with a remote team member will do miracles for employee engagement. You can ask them about the tasks they're most excited about. You can discover what's causing a mental block,how you can help them do better, how they can help themselves do better, and more. With time, you'll notice that your employees are opening up to you slowly, but surely. This, in turn, puts you in a better position to evaluate their performance. 
Another advantage of holding regular 1-on-1 calls is that it takes away the pressure and anxiety that is associated with the performance review process at the end of the financial year. Because you've been consistently tracking the progress of your team, it won't be a surprise for your or your employees. 
If you're someone who manages a significantly large team of remote employees, you can rely on video check-ins — the simplest and the most fuss-free method.
7. Managing Accountability
Why do businesses build remote teams? Because by working with a distributed workforce, companies can diversify their talent pool. What's more, they can reduce the operational costs of running a business. The team can still respond to the demands of the business in real-time. However, many remote teams fail to meet these objectives and the performance of the team is often questionable. And the primary reason for this is accountability.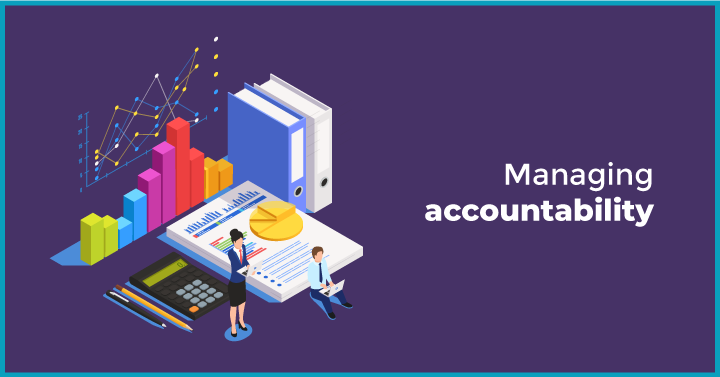 The foundations and principles of leadership are the same. Regardless of whether the team occupies the same office space or not. But the real challenge when managing a remote team lies in taking the best parts of working with an in-house team and a remote environment.
When remote teams are not on the same page as you are, you can't measure their performance. Neither can you make sure that they're 100% productive and efficient. This means that you have to let your team know that they are responsible for their own actions. They should be made aware of the impact that their actions have on the rest of their team.
By clearly assigning tasks, communicating who will be held accountable for what, and monitoring progress through check-ins, you're going to have a pretty clear idea on how your team is performing. 
8. Reflect on the purpose behind your business
All said and done, at the end of the day, what really matters is the purpose behind your business. When working under the same roof, it's easy for teammates to understand the greater goals and purpose of your organisation. After all, they hear enough about it from other colleagues. But, when working remotely, away from the workplace and the team, the purpose is distorted. 
And that's why it's important to take a step back and really reflect on the performance management process you're building. What are you really evaluating? And, how is this evaluation going to contribute towards the vision you have for your business? How have your employees contributed towards the vision?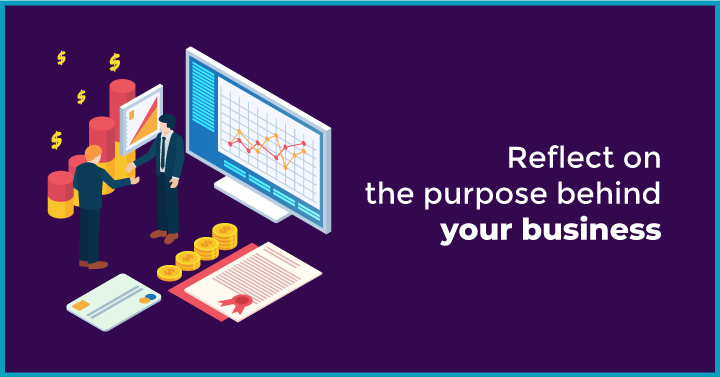 Performance evaluations are one of the
strongest anchors of any business's culture
, and how you treat your employees through the process will make or break that culture. Talk to your colleagues about the company's short-term and long-term goals. Work together to figure out how to communicate those to your workforce as part of the evaluations. Keep in mind that your primary objective is simple. Help your virtual team upskill and contribute to the growth of your business!
The performance management process for remote staff definitely has its own set of challenges. However, adopting a more open communication can create a significant difference. It boosts the evolution of the remote workplace. Know your virtual team, their thought processes, their expectations, and roadblocks. Only then will you be in the right position to evaluate their performance!