Amazon has long been known for its demanding work culture. Considering its commitment to customer obsession and innovation, it is natural to wonder about Amazon work life balance. As Amazon's workforce has grown to over one million employees worldwide, the company has faced increased scrutiny and criticism from both its own employees and outside observers. This has led Amazon to make several changes to its policies and practices, including introducing flexible work arrangements and increased support for employee mental health.

In this article, we will explore the history of Amazon's work culture, Jeff Bezos' influential approach to work-life balance, and the company's criticisms regarding its policies. We'll also discuss future prospects for Amazon work life balance.
1. Analyzing Different Aspects of Amazon Work Culture
1.1. Customer Obsession
It is difficult to paint an accurate picture of Amazon work life balance without mentioning their emphasis on customer satisfaction as part of Amazon work culture.  The company is constantly looking for new ways to improve its customer experience, whether that means developing new products or improving its existing services. This has often led to sellers feeling that they don't operate in a free market. The strong emphasis on delivering exceptional customer service and satisfaction often requires employees to work long hours and prioritize work over their personal lives. A recent report from
The New York Times
detailed stories from former Amazon employees who described working 80-hour workweeks and being expected to be available for work-related communication 24/7
1.2. Innovation
Innovation in this fast-paced environment is essential. "
Move fast and break things"
, has often been the mantra that billionaires use to scale their companies, especially in the tech industry. But the Amazon culture has previously created a high-pressure work environment where employees may feel that they need to constantly work long hours and put their personal lives on hold in order to keep up with the demands of the job. However, in recent years Amazon has taken steps to improve this through a number of policies that we will be covering in later sections. 
1.3. Data Driven Decision Making
Amazon relies heavily on data to drive business decisions, and employees are expected to be able to analyze and interpret data quickly and accurately. The focus on data creates a culture of performance measurement and accountability, where employees are evaluated based on their ability to meet data-driven goals and objectives. This creates a
stressful work environment
where employees feel that they need to perform at a high level to succeed constantly.
1.4. Speed and Efficiency
As part of a work culture, speed, and efficiency are two things that any organization expects. But in Amazon, the implications of speed and efficiency are very different. It has managed to
create a culture
where there is little tolerance for mistakes or delays. This leads employees to feel that they are constantly under pressure to work faster and more efficiently, which can lead to stress and burnout.
1.5. Competitive
There is something known as healthy competition, and then there is Amazon. The pressure to perform and compete with colleagues creates a stressful work environment where employees feel they need to sacrifice their personal lives to stay competitive. Additionally, the company's performance-based approach also creates a sense of constant evaluation and competition, which can lead to a
work environment where employees
are always trying to outdo each other, which has often led to disastrous results.
2. What is Amazon Work Life Balance Approach?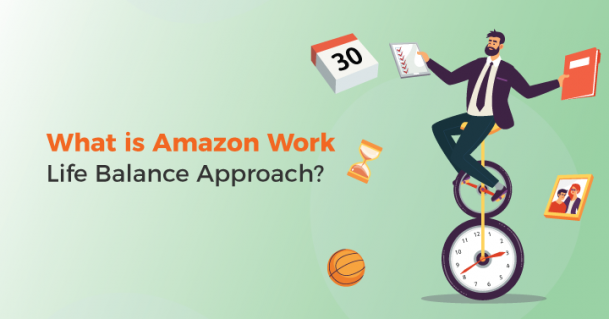 Amazon has a reputation for having a demanding and intense work culture, with a focus on achieving ambitious goals and high performance. However, in recent years, the company has also been working to improve its approach to work-life balance.
It is important to understand that Amazon work life balance views are less about balance and more about
being a circle
. As performer CEO of Amazon, Jeff Bezos, having a balanced life is not only impractical, but it can also lead to a feeling of being overwhelmed because you are constantly trying to achieve something that is impossible. He encourages his employees to embrace their lifestyle by creating a work schedule that allows them to spend time with their families and pursue their passions without sacrificing their career goals or vice versa. By understanding that work and home life are intertwined rather than competing interests, employees can create a more productive and fulfilling lifestyle.
That being said, Amazon has been working to address the issue of burnout, which can be a common challenge in high-performance work cultures. The company has implemented initiatives to promote work-life balance and to help employees manage stress and avoid burnout. For example, Amazon has launched a "
Working Well
" program, which provides employees with resources and tools to support their physical and mental well-being.
3. Amazon Work Life Balance Initiatives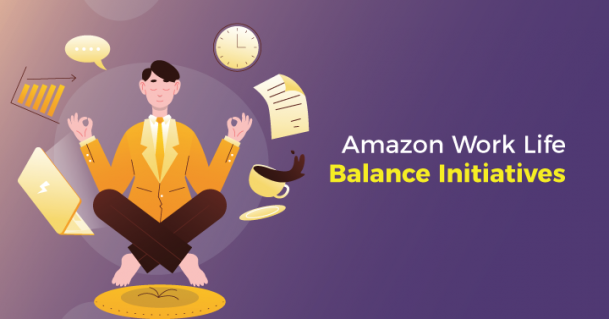 Flexible Work Arrangements
Amazon provides a variety of flexible work arrangements, such as part-time schedules, job sharing, and telecommuting, to enable employees to balance their work and personal responsibilities more effectively. You can
pick shifts
that work for you around your schedule.
Amazon offers
paid time off to employees
, including vacation time, sick leave, and personal days. The company also provides bereavement leave, jury duty leaves, and military leave. All of this starts on the first day of your joining. 
Amazon offers its employees a range of
wellness programs
. This includes on-site health clinics where employees can receive medical care and health screenings. Wellness classes including yoga and mindful meditation for better health. Also available are healthy food options including fresh fruits and vegetables, whole grains, and lean protein to facilitate a better lifestyle for their employees.
Employee Assistance Programs
Amazon's Employee Assistance Program
provides confidential counseling and referral services to employees to help them manage personal and work-related challenges.  Employees can access EAP to seek support for a range of personal and work-related issues, such as stress, anxiety, depression, relationship problems, financial concerns, and substance abuse.
4. Areas Where Amazon Work Life Balance Falls Short
Long Hours and Intense Workloads
Amazon is known for its
demanding work culture,
which can involve long hours and intense workloads. Employees are often expected to work nights and weekends and to be available for work-related tasks even when they are not on the clock.
Amazon culture is one of high performance and accountability, which can create a stressful and competitive work environment. Employees are often evaluated on their ability to meet aggressive performance targets, which can lead to a
culture of overwork and burnout
.
Limited Work Life Balance Benefits
While Amazon offers some benefits to support work-life balance, such as flexible work arrangements and parental leave, some employees argue that these
benefits are limited
and do not go far enough to address the demands of high-performance work culture.
In addition to concerns about Amazon work life balance, some employees have also raised concerns about
workplace safety at Amazon
. For example, there have been reports of injuries and accidents in Amazon warehouses, which are known for their fast-paced and physically demanding work.
5. What Does the Future Hold for Amazon Work Life Balance?
The future prospects for Amazon work life balance are both promising and uncertain. On the one hand, the company has made significant efforts in recent years to improve its approach to work-life balance and to
address employee well-being and mental health
. This includes initiatives such as flexible work arrangements, health and wellness benefits, and programs to promote work-life balance and prevent burnout.
Moreover, Amazon has stated its commitment to continuing to improve its approach to employee well-being and work-life balance. In a recent statement, the
company's CEO, Andy Jassy
, emphasized the importance of supporting employee well-being and pledged to make it a top priority at Amazon. He also acknowledged the challenges of balancing the demands of high-performance work culture with the need to support employee well-being and mental health.
Overall, the future prospects for work-life balance at Amazon will depend on the company's ability to
balance the demands
of high-performance work culture with the need to support employee well-being and mental health. As the conversation around work-life balance and workplace culture continues to evolve, it will be important for Amazon and other companies to adapt and respond to changing expectations and demands from employees and consumers.
6. FAQs
Does Amazon have a good work-life balance?
Amazon has been making efforts to improve its approach to work-life balance, but it still has a reputation for being demanding and intense.
How many hours does an Amazon worker work?
The number of hours that an Amazon worker works can vary depending on their job and position. Some employees work full-time hours, while others work part-time or flexible schedules.
Is working at amazon hard?
Amazon employees can work up to 60 hours a week or more, depending on their job and position. However, the company offers some flexible work arrangements that can help employees balance their work and personal life.
Are Amazon employees happy with their jobs?
The answer to this question can vary depending on the individual employee and their job experience. However, Amazon has faced criticism and scrutiny over its work culture and practices, which has led to concerns about employee satisfaction and well-being.
Is Amazon struggling to keep employees?
Amazon has faced some challenges with employee retention, particularly in its warehouse and fulfillmentm operations. However, the company has also implemented initiatives to address employee retention and turnover, such as offering increased wages and benefits.