Today, AI tools are quickly becoming the rave in various aspects of day-to-day business and organizational operations as many professionals have discovered how they can boost productivity and efficiency. Not surprisingly, recruiters and hiring managers are not far behind.
Dive into our featured article on recruiting software for the latest tools and trends in recruitment.
But here's the million-dollar question — what are the best AI tools for recruiting?
With so many options available, choosing the right AI tool for your organization can be an overwhelming decision. Explore our top picks of AI tools for recruiting and how they can help you make the best hiring decisions possible.
1. What is an AI Recruiting Tool?
An AI recruiting tool is a software application that is powered by artificial intelligence algorithms and machine learning (ML) processes to automate the various operations involved in typical talent recruitment. This includes tasks like screening resumes, matching candidates, scheduling interviews, and even communicating with potential hires. Even more, some AI tools can help you analyze data from hiring processes to identify patterns that can aid or improve future hiring decisions.  
2. What are the Benefits of AI Recruitment Tools?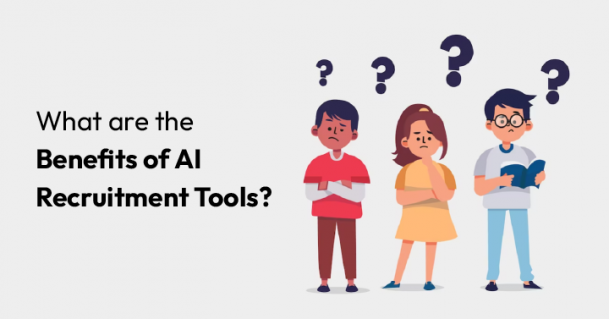 2.1 Efficiency and time-saving
The hiring process is typically a tasking and time-consuming process as tasks like resuming screening and candidate matching can easily take a long time to get through. However, by incorporating AI to automate tasks in recruitment operations, you can significantly cut down that time and boost your overall work efficiency.
2.2 Enhanced candidate experience
While hiring managers often focus on the in-house side of things during the hiring process, the candidate experience can quickly take a downward spiral, especially with overly lengthy processes and communication lags. Thankfully, AI tools allow you to automate communications and provide real-time feedback, thereby providing better and more personalized candidate experience.
2.3 Fair and consistent evaluations
Even the best recruitment professionals are not without some unconscious bias. However, machines do not have this flaw. So, with AI recruiting tools, you can eliminate bias in the hiring process and evaluate candidates fairly based on consistent and objective criteria. This may help achieve better diversity and inclusion during talent recruitment.
2.4 Access to a wider talent pool
Since AI tools can comb through thousands of candidates and resumes in a relatively short period, they provide recruiters with access to a much more extensive pool of candidates. AI recruiting tools can even widen your search to candidates that fit your job description that may not be actively seeking new roles.
2.5 Data-driven decision making
Another advantage of incorporating AI tools into your recruitment process is that these tools provide you with real-time, data-driven insights regarding your hiring process. This way, you can make more informed decisions on how to improve your hiring strategies and choose the perfect candidate.
2.6 Cost-effectiveness
Cost-effectiveness is another aspect where AI recruiting tools shine as they reduce the need for manual labor thereby reducing your recruitment costs. Of course, this means you can enjoy a better return of investment for your hiring process.
2.7 Scalability
With AI recruiting tools, you can handle a much larger volume of candidates without compromising on the quality of the recruitment process. As a result, you can hire for high-volume roles much more efficiently and seamlessly.
3. Overview of the 10 Best AI Tools for Recruiting
| | |
| --- | --- |
| Arya | Best AI recruiting tool for efficient candidate sourcing and engagement. |
| Fetcher | Best AI recruiting tool for automated sourcing, outreach, and candidate management for modern recruiters. |
| XOR | Best for personalized and data-driven hiring decisions. |
| TurboHire | Best AI recruiting tool for end-to-end talent acquisition and management. |
| Humanly | Best AI recruiting tool for candidate engagement and hiring automation. |
| HireVue | Best for video interviews and AI-based candidate assessment software for faster hiring decisions. |
| Zoho Recruit | Best AI recruiting tool for applicant tracking and streamlined recruitment workflows. |
| Skillate | Best for efficient talent sourcing and engagement during recruitment. |
|  Humantelligence | Best AI recruiting tool for cultural analytics to ensure better candidate fit and engagement. |
| SeekOut | Best AI recruiting tool for diverse and high-quality candidate sourcing |
4. Criteria for Selecting the Best AI tools for Recruiting
4.1 User-friendliness
A tool can only improve your productivity if you can use it in the first place. A user-friendly AI tool should be intuitive and easy to use, making it more accessible to a wider range of users with varying levels of technical expertise.
4.2 Configurability & Scalability
Every business has unique processes and systems for carrying out their recruitment, depending on the business type, size and other variables. So, you want to consider if the AI tools offer you some freedom for configurations that are specific to your business and if the platform can scale up to handle your workload.
4.3 Analytics
Analytics is an important criteria when selecting an AI tool for recruitment because it can help organizations make more informed hiring decisions based on data-driven insight. So, you want to make sure your preferred AI tool has the analytical capabilities you need.
4.4 Integration capabilities
The best tools are those that let you work seamlessly with your existing infrastructure to ensure proper streamlining recruitment workflows. So, check to see if the AI tool you're considering supports integration with third-party productivity or HR tools.
4.5 Customer Support
While we all hope to experience smooth sailing while using an app or service, there's always the chance that something may go wrong. However, a good recruitment AI tool should have available customer support for when you need help or require answers to questions you have.
4.6 Pricing
An AI tool recruiting tool is only worth it if it does count an arm and a leg. So, you want to consider your budget flexibility when choosing an AI recruiting tool. The trick is to choose a tool that doesn't cause too much dent into your finances, yet offers your productivity solutions.
5. 10 Best AI Tools for Recruiting in 2023
5.1 Arya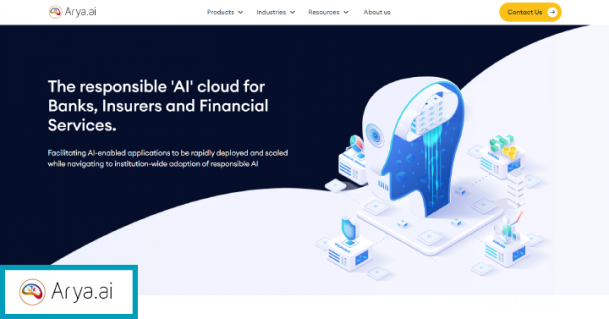 Best for: mid-sized to large companies that need to handle a high volume of resumes and complex recruitment needs.
Arya is an AI-powered recruiting tool that uses machine learning algorithms to help businesses improve and optimize their recruitment process. By providing functions like candidate sourcing, screening, and interview scheduling, this AI tool helps recruiters enjoy a more seamless hiring process.
What makes it unique is the platform has a very user-friendly interface that allows hiring managers of any skill level to quickly catch and use the tool productively. In addition, Arya provides users with powerful analytics, such as skills gap analysis, market analysis, salary and compensation analysis, candidate experience analysis, diversity and inclusion analysis, that can give you more insight into your hiring campaign.
Key features
Candidate sourcing across multiple channels
Resume parsing using natural language processing (NLP)
Candidate communications
Analytics and reporting 
Integration with existing infrastructure
Pricing
Arya offers users access to its recruiting tool on a subscription basis, with pricing plans based on your organization's needs. However, they do not publicly display their pricing and you'll need to contact them to get a quote.
Pros
Powerful AI technology that increases efficiency and productivity
Intuitive and user-friendly interface
Wide range of functionalities
Excellent customer support and training resources
Cons
Pricing may be relatively high
Customization may require some in-depth learning
May be unsuitable for smaller businesses with limited recruited needs
5.2 Fetcher
Best for: small to medium-sized businesses (SMBs) that want to streamline their recruitment process and save time and effort in sourcing and hiring candidates.
Fetcher allows hiring managers to find top-notch candidates for their open positions through automated candidate sourcing, using advanced search filters, and customized pipelines. As a result, finding suitable candidates becomes a much faster and seamless process.
In addition, the Fetcher software allows you to easily integrate with several third-party HR tools such as human capital management (HCM) and applicant tracking systems (ATS) to ensure you have a comprehensive recruitment process. We should also mention that this AI tool offers first-time users a personalized demo so you can get an overview of the system.
Key features
Automated candidate sourcing helps you save time and effort 
Customizable email templates enables recruiters to create personalized, professional emails 
Allows team collaboration to improve decision-making and efficiency 
Data insights and analytics helps provide valuable insights into recruitment metrics
Interview scheduling to streamline the scheduling process
Integration with third-party apps
Pricing
Fetcher offers subscription-based plans based on your recruiting needs. Their basic plan is $700 per month per position, and includes up to 80 qualified candidates. You'll also get a dedicated candidate sourcer and full customer support.
Pros
Powerful automated candidate sourcing
Advanced AI-driven candidate screening
Integration with other platforms
Customizable workflows
Recruitment campaign tracking
Cons
Interface may be challenging to navigate
Pricing may be expensive
Limited customization options
5.3 Xor
Best for: companies of all sizes that want to streamline their recruitment processes and automate repetitive tasks.
Another option for streamlining your organization's recruiting process is Xor. First off, this AI-powered tool comes with a resume parser, which significantly cuts down the time you need to sort through a large number of candidates. This way, you can quickly identify and shortlist suitable applicants.
Xor also offers users seamless integration with other third-party tools and provides analytical tools, such as sentiment analysis of candidate communications and automated candidate ranking, to help you make better decisions based on hard data during your recruitment process.
Key Features
Save time and effort with automated candidate sourcing, allowing you to focus on other important tasks.

Provide a seamless and personalized candidate experience with the chatbot feature.

Make informed decisions with powerful analytics and reporting, giving you valuable insights into your hiring process.

Streamline the interview scheduling process, reducing confusion and improving efficiency.

Build strong relationships with candidates with the candidate relationship management feature, increasing the likelihood of successful hires.

Access the platform on-the-go with the mobile app, allowing you to stay connected and updated at all times.
Pricing
Xor does not publicly display the pricing for their AI recruiting tool. However, you can contact the Xor sales team to get a quote and discuss custom pricing options.
Pros
User-friendly interface

Advance customization options

Easy integration with third-party apps

Excellent customer support
Cons
May be expensive

Limited analytics
5.4 TurboHire
Best for: mid-sized to large organizations that need a comprehensive recruitment platform with features like AI-powered screening and candidate scoring.
With TurboHire, candidate sourcing, screening, selection, and other tasks related to talent recruitment become a much more seamless process. The tool offers you functionalities such as candidate matching, resume parsing, and much more, to improve your hiring efficiency and boost the chances of selecting the ideal candidate.
What makes it unique is its natural language processing (NLP) technology which helps it parse resumes and highly specific qualifications of candidates automatically. The platform also uses machine learning to analyze past hiring data to predict which candidates may have the highest chances of success.
Key features
Reduce time-to-hire and increase the chances of finding the right candidate with AI-driven candidate matching.
Make informed hiring decisions with real-time data analytics and insights on candidate qualifications, skills, and experience.
Simplify the interview process with automated interview scheduling, saving time and improving efficiency.
Enhance teamwork and collaboration with the ability to share candidate profiles and feedback among team members.
Customize the hiring process to fit your organization's unique needs with customizable workflows.
Pricing
While TurboHire offers custom pricing based on your business type and hiring needs, you'll need to reach out to their sales team to get a quote.
Pros
Extensive integration with third-party tools
Wide variety of recruitment functionalities
Allows impressive customization
Cons
Some users may experience a steep learning curve
Customer support may be irresponsible
5.5 Humanly
Best for: Small to mid-sized businesses that want to improve their candidate experience and reduce time-to-hire with AI-powered chatbots.
While most AI recruiting tools focus on improving recruiter efficiency (as they should), Humanly goes a step ahead to also help you boost your candidate experience. By leveraging chatbot, this tool engages your potential hires in real-time conversations and schedules interviews, thereby ensuring they have answers when they need them.
Of course, this also helps to reduce your time-to-hire durations. In addition, Humanly also helps recruiters create custom hiring workflows and provides in-depth analytics, such as diversity metrics, candidate scoring, and candidate journey data, to promote data-driven decisions.
Key features
Save time and effort by automating the screening process with Conversational AI.
Ensure that you find the best candidates for the job with AI-driven candidate matching.
Say goodbye to the hassle of scheduling interviews with automatic interview scheduling and reminders.
Stay on top of your recruitment process with real-time analytics, giving you insight into your candidate pool and hiring progress.
Pricing
Like many AI recruiting companies, Humanly does not publicly display the pricing for their AI recruiting tool. However, you can contact their team to request a quote or schedule a demo.
Pros
Personalized candidate experience
Candidate screening
Impressive integration
Cons
5.6 HireVue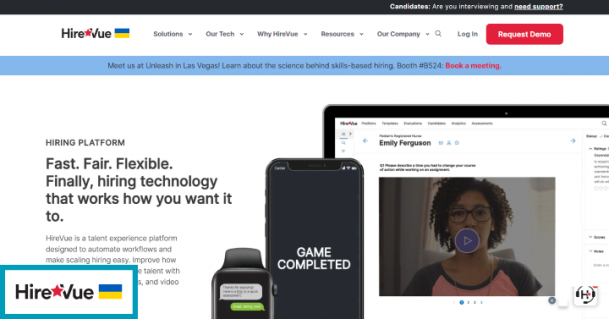 Best for: mid-sized to large companies that want to leverage AI-powered video interviewing to screen candidates more efficiently and effectively.
HireVue specializes in video interviews, assessments, and on-demand interviews. In addition, this tool leverages machine learning and predictive analytics to analyze candidates' verbal and non-verbal cues during a video interview, which may give you some insight into their personality and suitability for the role.
We should also mention that HireVue offers you a mobile app such that you can continue your recruitment process on the go. Furthermore, the platform offers users several customizable features, including various language options for candidates and personalized branding and logos on the platform, as well as integration with several HR apps.
Key features
Video interviewing
Predictive analytics
Customization options
Team Collaboration
Mobile accessibility
Pricing
HireVue offers customized pricing plans based on the specific needs and requirements of each organization. However, they do not publicly disclose their pricing information. So, you'll need to contact their sales team for a quote.
Pros
Data-driven insight into candidates
Allows extensive integrations with other systems
Has a mobile app
Cons
Some candidates may find the video interview features uncomfortable, which may lead to inaccurate evaluations by the AI
May be too expensive
The platform's unique features means users require additional training to use it effectively
5.7 Zoho Recruit
Best for: businesses of all sizes that want a cloud-based applicant tracking system with AI-powered capabilities like resume parsing and candidate matching.
Zoho Recruit is yet another AI-powered recruiting software that deserves a mention. This tool provides hiring managers with a comprehensive solution of sourcing, screening, managing resumes, and hiring top talents.
A shiny point with Zoho Recruit is its configurability and scalability. The platform allows you to customize its features and functionalities to meet the specific needs of your business. It also supports integration with an impressive range of third-party tools and systems.
As a result, recruiters can typically manage all aspects of the hiring process from one control hub — Zoho Recruit.
Key features
Streamline your recruitment process with customizable workflows, saving you time and effort.
AI-powered candidate matching helps you find the best-fit candidates for your open positions, increasing your chances of hiring top talent.
Automated resume parsing takes the hassle out of sorting through resumes, allowing you to focus on the most qualified candidates.
Team collaboration ensures that everyone involved in the hiring process is on the same page and working together towards a common goal.
Pricing
Zoho Recruit offers a range of pricing plans to suit different business needs. Although they are one of the free AI tools for recruitment, their free plan has limited functionalities. Paid plans start from $25 per month, billed annually, with a 15-day trial period. However, the cost of the subscription may go up depending on the number of users and functions required.
Pros
Generally affordable
Supports extensive integration
Has a mobile app
Easy-to-use interface
Cons
Customer support response times may be slow
Free trial features are very limited
5.8 Skillate
Best for: mid-sized to large organizations that want to use AI to automate recruitment tasks like resume screening and interview scheduling.
Yet another option in our compilation of the best AI tools for recruiting is Skillate.
This tool helps recruiters identify the most suitable candidates for a position using natural language processing (NLP) and machine learning algorithms to analyze resumes. This way, you  can identify the key skills, experiences, and qualifications you're looking for in a role and evaluate your candidates based on this.
Skillate allows you to customize a standardized screening process that is unique to the specific position you have open. In addition, this tool also offers you extensive integration with other third party tools to provide you with a comprehensive solution for your talent acquisition process. We should also mention that Skillate leverages feedback from users to refine its algorithm and improve its candidate-selecting accuracy.
Key features
Automated job postings
Candidate skill mapping and ranking
Resume parsing
Customizable workflow
Interview scheduling
Real-time analytics
Pricing
Skillate's pricing for its A recruiting tool is not available publicly. So, you'd have to reach out to their sales team to request a quote.
Pros
Offers you a candidate ranking system
Provides a customizable career page builder to improve candidate experience
Offers real-time insights into the recruitment process
Cons
May require a steep learning curve
5.9 Humantelligence
Best for: mid-sized to large companies that want to improve their hiring process by using AI-powered assessments to evaluate candidates' soft skills and cultural fit.
Humantelligence is yet another AI recruiting tool that seamlessly combines artificial intelligence and human expertise to improve organizational hiring processes. While this platform offers several features like candidate sourcing and screen, the icing on the Humantelligence AI cake is the comprehensive assessment of candidates it provides.
This platform offers recruits in-depth insights into a candidate's personality, motivation, and cognitive ability through AI algorithms. This way, you can make data-driven decisions regarding your candidates based on hard data regarding their skill sets, experience, and personality traits.
Key features
Gain valuable insights into your company culture and how it aligns with potential candidates, leading to better hiring decisions.
Utilize cutting-edge behavioral science to understand the motivations and behavior patterns of both candidates and your team.
AI-driven analytics provide objective data and insights to support hiring decisions, reducing bias and increasing accuracy.
Interview guides ensure consistency and fairness throughout the hiring process, improving the candidate experience.
Collaborate with your team to make informed hiring decisions and ensure a positive and cohesive team dynamic.
Pricing
Humantelligence offers custom pricing based on the specific needs and size of each organization. However, you'll need to request a quote by contacting the Humantelligence team through their website.
Pros
Uses to behavioral science to identify candidates that fit your value system
Provides comprehensive reports on candidates
Offers assessments in multiple languages
Cons
May not be ideal for companies that do not prioritize cultural fit
May overlook qualified candidates based on cultural model
5.10 SeekOut
Best for: mid-sized to large organizations that want to use AI-powered sourcing to find top-quality passive candidates.
If you're looking for a tool to help you identify suitable candidates from a large pool of options, SeekOut is another top AI recruiting tool to consider. This platform includes features like candidate search, diversity sourcing, and candidate insights.
In addition, SeekOut uses advanced AI algorithms and machine learning to analyze candidates based on their skill level, experience, and related criteria, and then puts them in a ranking. This way, you have a better idea of the candidates that are most likely to be able to deliver. We should also mention that SeekOut offers users powerful tools for creating and managing talent pools.
Key features
Diversity sourcing to identify candidates from underrepresented groups
Advanced candidate search and filtering 
Real-time analytics and insights
Integration with third-party apps
Pricing
SeekOut offers both monthly and annual plans for subscribers. However, its annual pricing starts at $9000 per year for one user. But they also offer a free trial period for intending subscribers.
Pros
Comprehensive talent database
Advanced search functionality
Diversity and inclusion features
Integration with third party platforms
Easy-to-use interface
Cons
May be too expensive
Limited customization
6. FAQs
1. What's one AI recruitment tool that HR should consider in 2023?
It is almost impossible to boil this question down to one answer. But, Arya is a good place to start. 
2. What type of AI is used for recruitment?
Generally, natural language processing (NLP), machine learning (ML), and deep learning (DL) are the AI technologies applied in recruitment.
3. How do you use AI in talent acquisition?
There are several applications of AI in talent acquisition, including:
Resume screening
Candidate matching
Resume parsing and ranking
Chatbots
Video interviews
Predictive analytics
Interview scheduling
4. Is AI the future of recruitment?
If the adoption rate is any indication, AI may be the future of talent recruitment in businesses and organizations.