1. What is a Virtual Choir?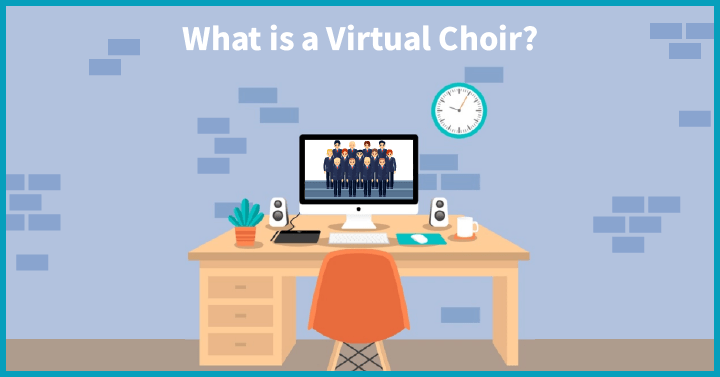 A virtual choir, also known as an online or home choir is a singing group of members who join in from separate places on one virtual meeting platform or through specialized virtual choir software. Choirs serve different purposes. Some are held for religious reasons while others honor a member or celebrate an occasion. 
Some choirs coordinate with members to go live once everyone has joined the meeting link, or others record their parts and send it digitally. The recordings are collated and pieced together to form a choral performance. Virtual choirs differ from congregational choirs in that rehearsals and playbacks are done online rather than in person. Although the idea of virtual choirs isn't exactly new, there was an increase in the number of virtual choir productions during the COVID-19 lockdown, the most notable being Simon Lubkowski's The Collective Virtual Choir set up in March 2020.
2. What Software is Used to Create Virtual Choirs?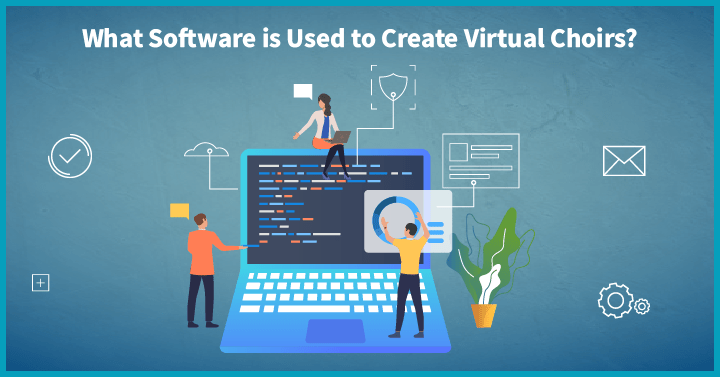 Creating a virtual choir takes a lot of post-production work and hours. You'll need to edit tracks, mix the audio, and sync video clips to the tracks received to make sure start and finish times match for all singers involved. You'll need the following hardware and virtual choir software to create an online performance;
Desktop or laptop: a wider screen helps you confirm the layout of the video and how many faces can be compacted into the viewing window.
Digital Audio Workstation (DAW): A DAW is a software that lets you record and edit audio.
USB Digital Audio Interface:  This hardware is an input line for wired headphones and external monitors.
Microphone: For high quality, clear audio, invest in microphones with noise-cancelation. The same ones that you use for podcasts work here. 
Speakers: Having wired or Bluetooth speakers can help you determine if the sound is uniformly audible and clear without having to wear earphones throughout the recording and editing time.
3. Virtual Choir editing Software for Singers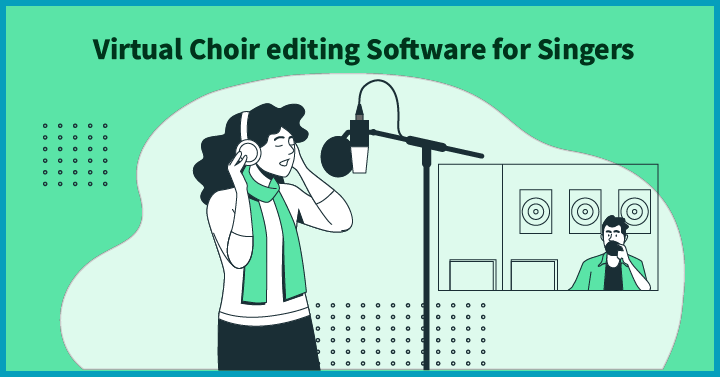 3.1 Easy virtual choir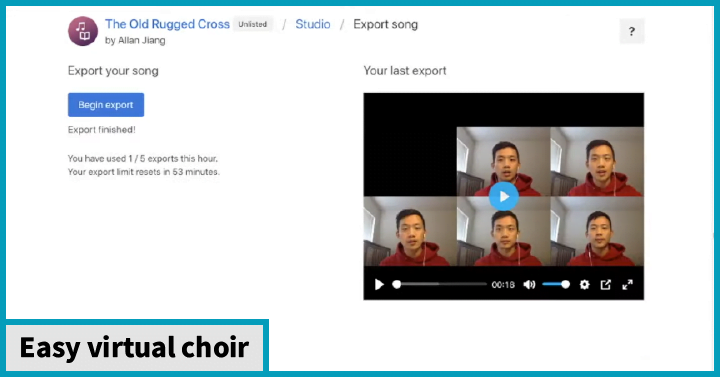 About
Easy virtual choir is a choir software created by Allan, a Californian churchgoer pre-pandemic. Since Covid, the virtual choir software helped the churches go from releasing 4 to 30 person choir videos every other week. The choir software also accepts donations through its contact form and updates patrons of the latest that's happening in the area.
Choir Features
Import and export options for videos.
Automatic recording alignment
Progress review as tracks are added.
choose your ensemble and sing with specific members
Perform checks on the track's rhythm, pitch and playback speed
You can convert existing videos to ones that use a virtual background.
Pricing
Free
3.2 Virtual choir creator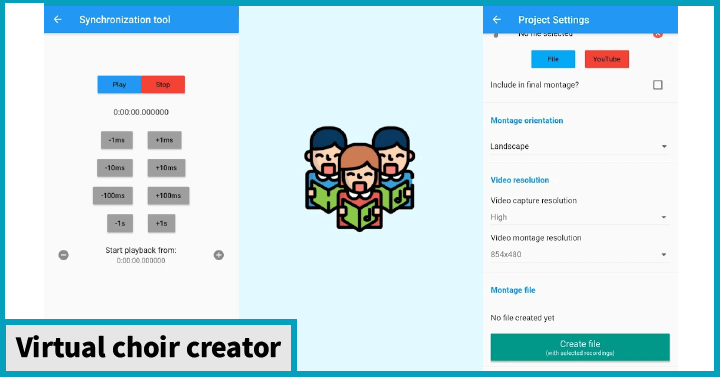 About
Virtual choir creator is a virtual choir app that can be downloaded from Google Playstore or Apple. 
Choir Features
Audio/Video base for file imports. A recording can also serve as the base.
Dedicated recording page that starts playing when the 'record' button is tapped.
Synchronization tool button to perform audio/video checks .
Montage edit options to collate both audio and video montages.
Pricing
Free
3.3 Adobe Premiere Pro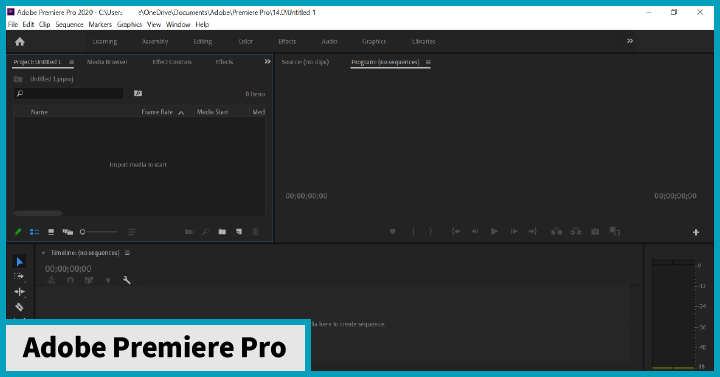 About
Adobe Premiere Pro is a video editing tool that comes under Adobe products which can be used as virtual choir software. Social media creators can upload and post videos on channels such as YouTube, TikTok, and Facebook. This will come in handy to get more views on released videos!
Choir Features
Import, edit and export options
Adjustable color gradients and sounds along with special effects ported from other Adobe apps.
You can drag and drop files into the project window from any device- DSLR, GoPro or mobile.
The trim tool lets you edit footage to shorten clips. Multicam sequences can also be created. 
Pricing
Free trial for a week. Pricing starts at USD 20/month.
3.4 Lightworks
About
Lightworks has a 30-year history in the video editing space. It was rebranded in 2020 as LWKS and is based in Swindon. This editing software can easily be used as a virtual choir software.
Choir Features
70 transitions in between cuts and scenes to capture the theme of the choir.
A forum for users for experience sharing and insights.
Easy collaboration and workflow sharing options 
Cloud Editing in Lightworks Create lets you move phone footage into Lightworks. This lets you shorten the time to reconcile and collate clips from the time everyone sends their recordings. 
Pricing
Lightworks Pro costs USD 23.99/month and Lightworks Create costs USD 9.99/month.
3.5 Flipgrid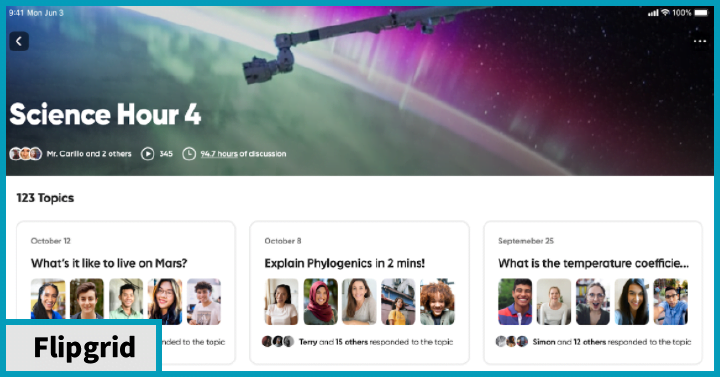 About
Flipgrid is originally an educator's tool that allows users to record video messages and can be repurposed as a choir software. It's a free video discussion app for teachers and students but that's why it also is the best software for virtual choirs.
Choir Features
Select either the  "educator" or "student" portal.
Educators can create a topic after creating the group. Students can then join discussions, record responses and send video submissions.
Remote learning resources and help center to get started on using Flipgrid
Pricing
Free 
3.6 Smartmusic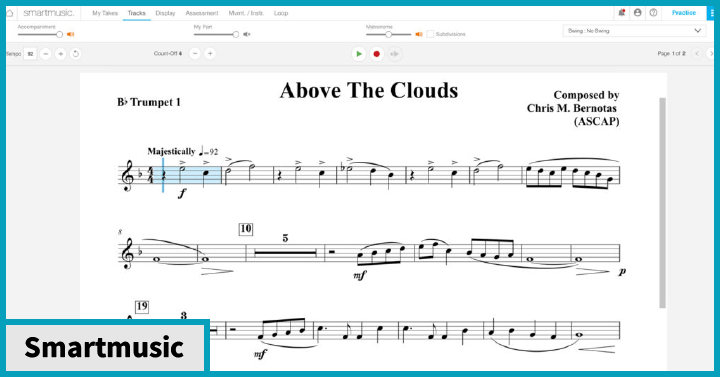 About
Smartmusic is a music learning software that teachers can use to impart music lessons to remote pupils. With 25,000+ solos and 16,000+ printable titles, Smart music has good reason to make it to this list of the best software for virtual choirs (imagine how much you can sing solo, in groups, or the backing vocals!).
Choir Features
Smartmusic's library has 150+ method books, 5,400+ ensemble titles and solos.
There's a built in virtual metronome and tuner.
You can create sight-reading exercises for individual instruments or ensemble music using the Sight Reading Builder
The Compose notation tool lets you create notations and import and export music XML files between notation products.
Both singers and conductors can read notes and reply to comments left on recordings.
Pricing
The pricing slabs are divided according to the type of user and are of two types: teacher and performers. The teacher individual pack and pack of 20 subscriptions both cost USD 39.99/month, while the performer plan costs USD 29.99/month(for individuals) and USD 13.99/month for 20 subscriptions. 
3.7 ChoirCreator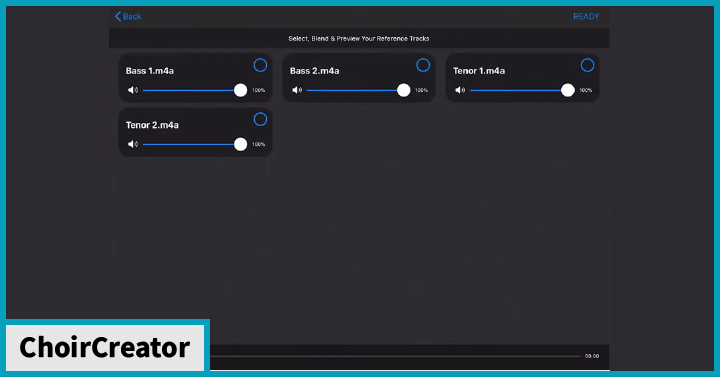 About
ChoirCreator is a virtual choir app. Its release has been much awaited ever since Oliver Carlock's announcement in July 2020. Carlock, a Houston native, called the app 'magic' and that it will become the best software for virtual choirs
Choir Features
ChoirCreator works on any Iphone or IPad.
Each virtual choir project accommodates up to 50 videos.
50 singers can join a project.
Videos are pre-synchronized with individual volume and pan (zoom in/out) control.
You can access reference tracks after entering the 9-digit passcode provided by the Creator.
After uploading the recording to the Cloud, the Creator will add it to the final cut.
Pricing
Free for singers and USD 19.99/month for 15 virtual choir projects.
3.8 Soundtrap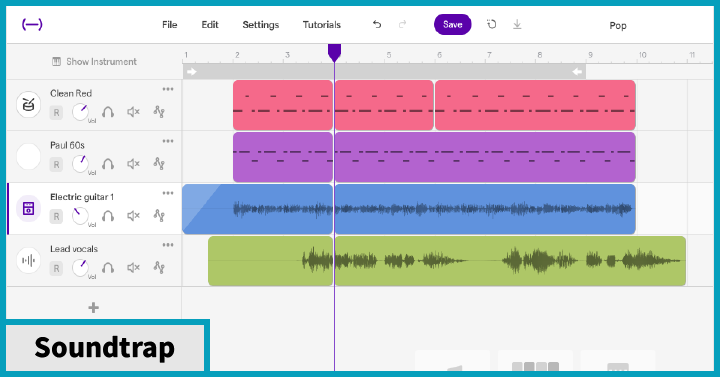 About
Soundtrap Studio was launched in 2013 as a web-based, collaborative music recording studio. Making it the perfect virtual choir software. The company is based in Stockholm, Sweden.
Choir Features
4000 beats to add to the recording,making it great for school, church or leadership choirs.
Auto-tune lets you adjust pitch in voice recordings.
A library of beats, loops and instruments that can add an element of spontaneous creativity to music.
Soundtrap Capture is on Spotify which syncs playlists that you can refer to by category.
Pricing
The pricing plans are as follows
Music makers premium USD 7.99/month
Music makers supreme USD 11.99/month
Storytellers                     USD 11.99/month
Complete                       USD 13.99/month
4. How Do You Create a Virtual Choir Performance?
Here are a few tips to create your first virtual choir performance;
Start with a brief, solo performance
Do a test drive with a short and simple solo to edit on your virtual choir software. You can take multiple takes until you're satisfied with how you look and sound.
Prepare your reference tracks.
Use either Smartmusic or Soundtrap subscriptions to avail reference titles. Singers can sing along with the track and determine the entrances, transitions, changes in tempo, and instruments. For a capella, you'll still need a guide track under the song being sung or played. Since you have to compile the performance in a choir software it is important that you have reference tracks.
  3. Plan your performance
Uniformity in dressing sense creates a sense of belonging in the singing group. Have a theme based on the occasion just as you would for in-person performance.
4. Set clear recording guidelines for participants.
Publish a set of guidelines for what you expect to see in video recordings sent individually. This ensures that everyone follows the same practice and saves many hours in post-production edits in your choir software.
5. Edit and mix your audio and video separately.
You can use the best software for virtual choirs to mix audio and video separately. I'd personally suggest Soundtrap but you can also mix from a smartphone app such as iMovie to combine and clean up videos. 
6. Plan the layout.
The layout determines how to fit all the singers together in a compact window. You can use grids of the same height and width so that faces and lip movements are easy to follow. With a finished video, you can upload the audio track and line the video up with the singing sections. Any background or timed effects such as claps and finger snaps can be added to your virtual choir software.
7. Schedule the release.
Announce when the choir video is scheduled to go out and enable share options to make it go viral on social media platforms. Don't forget to email the link to participants or their parents and teachers (or school performances!).
5. FAQs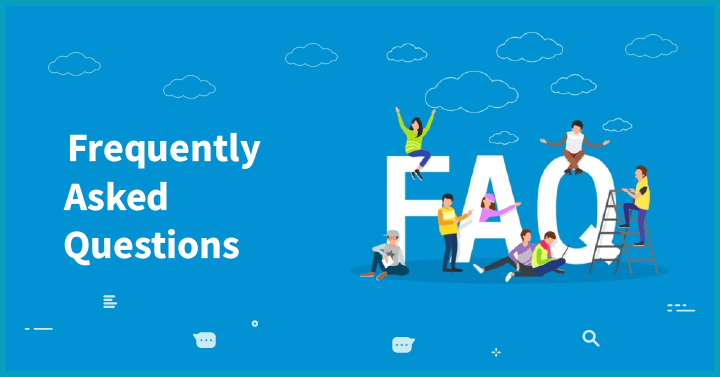 5.1 How do I make a virtual choir Online?
You can make a virtual choir online by opting for a tool that's either free or freemium with options to sync the audio and video. You'll need to finalize the number of singers in order to get a paid subscription that lets you add more video projects for editing and polishing.
5.2 How do you make a zoom choir video?
James Hawkins offers a simple explanation to create choir videos on Zoom as your virtual choir app. You just need to press record when everyone's ready and switch to a gallery view. This lets you see all the members' faces as they sing. You can do multiple takes till everyone is satisfied with the outcome before processing it further. Corrections in terms of amplifying sound or sharpening focus on video can be done by exporting the recording from Zoom and importing it into a virtual choir software. If you're an Apple user, you can do this on ChoirCreator.