1. What Is Virtual Tour Software?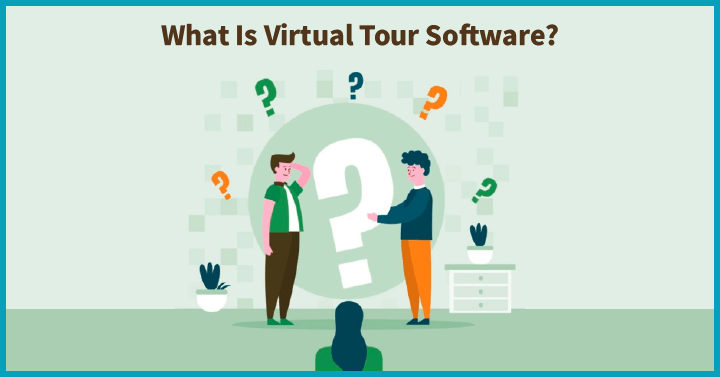 A virtual tour software is a tool that makes use of 3D maps, images, audio and video clips to create an immersive exploration of the place being showcased. It is heavily used by real estate, tourism and Higher education sectors to provide a guided tour of a particular place and location. 
Virtual tour software is more informative and engaging than reading about a place from an online and/or offline source. It's the closest thing to being in that place at that time, letting prospective flat or house buyers or tourists make an informed decision. Virtual tour software lets people upload panoramic shots which are then connected into a virtual walkthrough using Hot Spots. Hot spots are buttons that allow movements between locations or rooms. 
The tour created remains in the cloud or can be downloaded, depending on the options the platform offers. You can share the tour via email or text which opens into a 360 tour when people click it. Virtual tours work by giving the user control over where they'd like to start and where they will go next. The tours also give the audience an estimate of the dimensions of the space they're viewing. For example, a tenant answering a 'To-Let' ad can view the rooms from the comfort of their screen and decide if they want to move ahead with a deal or not.  
2. What Is the Difference Between Virtual Tour and 3d Tour?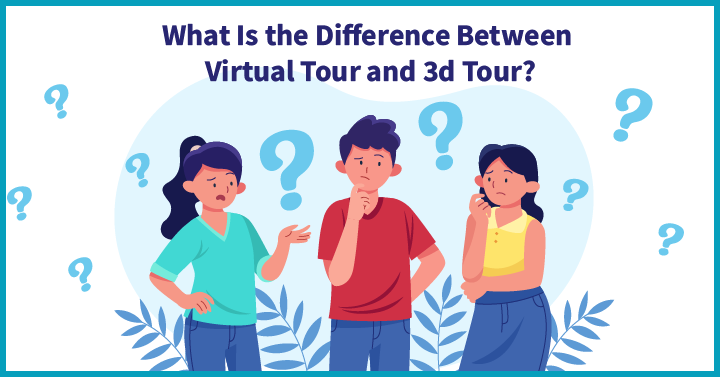 Virtual 360 Tour
Immersive 3D Tour
Experience:

A 360 virtual tour comprises panoramas in a slideshow. The user can point out spots on the pano shot and add a short text, video clip or website link. 

Experience:
3D tours offer 3D navigation and depth making the user feel that they're on site, more so if they are wearing VR headsets.
Spatial awareness:
Virtual tours are sight-led and convey the ambiance by sight and sound rather than space.
Spatial awareness:
3D tours are emotionally-driven and contain a floor plan with real markings of the spatial dimensions such as width, height, distances. It enables visitors to explore their surroundings with better spatial awareness, making the experience more immersive.
Rendering Technology
A 360 virtual tour is a complete view of a physical property. It does not have a schematic floor plan.
Rendering Technology
A 3D tour meshes physical images and renders it into a space. There is a 3D model of the floor plan.
3. Six Best Virtual Tour Software 2023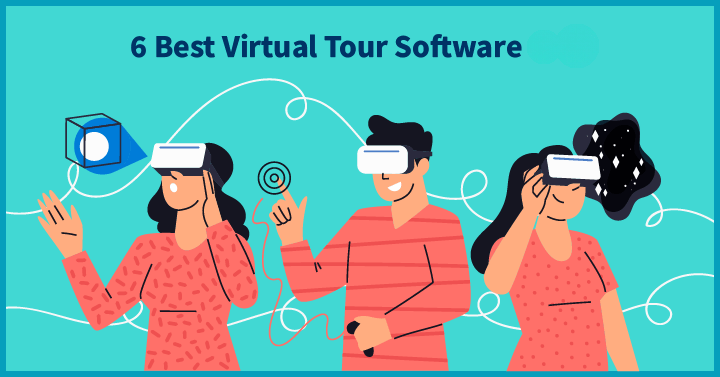 3.1 Kuula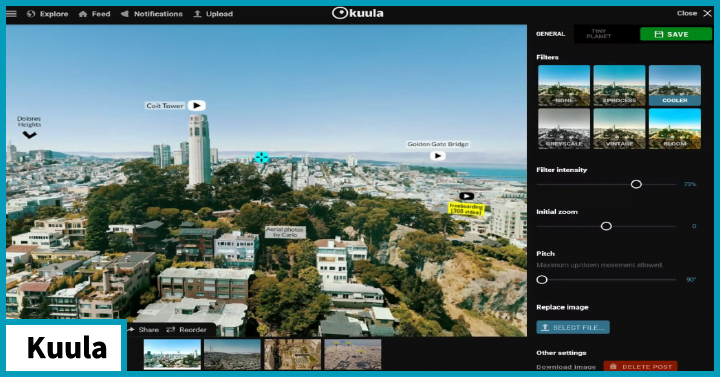 About
Kuula is a web-based 360 virtual tour software. The company is based in Los Angeles,U.S.A and was launched in 2016. The software offers a variety of tools for customizing tours, including adding text, images, and videos. It also supports hotspots, which allow users to create interactive elements within their tours. Kuula is popular among real estate agents and photographers for creating virtual property tours, but it can also be used for creating tours of museums, galleries, and other spaces.
Highlights
Horizon correction, zoom limits, filters & lens flares2.
WebXR API integration that lets you view images via VR standalone or PC headsets such as Oculus Go and HTC Vive.
Gaze navigation in VR mode.
Works with DSLR photos 
Pros 
Great customer support
Set up and deployment is straightforward.
You can embed images into a frame on a website via code.
Cons
Some users have reported that the features are limited and do not include animated hot spots or screen maps.
Pricing
The Basic plan is free, while the Pro and Business plans cost $16 and $36/month respectively.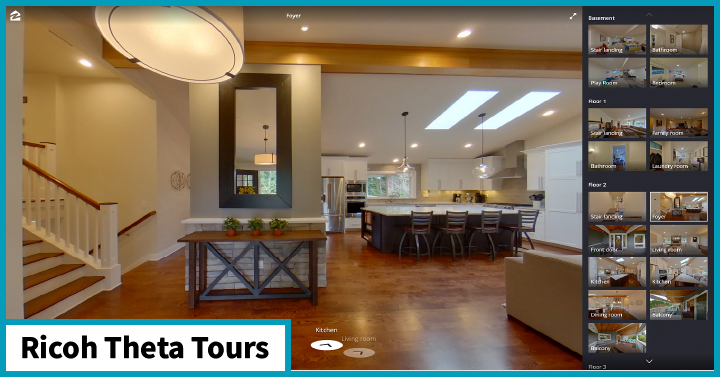 About
Ricoh Theta is an app that lets users create shareable virtual 360 tours. Although it was established in 1936 as a camera manufacturer. By 2020, the Ricoh 360 tours virtual tour software emerged.  It allows users to create 360-degree virtual tours with high-quality images and videos. The software also supports custom branding and the creation of interactive hotspots. Ricoh Theta Tours is a popular choice for real estate agents, event planners, and marketers who want to create immersive virtual experiences for their audiences.
Highlights
AI image enhancement
Auto image cropping
AI video maker
Staging assistance for virtual home tours-  The AI arranges 360-degree images in empty rooms to enable visitors to picture themselves living in a furnished dwelling.
A mobile agent app that creates a 360° virtual tour listing in minutes. 
Photo selection from your phone's gallery in 2D
Pros 
Several downloads options depending on device.
Editing, stitching and file uploads and transfers are easy
Cons
Ricoh can be downloaded only from the website and is currently not on Playstore
Pricing
The free plan lasts for 2 weeks and contains all the features of the business plan. The Pro plan costs $45 and Business $69/month.
3.3 Lapentor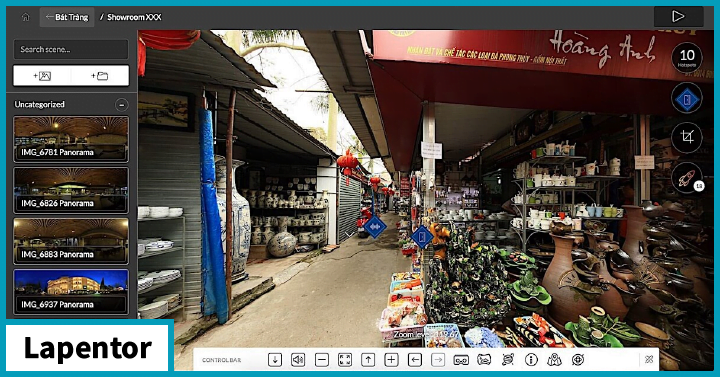 About
Lapentor is a cloud-based virtual tour software that is based in Vietnam. It features a drag-and-drop interface that allows users to easily create and customize virtual tours. The software supports a variety of media types, including 360-degree photos and videos, as well as interactive hotspots and custom branding. Lapentor is a popular choice for businesses and organizations looking to create immersive virtual tours of their facilities.
Highlights
Facility to add, edit and manage hotspots
9 types of hotspots for directional sounds,video, links, scene connectors, photos, notes and lensflare
21 custom plugins to enhance the video project
6 themes with 4 control bars for error correction and pointer control
Pros 
Lapentor lets you use hosting options or self-host, as more hosting options such as self-hosting and 
You can embed virtual tours on client websites.
Virtual tours can be zipped and emailed to clients to view at their convenience.
Affordable
Cons
There's not a lot of information on the company's founder so there aren't many reviews on how the tool feels when in use.
Pricing
Lapentor is free for 3 projects and costs $25/month under the Premium subscription. If you wish to self-host, the price is $15/month from Aug 2021 onwards.
3.4 Klapty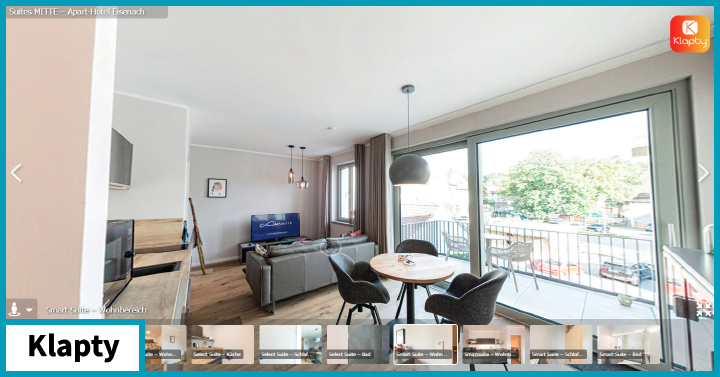 About
Klapty is an online tour platform for creating and sharing virtual tours. Klapty is the best software for virtual tours, having been pioneered by COO and CEO Corentin Saez and Raynald Salah. The duo turned their passion for photography into 360 degree tour photo shoots. The software features a user-friendly interface and a range of customization options, including the ability to add text, images, and videos. It also supports interactive hotspots and custom branding.
Highlights
Facility to add floor plan to clickable views
Users can enhance 360 and panoramic photos
Blurring too
Compatible with Virtual reality headsets
You can embed  to websites
Pros 
You can privatize virtual tours and protect them with a password for the safety of your guests.
Logos are customizable and you can redirect visitors from the virtual tour to your website. 
Klapty's range of features let you showcase your work on freelancing platforms or prepare for virtual tours for home and office space viewings.I like how easy it is to create a floor plan even if you have no prior experience.
          Cons
This isn't a con as such but I feel the Gold plan would get more users if the pricing was a bit discounted.other than this, Klapty is the best software for virtual tours!.
Pricing
The Gold unlimited plan costs $39.9/month while the Pro plan costs $9.9/month
3.5 Matterport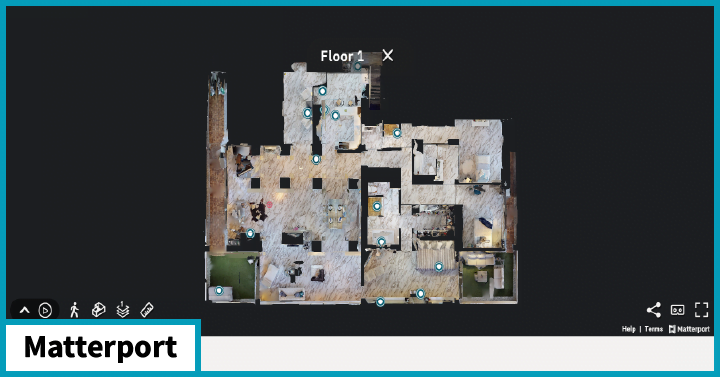 About
Matterport is a 3D data platform and spatial data company. It was founded in 2011 in Sunnyvale, California (US). The software uses 3D imaging technology to capture and render spaces, allowing users to create realistic and immersive virtual tours. It also supports a range of interactive features, including hotspots, annotations, and custom branding. Matterport is a popular choice for real estate agents, architects, and construction professionals who want to create highly detailed virtual tours of their properties.
Highlights
Matterport's digital twin apes the real-world place or object. It uses Artificial Intelligence and machine learning to create accurate 3D digital counterparts of the places you're viewing. 
360-degree camera which when paired with Matterport's Cortex AI converts 2D images into 3D spaces.
Matterport Pro2 can scan spaces of any size with 134 megapixel resolution and 3D accuracy.
Pros 
It operates well for both indoor and outdoor shoots.
Connecting a 360 camera to the Matter port digital twin is easy. The platform automatically maps 2D images to their 3D versions.
Cons
The cost of the Pro2 and 360 cameras are on the higher end. Real estate and construction builders will benefit the most from buying Matterport.
Pricing
Matterport is free for one user and 2 active spaces.The starter plan costs $9.99/month is best suited for 2 users and 3+ more active spaces.The Pro and Business plans both cost $69/month with 25 active spaces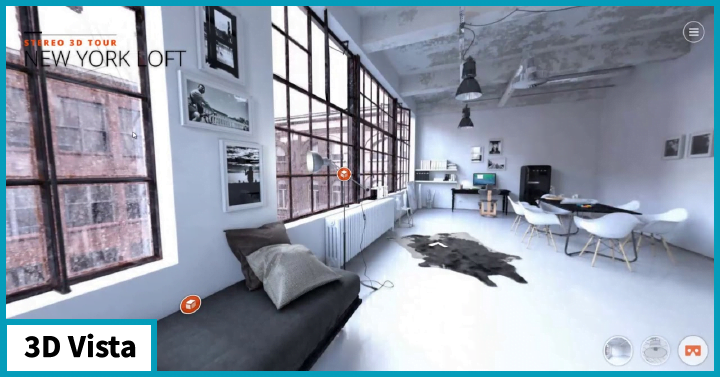 About
3D Vista offers unlimited virtual tours. It was founded in 1999 by photography enthusiasts who love panoramic shots. The software features a user-friendly interface and a range of customization options, including the ability to add text, images, and videos. It also supports interactive hotspots and custom branding. 3D Vista is a popular choice for businesses and organizations looking to create immersive virtual tours of their facilities, as well as photographers and content creators looking to showcase their work in a unique and engaging way.
Highlights
3D Vista offers hosting services, live guided tours and can be downloaded through mobile apps. 
Designed for multiple uses including live tours with video calls.
Several icon, animation and customization options depending on the type of tour. 
Pros 
The transitions are smooth and make the video more engaging and interactive.
Live tours with video calling options.
You can add images and sound as the scene changes. 
Cons:
Most users might find it expensive and too advanced to master. 
Pricing
The virtual tours pro costs $562
4. FAQS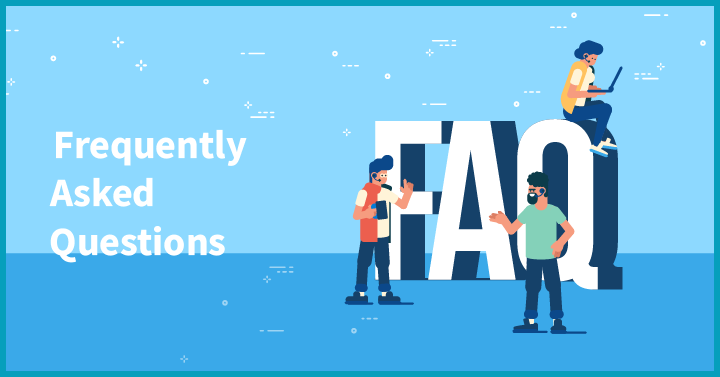 Which is the best virtual tour software 2023?
Klapty takes the prize home for the best virtual software for 2023. The customizable options for themes, scenes and animations make video editing a joy for both professionals and newbies.
Which virtual tour software should you use?
The virtual tour software you use depends on the industry and purpose behind the virtual tour. Matterport works great for real estate and housing, while Kuula offers secure tours with its password enablement for video and image tours.