Since 2020, many businesses have completely shifted to remote work.  Virtual meeting platforms play an essential role in connecting employees from various locations. However, back-to-back meetings can bore and tire you out. This is precisely why the best virtual backgrounds can come in handy in perking you up.  
A study by Microsoft states,

23% of U.S. workers said that video meetings make them feel uncomfortable, and  40% say that the background setting is the reason for their reluctance.

The best solution to this problem is: Add an engaging background to your meeting app. 

First, let us get the basics right:
1. What is a Virtual Background?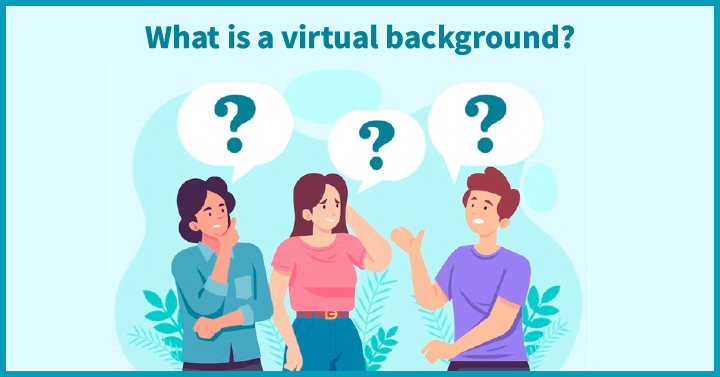 Virtual backgrounds allow you to hide your background and replace it with an image, video, or GIF during a virtual meeting. Even though many virtual meeting platforms have in-built backgrounds, you can now customize your background for various meeting apps. Having a customized background for all meetings will help in maintaining consistency while switching between meeting apps.
2. What is The Importance of a Virtual Background?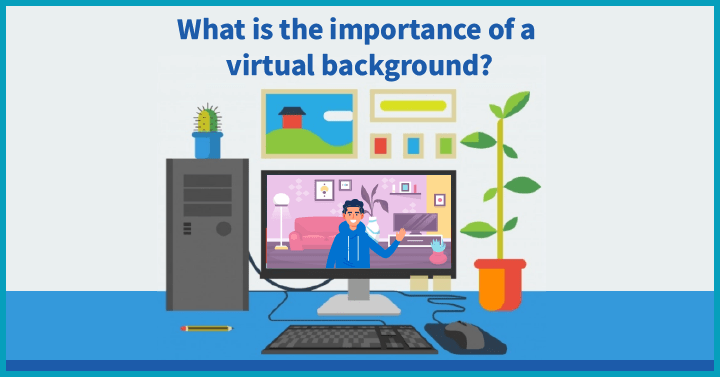 A poor or messy background will often distract members during a team meeting. Having a professional virtual background will help employees focus and concentrate on the meeting. They will no longer be distracted by a book, pet, or a family picture on your wall. It will also help you give your home a professional office look. A virtual background will also remove the "vanity stress" of letting people into your space and you can also avoid last-minute cleaning to have a proper background. Virtual backgrounds help give a professional look, but it can also bring in a bit of humor for informal sessions.
3. 10 best virtual backgrounds for meetings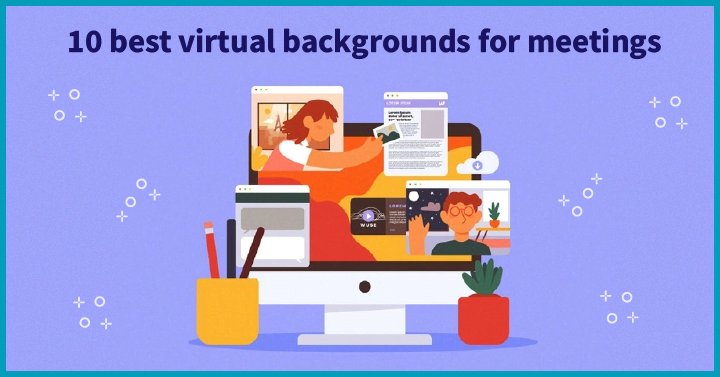 3.1 Krisp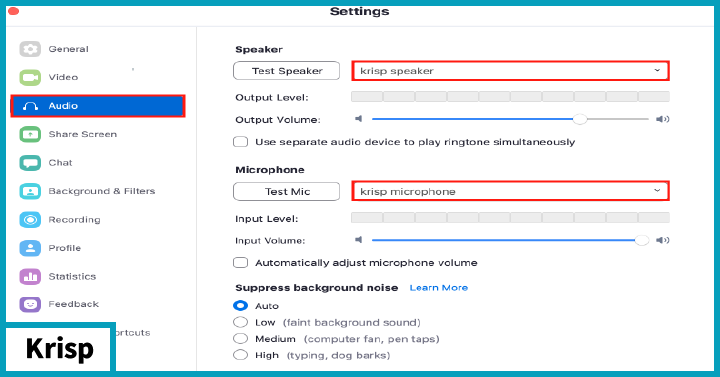 About
Krisp was founded by Armenian entrepreneurs Artavazd Minasyan and Davit Baghdasaryan in 2017. 
It is an AI-powered application that removes background noise and provides virtual backgrounds in real-time calls. Krisp enables you to remove audio and video distractions in a meeting with a single click. Depending on your demand, you can choose your favorite background from the huge gallery provided by Krisp. If you did not find your desired background, then you can upload your favorite image as your background. I like it because it is user-friendly and does not overheat your system. It also helps you maintain a consistent background even when switching meeting apps.
Top Features of Krisp Virtual Background
A gallery of free virtual background images
Upload your own virtual background
Free noise cancellation and echo removal
Pricing- Free. To remove branding, upgrade to the Personal Pro plan for $5/month billed yearly.
3.2 XSpilt VCam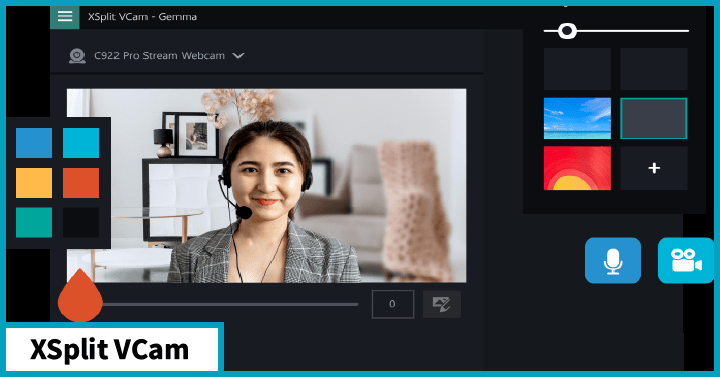 About
XSplit was founded in 2009 in the Philippines by Henrik Levring, who owns the SplitmediaLabs. 
VCam was founded to make virtual communication simple. One of the major highlights of the XSplit VCam is that it does not require any green screen or lighting setups to blur and remove your background. Since the app supports JPEGs, GIFs, PNGs, or even full web pages, it increases your video quality. Along with this, there are numerous personalization options for replacing your background. The app's ability to provide privacy without any expensive green screen makes it one of my favorites.
Top Features of VCam
Remove and blur background
Add virtual backgrounds from VCam gallery, uploaded from your computer or webpages
Edit background's brightness, saturation, and hue
Pricing- Free limited version. Premium version starting at $8/month
3.3 ManyCam
About
ManyCam was founded by Jon Hundley and Anton Bondar in 2006 and is now owned by Visicom Media Inc. 
Similar to XSplit Vcam, ManyCam also allows you to blur, remove, and replace your background with images or videos without a green screen. However, what makes  ManyCam different from VCam is the whiteboard feature. This feature allows you to draw or add text on the virtual whiteboard during meetings. In addition, you can make your background more colorful and have face filters and distortion options. This is my favorite feature of this app because team members can experiment with various filters and distortions and have fun in meetings. The virtual whiteboard also comes in handy during team-building activities and virtual games.
Top Features of ManyCam
Blurs background
Whiteboard and layers
Import your own presets
Pricing: Free limited version. Paid plans start at $39/year.  Lifetime access for $79.  30-day money-back guarantee for all plans.
3.4 SparkoCam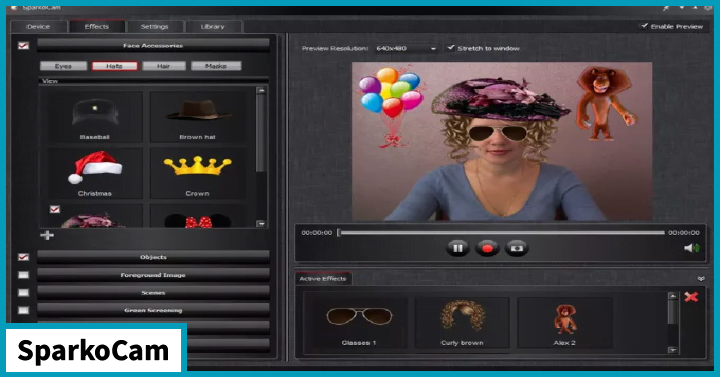 SparkoCam was developed by SparkoSoft in 2020 to help people use their DSLR cameras in webcam mode for video conferencing and streaming. 
SparkoCam allows you to stream and has conference calls from various sources like a regular USB web camera, Canon DSLR, or Nikon DSLR camera. You can also upload videos and images from your computer and post them as webcam feeds. The easy user interface and features like 3D anaglyph effects make it different from other apps. In addition, the face accessories and animated objects available in the library make the meetings more exciting and fun.
Top Features of SparkoCam
Add real-time effects and graphics to video
Add face accessories and animated objects like hats, masks using face tracking capability
Create your own custom items by importing PNG or GIF images
Pricing- Free version available. Paid plans start from $39.55 for the standard version.
3.5 MmHmm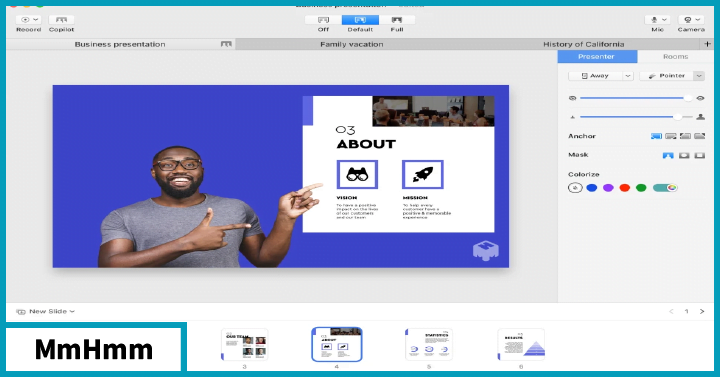 MmHmm was introduced in 2020 by mmhmm. Inc as a virtual camera application that can make creative backgrounds for video conferencing calls. 
The app can remove your messy backgrounds and add backdrops to give your video a professional look. One of my favorite features of MmHmm is that the inbuilt presentation tools enable you to collaborate with your remote team members and give more interesting presentations. The animated virtual backgrounds in its library like clouds floating by or a cabin with fire are some of my other favorites for a fun and engaging virtual meeting. 
Top Features of Mmhmm
You can adjust the size of the presenter
Create and present slides within app
Copilot mode for editing and presenting with a team meeting
Animated virtual backgrounds and face filters
Laser pointer for presentations
Add text, GIFs, video, and images to presentations
Price: Paid plans start at $8.33/month billed yearly. 14-day trial, after which it is the limited free version. With the free version, you can access the Premium Tools for one hour a day.
3.6 AlterCam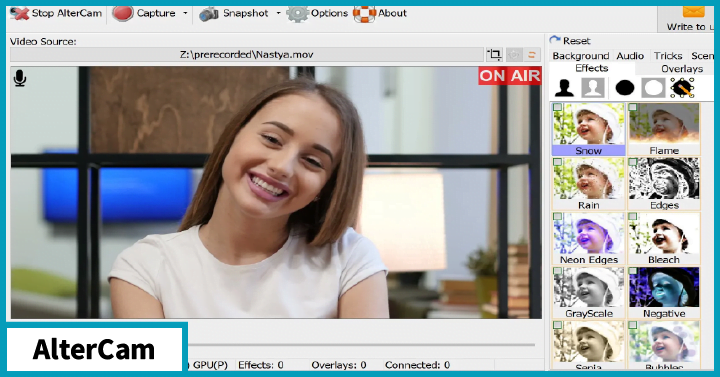 About
AlterCam software belongs to Bolide Software and was founded by Max Smirnoff in 2003.
AlterCam has some impressive video effects, borders, and overlays for your video calls. You can add different colors, borders, images, and video files into your background or add various graphic objects. One of the key features that make AlterCam my favorite is its ability to give you a facelift in case of bad lighting. AlterCam also has a chroma key function that helps you convert green screen backgrounds into your desired image and create stunning effects. AlterCam is another background app ideally suited for informal meetings and team-building activities. Team members can play around with various effects and filters in a meeting to infuse humor.
Top features of AlterCam
Facelift during bad lighting
Wide range of colors, images, and videos for your background
Add graphics to your background
Pricing- Lifetime line for a single user- $39.55. For Business license- $199.95
3.7 ChromaCam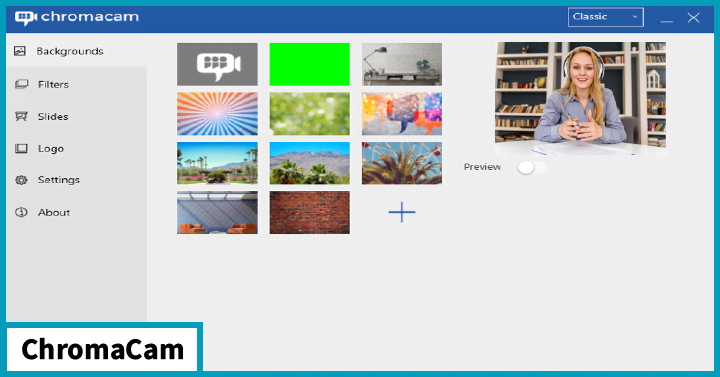 About
ChromaCam was founded by Personify, Inc in 2010 and is headquartered in Chicago. It is owned by Minh N. Do, Quang Nguyen, Sanjay Jeram Patel, Wen-Mei Hwu, and Dennis Lin. 
ChromaCam is an AI-based desktop webcam application that enables you to remove, blur or replace your real-life background in video chat apps without a green screen. Almost all major video apps such as Skype, Zoom, WebEx, or streaming apps like OBS, XSplit supports ChromaCam. You can upload your own images to replace the background or apply a blurring filter to remove your background. The ability of the app to secure privacy by blurring the background and replacing it with an image without any green screen makes it one of my favorites. Another feature that I like the most is that we can create our own logo for our background and look more professional.
Top Features of ChromaCam
Upload your own logo and background
Overlay filters on the background
Blur background and use preset virtual backgrounds
Price: ChromaCam Lite is the free version. Paid versions start at $6.99/month or a one-time fee of $44.99 for access forever. ChromaCam Pro access comes for free with paid GoToMeeting accounts.
3.8 CyberLink PerfectCam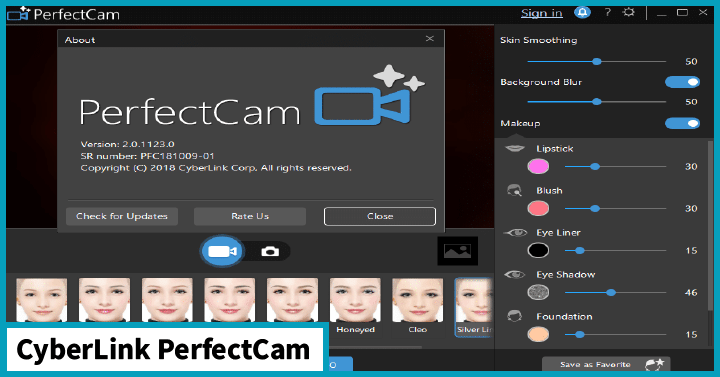 About
Cyberlink PerfectCam is founded by Hau Huang of CyberLink Corp and is located in Taiwan. 
PerfectCam contains AI Facial recognition features that can differentiate people and background settings. The AI facial recognition is my favorite feature of PerfectCam. Using this, I can replace my background with a Background blur or a Custom Background Image and it also has to face touch-up tools that can give me a facelift during meetings. PerfectCam ensures increased privacy and confidentiality while keeping the focus on you. PerfectCam is a suitable tool if you want your team members to completely focus on you during a meeting.
Top Features of CyberLink PerfectCam
Virtual backgrounds and background blur
Lighting adjustments and AI-powered face touch-up tools such as makeup and skin-smoothing
Price: Free trial available. Paid plans start at $9.99/month.
3.9 CamTwist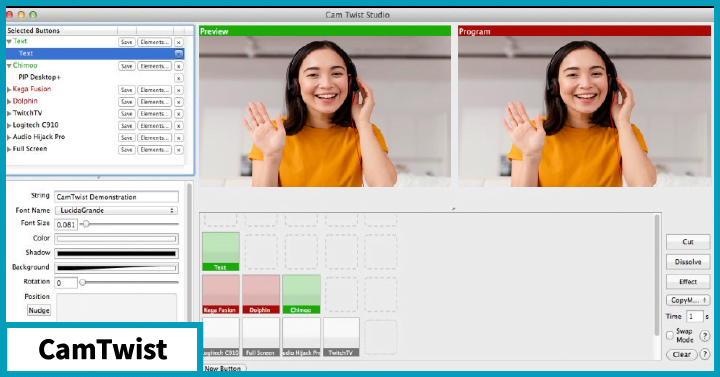 About
CamTwist was founded by Steve Green in 2007 and is headquartered in San Francisco, USA.
Camtwist offers all the basic features of advanced webcam software and supports many video chatting apps. It has numerous video effects that can be used to blur or remove unwanted background and keep the focus on you and the subject at hand. In addition, you can create and save your own backgrounds that suit your purposes rather than using CamTwist's premade effects. You can layer videos and images on top of your webcam footage using the green screen effect to create a unique, customized setting.
The feature that stands out the most is the ability to develop and save our own backgrounds that can be used in the future to give your video a customized look.
Top features of CamTwist
Video effects for background
Develop your own background and save them
Has a green screen effect 
Pricing- Free
3.10 WebcamMax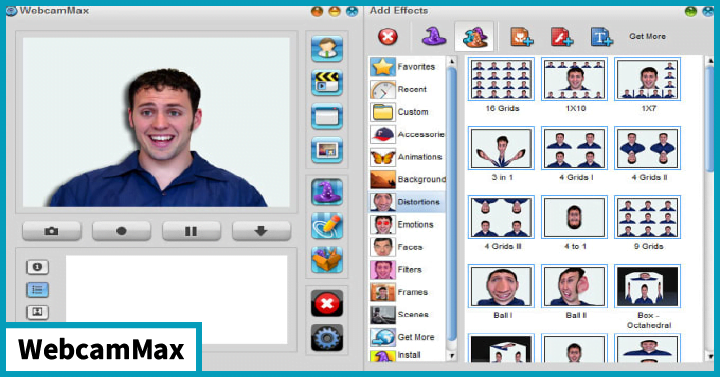 About
WebcamMax program is developed by CoolwareMax Corporation in 2017.
WebcamMax allows you to blur and remove unwanted backgrounds and replace them with frames, images, filters, animations, and transformation effects. The app is user-friendly as it allows you to change your effects even during virtual meetings. In addition, you can draw directly on your video stream, record conversations, and take screenshots. The feature that I like the most is the animation and transformation effects that can be used in an informal meeting.
Top features of WebcamMax
Library of frames, images, filters, animations, and transformation effects
Create custom doodles and effects
Combine and use multiple effects simultaneously
Pricing- Free trial for 30 days. One-year license $29.95 and lifetime license $49.95
4. FAQs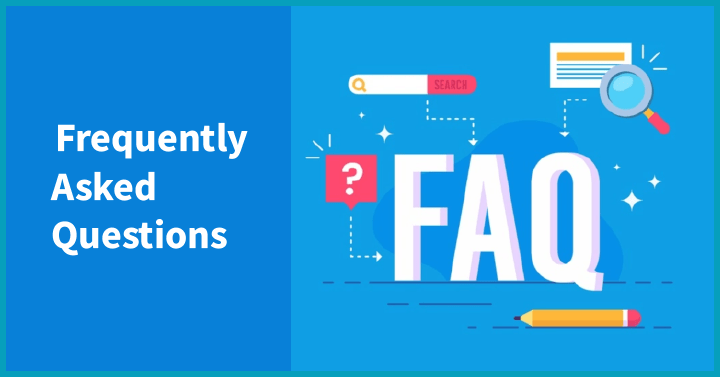 4.1 How to choose the best virtual backgrounds?
Make sure to pick your background based on your industry. For example, nature backgrounds, office backgrounds, or pictures of conference rooms work well. In some instances, solid color backgrounds can work as well. Here are some do's and don'ts while choosing a virtual background:
Do's
Pick a high-quality background in landscape mode 
And decide how you want your team members to see you at first glance
Use a higher quality web camera for better virtual backgrounds
Don'ts
Avoid using images that contain neon light or bright colors
Refrain from using images with weird shapes or patterns 
Avoid wearing clothes that are the same color as the virtual background
4.2 What makes a good virtual background?
Use high-quality, high-resolution images with an aspect ratio of 16:9 and a minimum resolution of 1280 x 720 pixels. While using a background video, make sure the minimum revolution is 480 x 360 pixels (360p) and maximum resolution is 1920 x 1080 pixels (1080p). If your background image includes text, uncheck the 'mirror my video' option in your video settings. Users can also use non-reflective backgrounds and keep the background close to them. Also, don't wear clothing that has the same color as your background.
4.3 How do I change the Zoom background for free?
Zoom has the option to change the background and upload images either from their library or you can upload your own picture. To do that follow these steps: 
Log in to the Zoom web portal. 
Under Room Management, you'll see Zoom Rooms.
On top of the page, select the Account Settings option. 
Select the option to Upload New Image in the Account Profile tab, which is below the Background image option.
Hover your cursor on the desired image to select it and click Open. 
4.4 Do virtual backgrounds make online meetings more engaging?
Yes. Virtual backgrounds not only help to maintain privacy and set boundaries. Using a funny virtual background in an informal meeting session or towards the end of a meeting can bring in humor and help employees relax. Zoom and Microsoft Teams now have the option to set the same virtual background for all members. This helps them feel more connected even though they are in different spaces.