Cherry blossoms, warm mornings, bunnies, and a chance to put all your eggs in one basket - it's Easter time! Easter is approaching, and you cannot wait to spend the holiday with your loved ones. With the ongoing pandemic and no chances of meeting anyone in person, it is now possible to have a great Easter celebration party at work with these virtual Easter ideas for office staff.
Be it the Easter egg hunt, the smell of freshly-baked bread and carrot cakes, celebrating Easter traditions brings joy to the heart. To add your coworkers to the fun and create new memories with them, here are 15 virtual Easter ideas for office staff that are bound to give your Easter celebration some fabulous festive vibes!
Ready to take your virtual celebrations to the next level and create unforgettable memories? Explore the best ideas on virtual birthday parties, company anniversaries, Halloween parties. If you are looking for a dose of inspiration, check out the latest article on culture of gratitude that will surely provide a motivational experience. You can also delve into our interesting articles that reveal the perfect ways to make every occasion like - St. Patrick's Day, Independence Day, Diwali, Earth Day truly memorable.
For creative ideas on making special occasions heartwarming for your loved ones, read our articles on Thanksgiving, Father's Day, and Mother's Day
1. What is Virtual Easter?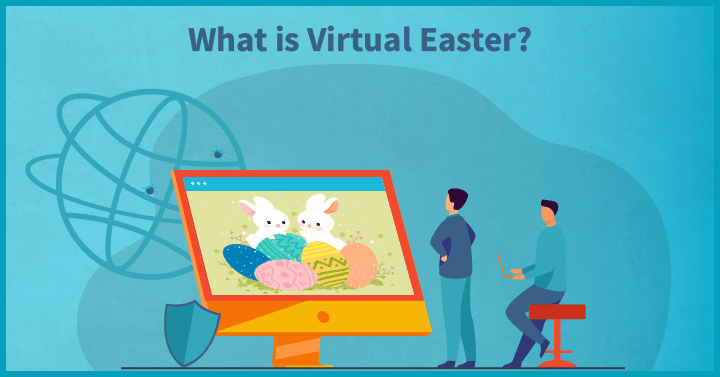 Virtual Easter is an online Easter celebration with family, friends, colleagues, and acquaintances. People gather virtually to share a meal, have casual conversations, and do easter activities for workplace and games together.
Easter is celebrated on a Sunday anywhere between March 22 to April 25 every year. It marks the onset of Spring. It is also known as Resurrection Sunday, signifying the resurrection of Jesus Christ from the dead after his crucifixion and burial. Followers of Christianity observe a 40-day period of fasting called Lent which marks the beginning of the Easter season.
2. How to host a Virtual Easter?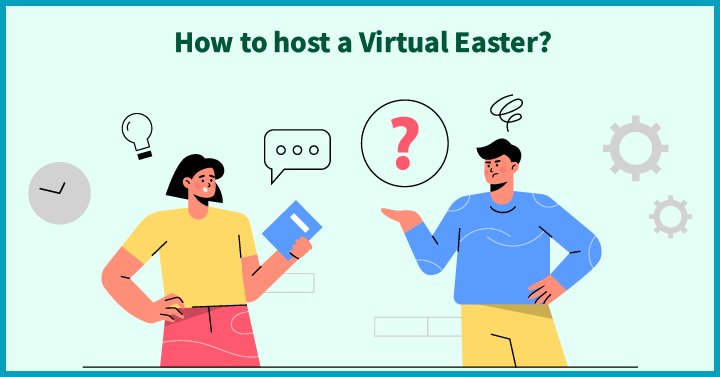 Choose the right virtual conferencing platform according to your team size. You can select a platform like Teams and Zoom which have features to record the session, have a chat box, and emoji reactions.
Select an appropriate time beforehand for the get-together. Since it is a holiday, people may have plans for the day with their families or friends. Set a time and send an invite, and ask people to RSVP to the invite.
Decide on an activity to do together with your team. You could send a survey to get some easter ideas for office staff and have everyone agree upon one or more to do. Ensure the games and easter activities for workplace are ones that can be done virtually. Arrange for a professional for the activity if needed.
Last but not the least, don't forget to have a great time!
3. 15 Virtual Easter ideas
3.1 Easter Celebrations with Hooray Teams

You can host an activity with the help of Hooray Teams for Easter. They are a virtual teambuilding platform that helps organizations host activities and events for their employees. Our pick for easter would be the paint-a-tote activity. They take care of the whole thing, right from delivering the supplies to your doorstep to creating the Zoom link for your activity.
3.2 Virtual Easter Scavenger Hunt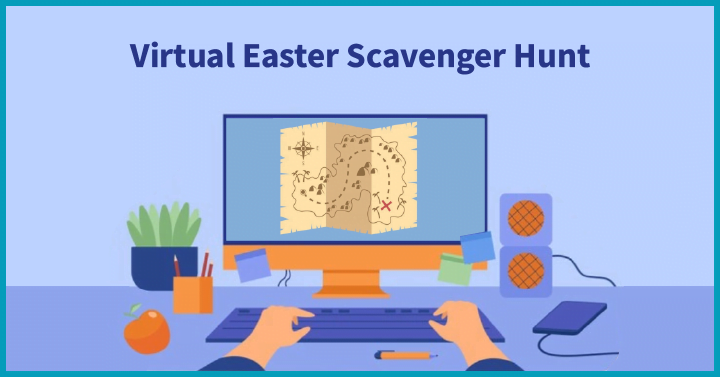 An online scavenger hunt can be quite an entertaining virtual Easter idea. All you have to do is create a list of Easter-related household items or easter activities for workplace, and ask participants to fetch the item or perform the activity. The person who gets the most items first or performs the easter activities for workplace successfully wins.
You can keep the duration for each round quite short so that it keeps the attention of the audience captivated. Some examples for the scavenger hunt can be:
Draw a bunny
Paint an egg
Get a basket
Eat a whole cupcake
Bring any stuffed animal toy
Eat 5 jelly beans
3.3 Virtual Easter Bingo Game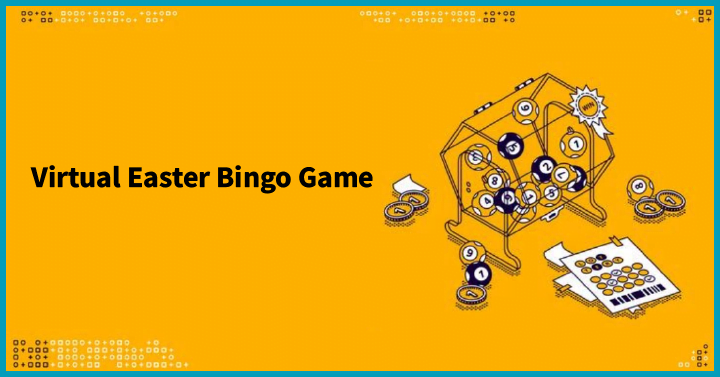 Nothing like a virtual Bingo game that keeps you on your toes and brings on your competitive side. You can give participants a virtual Easter bingo card and ask them to cross all the squares. The participant who finishes the whole card first wins.
The card can be filled with fun Easter traditions, Easter-related dishes, and other easter activities for workplace. You can fill the squares with your own clues, or use the templates by Team Building and Pop Events. Some examples of the clues can be:
Eaten the traditional Easter bread
Collected more than 6 Easter eggs
Owns more than three stuffed animal toys
Been to an Easter potluck
Cooked ham for Easter
Owns a printed umbrella
Has their birthday in April
3.4 Virtual Easter Egg Decoration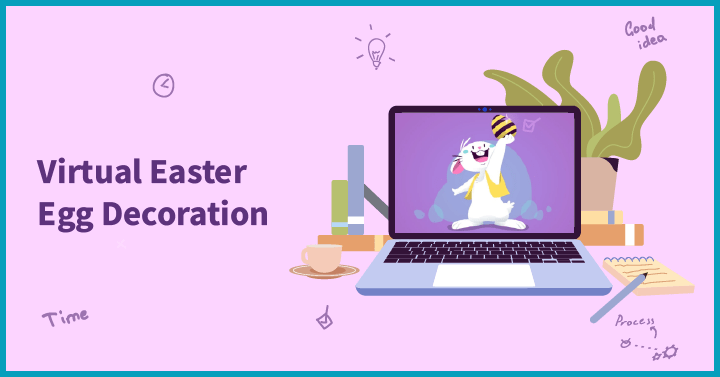 One of the most common and probably the most amusing virtual Easter ideas is the Easter egg decoration. Participants can invite their family members and kids to join the activity. More people, more fun! You can carry out the activity with your remote staff in the following ways:
Ask participants to use a digital whiteboard draw an egg, and proceed to decorate it. They can share their screen to display their creations.
Participants can also make eggs with paper mache and decorate them in any way they want.
The employees can also boil real eggs and paint on the shell. Use paint, glitter, confetti, stickers, anything - the only rule is to go wild!
You can also use an app or a website that allows you to decorate easter eggs, like Easter Egg Maker or Easter Egg Decorator.
For those who want to go the old-school way, simply draw an egg on paper and decorate it. Share your screen at the end to show the results!
3.5 Virtual Easter Egg Hunt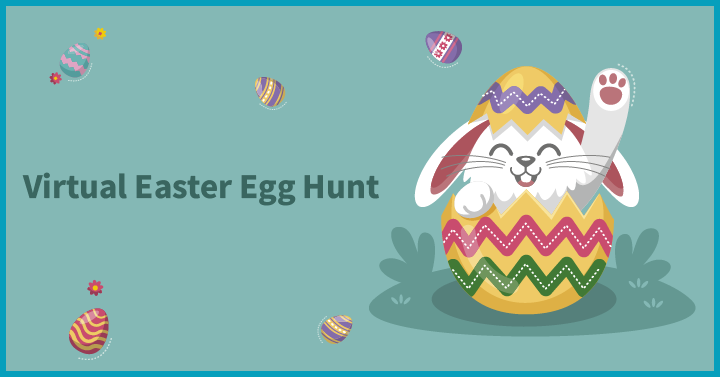 What's more fun on Easter than the traditional Easter egg hunt game? Now, you can recreate the magic with your remote teams. Ask participants to hide the eggs at different spots in their house, be it the kitchen, the basement, or even in plain sight, but not that evident. Click a photo of the egg without giving away too much of the hidden spot.
Share your screen with the photo snaps, and the team must guess the hidden spots. Be creative while giving clues! Each participant can take turns sharing their screen to show the photos of the hidden eggs. Sounds like a very egg-citing game!
3.6 Mail Easter Baskets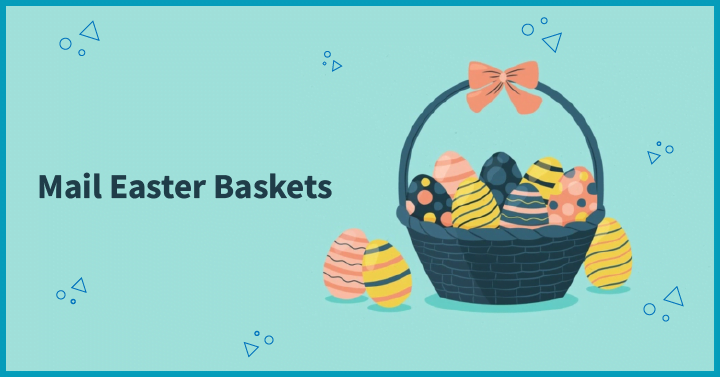 Do you remember waking up on Easter and running to raid the candies inside the Easter basket? Live your childhood memories with the good old Easter baskets this virtual Easter. Fill some Easter baskets with goodies and mail the baskets to your employees in advance. Gather together over a video call to share your childhood experiences and Easter stories.
In case there are employees to whom Easter baskets cannot be mailed due to delivery, distance, or any reason, you can send them vouchers or coupons to purchase the Easter baskets in their city and join the fun! Some examples of the goodies to fill the basket can be:
Chocolates and candies
Bunny-shaped confectioneries
Carrot-shaped or carrot-printed goodies
Stationery and craft items
Stuffed animal toys
Easter keychains
Quirky desk toys
3.7 Brunch-Off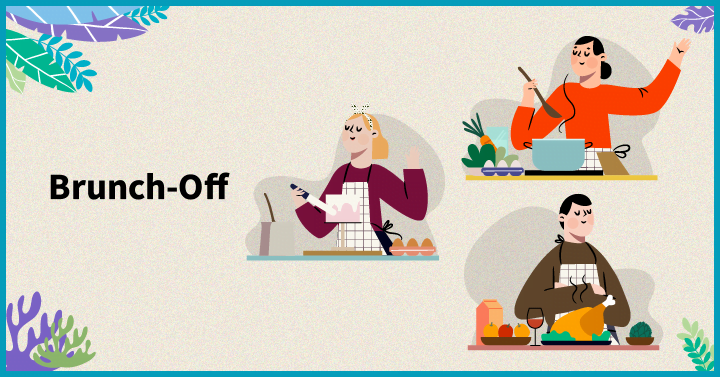 Bring on the holiday cheer by holding a virtual brunch with your team. All the team members can prepare a meal of their choice for the brunch. You could also email some delectable Easter recipes like frittatas, Easter bread, carrot cake, deviled eggs, potatoes, ham, chocolate desserts, etc. Set a time for the brunch and come together over a call to have the meal.
You could also arrange for meal kits to be sent, or even set up an online cooking class before brunch. This gives an opportunity for employees to learn new dishes, get some cooking tips, and simply have a great time with the team!
3.8 Easter Virtual Happy Hour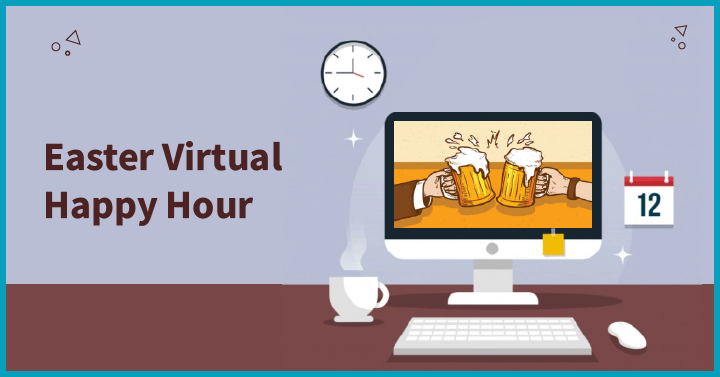 Another great way to keep up the spirit (pun intended) of Easter is to host a virtual Happy Hour with your remote team. Easter-worthy cocktails are all about the bright colours, seasonal ingredients, and fresh flavours.
This spring holiday, send your team some delicious cocktail recipes that are sure to fit everyone's style and taste. You could also send some dessert or snack options to pair with the drinks such as carrot cake, choco-chip cookies, lemon tarts, and more.
Some cocktail ideas can be:
3.9 Easter Icebreaker Questions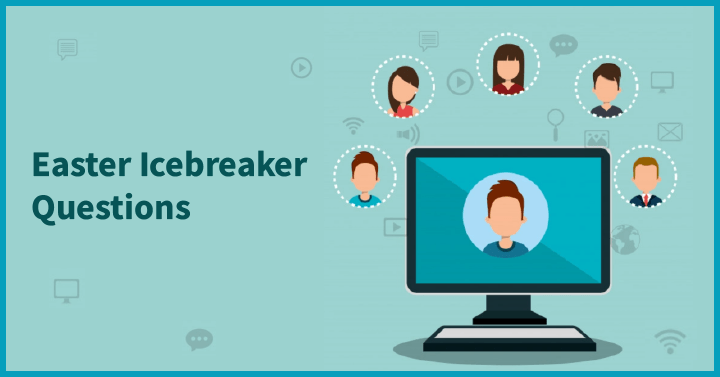 Easter icebreaker questions can be a fun virtual Easter idea for you to do with your remote teams. It helps break the ice (and some eggs in this scenario) and jump-start conversations among employees. It could be really helpful for new employees to get acquainted with each other and with the team.
Some examples for the fun and quirky ice breaker questions can be:
On a chocolate bunny, would you eat the ears or the feet first?
Which is the first spot in your house you go to look for an Easter egg?
What stuffed toy would you prefer the most: Bunny, duck, or chick?
Which animal would you choose as the Easter mascot, and why?
Which season do you like: Spring or Fall?
3.10 Watch Farm Animal Webcams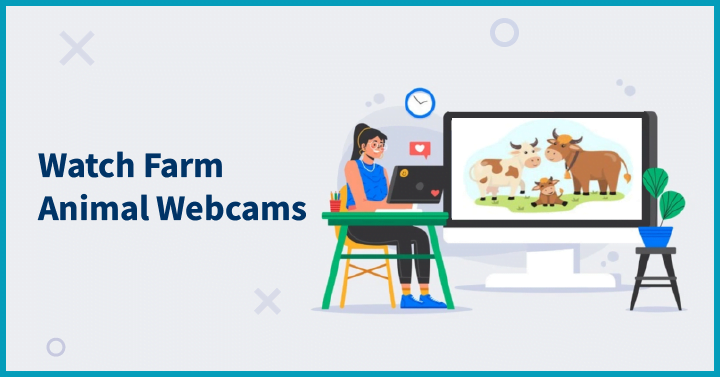 Add some sweet and heartfelt moments to your virtual Easter celebration party. Pay a virtual visit to some farm animals with your employees. Apart from bunnies, you can also take a look at ducklings, chicks, lambs, sheep, goats, pigs, etc. You could bring in the rest of your family for this too!
Farm animal webcams broadcast real-time animals going about their routine on the farm. Be it playing around, sleeping, eating food, et. you can observe them and learn about their caretaking by watching the webcams. Here are some live animal farm webcams that you can check out:
3.11 Virtual Easter Trivia Challenge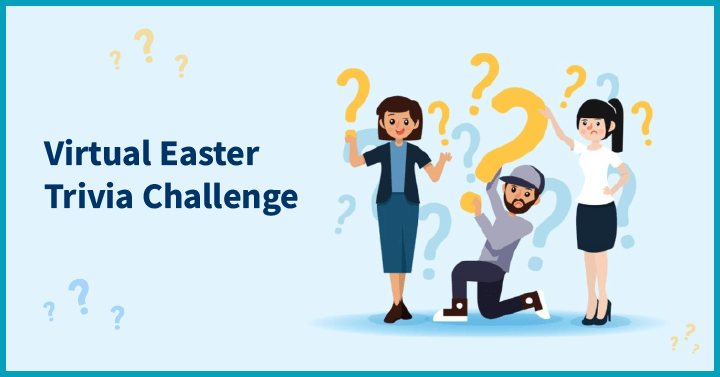 Adding some of that Trivia madness and fire to a Virtual Easter party is never a bad idea. Get your thinking caps and buzzers ready for an exciting round of virtual trivia with your remote staff. The questions can be based on Easter-related movies, traditions, history, literature, music, and more.
With the employee size in mind, you could create breakout rooms on your virtual conferencing platform and have the quiz with each group, or create teams with all the members and play at the same time. Announce compelling prizes for the winners which could be sent via email or can be downloaded.
3.12 Duck Duck Goose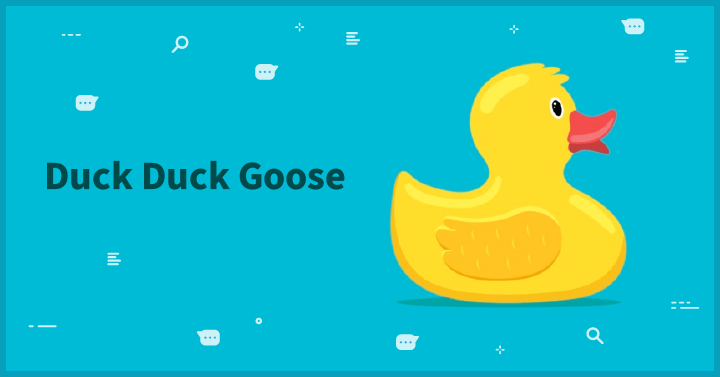 Wondering if this is another entertaining virtual Easter game idea? You're egg-actly right! Duck Duck Goose is a game that you can play virtually with your team. Collect photos of all your employees and create a powerpoint presentation using pre-made PowerPoint templates. Mark one employee as 'the bunny', and start the slide show.
Whenever the bunny appears, all employees have to do a pushup or hop 5 times or jump 3 times - you can decide the action. Whosoever is the last person to finish the activity, they are out of the game and their picture becomes 'the bunny'. The game acts as a good workout after all that delicious Easter meals!
3.13 DIY Sock Bunny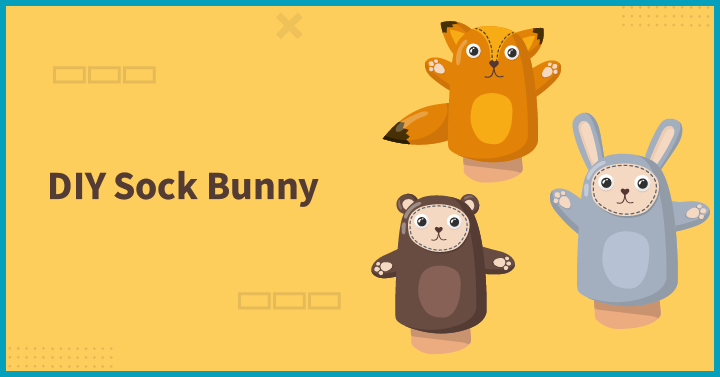 Channel your inner crafty side and bring out your crafts box to make your very own DIY sock bunny. You can have your screen shared with your your employees with a DIY tutorial video on, and create adorable sock bunnies together.
You just need markers, scissors, tape, marker, some thread, rice, and of course, a sock! Fill 3/4th of the sock with rice, tie it up with the thread. This is the bunny's body. Fill the rest of the sock with some more rice for the face and tie it up. Cut a slit on the upper part for ears. Draw eyes, nose, and lips on the face. Decorate and tape a ribbon on the neck. There you have it, your DIY sock bunny!
3.14 Internet Easter Egg Hunt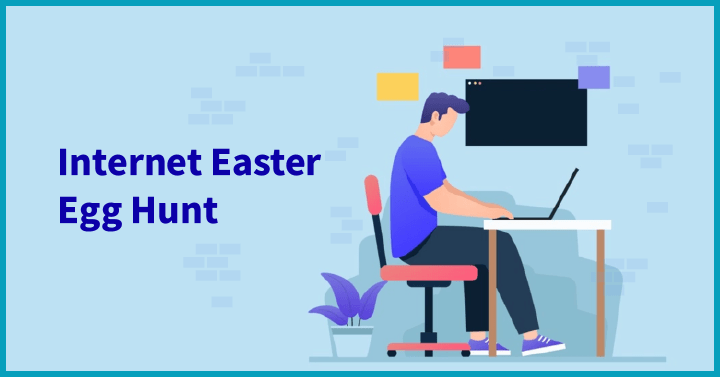 One of the most exciting virtual Easter ideas, Internet Easter egg hunt calls for all participants to look for eggs on internet websites. A fun challenge for programmers who can hide the eggs on your company's website cleverly. You could also upload old pictures of your team on your company's social media pages and photoshop the egg somewhere in it, making it difficult to spot.
You could also use online applications or platforms like Egg Hunt Online, Easter Egg Hunt, and Online Family Egg Hunt to look for eggs together. These are multiplayer games making them available for everyone to play at the same time.
3.15 Flower Bouquet Making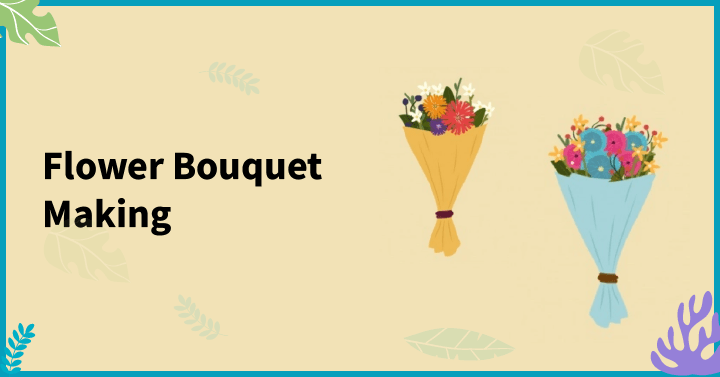 Nothing comes close to feeling like spring like the smell of freshly-cut flowers. This virtual Easter holiday, arrange a flower bouquet-making session for your remote employees. You can have a DIY session on it, or call a professional to guide you through the process online.
All participants can bring flowers of their choice, a vase, water, and greenery for filling the arrangement. Cut the stems at an angle depending on the vase size, and arrange the larger flowers first. Add the shorter flowers, and layer the greenery to your arrangement. Voila! You have a centerpiece for your Easter lunch or dinner.
If you'd like to go a step further, you could also plant a sapling in your garden or backyard and make it a yearly tradition to do with your team.
3.16 Virtual Paint Session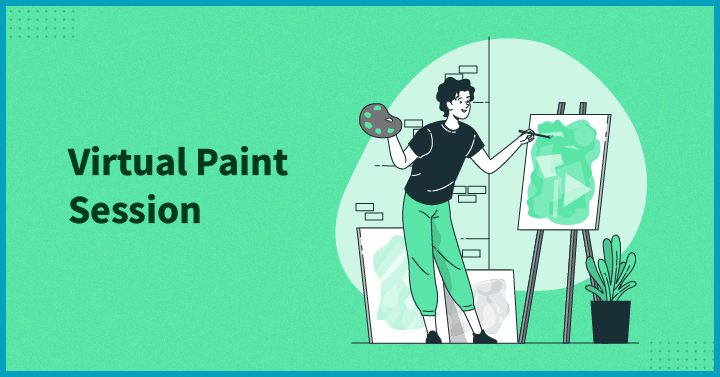 A Spring holiday is all about bright colors and a breath of fresh air. Get your hands dirty on a virtual Easter party by holding a virtual paint session with your team. You could pick an Easter-related or a Spring-related theme for the painting like Easter egg baskets, cherry blossoms, bunnies, farm animals, etc.
All you need is a canvas or a painting book, paints of your choice, brushes, a palette, and some water. You could have your team on a call throughout to share experiences and have casual conversations while painting. In the end, display all the paintings for everyone to see. Share the pictures of everyone's creations on your company's website and social media channels.
4. FAQs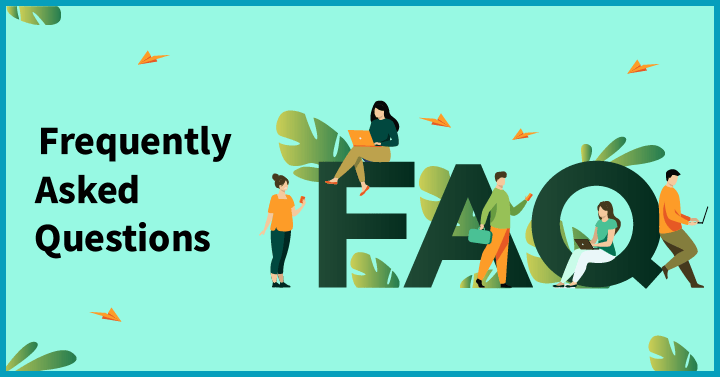 4.1 Is there a way to do a Virtual Easter egg hunt for office employees?
You can do a virtual Easter egg hunt for office employees in multiple ways:
Hide the eggs at your office and take pictures of them, and ask participants to find the eggs in the picture.
Hide digital eggs on your company's website and ask your team to look for the same.
You can photoshop the eggs on your team's picture and challenge everyone to look for them.
Choose any online application or website like Easter Egg Hunt or Egg Hunt online to play it with your team.
4.2 How do people celebrate Virtual Easter at work?
You can celebrate virtual Easter at work with your remote teams by gathering over a video conferencing platform of your choice. Choose an activity for all to do together which can be decided beforehand. You can hire professionals to facilitate the activity if needed. Record the session to have it on the cloud for memories. Overall, enjoy your time with the team!
4.3 What are some best virtual easter activities?
Some of the best virtual easter activities include - virtual spring bingo, bunny hop workout, virtual egg hunt, and easter scavenger hunt.
{
"@context": "https://schema.org",
"@type": "FAQPage",
"mainEntity": [{
"@type": "Question",
"name": "Is there a way to do a Virtual Easter egg hunt for office employees?",
"acceptedAnswer": {
"@type": "Answer",
"text": "You can do a virtual Easter egg hunt for office employees in multiple ways:
Hide the eggs at your office and take pictures of them, and ask participants to find the eggs in the picture.
Hide digital eggs on your company's website and ask your team to look for the same.
You can photoshop the eggs on your team's picture and challenge everyone to look for them.
Choose any online application or website like Easter Egg Hunt or Egg Hunt online to play it with your team."
}
},{
"@type": "Question",
"name": "How do people celebrate Virtual Easter at work?",
"acceptedAnswer": {
"@type": "Answer",
"text": "You can celebrate virtual Easter at work with your remote teams by gathering over a video conferencing platform of your choice. Choose an activity for all to do together which can be decided beforehand. You can hire professionals to facilitate the activity if needed. Record the session to have it on the cloud for memories. Overall, enjoy your time with the team!"
}
},{
"@type": "Question",
"name": "What are some best virtual easter activities?",
"acceptedAnswer": {
"@type": "Answer",
"text": "Some of the best virtual easter activities include - virtual spring bingo, bunny hop workout, virtual egg hunt, and easter scavenger hunt."
}
}]
}