1. What is a virtual baby shower?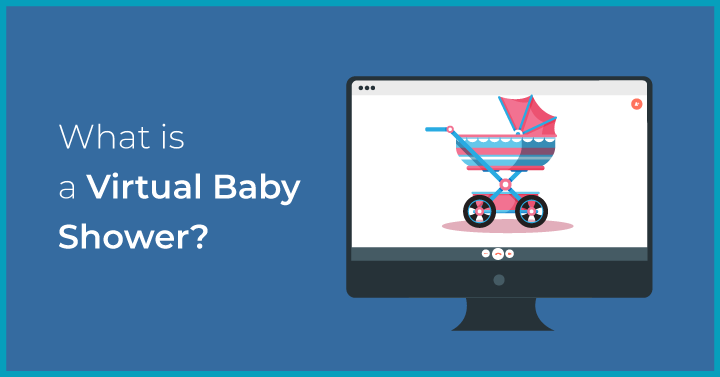 A virtual work baby shower is a party thrown in honor of the mom-to-be. Unlike in-person gatherings, a virtual baby shower for coworker is held on video conferencing tools like Zoom. 
Virtual baby shower ideas for coworkers gives teams a chance to partake in the festivities when distanced. The participants join using a meeting invite link and offer their wishes to the parents while on call. Since it's all digital, it's necessary to remind everyone to test and confirm that their audio and video works fine before the call starts. 
Let us go into the virtual baby shower ideas for your coworker!
Find out more about Top rated Video Conferencing platforms here
2. How Do You Throw a Virtual Baby Shower for a Coworker?
2.1 Select a theme
A theme helps set the mood and enables everyone to truly get into the festivities. You can rent a tiara and ship it to the mum-to-be, or have everyone fashion crowns using materials they have lying around the house. If the gender is revealed, everyone can also hang up balloons in colors corresponding to the gender, i.e. pink if it's a girl or blue for a boy. The theme you select should be fun and color-coordinated, from the dress code to the background decorations!
2.2 Pick a convenient time and date and time
Plan the virtual work baby shower for a time and day that's convenient to both your team and the expecting parents. Allow enough time for pre-ordered gifts to reach your guest of honor so that they can unwrap them while on the call. You'll need to confirm availability before getting the rest of the planning for the virtual baby shower games for coworkers, food, music tracks, and decor out of the way. Don't let the party drag beyond an hour or two during the workday, considering that others might have things to get back to.
2.3 Issue formal invitations to set the mood
Send out invitations to all and remember to save one for the partner or spouse of the mum-to-be so that they too can be part of this celebration.
2.4 Create a gift registry
While there is the option to register for gifts on sites like Babylist, you can also create a registry of your own. Ask the parents beforehand if there's any particular item on their wishlist that they don't have already so that you can try getting it for them based on its availability. This ensures that a gift isn't repeated. The team can chip in towards a single gift (like a diaper bag or a changing station). Other working parents on your team can even donate their children's prams, toys, or books so long as they're in mint condition and are serviceable. Plan to ship selected and purchased gifts in time for the party after factoring in the average delivery times.
3. Virtual Baby Shower Prizes
Don't let your guests leave without a few prizes of their own! You can gift them a month's subscription to  OTT content on Netflix or Hulu, or vouchers to a favorite restaurant or store.
Get consolation prizes as well, which can double up as party favors for the Zoom baby shower you're hosting. These include 
3.1 Greetabl personalized gift boxes
You can select a gift, write a personalized message on a card and Greetabl will ship it.
Read for more ideas on thoughtful work gift ideas
3.2 Succulents
A low-maintenance potted plant is the best personal effect to add to your work desk. Place your order for as low as $30 on SimplySucculents or UrbanStems.
3.3 Scented candles
A box of scented candles or potpourri adds an inviting ambiance to your place, not to mention how amazing they smell when left on for a while! Check out PAIU's floral potpourri arrangement on Amazon or the constellation-themed 12 pack aromatherapy candles!
3.4 Mobile holders
A mobile holder makes for a great virtual work baby shower gift because it is affordable, convenient, and easy to assemble for the car or house.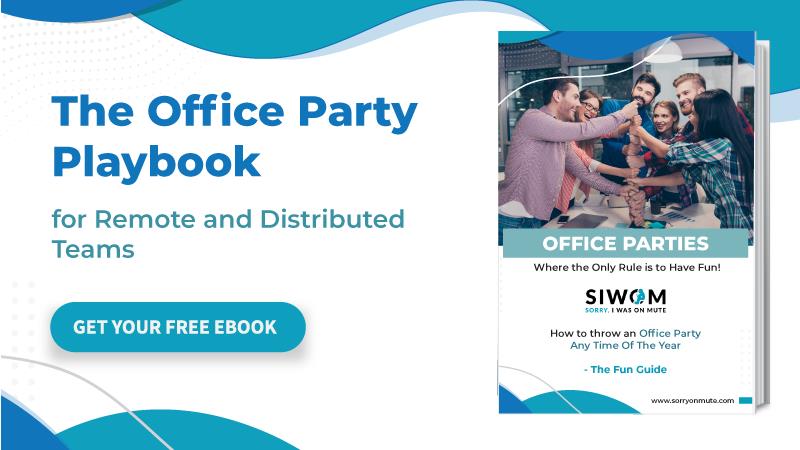 4. Virtual Baby Shower Games for Coworkers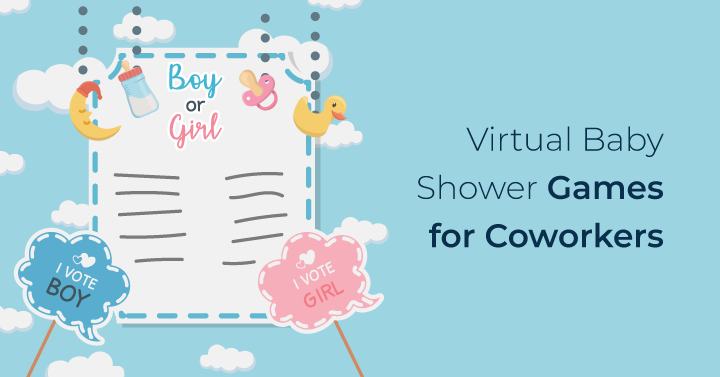 4.1 How big is mummy's tummy?
This is one of those virtual baby shower ideas for coworker where everyone estimates how big the mother's belly is, visually. The party facilitator should secretly ask the mum-to-be secretly to measure her tummy using a tape measure. Write this number down and tell everyone else to cut off pieces of thread, twine, or use the tape measure at home to guess numbers. The person who guesses it right or is closest to the original number wins! 
4.2 Baby got back
Have everyone drop the word baby into their favorite song lyrics. For example," I like big babies and I cannot lie, or Justin Beiber's "Baby" track. You can also have everyone get into a musical battle where they sing one song in turns to the end. One person starts and the music passes around the attendees. It goes without saying that you'll need to decide on a song and ensure that everyone has the lyrics so they can sing along without missing a beat!
4.3 Guess the baby picture
Have your remote team send you their baby photos and keep them ready on your desktop. Share your screen and ask the guest of honor, i.e. the mum, to guess which coworker's picture appears. This is one of those virtual baby shower ideas for coworkers that'll be full of surprises and laughs!
4.4 Who will the baby take after?
You can make guesses for who the baby will look like. But if everyone's up to venture more adventurous guesses, they can describe your coworker's personality and little quirks based on how well they know her and her partner. You can then discuss amongst yourselves what kind of baby the parents can expect to raise.
4.5 Pregnancy Crossword puzzle
Scramble up common pregnancy terms and create a guessing game to unscramble them. Every mom has come up with a template that you can use. You can also create an interactive crossword puzzle on Puzzel. I tried it out for myself and found it really easy! You just need to enter the answer against the clues and the crossword begins to create itself on the right-hand side of the screen. Once you're done, click save and hit the 'Play' button below it which will take you to a separate window. Send this link to all the party attendees with instructions on using the clues given.
4.6 Gift guessing
This is one of the best virtual work baby shower ideas for coworkers who are expecting their first! Your coworker has to surround herself with all her wrapped and untouched gifts. She can hold them up for everyone to see so that they can guess what it contains based on the size and shape of the outer packaging. Whoever guesses it right gets a round of applause from the rest of the team!
4.7 Nursery rhyme-a-long
Take turns singing your favorite nursery rhymes. It can be in one or several languages for a little cultural diversity. You can even stitch them together and mix up the rhymes. For example,
'Mary had a little lamb, and here we go around the mulberry bush '.There's no judgment here so feel free to sing any nursery rhyme you know and remember!
4.8 Who is mommy?
This is a mommy quiz and you can play it several ways during the virtual baby shower games for coworkers. In one version, you can create a quiz based on the mom-to-be's likes and dislikes, and have everyone guess what their favorite drink, food, color, or store to shop at is. Or, you can quiz the mom on baby care by asking her questions on parenting. Make it a bit more competitive by adding a time limit and the number of guesses she gets before the right answer is revealed!
Click here for more fun virtual games ideas with coworkers
5. Food Ideas For Baby Showers During Covid
5.1 High tea
Make tea drinking a communal experience and jazz up your high tea with themes. You can arrange to send sweet and savory condiments according to the theme chosen, such as a tasteful display of pink and blue cupcakes, or patterned serving China.
5.2 Vegan sliders
Sliders are steam-grilled buns and usually contain a meat patty with cheese. Depending on your guest's preferences, you can arrange for vegan and vegetarian alternatives when packaging and shipping food for the virtual baby shower for coworker.
5.3 Okonomiyaki
You can organize a Japanese-themed brunch featuring Okonomiyaki,i.e. pancakes that originate from Osaka. They are made with cabbage and spring onions with an okonomi sweet sauce and mayo. Don't limit it to just pancakes, though. You can serve a smorgasbord of food such as triangular sandwiches, Mochi cheesecakes, Tamagoyaki (rolled eggs) or cookies. Just remember to take Sushi off the menu for now!
5.4 Mini lemon cheesecakes
Is anyone on the team a hobby baker, or do you know someone who can whip up a batch of mini cheesecakes? You can customize them by flavor, and have them spell out the name of your guest of honor before sending them out. 
5.5 Kebabs and tzatziki
Meat lovers on your team will perk up at the sight of skewered kebabs and a Tzatziki dip (as Florence Pugh said on a Vogue Mukbang, Tzatziki goes with everything!). Make sure to source them from a reputable restaurant and serve it on the same day as the event to maintain freshness! 
Click here for more virtual cooking classes ideas
6. FAQs
6.1 Can I host my own virtual baby shower?
There's nothing stopping you from hosting your own shower. If you're keen to do all the planning for the virtual baby shower games for coworkers, fun, and food yourself, go for it. That being said, it's good to check in with your friends and family for help on the guest list, party decor, or any online baby shower games they think merit being included!
6.2 Is a virtual baby shower tacky?
Parties featuring virtual work baby shower ideas for coworkers is still a party and signify how much you support, appreciate and love the mum-to-be. Unless expressly forbidden by the expecting parents, a remote or in-person baby shower is not tacky.
6.3 What do you write on a baby shower invite?
You can write when and where it's happening and indicate the dress code (if there's a theme). Also, write out the name of the mum-to-be and make sure to decorate it with appropriate designs such as that of a stork or a onesie.
6.4 How do you make a virtual baby shower invite?
You can create and personalize your baby shower invites with free invitation card creators like Punchbowl and Greetingsisland. Add the host and party details and finalize the number of guests to email the invite to. You also have the option of downloading it and posting it if you wish to keep the tradition alive!
6.5 How much does a virtual baby shower cost?
The cost to conduct a virtual baby shower for coworker ranges anywhere between $100 to $1,000 depending on the type of gifts, party favors, refreshments, and shipping costs to get them delivered to everyone's door.
6.6 What are some best zoom baby shower ideas?
Some best zoom baby shower ideas are - monogram decor, creating headbands and bows for the baby girl, decorating letters, baby photo game, and little lumberjack.
{ "@context": "https://schema.org", "@type": "FAQPage", "mainEntity": [{ "@type": "Question", "name": "Can I host my own virtual baby shower?", "acceptedAnswer": { "@type": "Answer", "text": "There's nothing stopping you from hosting your own shower. If you're keen to do all the planning for the virtual baby shower games for coworkers, fun, and food yourself, go for it. That being said, it's good to check in with your friends and family for help on the guest list, party decor, or any online baby shower games they think merit being included!" } },{ "@type": "Question", "name": "Is a virtual baby shower tacky?", "acceptedAnswer": { "@type": "Answer", "text": "Parties featuring virtual work baby shower ideas for coworkers is still a party and signify how much you support, appreciate and love the mum-to-be. Unless expressly forbidden by the expecting parents, a remote or in-person baby shower is not tacky." } },{ "@type": "Question", "name": "What do you write on a baby shower invite?", "acceptedAnswer": { "@type": "Answer", "text": "You can write when and where it's happening and indicate the dress code (if there's a theme). Also, write out the name of the mum-to-be and make sure to decorate it with appropriate designs such as that of a stork or a onesie." } },{ "@type": "Question", "name": "How do you make a virtual baby shower invite?", "acceptedAnswer": { "@type": "Answer", "text": "You can create and personalize your baby shower invites with free invitation card creators like Punchbowl and Greetingsisland. Add the host and party details and finalize the number of guests to email the invite to. You also have the option of downloading it and posting it if you wish to keep the tradition alive!" } },{ "@type": "Question", "name": "How much does a virtual baby shower cost?", "acceptedAnswer": { "@type": "Answer", "text": "The cost to conduct a virtual baby shower for coworker ranges anywhere between $100 to $1,000 depending on the type of gifts, party favors, refreshments, and shipping costs to get them delivered to everyone's door." } },{ "@type": "Question", "name": "What are some best zoom baby shower ideas?", "acceptedAnswer": { "@type": "Answer", "text": "Some best zoom baby shower ideas are - monogram decor, creating headbands and bows for the baby girl, decorating letters, baby photo game, and little lumberjack." } }] }