How many times have you been distracted halfway through your project by the game your family is watching in the living room? Or felt so drawn to that movie that you Netflixed it in the middle of your shift? Distractions are inevitable in a Work From Home scenario. So, having a space in your home where you can focus and work is crucial. Luckily home office ideas are galore, and the only 'work' you need to do is be aware of what kind of surroundings you would like in your work office.
So, let us delve into our ocean of ideas that will inspire you to transform your home office for 2023!
1. How Can I Make My Home Office Look Nice?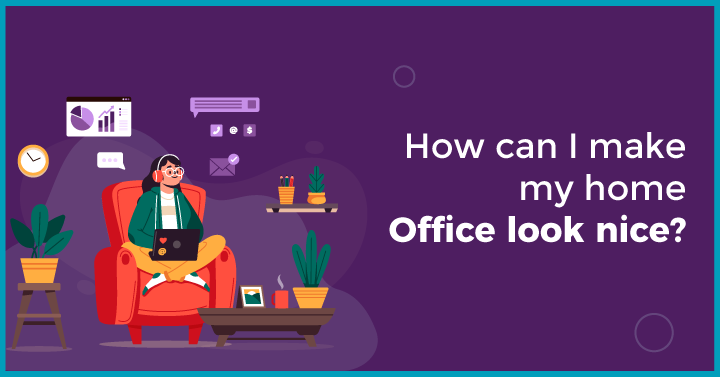 Trust us when we say that your ideal workspace will transform your style and method of working. It need not just be aesthetic because you are always on video calls. A layout or décor that invites you to work and doesn't allow you to give in to distractions can also look chic. Functionality should be the primary aspect of your home office ideas as the goal here is to enhance your work output –
Layout. Everything should have its place and be within an arm's length for easy access. This includes your stationery, notepads, gadgets, notes & memos, whiteboard, etc.
Light. A significant contributor to mood, energy, and attention. We prefer a maximum flow of natural light, and if that is not available, ensure the lighting is white and bright but not overpowering. Also, ensure that it is consistent throughout the space.
Color. Bright colors like red, blue, yellow, green, and purple are known to enhance your efficiency and keep you alert yet calm. You can paint a wall in these colors or substitute a white wall with bright décors like a tapestry, artwork, or wall hanging with these colors.
Sound. If you boast of ample natural light but are located in the city loaded with noise, it can be a damper on your concentration. Soundproof your windows or go for good quality noise-canceling headphones to have quiet and calm background noise.
Electronics friendly. Some of us faced this issue. After setting up most of the home office when we started working from home, we noticed that it did not have sufficient power outlets. And with some of us using desktops, we had no way to hide all those unsightly cables. Take account of these details before setting up your home office.
Once you decide on the above elements, you can add aesthetics to make it more pleasant and energizing.
Minimalism
Space-saving
Sleek and unique
Rustic
Bright and colorful
Monochromatic
Playful
Vintage / Classical
Amidst bookshelves
Outdoors / With a view
One of these would have rung a bell in your head as you read it. Our suggestion, especially if you would be working from home for as long as you can foresee, would be to invest in a workspace that will make you want to get out of bed and work every day.
If you already have a home office and are looking for mini inspirations to turn the place around, then read on for some great mini home office ideas.
2. Home Office Ideas for 2023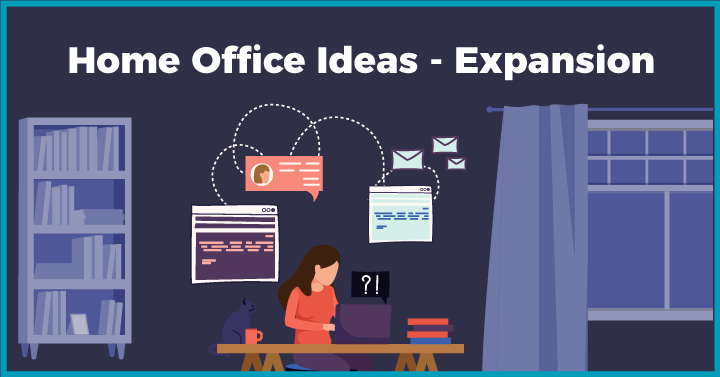 Little drops make the mighty ocean. Don't underestimate the power of small changes. Try these home office ideas to give a twist to your workspace and experience the transformation in your productivity.
You can also look into this list of work from home gift ideas for inspiration and gift it to yourself.
2.1 Transform your workspace layout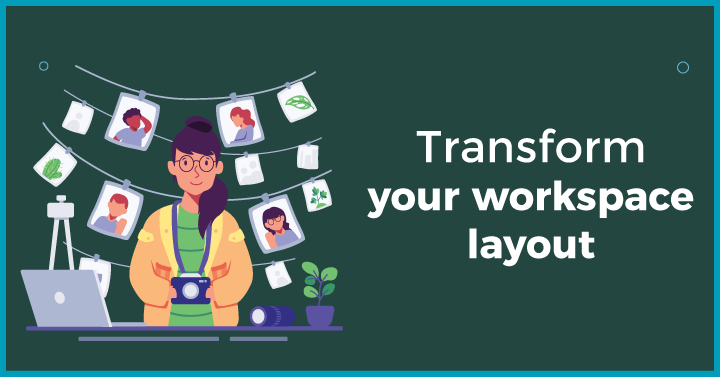 Move your couch over to the other wall, turn your desk to face the window, and even move your entire setup to another room. This is a great large home office idea. Change of place helps in rewiring your perspective (life lessons much?
2.2 Sit or stand while working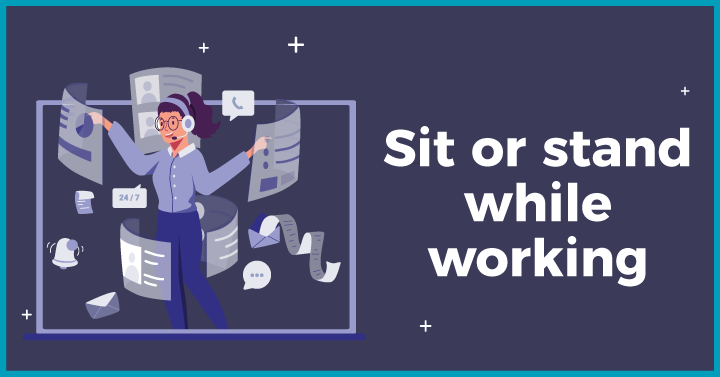 If you are among those who cannot sit in one place for 8+ hours to work, then adding a corner standing desk and an additional high-chair is a great home office idea. You can alternate between sitting and standing while working which has its health benefits too!
2.3 Change your closet into a home office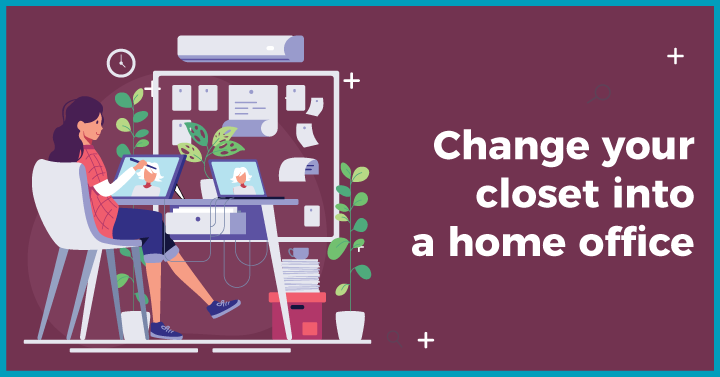 Do you have a closet that you don't use? Or a wardrobe that's full of unused items or clothes? Time to declutter and change it to a nifty little home office. Brighten the place with a refreshing color, add a desk, a couple of shelves, and a desk lamp, and voila! Your own small home office idea.
2.4 Divide rooms with curtains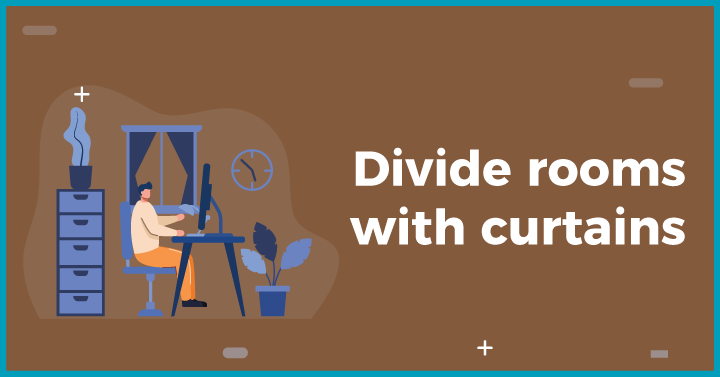 This is especially a great large home office idea if your workspace is in your living room. Add a heavy curtain that spans the width of your room such that it divides the room into the living room and work area when drawn closed. A neat little tip – make sure your desk is close to a place with windows with nice views or natural light for the best of both worlds.
2.5 Find a nook for your work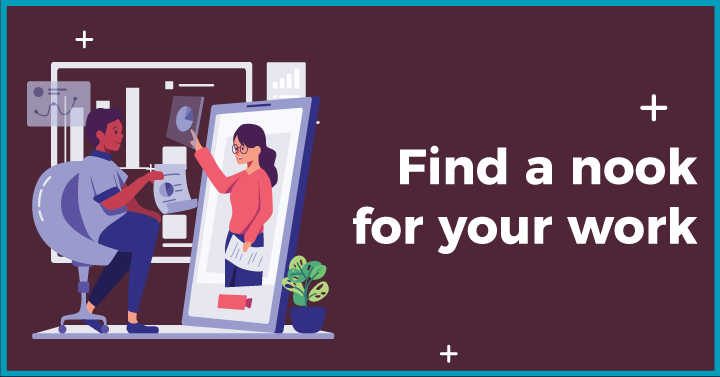 Is a laptop all you need to work? Then an office nook is a perfect small home office idea –This is one of the more popular home office ideas amongst home-workers. Convert a neat little nook of your house that gives enough space for your gadgets and whatever storage you might need, add a desk and a couple of shelves, and you are done.
2.6 Try the floating console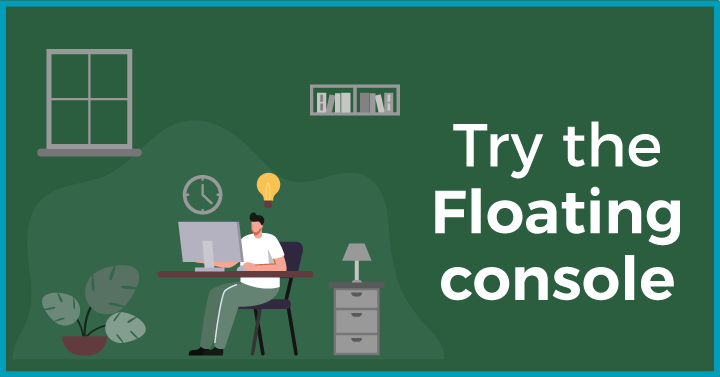 The personal favorite modern home office idea of our thrifty colleagues. You can repurpose an existing floating desk into your workstation. If you don't have one but like this idea, then find a nice bright wall and add a floating desk.
2.7 Hallway office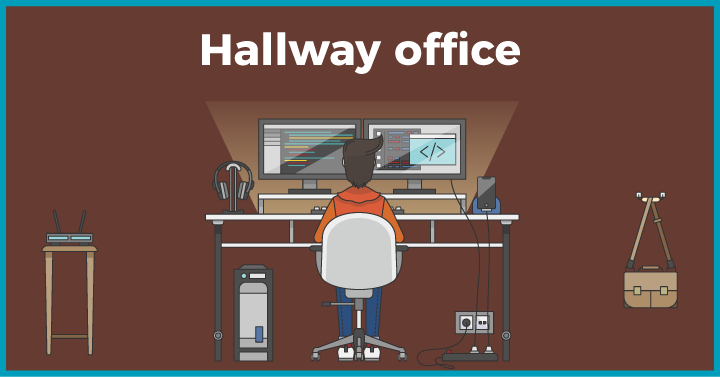 If you live in a compact house or have a long hallway that you have not been able to put to good use, it is now the right time to turn it into a sleek home office. All it would need is a desk with a couple of drawers, a desk organizer, bright lights, and a power outlet.
2.8 Use a statement lamp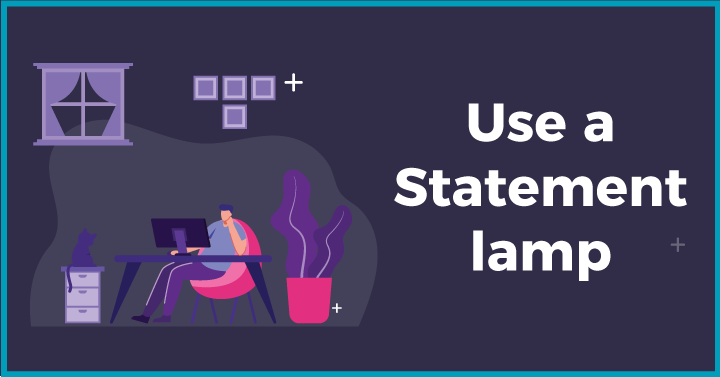 A desk lamp that speaks your language is an excellent addition to a home office, especially if you are a night owl and cannot have the room lights on while your creativity comes knocking.
2.9 Open-air office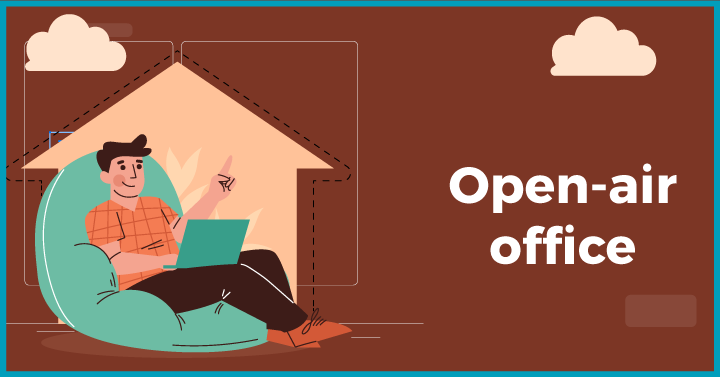 Remember all those times you had to go for a walk to get a breath of fresh air? Now you can make all your breaths fresh by moving your home office to the outdoors – the patio, balcony, deck, even the terrace. If you just want the feel of the outdoors and not be in one, then you can add glass-enclosed spaces or move your desk to a large/long window with a view.
2.10 Bring in a leather chair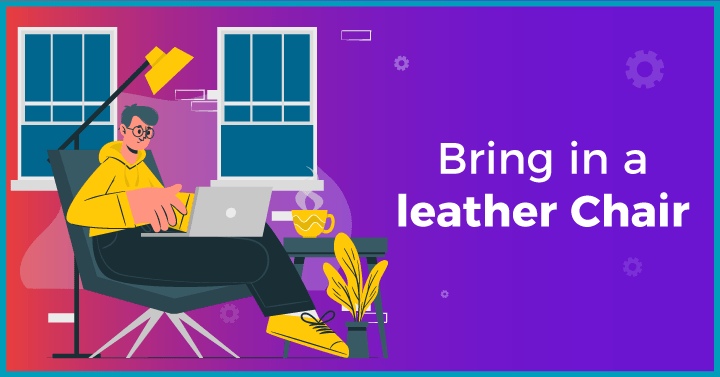 Who doesn't like the classics? And who doesn't enjoy the classics with comfort? Leather chairs are an excellent home office idea for those looking to pamper their lumbar while exploiting their brains.
2.11 Mix up the workplace materials
We call this the "organized mess". Add a rustic clock, a leather chair, a solid wood desk, glass shelves, and playful colors on the wall – whatever calls your whimsy! If your creativity lamp burns bright in chaos, then this is an excellent modern home office idea
2.12 Pots and plants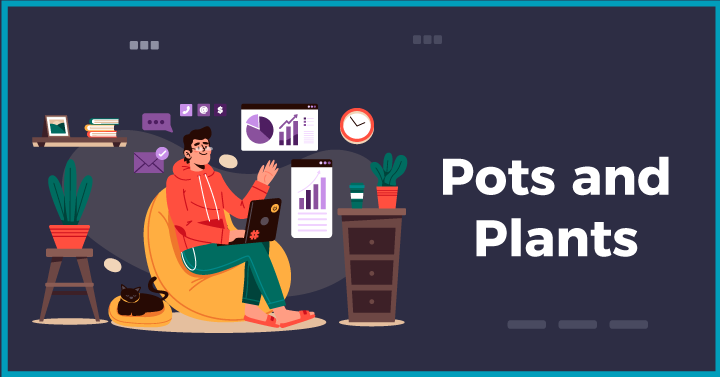 If you don't have that window with the view, get the view to you. Indoor plants are a soothing and energizing home office idea. Some plants like the bamboo palm, peace lily, and spider plants are great at purifying the air around you.
2.13 Have a window office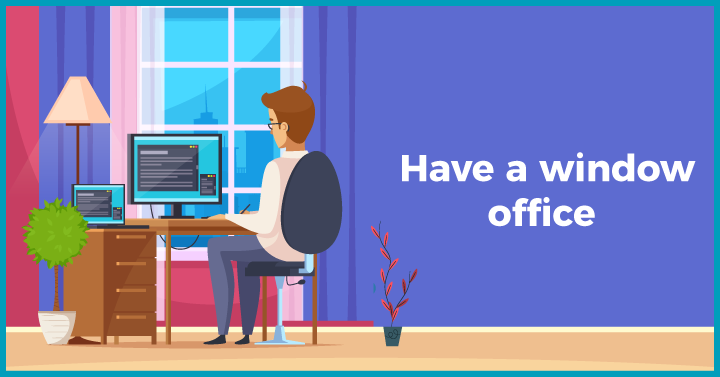 We mentioned this in previous points so much that we felt it deserves a special mention. Just make sure this will help you work better and not get added to the distractions list.
2.14 Embrace warmer colors in the office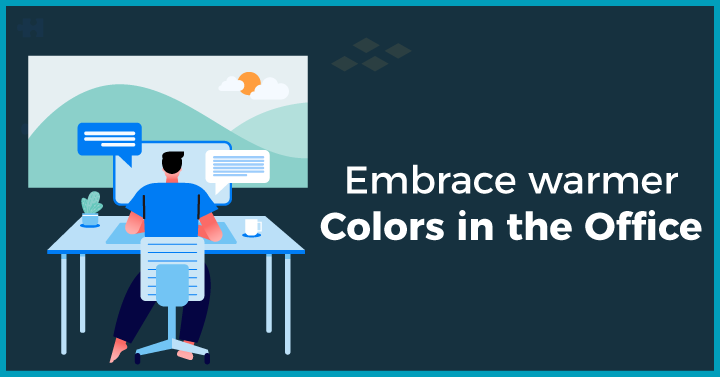 We mentioned that bright colors help with energizing your mood. But if neutral shades are your jam, add more warm and soft neutral colors around your workspace. This is a great home office idea for those who work better by relaxing.
2.15 Place a lounging seat close by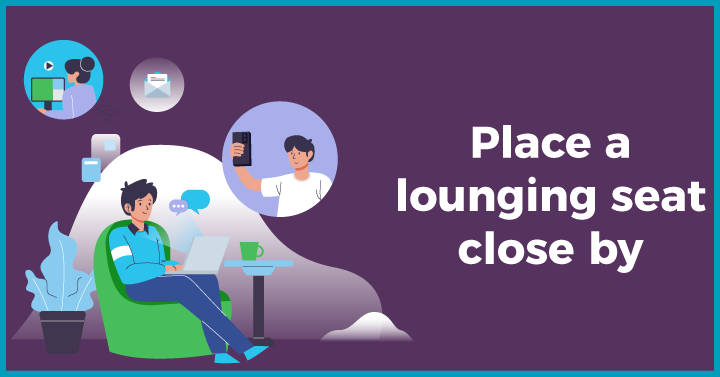 A lounge seating or a couch can help provide that change of space effect in a small house. When you are irked sitting at your desk all day, you can move over to the couch and lounge while you work for a while.
2.16 Mount your furniture on the walls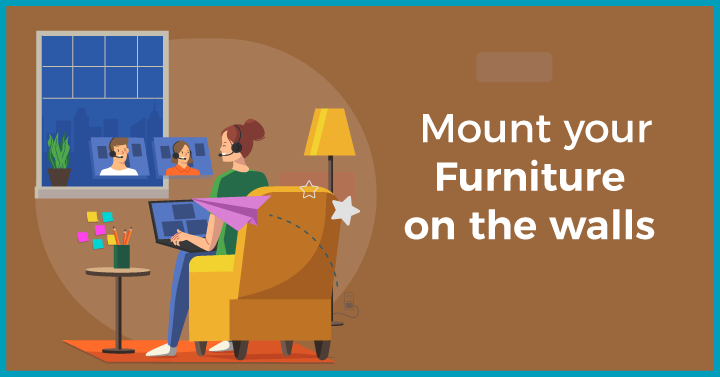 Why restrict to having a floating desk when you can have your desk to the wall? Attach your collapsible chairs, foldable desks, maybe even a retractable bed onto the wall for an ultimate space saver small home office idea.
2.17 Make things colorful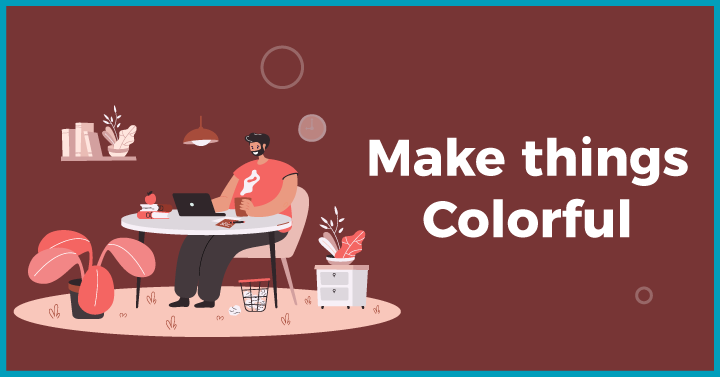 If bright colors nor soft pastel colors are your thing, and if you prefer dark ones – why not use the dark hues to your advantage? You can color your home office walls in dark colors like navy blue or black, add similar color furniture with a dash of white or gold, and hang a monochromatic abstract art on the wall. Make a statement with your style of décor.
2.18 Define the office with wallpaper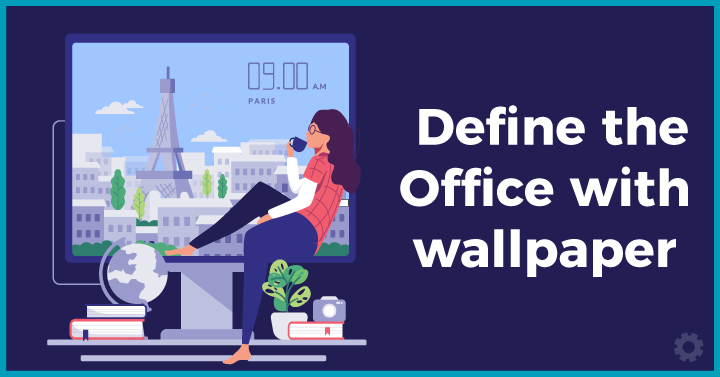 Wallpapers are a gift to those who get bored of facing the same thing every day – Hey, bored of staring at the same wall while working? Fix up a waterfall wallpaper. Bored of that? Change it to a beach. Follow it up with a cityscape. Then abstract art. Imagination (and availability of the wallpaper design) is the limit.
2.19 Turn the bookshelf into a desk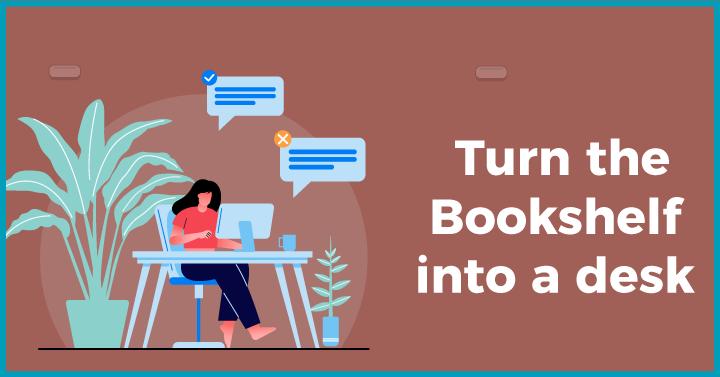 Clear out a shelf and use it as your desk. You can choose to keep the books above the desk area for an "author"-itative inspiration, or break down the shelves and add your favorite art or a gallery of your photos.
2.20 Experiment with a ghost chair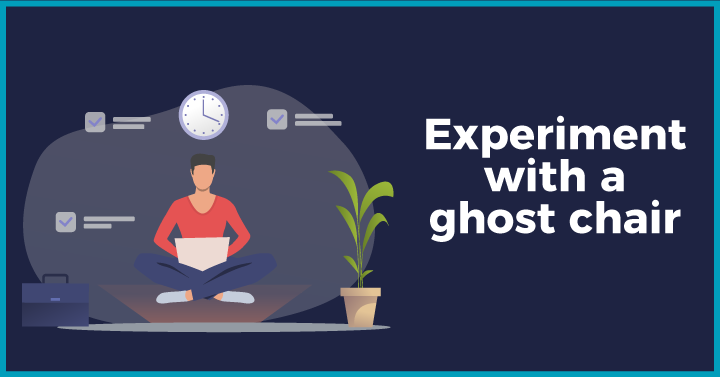 We were intrigued by these see-through acrylic chairs that give you the feeling of sitting on air. Ghost chairs are a great home office idea for those with space constraints. It is barely visible, so it doesn't seem like much space is being taken.
Which of these home office ideas did you like the best?
3. FAQs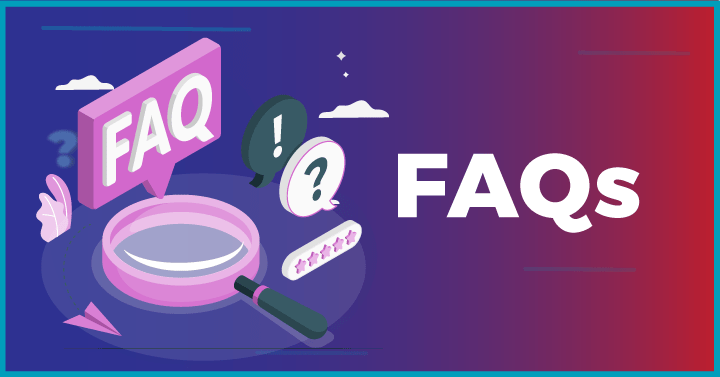 1. Where should I put my home office?
Your home office should be in a space in your house where you can work undisturbed. It should also keep you away from distractions and noise. Spruce up the space such that it motivates you to give your best every single workday.
2. What are some covid home office ideas?
The COVID-19 pandemic has made every other house a home office. However, this did not deter the emotional and mental stress people everywhere face daily because of the restrictions. Make sure your home office keeps you focussed and cheerful – Add colors that brighten your mood, have pictures of your team on your desk, have a music player nearby that can play soothing music as you work.
3.What are some home office desk ideas?
If you are setting up your home office for the first time, make sure you take care of the essentials first. Then add décor and additions as you would like – bohemian, minimalist, ethnic chic, bold and bright, all-orange – whichever tribe you vibe to.