The 4-day workweek is growing in popularity among business leaders, and the results have been astounding. A trial by Perpetual Garden, a company in New Zealand, found that 78% of their employees found that their productivity had grown exponentially in the 4 week period that the trial was underway. Results like these have piqued the interest of companies, and many are now wondering how to implement 4 day work week in their companies. In this article, we cover all aspects of the 4-day work week and provide a comprehensive guide on how to successfully implement it in your workplace
1. What is a 4 Day Work Week?
A 4-day workweek is a schedule where employees work for four days and have three off in a week, as opposed to the traditional five-day workweek. This means that the employees work the same number of hours in fewer days, for an additional day off. In most cases, they are paid the same salary/wages, so they don't lose out in that regard. 
2. Importance of a 4 Day Work Week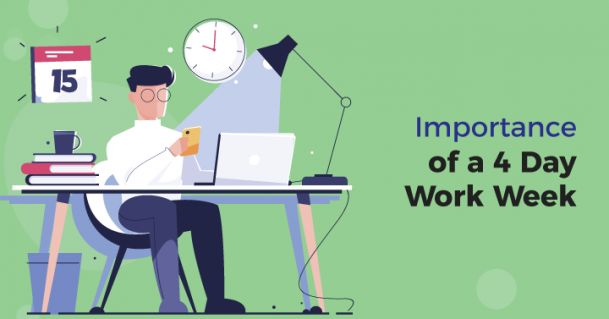 2.1 Improved Productivity
Many
reports
have claimed that the four-day workweek has given their office a productivity boost, and it's easy to see why. A three-day weekend means that employees can spend more time with their families and generally have a more balanced work-home life. This improves morale in the office, which encourages staff to be more productive.
2.2 Higher Job Satisfaction
Their overall quality of life is improved, giving them a greater sense of job satisfaction. This ultimately leads to a higher employee retention rate and improved morale within the office.
2.3 Better Work-life Balance
The four-day workweek is one of the better ways to improve the work-life balance of your employees. It frees them up so that they can pursue other endeavors, and have a better time at work. This is due to reduced commute time, and increased productivity in general seeing as how they are motivated to do more, leading to long-term increased job satisfaction. The additional time off has the potential to inspire your employees to pursue other non-work activities and have an increased quality of life.
2.4 Reduced Unplanned Attrition
A 4-day workweek has the potential to decrease attrition rates due to higher job satisfaction. Your employees will have more time for personal activities due to increased flexibility and a better work-life balance. When your team feels healthier and less stressed, they are in turn more likely to stick with your company due to burnout or health-related issues, which are often the source of a company's unplanned attrition. 
2.5 Better Employee Engagement Levels
Happy employees are more engaged, which improves the relationships between team leaders and staff, and also that between the employees themselves. This has been substantiated through numerous studies and is no less true today. Engaged employees are absent less, and will work harder for your company.
2.6 Recruit Top Talent
Many of the up-and-comers today, many of whom possess talent and niche skill sets, are searching for the job market right now. And many of them will find your company and see it as a lucrative career option. Having a better work-life balance and flexibility are all great USPs for companies in 2023. If you make the switch, you can attract these fresh minds and move your business into the next generation.
2.7 Less Cost of Operations
There is also the potential to spend less money and balance your budget. If your office is closed for one more day a week you spend less money on electricity (so there is an economic value there too), and maintenance. You will also save on overtime costs, as those who extend their working hours at the office will no longer need to do so.
3. What to Consider Before Implementing a 4 Day Work Week
3.1 Not Suitable for Every Industry
For some businesses, a 4-day workweek is simply not viable. This is because many sectors require a 5-day week at least, and in some cases, a round-the-clock workweek is absolutely necessary for the most efficient run possible. For example, emergency services and public transportation can't halt their operations, it could cause mayhem. Other professions, such as lawyers, need to remain open to assist their clients as best they can.
3.2 Underutilized Resources
When staff are off work one day a week, this can lead to unused resources. For instance, if a problem arises that only a specific member of staff can resolve and it is their day away, this means that either the issue won't be resolved until they are back or they will have to be pestered on their off-day, which can result in it feeling like a work day, defeating the objective. Not to mention that many workers could end up putting in the same hours regardless.
3.3 Too Much Uncertainty in the Workplace
Four-day work weeks can cause uncertainty in the workplace. This is due to difficult team management that arises with a scattered team that is not in sync anymore. So, it can be difficult to manage projects, and organize team meetings resulting in your team feeling pressure to tune into the work environment on their days off.
4. Tips on How to Implement 4 Day Work Week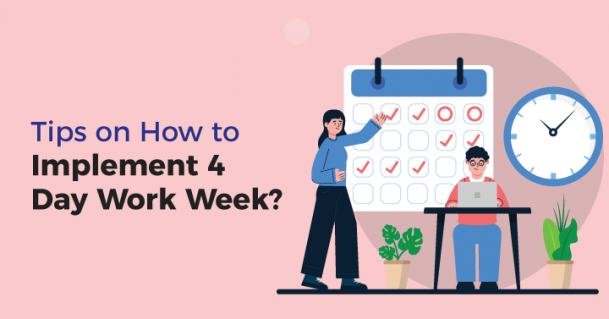 4.1 Define the business goals and objectives
The first step to take when strategizing how to implement 4 day work week is to define your business goals and objectives. In other words, what are you trying to achieve and can it be done in this timeframe? If you find yourself having to change your previous goals, then it might be worth considering an alternative to the four-day workweek.
4.2 Assess its feasibility
Ask yourself, is the four-day workweek feasible given your objectives, goals, and the industry that you operate in? It might be worth writing this down in a mindmap or spreadsheet. Assess your required revenue churn and ask yourself whether it can be reached in the 4-day timeframe.
4.3 Discuss the pros & cons with the team members
Once you have defined your goals, and determined that they are feasible in a four-day workweek, it's time to discuss them with your team members. It is important to take the pros and cons on board here and make an informed business decision, as this is a fairly big changeup and you need to assess all of the elements. Having other people in the room is usually more effective than doing the logistics yourself.
4.4 Determine the work schedule
At this point you're likely to be going ahead with it, so the next step is to determine the work schedule. You will need to create project plans and work schedules down to the granular level and be generally thorough to secure the smoothest transition possible. You could use communication tools like Slack or Teams as portals where you can keep your project information and give notice about shifting work schedules. This is also an effective way to cover any gaps in cases of absenteeism, whether through remote/hybrid working or planned gaps like vacations. 
4.5 Communicate the new system to clients and stakeholders
If you have important stakeholders and clients in your network who will be affected by this change, then you must communicate your implementation plans to them. They may have concerns, pointers, or other pieces of advice that will streamline the process. Most importantly, it's a good idea to keep them in the loop.
4.6 Set up a fixed time for meetings
After your plans have been refined, you will need to set up a meeting in which you will describe how to implement the four-day workweek into your organization. To do this, you ought to set up your meetings at aligned timeframes where everybody can make it. That way, your employees will stay synchronized in regard to project targets and deadlines.
4.7. Consider a trial period
It might be worth testing the four-day schedule out with a trial before taking it to the next level. After all, there is a risk that it won't work out for your business. Trialing it for a time between three to six months is a good way to gauge the efficiency, and assess the results.
Some companies claim
that trials are ineffective on the basis that if it doesn't work out it could damage the culture. However, this is entirely dependent on the organization and its industry. 
4.8 Set up an OOO (Out of office) reply
When it comes to figuring out how to implement 4 day work week, consider best practices of email communication. Set up your email with an automated OOO reply that confirms and explains your unavailability to clients and customers on your non-working day. Your reply should also have enough information that guides them to the next best person who they can reach out to in case of urgency. 
4.9 Adjust policies and procedures
When planning out How to implement 4 day work week, policies and procedures will have to be adjusted. When you are used to working a 40+ hour week and are cutting out 20% of that time, it is important to consider multiple policy aspects of your business. For instance, you will need to adjust the work hours of your employees to ensure that they are still working the same number of hours over the four days. There are also adjustments to pay and benefits to consider, as well as overtime policies, vacations, sick leave, and the redistribution of responsibilities. Not to mention adjusting expectations, timelines, and other new protocols for email and forms of communication that streamline projects outside of normal work hours.
4.10 Track and monitor your KPIs (Key Performance Indicators)
When thinking about How to implement 4 day work week, the key activity to engage with is tracking and monitoring your KPIs, as this is how you conclusively determine whether or not the switch is getting you the benefits you are seeking. It is worth drawing out a "before" and "after" diagram to see how things are going. This involves making rigorous notes of how things are working with the current work schedule. 
5. Which Companies Have Adopted a 4-Day Workweek?
5.1 Elephant Ventures
Elephant Ventures
switched to the four-day workweek after a trial period designed to help with work-from-home burnout and boost productivity and morale. They wrote an interesting article that focused on the health and performance of the company, which also reflects on the transition from a pilot to a fully-fledged 4-day week schedule.
5.2 Kickstarter
Another company that moved into a four-day workweek after a successful pilot was
Kickstarter
. They are now claiming that the switch has led to their staff living "brighter, fuller lives" and returning to work fully refreshed. They have even posted pictures of how they are spending their Fridays off.
5.3 eFileCabinet
eFileCabine
t's focus in implementing the four-day week is removing the less productive and repetitive aspects of work and leaving more time for tasks of higher value. Their article which describes the shift claims that this is "not just in business, but in life". They want their customers and staff to experience this balance.
5.4 Buffer
Buffer
claims that 91% of their staff are happier and more productive working four days a week, and this is after a year and a half after making the switch, and most of their team is doing it. If anything, this company should run a masterclass on how to implement 4 day work week as this transition was smooth, from a one-month trial period extended to a six-month pilot. They then clarified how to approach the schedule with their customer support team (alternate days off amongst support staff was the answer). Finally, they had enough momentum to kick it into practice fully.
6 FAQs
What is an alternative to a 4-day week?
        There are a number of alternatives to the 4-day week, including seasonal 4-day weeks,
flex days
, and a Friday off every other week.
Why would you want to join a 4-day work week company with 100% work from home?
A four-day work week can lead to greater employee engagement, a smaller carbon footprint, and increased productivity and morale. Even in a work-from-home setup, this is the case. But ultimately, it's a personal preference. Find the work position that works best for you.
Which country has implemented 4 days of work?
Various countries have figured out How to implement 4 day work week. A good example is Belgium, which did so in response to Belgian employees winning the right to perform full work weeks in four days rather than the standard five-day week. This is without any loss to their overall salaries.
What are the disadvantages of a 4-day workweek?
The 4-day workweek isn't for every company, can cause resources not to be used to their fullest, and can cause a lack of uncertainty in the workplace due to a lack of synchronicity.