79% of the world's population have Youtube accounts. In 2019, 43% of viewers in Canada frequented Youtube for podcasts, placing it ahead of Apple and Spotify. And this trend continues to grow, explaining why a lot of aspiring podcasters want to know how to start a podcast on Youtube. Many podcasts are on Youtube in order to reach out to a huge database. And unlike other platforms, Youtube lets users rate the content they're watching which helps creators tailor what they talk about for the future. It also doesn't hurt that Youtube's the second-most popular site after Google, the search engine giant. For example, H3H3 productions has a separate 2 million subscriber list for their Podcast channel, while vloggers like Dave Dobrik and Jason Nash have a podcast Youtube channel with 550000 subscribers. If you're looking to grow your user base and spread the reach of your content, then here's a blog on how to start a podcast on Youtube.
1. How to Start a Video Podcast on Youtube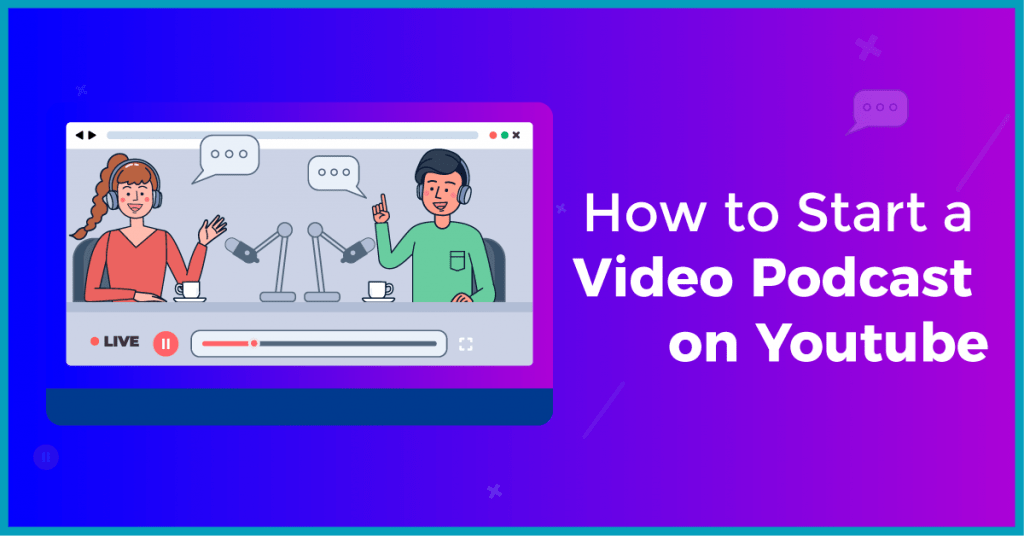 The reason for the growing popularity of audio content on a medium that's primarily video-based like Youtube is that people like to multitask. Many people like having something to listen to while they're performing an activity or exercise, which means that your podcast need not always have visual elements. You can, however, personalize the background with a static image or sliding transition to match the audio file. Here're tips on how to start a podcast on Youtube;
1.1 Decide on the content and upload frequency
According to Merchdope, Youtube gets nearly 30 million users every day, so you need to create content that will attract these visitors to it. It's not enough to just get them to look at the videos you upload. The delivery, accent and pace also matters in order to engage your audience. A framework helps you structure your idea around definite parameters, such as relevance, value-proposition, context and the likelihood of the content becoming evergreen. This framework can also help you come up with topics related to your primary idea. Once you have this down, the next thing is to decide on the frequency of posting your content. When your channel takes off, you'll need to follow a release schedule so that subscribers get push notifications whenever a new video is live.
1.2 Determine where you'll be recording
Location is important, particularly if your podcast is going to be visual. But even if it isn't, the recording shouldn't be impacted by noise or frequent interruptions that you'd have to spend time editing out. Most podcasters start out at home or rented space before making enough to afford air time at a studio. Treat the space as your office,so that you're in the right frame of mind when recording yourself. It should be a quiet corner where you're unlikely to be disturbed or distracted.
1.3 Leverage podcasting editing software
Equip yourself with the best podcast editing software. Having the right technology stack at your disposal simplifies the process and enables you to curate your content in the shortest time possible. You can compact and clean up the audio file, replay it or apply special effects and transitions depending on the content being recorded.
1.4 Set up a webcam and external conferencing
Set up your laptop or computer's webcam to present your podcast directly into. Your phone and a tripod stand is another alternative. It's the perfect opportunity to test out the quality of both audio and video before uploading. If you're on a budget, use Zoom to record yourself and make sure it's the podcast mic that the platform is picking up on instead of the built-in microphone.
1.5 Make use of Youtube analytics
Set some time aside to analyze the analytics. For instance, you can determine if you're being seen by your target audience. It also tells you how long they interact with the content, where they came from and how they found you. It data on who watches your podcast video, how long they engage with it, and how they found it. Other analytics plugins to look at include a. Brandwatch consumer research: the mentions over time, campaign reach and new areas to create content are found here. It helps you know what people think of your content. b. Tubular intelligence: Tubular generates demographic data around location, gender and age. You can also see what your competitors are upto because it shows the other videos your audience is watching. c. Social Blade: Enter your podcast channel name to get the stats on subscribers, views, and your ranking within your category. d. BuzzSumo: The Youtube analyzer by BuzzSumo is handy in generating keywords and understanding how they perform. You can rank them by views, comments, upvotes or downvotes.
1.6 Partner with collaborators
Reach out for collaborations and invite people to speak on your podcast. Interviews with people who operate in the same or different space as you is a win-win. The guest speaker gets publicity by appearing on your video. They are introduced to members in your audience who may or may not have heard of them. For you, it's an endorsement of your content that builds your channel's credibility.
1.7 Diversify content
Use the comments section to know what else you could explore in terms of content. Every topic cannot remain evergreen so the key lies in diversifying. Make a commitment to branch out after hitting a certain number of subscribers or views. Remember to follow a linear progression when you diversify. Don't go off-track completely but try to find sub topics that are related to your channel's intent.
2. What Kind of Podcast Content Should I Film on YouTube?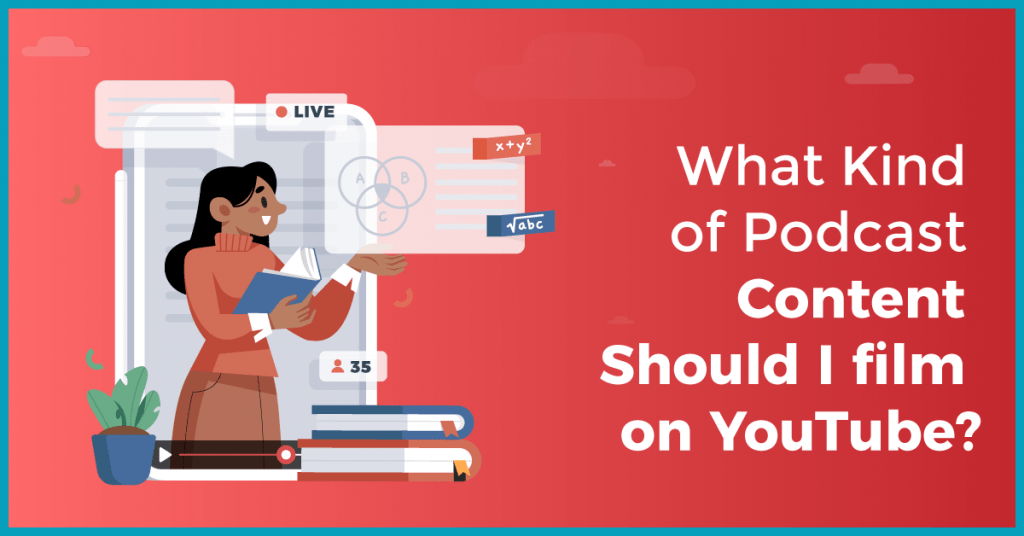 The content you film depends on your area of expertise and target audience. It should not offend the sentiments of any person. If you're discussing topics that contain graphic language or visuals, remember to apply an age filter to block access to minors. You should insert disclaimers and give your audience ample warning in the beginning if the topic is sensitive and risks triggering emotion. The ideal content is accessible, educational and dispenses important information on a topic on time. It should be presented in a format where the average person can easily understand what you're trying to convey. If the language or voice over is not in English, it will help to add subtitles. You can also insert closed captions for the benefit of people who are hearing-impaired, or even in times where the audio breaks up or cuts off. Watch this for some podcast topic trends!
3. How to do a Live Podcast on Youtube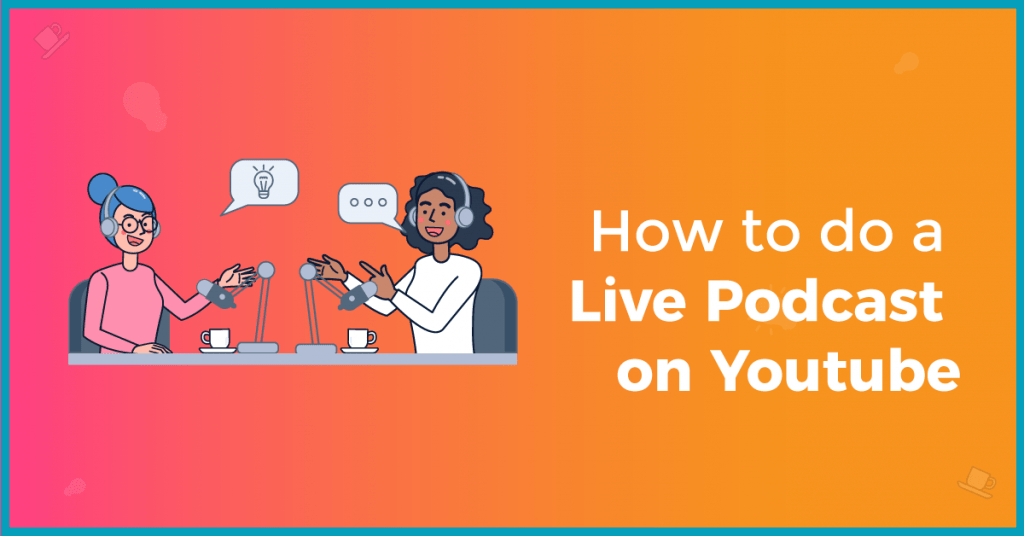 3.1 Invite podcast guests in advance
Do your research on guest speakers and identify the ones who will add value to your podcast session. Reach out to them either directly or via the group managing and representing them. Most internet celebrities follow a busy schedule. And the more popular they are, the more in demand they'll be. Many podcasters may reach out to them at the same time to invite them. To get noticed, make sure you have their updated contact information. If they specify the terms for booking them, pay heed to their requests and confirm if you would be able to accommodate them or not.
3.2 Review questionnaire and style of the podcast
This depends on whether your podcast is an interview conversational format or a monologue. If it's the former, involve your guest in the questions and stick to the topic. Most guests specify topics that they don't want questions on beforehand. If it's the latter, take the time to rehearse and listen to yourself. You can accordingly correct your pace of delivery and modulate your tone for better clarity and enunciation.
3.3 Release social media blurbs
Leverage social media and upload teasers about your upcoming podcast. You can opt to release it as a brief explainer on the channel besides using other content mediums such as Instagram, Facebook and Vimeo. Remember, less overpromising, more delivering!
3.4 Livestream feed and invite questions
You can either dedicate a podcast to answering questions that viewers and subscribers ask you or plugin a live stream to see the comments and interactions.
3.5 Reward the best questions with giveaways
Incentivize live sessions with giveaways. You can either select 5 top questions at random or announce that the 100th or 1000th comment will win merch. Such measures engage the users who are tuned in.
4. How to Earn Money with a Podcast on Youtube?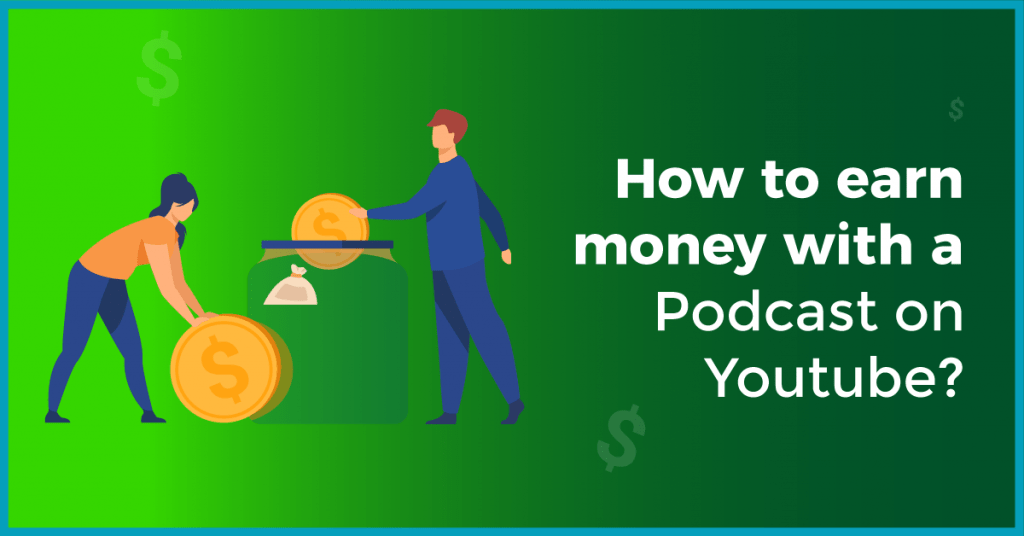 Podcasters make anywhere between $25 to $40 per 1000 views. Popular podcasters charge anywhere between $18 as the cost per 1,000 listeners for a 30-second ad and $25 to $30 for a one-minute ad. Larger podcasters can earn at least $25,000 to advertise a particular service, label or product. Even with the commission fee, the sponsored podcaster gets 75% of the revenue. You can make money by offering sponsors a video review of their product in your next podcast, besides read-out ads. This increases the value of your content, and by association the price of your ads because it will bring in more views. Over time, a healthy content library can help you create a business out of your podcasts. Besides running ads, other ways to earn money with a podcast include
1. Affiliate marketing
Market products or services and charge a commission for every sale you make. The products should be related to your niche so that your explanation of their benefits, features and pricing have a personal touch to it.
2. Publicize written content
This route will take time but is worth the efforts you invest in it in the long run. Write a book on your knowledge area and release it as an E-version or on Amazon as a paperback. You can arrange for a sample reading on your Podcast to draw attention to it, along with instructions and links to buy it.
3. Negotiate sponsorship deals
Broker a deal with companies to mention them on your podcast. In return, they can foot the bill for your program's running costs. Giving them the spotlight helps them cast a wider net for their customer base.
4. Build a customized mailing list
Add your subscribers to outbound marketing lists, and personalize the content in line with their interests. Personalized mails inform viewers and subscribers as and when wishlisted products and services are back in stock. In exchange for getting early bird alerts, they'll spread word of your channel and link you to their network.
5. The 5 Best Podcasts on Youtube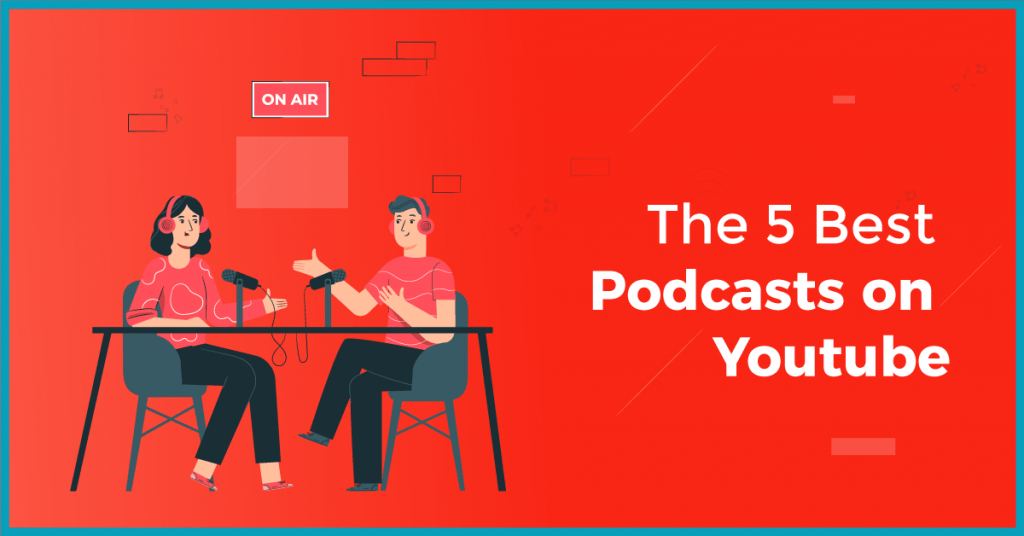 Some of the best podcasts on Youtube (two of which happen to be my favorite!) are 1. Jenna and Julien

I first came across Jenna Marbles, as she is known through the Helium challenge she and her partner Julien Solomita did together. The duo's

podcast

has about 1800+ subscribers and is in a conversation format. They talk about everything they do or are thinking of doing, from vacation spots to makeup challenges! 2. Dear Hank and John

Hank and John Green are authors and seasoned

Youtubers

who discuss their passion in each

podcast

episode. They also share weekly news and sports updates on their favorite team. They have about 9275 subscribers.

3. SinsCast by CinemaSins

Chris Atkinson and Jeremy Scott co host Sinscast with Barrett Share from Music Video sins joining in. The podcast parodies the entertainment industry and features light-hearted humor.

Sinscast

currently has 1148 subscribers.

4. Radiolab

Radiolab is definitely one of the most famous

public radio shows

and is known for its journalistic reporting style. The topics cover science, philosophy and human experience. It is co-hosted by Lulu Miller and Latif Nasser and has over 3 million subscribers. Radiolab is about 19 years old, making it one of the earliest podcasts ever made!

5. The Kyle Thiermann Show

Kyle Thiermann

is a professional surfer, podcaster, and filmmaker from California. He creates mini documentaries about current happenings around the world. He also interviews and initiates conversations with people he meets on his tours. He has over 10.3K subscribers on Youtube.