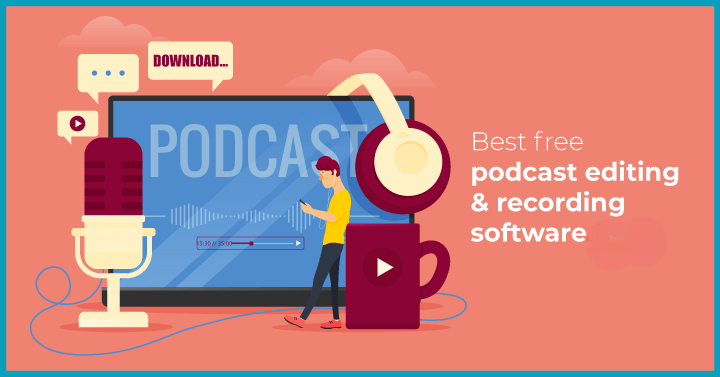 What are podcasts, and why are they the talk of the town today?
Podcasts are audio files that you can listen to on the web or through an application. They feature stories, documentaries, interviews, or counseling sessions that you can download whenever you want to. It has a subscription option that keeps you informed of new chapters or episodes added to a series. Given that over 70% of people know more about podcasts and that the others are inspired to create their own, I thought now would be the best time to go into the best free podcasting editing software in detail.
Podcasting has been around for close to a decade but started picking up in 2014 with the publication of a series called serial. Today, there is something for everyone, from true crime and drama to news, comedy, and even fantasy. As of 2022, there are 90,000 podcasts, up by 41% in just two years. The reason behind its popularity is that you can tune into a podcast at any time and replay it at your convenience. If you're in a place where you can't consume video content, you can alternately listen in and catch up with the latest happenings.
Spotify is one of the major players in this market. Its free podcast software version frequently interrupts music playlists with advertisements for podcasts that listeners should consider adding to their list. Personally, I've always gravitated towards the interview series and have listened in on the ones on influencer marketing to see what others make of it.
Watch this video as we explore some free podcast editing software and elaborate on what we liked best about them:

12 Best Podcast Recording Apps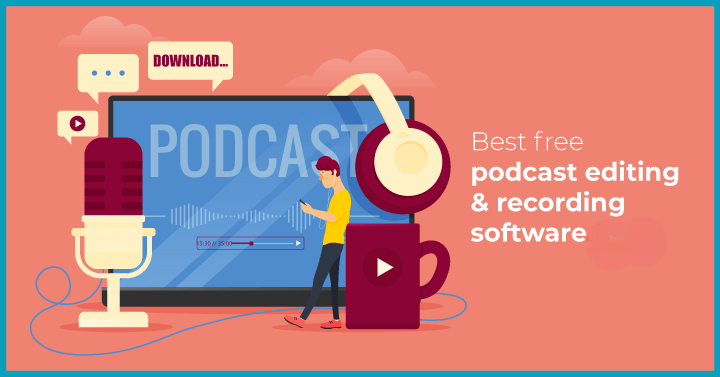 Some of the best podcast recording apps include
1. Alitu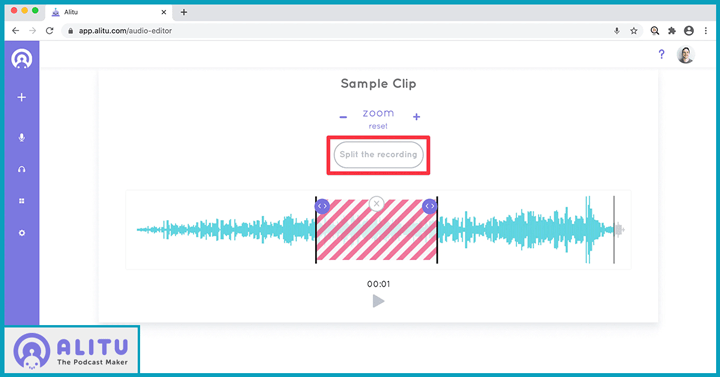 About
Alitu is a web-based podcast editing tool that turns your recordings into shows. The steps involved in Alitu are easy to follow. You record segments and upload them straight onto Alitu. It is then cleaned and ready for edits such as trimming footage, adding teasers and templates from the in-built Alitu library.
Features we liked best
Going by reviews left by active podcasters such as Tom and Lorenzo from Pop Style Opinion fest, it's the sound quality and ease of getting started. Once you upload your audio file, Alitu cleans it by leveling out volumes, blocking background noises and then publishes it automatically. With 2000 podcasters on it, Alitu is here to make podcasts memorable!
Price
There is a 7-day free trial after which it costs USD 28 per month, or USD 280 annually. The paid plans even include courses on launching podcasts, productivity and workflows.
GarageBand is a fully-equipped music creation studio. An Apple product, Garageband is downloadable and comes with its own library which you can use to add tracks, modify speeds and transitions in recordings.
It is a free online podcast editor that supports multiple languages and formats, and is about a Gigabyte in size. You can download it for free on the Mac App store.
2. GarageBand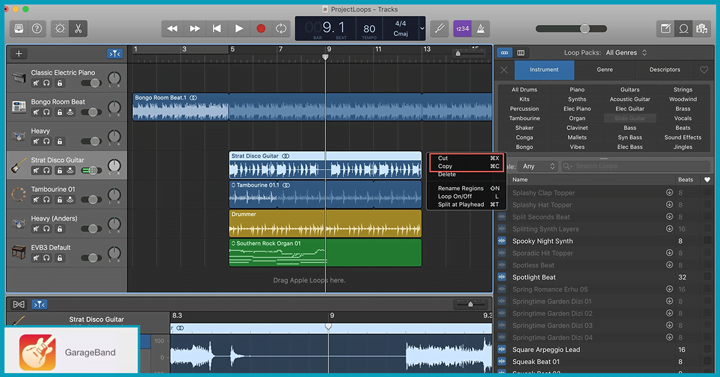 About
GarageBand is a fully-equipped music creation studio. An Apple product, Garageband is downloadable and comes with its own library which you can use to add tracks, modify speeds and transitions in recordings.
It supports multiple languages and formats, and is about a Gigabyte in size. You can download it for free on the Mac App store.
Features we liked best
We like how you can create and save tracks on the go-between IoS devices, and then import it to your Mac for further edits. You can share your creations via email or social networks.
OS compatibility
Works great on Mac systems 10.13.6 and above.
Price: This is a free podcast editing website
3. SpreakerStudio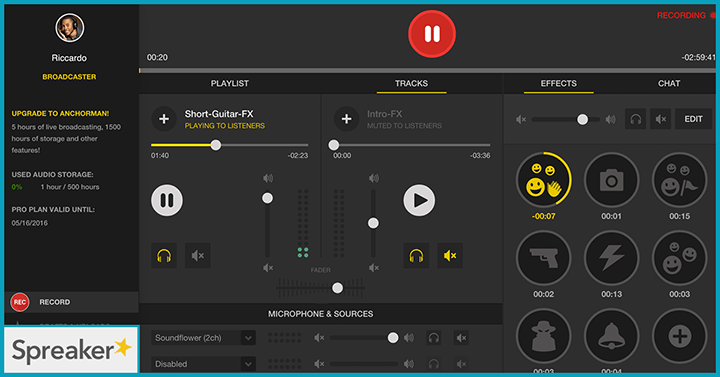 About
SpreakerStudio is home to creating podcasts and monetizing content. The home page itself features options to create a podcast or listen to existing ones. You can create one on their desktop and/or mobile apps by uploading files, recording live and then importing them onto spreaker. The free speech plan lets you create multiple podcasts. With five hours of audio storage, unlimited listening, scheduling episodes and live streaming.

Features we liked best
The listener's chatbox lets you check in on the feedback left behind by your audience. There are daily downloads and ad revenue sharing that lets you monetize your content, although these are available only on the paid plans. Spreaker studio lets you share your content on many apps, such as Spotify, Stitcher, Radioline and Castbox making sure your podcasts reach your desired count of followers!
OS compatibility: Android, Mac, iOS, and web-based.
Price
Spreakerstudio's Free Speech package qualifies it to come under free podcast editing software.  However, the paid packages are Anchorman, broadcaster, and on-air talent, and cost USD 45, 18, and 6 respectively.
4. Stitcher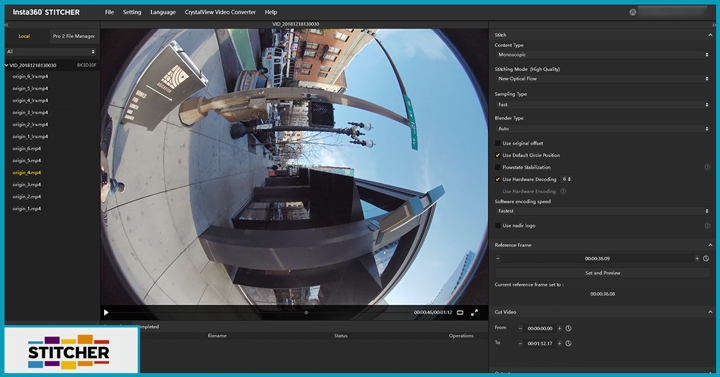 About
Stitcher is a news and entertainment audio app. It lets you stream audio episodes to your speakers through Airplay. It also works well with Amazon echo devices such as Alexa where you can scroll through the skills section and enable the Stitcher skill.
Features we liked best
I liked the Front Page feature which displays new episodes and the option to sync your playlists to listen to when you're offline. Activating the Car Mode makes it easier to navigate playlists on Stitchers so that you can listen to music and drive in comfort. The Carplay works on 50+ different vehicles, and you can connect your phone to your car and get started.
OS compatibility
It is available on Android, Mac, and Amazon devices.
Price
Free. Opting for Stitcher premium gives you bonus content.
5. Audacity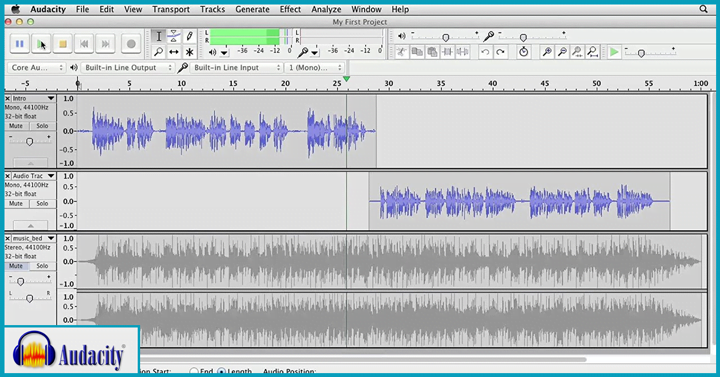 About
Audacity is an open-source audio recording studio created by a volunteering group of developers. As of October 2020, Audacity has 100 million downloads! You can record live audio, import, and edit sound files, and redo sessions. It is the best free podcast editing website with multiple features and functionalities.
Features we liked best
We like audacity's Spectrogram view mode, which lets you play with frequencies and analyze their effect on audio.
OS compatibility
Audacity is one of the free podcast editing software that is multi-platform friendly. It can be used on Windows, Linux-based systems and Mac OS.
Price: Free.
6. Ringr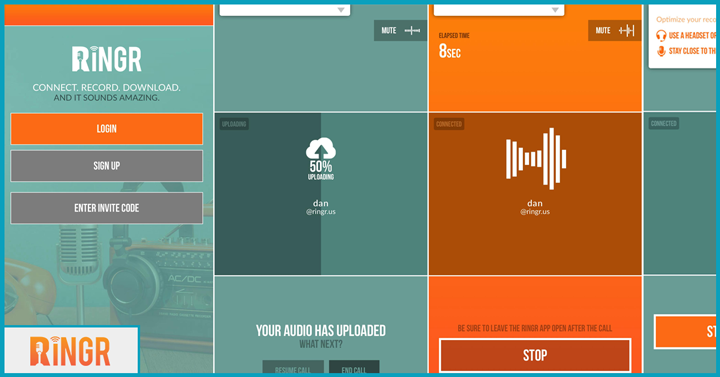 About
Ringr is a long-distance call provider that connects people almost as if the conversation is happening in the same room! Ditto for their podcast facility. Ringr was started in 2014 by 4 creative developers. It offers a 30-day free trial of its premium version.
What we like about it
We tested out sound quality and found that it was clear from both sides. People have reported feeling as if they're together even when they're physically apart, for the sound carries just that well! It is one of the best free podcasting software that lists out various podcast lists that you can subscribe to and tune into whenever you wish to, and you get push notifications whenever a new episode is out.
OS compatibility
Ringr lets you join a call with an invite-only code sent by mail.
Price
Basic and premium plans are priced at USD 7.99 and 18.99 while the enterprise plans are custom packaged.
7. Adobe Audition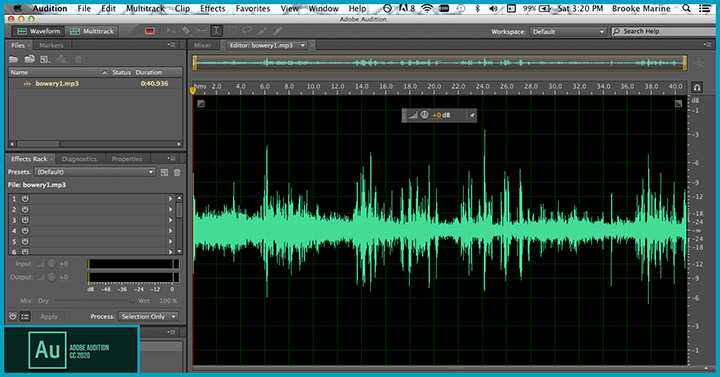 About
Adobe Audition is the best free audio editing software for podcasts. A digital audio workstation that lets you create, mix and design sound effects, this free online podcast editor has audio restoration with precise editing which is useful in making the final cut for your podcasts.
What we like about it
We like the Essential Sound Panel which lets you create podcast content. It takes you through the steps for setting up input devices, recording tracks, and animating it before going live. Another feature we fell in love with was their diagnostics panel which lets you correct sound issues with a heatmap of suggestions.
OS compatibility
It's cross-platform supported and can be download through your Adobe account (if you have one).
Price
Audition costs USD 22.47
8. Zencastr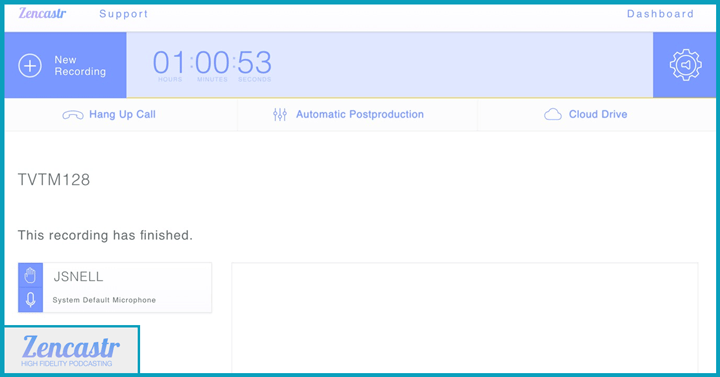 About
Zencastr is a hi-fi and best free podcasting software that is presently offering unlimited recordings in light of the coronavirus disrupting Business-As-Usual activities. It lets you record interviews remotely and has done a good job so far of replicating the office setting so that both the interviewer and person being interviewed feel like they're facing each other in an actual room. It records and separates voices so that speakers can be identified when the recordings are replayed. Zencastr is a free podcast editing software that ensures no dropouts occur once the call starts. It uses lossless16-bit 44.1k WAV so that audio is clear.

What we like about it
We like the built-in VoIP that lets you get into chats directly rather than routing it through Skype or Hangouts. Zencastr has a sound board that lets you insert introductions, special effects, and transitions into your audio, saving you considerable time for post-production edits.
OS compatibility
No installation required. You just need to login to your account and access your dashboard.
Price
The Hobbyist is free and was previously restricted to two guests. However, in light of the pandemic, they've revised their stance on unlimited MP3. The professional plan costs USD 20 per month and includes 10 hours of automatic post production per month.
9. Auphonic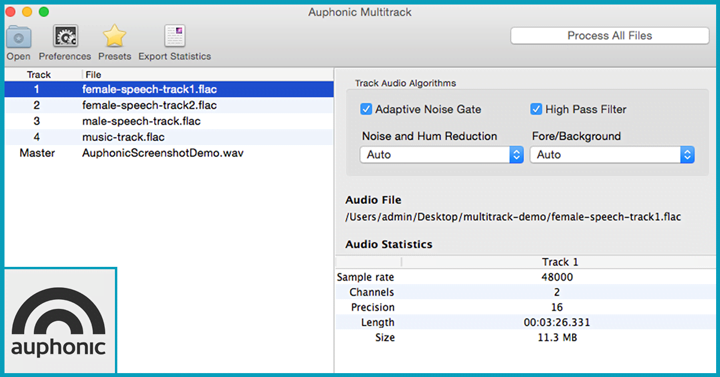 About
Auphonic is a post-production web-based service for podcasts, screencasts, interviews airing premieres.
What we like about it
Auphonic has several options based on your podcast needs, which makes it flexible. In particular, we liked the speech recognition algorithm's accuracy in detecting and separating multiple voice formats. If you're more tech-curious, you can even go into a waveform and analyze inputs so that you can hear all details clearly!
OS compatibility
Auphonic works on android audio editor and iOS recorders.
Price
It is the best free audio editing software for podcasts with up to 2 hours of audio. You can buy recurring or one-time credits based on your needs.
10. StudioOne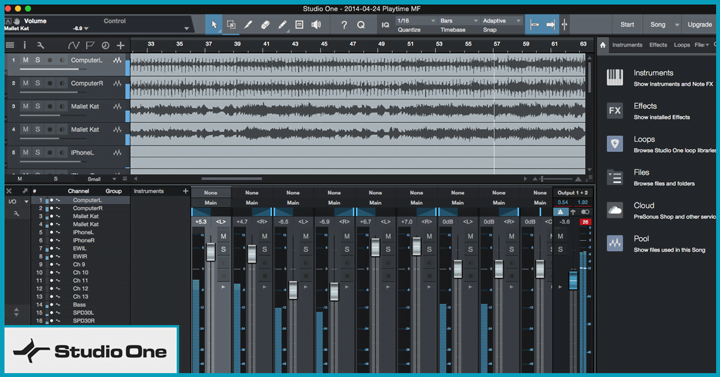 About
StudioOne is an audio workstation developed by PreSonus. It has a drag-and-drop interface that lets you create and work with sound content till the finished results are to your satisfaction.
What we like about it
The StudioOne 5 version features a Show Page where you can plug-in effects, play around with instrumental tracks and set up a list to fine-tune your audio. It also lets you convert files from one format to another, removes glitches with the right plug-ins, and simplifies your job of creating audio content.
OS compatibility
StudioOne can be downloaded onto your computer.
Price
All PreSonus products are listed here. StudioOne 5 Professional costs USD 360, and Studio One 5 Artist is USD 91.
11. Hindenburg Journalist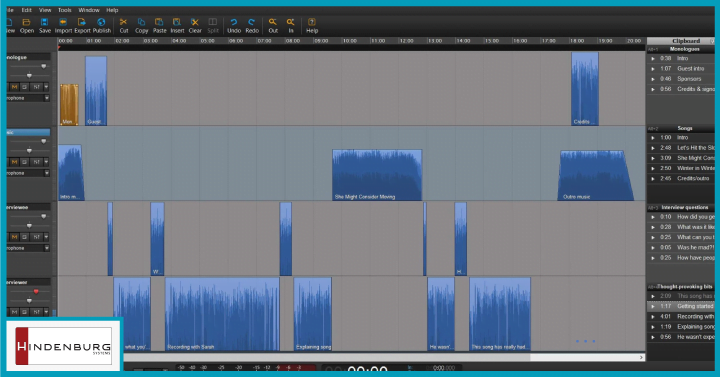 About
Hindenburg Journalist is an audio editor that is designed for podcast creators and radio journalists. It lets you record interviews, add sound effects to audio and publish stories.
What we like about it
Its importing function is easy and only requires you to drag audio files into the Hindenburg studio. It's a multi track audio editor, meaning that you can add as many tracks as you like. The sound levels are automatically evened out, given that Hindenburg complies with loudness standard to set the levels. Besides built-in equalization and compression, the Voice Profiler tool gives you a surround sound experience.
OS compatibility
Hindenburg journalist works on both Apple and Windows.
Price
After the 30-day free podcast software trial ends, you can opt for Hindenburg's Journalist, Journalist Pro or HABC Narrator pricing plans, which each cost USD 101, USD 418.3 and USD 537.81.
12. Reaper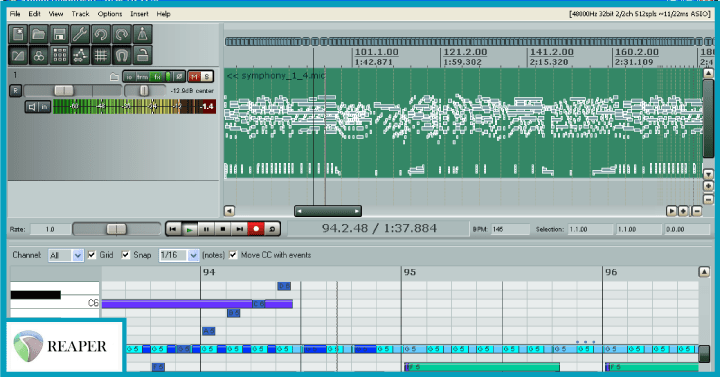 About
Reaper is a digital audio workstation that can be used for free for up to 60 days. It features automation recording, playback, and editing support for track and media and lets you manage tempo, time signatures and speed changes. You can drop audio files onto Reaper and polish the sound with its built-in stereo, surround sound and multichannel processing.
What we like about it
We like that you can show, hide, dock or display the outboard on a separate monitor. It makes it easier to track multiple projects within the Studio. You just need to download it on to your system. It features a tape-style varispeed recording and playback option which lets you improve as you go along.
OS compatibility
Reaper works well on Windows, Linux and the bigSur MacOS versions.
Price
All Reaper features are free for 60 days, post which it costs USD 60 for a discounted license and USD 225 if you opt for the commercial license.

FAQs
Which is the best podcast recording platform?
From the best free audio editing software for podcassts we tried, we liked Zencastr, Auphonic and Stitcher as the best free podcast editor. I would go so far as to say that Zencastr answers the question- Is there anything better than audacity?
The metrics for this conclusion were based on sound clarity, audibility, performance, and ease of getting started. I like tools that are fuss-free and have steps and tutorials that are straight-forward and that you can always go back to check if you missed something.
With my head full of ideas on the kind of content I want to go on-air, I might even start my own podcast. Which one of these free podcast recording software have you guys heard of already? And which ones are you keen to learn more about?
Which is the best free podcasting software?
Some of the best free podcasting software are – AudioDirector, Reaper, GarageBand, Audacity, and Hindenburg Pro.