Who doesn't love listening to podcasts while going for a walk, or during a cool-down after a long day? Podcasts are a hit amongst people of all ages, and many are looking to start one of their own. It is now easy and affordable to do so with the help of free podcast recording software tools.
Thanks to the latest technology and online streaming, studio-sound quality is available for recording podcasts and uploading them to popular platforms. With built-in tools in the software for editing, you can create a number of amazing podcasts in no time. Read through the listicle to check out the 9 best free podcast recording software tools in 2023.
Take the first step towards starting your own podcast with these free podcast editing softwares.
1. What to Consider When Choosing a Free Podcast Recording Software
1.1 Recording Quality
One of the most important things to consider while selecting a free podcast recording software is the recording quality. In order for the podcast to sound professional and clear, using software that records in 44.1kHz audio resolution would be helpful. If you can record the podcast with a 48 kHz audio resolution, it would give you the best results.
The same goes for video recording software- do not settle for anything less than 720p HD for starters, and aim for 1080p or 4k video resolution for brilliant video quality.
1.2 Editing
Along with the recording quality, another important aspect to consider is the editing. The podcast recording software must have good editing features such as trim, copy, paste, add effects, improve audio quality, and more. It helps streamline production without having to use multiple apps to edit. If you want advanced editing, try to choose software that offers separate audio and video tracks as this provides more flexibility. Some examples of such software are: Alitu, Wavve, and Scribie.
1.3 Compatibility
One of the basic elements to look for while choosing a free podcast recording software is if it is compatible with your laptop and PC's operating system and if it runs smoothly as well. This applies to the podcast equipment too. That would include your microphone, camera, and any other recording devices.
1.4 Ease of Use
To ensure you are able to record and edit your podcasts hassle-free, choose software that is simple and easy to use. Check all the features such as compatibility, intuitive user interface, easy editing, uploading, and more, and choose according to your usage. Check for ease of access and if it does not make your work more complicated.
1.5 Support
Always look for free podcast recording software that offers troubleshooting support. You might face technical issues and glitches when working with tools and software frequently. To ensure you don't lose your work over some technical problems, check if you are able to receive support such as a customer care email ID or a help center chatbot in any such case.
2. 9 Best Free Podcast Software Tools In 2023
2.1 Audacity
Audacity is an easy-to-use multitrack audio recording software that can be accessed on all operating systems. It is free to use and is open-source software. It is simple and easy to use. We particularly found the audio quality was worth a mention with the options they provide
Features:
Audacity provided good sound quality with 16-bit, 24-bit, and 32-bit. Sample rates and formats are converted using high-quality resampling and dithering.
You can record live audio through a microphone or mixer, or simply digitize recordings from other media to record your podcasts.
Editing podcasts is easier with Audacity as you can simply import, edit, and combine sound files. You can also export our recordings in different file formats and also multiple files at once.
With Audacity, editing files with features like Cut, Copy, Paste, and Delete makes the job effortless.
Compatibility: Windows, macOS, GNU/ Linux, and other operating systems
2.2 GarageBand
GarageBand is a free software tool for Apple that can be used to record, arrange, mix music, and create podcasts, or digital recordings. It contains a number of virtual instruments and effects that can be used to record and play back MIDI data, allowing users to compose music easily. The interface is easy to use and is mainly designed for beginners in podcasting and music production.
Features:
With GarageBand, you can use a wide range of sounds and loops to choose from, and a wide variety of instruments to play with to add to our tracks. This gives a creative touch to the podcasts.
A plus point with GarageBand is its intuitive interface, as users can record podcasts without any complications as it allows you to add tracks from an iPhone and iPad as well. The sidebar lets you easily navigate from one track to another. The toolbar on top allows for easy editing.
Another aspect that makes podcast recording easier with GarageBand is that you can create and edit sounds that can be shared or can be uploaded to iTunes.
If you do face any issues, simply contact the support and customer care team of GarageBand and they will be ready to assist you.
Compatibility: macOS, iOS
2.3 Podcastle
Podcastle is an innovative podcast recording and editing software that offers unique automated features that allow you to produce podcasts from scratch. It is perfect for beginners and professionals alike, as its tools are easy-to-use, yet highly professional and efficient. You can use the software for the entire podcast creation process: from recording, editing, and enhancing to hosting and distributing.
Let's explore some key features of Podcastle:
Voice Cloning Feature: Using advanced artificial intelligence technology, Podcastle enables users to create synthetic voices that closely resemble their own. This tool provides podcasters with the ability to generate realistic voiceovers, voice characters, and even simulate conversations between different voices.
Easy-to-Use Interface: Podcastle offers an intuitive and user-friendly interface, making it accessible to both beginners and experienced podcasters.
Flexible Recording Options: With Podcastle, you can record your podcast audio through a microphone or import existing audio files to edit and enhance. The software supports various audio formats, ensuring compatibility with different recording setups.
Advanced Editing Features: Podcastle offers a range of powerful editing features to refine your podcast episodes. You can easily cut, trim, and rearrange audio segments, as well as apply filters, effects, and background music to enhance the overall production value.
Multi-Track Support: Podcastle allows you to work with multiple tracks, enabling you to mix different audio elements seamlessly. You can record multitrack remote interviews and edit them from the same place!
Compatibility: Podcastle is an online tool which means it is compatible with all operating systems.
2.4 QuickTime
QuickTime software is a multimedia player with a default video and audio editing application. It is free to use, and you can record your podcast with both audio and video features and edit it seamlessly using the free podcast recording app's editing tools.
Features:
No more worries about complicated podcast editing tools, as with QuickTime, you can trim, rearrange, and rotate videos. You can also split a video and multiple clips and edit them separately. This is quite helpful if you're recording a series of podcast episodes.
A useful feature with QuickTime is that you can record clips of our screen or even select just a portion of it. It could be used if you're interviewing a guest on a video call or showing something informative on your screen.
Editing comes hassle-free with QuickTime as you can easily combine multiple audio files with the drag-and-drop feature.
Simply use your Mac device as a podcast recording device and record video on the video podcast software, and you're good to go!
Compatibility: MacOS
2.5 WavePad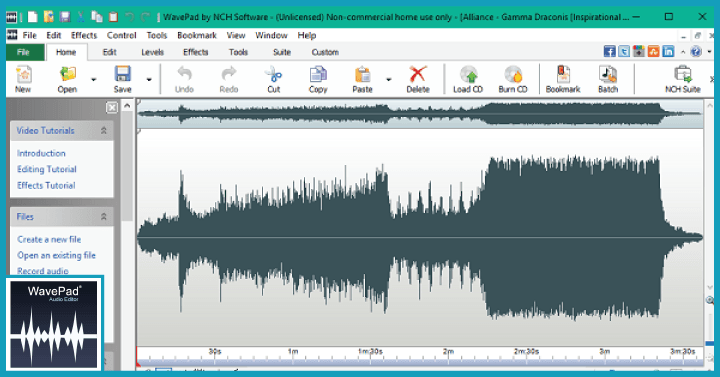 Wavepad is an audio editing tool that allows you to quickly edit audio and music files. You can record audio or add a previously recorded audio file. You can use the software to record and edit your podcast audio files seamlessly. The tool can be accessed for free with a trial version for a limited period of time, and the paid version contains pro features.
Features:
With WavePad, you can record and edit your podcasts using different features, all in one place. Just select from a range of effects like flanger, vibrato, wah-wah for giving your podcasts a creative touch.
Editing your podcasts will take no time as you can simply drag-and-drop audio files to start editing and use split, trim, cut, auto-trim, silence, and pitch shift.
A plus point with WavePad is you can adjust audio and voice recordings by using noise reductions, voice change, speed, and pitch changes in your podcast recordings.
If you don't have the time to sit and record your podcasts, you can type in your content and transform the text into audio using Text-To-Speech so that you can create your podcasts with more ease.
You don't have to worry about the sound quality with WavePad as it provides you sample rates in the range of 6 to192 kHz and 8/16/24/32 bits for gaining a smoother sound.
Compatibility: Windows and macOS
2.6 Power Sound Editor
Power Sound Editor is a sound editing software that allows users to create, record, and edit tracks seamlessly. It is free of cost and supports all major audio formats including MPEG, Wav, and Windows Media Audio. It is one of the top free podcast recording apps out there.
Features:
If you are one of those creative-editing kinds, Power Sound Editor lets you record sounds from any sources to add to your podcast episodes.
Not only that, you can seamlessly edit your episodes with useful editing features such as Copy, Trim, Paste, attach separate files together, etc.
You're in luck, as Power Sound Editor has 25 different effects which we think are great so you can choose what works best to add an exciting touch to your podcasts..
Compatibility: Windows
2.7 Music Maker
If you are looking for free podcast recording software with an easy-to-use interface and intuitive editing tools, Music Maker is the way to go. We love the feature that enables you to create your own theme song for your podcast! This software has a vast selection of sounds to choose from, and you can create your own music and record your podcasts with ease. The free version contains all the tools for creating and mastering audio projects.
Features:
Get in touch with your creative side using the Music Maker as it allows you to arrange loops and samples and use your own sounds to create mixes using drag and drop. You can fully record your own tracks and podcasts using the fully equipped music studio.
One feature we absolutely loved using was the mixer and effects as it gave our work a professional studio touch.
Explore the plug-ins like coreFX or Vintage FX Filtox which are helpful in adding a high-quality studio sound to your work.
Compatibility: Windows
2.8 Anchor
With Anchor by Spotify, you get it all on one platform - Built-in uploading, recording, and editing of the podcast. You can even distribute your podcast to popular audio apps, including Spotify. We added it to our list since you can host your podcasts at no cost!
Features:
If you want your podcasts to reach a bigger audience, you can do so with Anchor. It provides unlimited hosting and streamlined distribution.
Adding on to the unique and amazing features list, Anchor gives you insightful analytics from Spotify, i.e. accurate and reliable data about your podcast performance all in one place.
If you want to go the extra mile, you can monetize your podcasts with Ads by Anchor.
Get creative with convenient creation tools for your podcasts that assist you with flexible recording, uploading, importing, exporting audio, etc.
With the Intuitive episode building feature, it enjoyed visualizing, creating, and building our audio files. You can record, arrange our audio, add transitions, and more.
With Spotify Music integration, simply combine music and conversation to add the extra spark to your podcasts.
Anchor's other exciting feature is that it lets you collaborate with guests, co-hosts, and listeners to make your podcasts more interactive and exciting..
Compatibility: Android, web-based, iOS
2.9 Studio One
The Studio One software can be used to produce, mix, compose, master, and perform - all on a single platform. This application provides integrated tools to produce your music. The Studio One DAW is a one-stop application that covers it all when it comes to podcast recordings and that's why it makes it to our list of best free podcasts software tools.
Features:
If you are a podcast-editing geek, Studio One allows you to drag audio loops, virtual instruments, plug-in effects, and even presets into your session.
You can convert MIDI to audio or audio to MIDI for superfast editing for your audio tracks which are a part of your podcasts.
Save time and simply upload and download files from Sphere Workspaces.
For our podcasts, we could create, audition, and change chord progressions with Harmonic Editing. This gave us more creative ideas to work with!
Use the scratch Pads and flexible Arranger Track to test arrangements for your podcasts before any uploads.
You receive a complete suite of effects plug-ins for professional mixing, production, and built-in Mastering tools. So go ahead, start creating!
Compatibility: Studio One Prime is free for a limited period for 64-bit OS.
2.10 MixPad
MixPad is a multi-track recording and mixing software that can be used for recording and producing music, podcasts, and more on a single platform. You can get the non-commercial version for free which can be accessed on Windows, Android, Mac, and iPad.
Features:
If you're looking for a quick podcast recording and editing tool, we think MixPad is a must-try. It allows you to record, edit, and mix an unlimited number of audio, music, sounds, and voice tracks.
Add audio effects such as EQ, compression, reverbs, and more.
A cool feature of MixPad is you get to use some really cool royalty-free sound effects from their music library which has hundreds of clips.
Add some high-quality sound effects with their VST plug-in support for studio effects and instruments.
MixPad provides you with good sound quality with MixPad, as it has sample rates available from 6 kHz to 96 kHz.
Edit MIDI files with the MIDI editor with ease, to add audio tracks for your podcasts.
Use the pitch correction and Pitch Change tools for quicker audio editing.
Simply upload your work to YouTube, Google Drive, and Dropbox through their interface.
Compatibility: Android, Windows, iOS
3. FAQs
3.1 How do you record your own podcast?
You can record your own podcast by doing the following steps:
Set up your equipment at your home or office, preferably in a quiet area with fewer distractions
Download podcast editing software or a Digital Audio Workstation to smoothen your podcast's audio. Some examples of free podcast recording software are:

GarageBand
Audacity
MixPad

Get a good-quality microphone, connect it to your laptop, and record your podcast.
Export your audio files and edit the podcast on the software.
Upload it to desired platforms like Spotify.
3.2 What do you Need to Start a Podcast Recording?
You need the following to start a podcast recording:
Microphone (good quality)
A connector for your microphone and your computer
A computer to run the podcast editing software
A digital audio workstation or a podcast recording software
Headphones (optional, for a better experience)
3.3 What is the Best Free Podcast Recording Software For Remote Recording?
Some of the best free podcast recording software for remote recording are:
Audacity
GarageBand
Music Maker
Anchor
Studio One