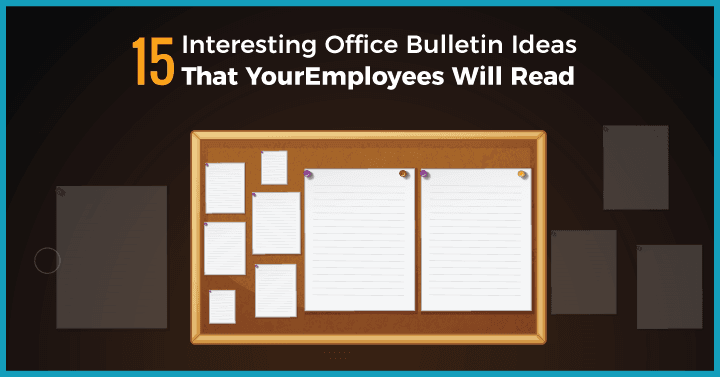 We spend most of our days looking at screens, whether it is our phone, television, or computer. So it is important to take time away from your desk when at work to have a well-deserved screen break. By having a communal bulletin board to post information, post group writing tasks, or post inspirational quotes, you create a fantastic way to stimulate minds and boost employees' moods! So what are some fun office bulletin board ideas?
To help you get started, here are our top 15 office bulletin board ideas with fun themes.
1. 15 Office Bulletin Board Ideas to Help Facilitate Communication at Office
1.1 The Motivational Quotes Board
Motivational quote boards are one of the easiest office bulletin board ideas. This professional office bulletin board idea is perfect in a corporate environment to boost morale and promote mental well-being. There's one for each when it comes to connecting with motivational quotes. Ask team members to share their favorite quotes for each day or have them share topic-centric quotes to set the tone for the day, week or month.
1.2 Facts of The Day Board
Setting up a fact-of-the-day board is an excellent way to spark conversation in an office. These are fun office bulletin board ideas that promote intellectual learning and also help in team bonding. From fun facts based on "what happened on this day 10 years ago" or a "meaning of an unusual word" to amazing ''did you know'', there are so many options to choose from. Encourage employees to come up with their own facts and display them on the board.
1.3 Today I Learned Board
If you are looking for office bulletin board ideas to improve communication, a "today I learned" board is the perfect choice for your office. Encourage staff and coworkers to add to this board throughout the day whenever they learn something new or useful. This will promote communication amongst staff in a fun and interesting way. This could be in the form of printouts, captions, post-its and even drawings. It's also a great way to promote the concept of self-learning and self-motivation which is a catalyst for personal and professional growth.
1.4 The Suggestion Board
When considering professional office bulletin board ideas, a suggestion board is top of the list. A perfect office bulletin board for January, this board encourages communication, but it also allows staff to air their concerns, suggestions, or needs in an anonymous and helpful way. It is important to be open to suggestions in a work environment, to promote a happy and healthy office space for everyone. You could create pocket envelopes to let employees drop in their suggestions, pin up anonymous post-its, or ask them to rate a question or current issue for the week to gauge their responses
1.5 The Company History Board
A company history board is one of the most classic office bulletin board ideas. This bulletin board is a great way to show staff and visitors the company's history and showcase all the great points that have made it succeed. By proudly hanging this board on the wall, it will create an interesting talking point and an important symbol of all the hard work that has gone into the company. It's also a great way to inspire employee loyalty and a spirit of unity in the workplace.
1.6 Upcoming Information Board
The Upcoming Information bulletin board idea is extremely useful in professional offices. It is always handy to have a reminder of all upcoming notable dates or events for everyone in the office. This classic bulletin board idea will suit any office space. For those whose mails or calendars are jammed with alerts and reminders already, this kind of board serves the purpose of 'gentle reminders' and physical notifications. It also helps in planning and scheduling work around these updates.
1.7 Recognition Board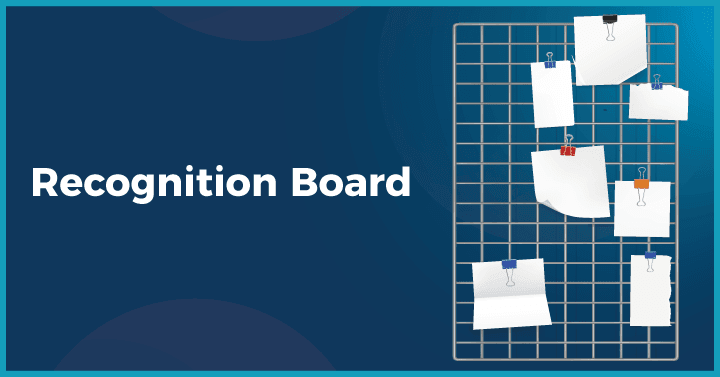 A great activity to begin around fall season when most of the year has gone by is a recognition board. This office bulletin board idea for fall recognizes the hard work and achievements of staff throughout the year. This is a great way to boost morale and promote a happy work environment. Add snapshots of employee accomplishments, start an "employee of the month" theme, use cool decorative items that shout out "Congratulations" to appreciate an employee or simply display mail printouts of positive feedback or winners from contents and team events for posterity.
This office bulletin board idea for fall recognizes the hard work and achievements of staff throughout the year. This is a great way to boost morale and promote a happy work environment. You can use a fun and easy-to-use employee engagement platform to publicly recognize and appreciate deserving employees on a regular basis through emails, point-system or on a unified dashboard. Sorry, I was on Mute offers one such integrated platform that can be used to acknowledge and reward excellent work or contributions at an individual or team level across your organization. Make accurate data-driven decisions based on the in-depth reports and analytical information that this software provides to create customized rewards and recognitions. You can then take it one step further and align these with your company mission and value system to create a dynamic performance recognition centre.
1.8 Joke of The Day Board
A 'joke of the day' board is a fun office bulletin board idea that will add a personal touch to any office. Use this board to showcase work-appropriate puns, jokes, or funny anecdotes and encourage staff to add their jokes. Such fun and friendly office bulletin board ideas are a great way to promote a more positive mindset, banish work blues and keep stress at bay. For those who have newly joined or employees serving their notice periods, these are fun ways to incorporate humor in uniform.
1.9 Food For Soul Board
A 'food for the soul' board is a fantastic bulletin board idea. The concept of this board is that staff can share their favorite recipes and exchange ideas or post pictures of food recipes. Implement a "take one, leave one" rule, where for every recipe taken off the board, you have to replace it. Employees can participate in office potlucks for events and share their pictures on the board. These kind of fun office bulletin board ideas are sure to be a hit specially among the foodies.
1.10 The Fitness Reminder Board
Health and well-being are very important and should be encouraged in every workplace. By implementing a health and fitness reminder board, you will be supporting the emotional and physical well-being of your staff and showing that you care. Add some exercise or stretching tips, or share healthy meals on this fun office bulletin board idea. Post inspirational photos that promote fitness, share snippets of fitness advice and even encourage employees to share or display their fitness success stories.
1.11 Family Pictures Board
Adding a communal family picture bulletin board is a great way to get to know your colleagues. Such fun office bulletin board ideas encourage staff to make connections and learn about one another. Encourage staff members to post pictures of their family with a note below saying who it is. It also adds to the sense of being in a more welcoming environment even while at work. This is a fantastic ice-breaker amongst staff to get them talking and promote team bonding.
1.12 The Best Instagram Caption Contest Board
A fun office bulletin board idea is the Instagram caption content. Each week post a new photo and ask colleagues to add their best caption. Then choose a winner and hand out mini rewards. Run contests for the most "Insta-worthy" posts or pics.This is a cool way to promote communication, get social-media savvy and have fun at the workplace.
1.13 The Book Club Board
The book club bulletin board is a great way to get your staff members talking to each other. Add a bestseller list of books for display so book lovers in teams can take note and even exchange books to share.. Each month, add a suggested book for everyone to read, and then encourage staff to add their thoughts and opinions on the book to the board. Perhaps pose a question to the board to ask a specific question about the book. Get creative and ask staff to put forward their ideas too. This is also a great way to foster intellectual discussions that in turn work well to boost employee efficiency.
1.14 The Gratitude And Kindness Board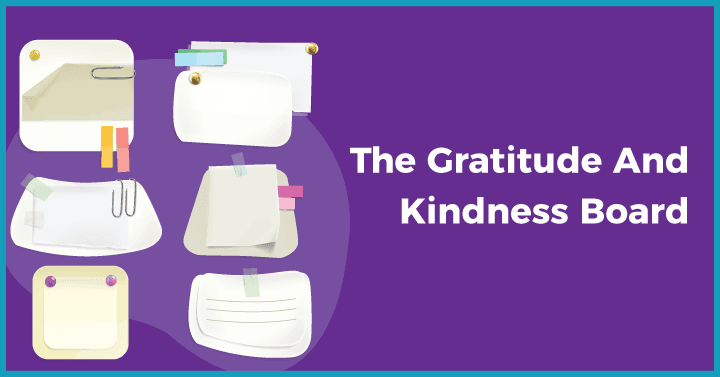 An office bulletin board to improve communication amongst staff is a gratitude and kindness board. Encourage staff members to post a kind statement about a colleague or a gratitude note for the day. It's a great way to help in promoting positive thinking and creativity in the workplace. This will make staff members feel appreciated and valued within the team while promoting healthy communication.
1.15 Team Building Activities Board
Team building activities board are the perfect way to get coworkers to communicate with each other.Use this board to post pictures of team-building activities for staff or events that they can choose to participate in such as sports, cultural themes and more. Ask coworkers to try out one specific listed activity every week and provide feedback on the board. You can also dedicate a specific day to try out indoor team activities and display photos of fun moments on the board.
2. FAQs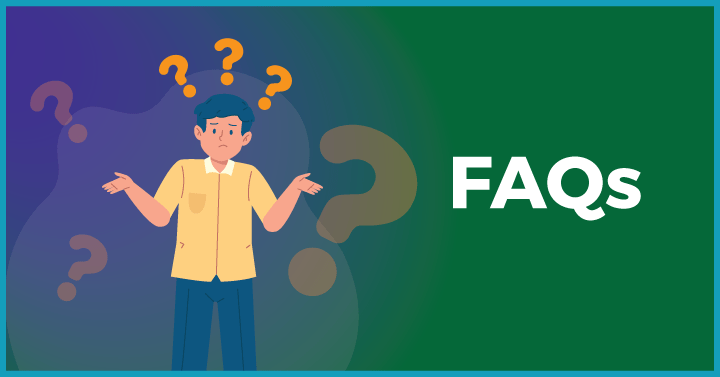 2.1 What are some cool office bulletin ideas for your employees?
For cool office bulletin board ideas, try out the food for the soul board or a best Instagram caption board. These fun activity bulletin boards will be a talking point in the office, promote friendships, and boost staff morale.
2.2 What are some fun office bulletin ideas to make your workplace engaging?
For engaging office bulletin board ideas, try a family pictures board, company history board, or 'facts of the day' board. These informative bulletin boards are a fun and engaging way to share information in the office.