Reading a good quote or two after waking up in the morning boosts your morale and brightens your day. It stays with you and affects how you think, react, and act for the most part of the day. Powerful leaders and their sayings about their experiences have a fundamental impact on people. The remote working culture has left us feeling stressed or uninspired on most days, and there's no one checking in with you. This is where quotes about remote teams come in handy. The right virtual quotes have the power to change perspectives, especially in the absence of another human being in the same room as you. It can even restore your confidence and faith in combating what's troubling you.
As the physical interaction between virtual teams becomes minimal or almost absent in most cases, it is pivotal to make sure that your remote teams stay driven and prompt at work every day to ensure continuous and uninterrupted success at work. Here are quotes about virtual teams, virtual team lunch quotes, and virtual meeting quotes to help them stay motivated and inspired!
1. Why is it important for remote teams to stay motivated?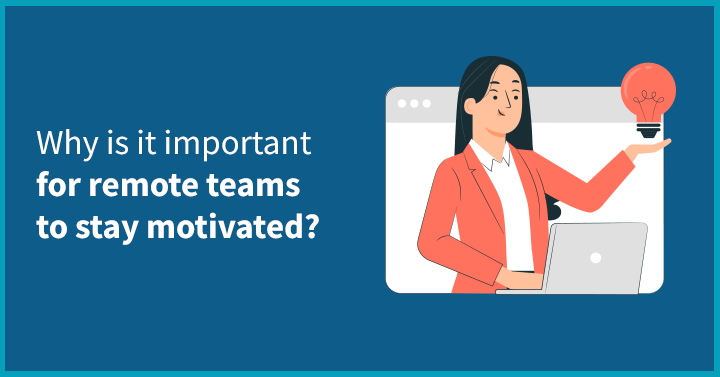 You heard it right - most employees who worked from home reported having higher job satisfaction and saw an increase in work efficiency. It sounds like you are getting the better half of the deal - no office commute, no waking up early to hustle through the morning rush, and no worry about swiping in late. Although working from home can seem like a piece of cake, it also comes with its own share of possible downsides:
1.1 Feeling isolated
Though virtual team collaborations can happen frequently to eliminate the feeling of being solitary, one could often feel lonely due to the lack of physical interaction and a sense of belonging with a community. 
1.2 Work-Life balance
Working from home or remotely also means having thin or no boundaries to your personal life. Flexible work hours do not mean you should work beyond the stipulated work hours. Your breakfast becomes your lunch, you hardly spend time for yourself, and your friends and family don't see you anymore.
1.3 Distractions at home
It will take some time to get adjusted to viewing your home as a workplace. Since not everyone has a home office, working from your dining table or couch is the go-to alternative. Disturbances like the neighbor's drilling, a mixer in the kitchen, or your dog wanting a belly rub - all could make you lose focus and drop your productivity as a whole.
As remote working is the future, it is essential to keep your virtual employees inspired and motivated on the go and engage with them from time to time just as you would in the office. 
2. 15 Quotes for Virtual teams that are Inspirational and Motivational
"We like to give people the freedom to work where they want, safe in the knowledge that they have the drive and expertise to perform excellently, whether they [are] at their desk or in their kitchen. Yours truly has never worked out of an office, and never will." - Richard Branson
"People who work together will win, whether it be against complex football defenses or the problems of modern society." - Vince Lombardi
"You should never view your challenges as a disadvantage. Instead, it's important for you to understand that your experience facing and overcoming adversity is actually one of your biggest advantages." - Michelle Obama
"We think, mistakenly, that success is the result of the amount of time we put in at work, instead of the quality of time we put in." - Arianna Huffington
"Balance is not better time management, but better boundary management. Balance means making choices and enjoying those choices." - Betsy Jacobson
Follow your passion, stay true to yourself, never follow someone else's path unless you're in the woods and you're lost and you see a path then, by all means, you should follow that." - Ellen DeGeneres
"Out of clutter, find simplicity. From discord, find harmony. In the middle of difficulty lies opportunity." - Albert Einstein
"Remember to enjoy the freedom of being able to work from anywhere and the flexibility to adapt your work to your life rather than the other way around." - Alex Muench
"Talent wins games, but teamwork and intelligence win championships." – Michael Jordan
"It is the long history of humankind (and animal kind, too) that those who learned to collaborate and improvise most effectively have prevailed." – Charles Darwin
"Our virtues and our failings are inseparable, like force and matter. When they separate, man is no more." - Nikola Tesla
"What you're supposed to do when you don't like a thing is change it. If you can't change it, change the way you think about it. Don't complain." - Maya Angelou
"So find your rhythm, understand what makes you resentful, and protect it. You can't have everything you want, but you can have the things that really matter to you. And thinking that way empowers you to work really hard for a really long period of time." - Marissa Mayer
"Work is a rubber ball. If you drop it, it will bounce back. The other four balls – family, health, friends, integrity – are made of glass. If you drop one of these, it will be irrevocably scuffed, nicked, perhaps even shattered." - Gary Keller
"Coming together is a beginning, staying together is progress, and working together is success." – Henry Ford
3. Virtual Team Lunch Quotes
"Good food and great company transcend any distance, even in the virtual world!"
"Eating together, even through screens, nourishes both body and team spirit."
"In the world of virtual meetings, a virtual lunch is our delicious escape!"
"Sharing a virtual meal, creating real connections."
"Plates full, hearts fuller – here's to our virtual feast and teamwork!"
4. Virtual Meeting Quotes
"The art of communication is the language of leadership." - James Humes
"The strength of the team is each individual member. The strength of each member is the team." - Phil Jackson
"Technology itself is neither good nor bad. It's the application of technology that matters." - William Gibson
"Effective communication is 20% what you know and 80% how you feel about what you know." - Jim Rohn
"Individually, we are one drop. Together, we are an ocean." - Ryunosuke Satoro
5. Wrapping up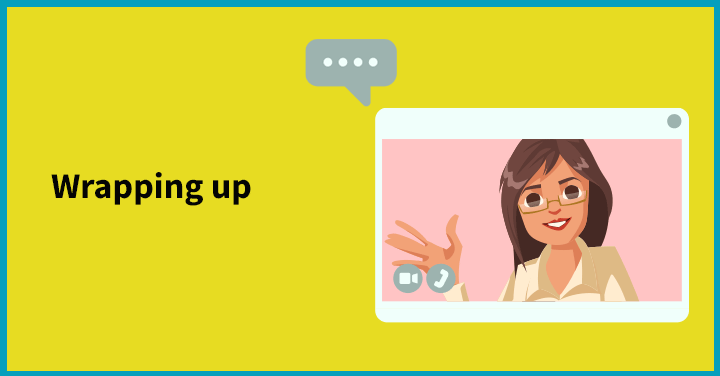 Saying the right words can have a profound effect on the person you say it to. The quote I feel is the most inspirational of these is the one by Doist's Alex Muench. Alex speaks from experience having worked as part of a fully remote and distributed team.
We all know working remotely puts employees at a disadvantage,i.e the absence of workplace banter. In the office, you can stay fresh, alert, and energized from the conversations happening around you. You can choose which conversations to initiate, participate in or just listen to. At home, however, why and how often we communicate differs. If someone does call or ping you, it's usually related to getting or giving a work-related update. Casual conversations and team-building activities take a backseat because it's perceived as a distraction to productivity rather than an engagement tool. 
The first step is to change this mindset and rethink how we interact. At times, all that's needed to pull either yourself or someone you know out of a slump is to offer motivational virtual celebration quotes for remote teams. 
Hopefully, the ones we've compiled here will help you help others. Stay remote-ivated!