Ever wished that finding a job was as easy as instructing Alexa to "find me a remote job" and have it at your fingertips? With a plethora of remote job boards out there, it's not easy to sift through a volume of information to arrive at exactly what you need. The work-from-home era has created the need to have a one-stop resource centre where you can get that kind of information all at one place.
So, move over Alexa, here's where we step in to make it much simpler for you with our curated list of 25 remote job boards to explore in 2023.
1. 25 Exclusive Remote Job Boards 
1.1 Flexjobs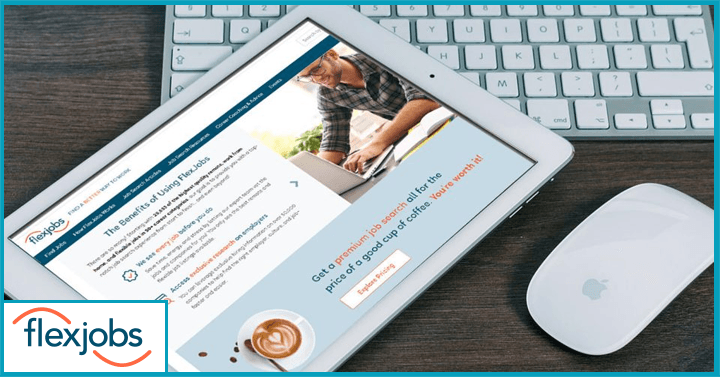 FlexJobs is one the largest remote job boards with a wide range of flexible jobs in the remote, part-time, and full-time categories from entry-level to executive levels that covers over 100 industries. The job portal also provides employer branding, consulting, and leadership services as well besides recruitment.
Features:
Each membership plan hosts unlimited job listings and resume searches
Employers can access job feeds from over 20 of the leading applicant tracking systems (ATSs)
For those like us who need to see it to believe it, members can view a customised, branded employer profile with blog posts, testimonials, and more
Price Point: Unlimited access typically costs $14.95 a month or $49.95 a year, but new members can get a discounted price. Unlimited access typically costs $14.95 a month or $49.95 a year, but new members can get a discounted price.
1.2 Jobspresso
Founded in Canada,  Jobspresso is a remote job board aimed at those looking for work-from-home or remote jobs in tech, marketing, customer support and sales. You can use their detailed  filters to browse job opportunities based on work type, location, salary and more for quick results.
Features:
Variety of packages including discounted bundle packs
90-day postings come standard with all packages
Provides complimentary copy editing services for professionally worded job posts that we think is the most helpful
Price Point: Jobspresso's pricing begins at $299.00 for one job listing upto 90 days
1.3 Virtual Vocations
On the list of remote job boards next is Virtual Vocations, that's run by an entirely remote team and promotes hand-screened job listings in profiles like account management, technical writing and paralegal. We did some scouting on the site and explored some very interesting blogs in the site's blog section.
Features:
Free registration and partial access to the database
Three different auto-renewing subscription options are available
Exclusive discount offers on paid memberships
1.4 We Work Remotely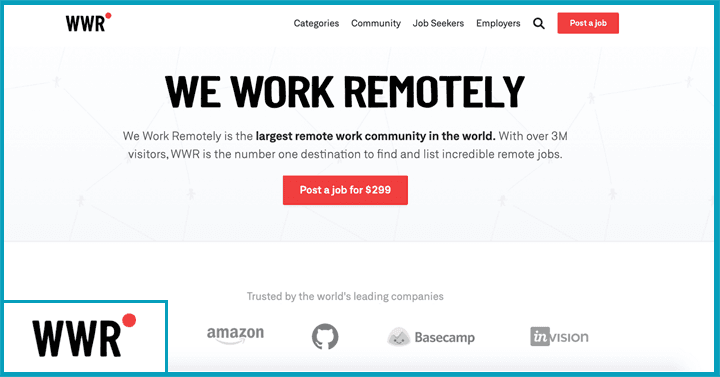 We Work Remotely has a large subscription base and provides a range of remote jobs online from customer service programming to web design and for employers who need a specialised skill set. WWR also has an engaging newsletter that dishes out the latest in remote work and features articles, tools or events.
Features:
Manually prioritised and sorted applicant batches to avoid time-consuming screening of large volumes.
Bundle packages are designed to identify and hire suitable remote candidates.
Integrated partner network including Google Jobs Network, Designer News and over 20 independent niche job sites that share WWR job posts.
Price Point:  A single posting costs $299.00 besides a range of bundled packages
1.5 Skip the Drive
Perfect for digital nomads and those who want to skip the telecommute route, Skip the Drive is an all-in-one resource for a veritable list of remote jobs online. The remote job board has an easy-to-use platform that covers categories such as insurance, sales, consulting, nursing, and administration. Search by keyword or category, or use one of the site's suggested filters to narrow down your options.
Features:
No registration needed to search for jobs
Provides additional advertising solutions such as sponsored content and banner ads.
Notification alerts for new job matches makes it so much easier to stay updated in our opinion
Price Point: Standard fee for a single job listing $99.00
1.6 Working Nomads
Exclusively designed for digital nomads, Working Nomads requires you to sign up through its newsletter to get a selective list of remote jobs online into your inbox on a daily or weekly basis as you prefer. The listed jobs  come from industries such as writing, education, human resources, and profiles that can accommodate flexible work hours.
Features:
Relist postings without charge
Job posts can be mailed to 15,000 email subscribers and more
Posts can be edited as needed 
Price Point: This remote job board has an entry-level plan that's relatively affordable. It allows one job posting per user.
1.7 Just Remote
Just Remote offers curated listings for both part time and full time remote jobs across leading remote work companies. They have categories from design, writing, HR, sales, to software and HR. Interestingly, this young platform seems to attract popular companies such as Starbucks, Squarespace, and Reddit 
Features:
Use the Power search tool to aggregate hidden remote jobs that are not sponsored 
Access the resource centre that includes everything from remote work resume tips, to statistics, and informational articles on remote work life.
Price Point: A single job listing costs $189.00 and the power search is $6.00 while discounted rates are applicable only for bulk listings.
1.8 Remote.co
Remote.co has a tailored list of remote jobs online  in HR, sales, developers, recruitment, customer service positions, design opportunities, developer jobs,  writing and other jobs with flexible profiles. The remote job board also offers best practices, insights, and integrated support to organisations who are looking to make inroads into the remote workforce.
Features:
Provides discounted rates on multiple posts
Advertised positions are categorised according to industry to make it easier for job seekers to find.
Price Point: A single posting costs $299.00 while a job highlight costs $49.00
1.9 Pangian
Pangian's remote job board has a comprehensive list of available remote listings that include content creation, digital marketing, web development, UX design,  and more. You can also join their large remote community to access value-added content from career tips, advice, latest remote job trends, collaborative exchanges and more. 
Features:
Employers can reach more than 40,000 candidates via email blasts
A branded employer page is available with all packages
Price Point: A Plus job post costs $249.00 and Premium Job Post costs $499.00
1.10 Remotive
With major categories like marketing, sales, product support, and content, award-winning Remotive  is the go-to remote job board for those who are seeking virtual workspaces primarily tech remote jobs. This board has a  bi-monthly newsletter where prospective employers can create their company profiles and post jobs by location to help source the most compatible employees. 
Features:
Listings can be shared through Google Jobs Careers Network and Slack
User-friendly interface with a wide range of filters to find job postings more easily and quickly
Attractive discount offers for non-profit organisations and special rates for bulk listings
Price Point: The base price package starts at $299.00 per post
1.11 Remote OK
Remote OK has filters for all kinds of job types, experience levels, and profiles for those who are specifically looking for work-from-home jobs in the tech space such as design, user experience and programming. An added plus is the "remote work statistics' tab that shares information on the most popular or dynamic industry fields. This one's a great choice to attract international talent for U.S jobs
Features:
Google for Jobs recruitment network hosts  job posts
Email alerts for a candidate pool beyond 91,000
Category view of candidate profiles are available
Price Point: The portal offers bundled packs and customizable plans for a specific number of job posts that start at $449 onwards.
1.12 Remote-Europe
Now this among remote job boards is specifically a portal that offers specialised remote jobs online, events, and co-working spaces for those looking to tap into remote work in the European continent. Remote Europe also shares articles and events in their blog section.
Features:
Detailed filters to make job searches more easy and specific for users
Handpicked jobs that are specifically chosen by virtual team of experts
Price Point: Bundled packs and discounted plans are available for jobs posts on monthly and yearly basis.
1.13 Indeed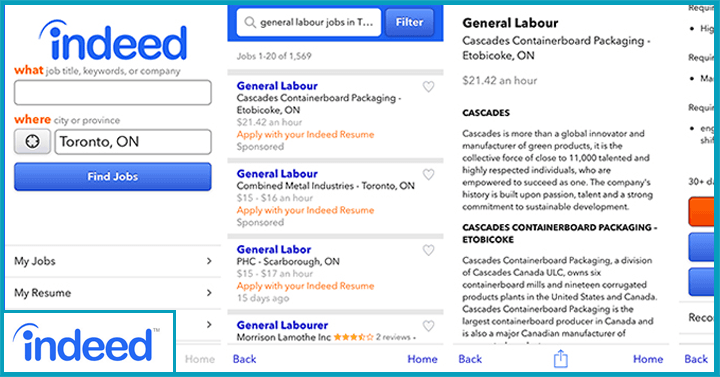 Indeed as one of the most popular free job platforms that sources data globally, making it a leading job search portal in current times with over 200 million resumes. A basic search for remote jobs yields over 526,991 jobs listings across a range of positions. Globally, Indeed represents a 16.36% market share among job boards. Not only do they post remote jobs online, but also offer enhanced value-added services such as  built-in skills assessments so employers can link them to job listings and improve the candidate screening process.
Features:
Free job posting platform with global audience
Can help to integrate companies' career pages.
Can be accessed as mobile apps on Android and iOS .
Price Point: The platform offers free, subscription-based, and pay-per-click pricing models to suit various recruitment needs
1.14 LinkedIn
As a global leader in the professional networking space, LinkedIn also doubles as a job resource point where potential candidates can search and apply for remote jobs online and employers can pay through advertising to promote their open positions including remote profiles.
Features:
Track applicants to job posts through Candidate Management feature 
Employers can use targeted job promotion feature 
LinkedIn Pipeline Builder enables companies to target to LinkedIn members that suit their parameters through sponsored updates and ads 
Price Points:  Its basic job posting option is free of charge.
1.15 Upwork
Get work to your doorstep with remote job board, Upwork that lists a wide gamut of freelance remote jobs across categories such as content, mobile app developers, and more. The board has some big names like Zendesk, Dropbox, and Airbnb who are on the lookout for remote workers. All that's needed is an Upwork profile and a verified status to start off. The portal also has a messaging system for effective communication and collaboration.
Features:
AI-matching technology instantly generates a freelancer shortlist based on your project requirements.
Price Point : The basic plan is free and those who sign up only need to pay a standard 2 to 3% processing fee on the platform. 
1.16 Toptal 
Toptal Business aims to connect business consultants and  digital nomads, remote workers or  freelancers through freelance corporate engagements. It does not operate just as a remote job portal but also as a freelance marketplace foto engage software developers, designers, finance experts, and project managers globally. The platform runs a thorough screening process, and accepts only a  marginal number of freelancer applications annually.
Features:
Diverse database of skilled tech professionals across 100 countries, primarily in Americas and Europe.
Employers can benefit by using the trial period feature to decide if an employee is a potential for permanent hire. 
Price Point: Toptal's pricing includes hourly, part-time, or full-time rates for projects depending on the nature of work, location and other details. The basic job rates per hour can range from $60.00 to $250.00. Part-time jobs begin from $1,000.00 to $4,000.00 on a weekly basis; and full-time jobs start from $2,000.00 to $8,000.00 on a weekly basis.
1.17 Fiverr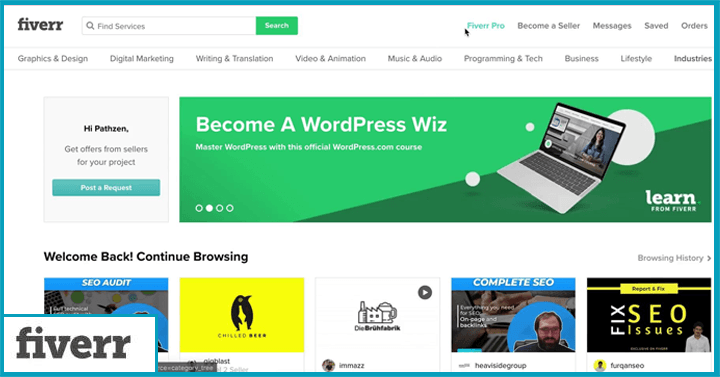 Fiverr  is the perfect springboard for freelancers looking for their first gig or for those who want to scale up their freelance portfolio. As a leading online marketplace for freelance services, this platform enables companies to engage skilled freelancers across a wide range of industries globally. Employes can review the rates and prices set by freelancers and choose based on their selection criteria. 
Features:
The platform does not release your payment until the freelancer has completed the work
Easy to use and navigate since freelancers have an updated profile that lists their skill set and job type along with packages offered
Price Point: The basic cost for a project begins at $5.
1.18 Freelancer
Headquartered in Australia, Freelancer operates as a global freelance marketplace for freelancers to find contractual work in the remote space. The jobsite can be used to find skilled developers, programmers, developers, designers, and more.
Features:
Employers can post a job at no charge 
The platform enables employers to review freelancer profiles, bids, proposals, chat  and keep a track of the progress on each project
Price Point: The fee for any fixed-price project is the greater one; $3.00 or 3%. Hourly projects are chargeable at 3% for each payment credited to a freelancer. They also have packages with attractive bulk rates that are Basic, Plus, Professional and Premiere.
1.19 Gun.io
Gun.io  is another popular choice in remote job boards, designed to hire expert freelance software developers. And trusted in their commitment to excellence by software engineering giants like Tesla, CISCO, & NBC, and 25,000 plus independent project managers, designers, software engineers, and more.
Features:
Candidates are screened at the platform before the hiring process, saving time at the company's end. 
Employers can review candidates and schedule interviews directly on the platform.
Price Point:  The rates can vary between $20.00 and $88.00 per hour depending on the work location for freelancers.
1.20 Idealist
While the Idealist is not entirely a  remote job board, it  promotes over hundreds of remote job listings primarily with non-profit organisations or for internships and volunteer positions.  For those who want to do a world of good and earn at the same time, the Idealist is a win-win for its social impact. 
Many listings are free and a reduced price Credit Pack is available.
Features:
Over 100,000 profiles for volunteers, interns and  nonprofit jobs,
Free mobile app for wide accessibility and personalised email alerts. 
Price Point: This nonprofit job board offers free job posting for non-US organisations and  reduced-rate credit packs
1.21 AngelList Talent
This is a remote job portal for startups and remote workers. Employers can use this platform to engage local and global job talent for their tech startup positions..
AngelList has a wide network and range of  recruitment tools to assist over 100,000 tech startup companies.
Features:
Unlimited free and paid global job posting plans for employers to choose from
7-day free trial included in the paid Pro plan 
The site has a compatible, built-in applicant tracking system (ATS)
Price Point: The Starter pack is free charge while the Pro paid plan begins from $250.00 per month.
1.22 Solid Gigs
Unlike other freelance marketplaces, SolidGigs works as a lead generation tool that can be used as an add–on into a freelance business. The tool identifies compatible leads based on your requirements and then sends alerts. You can then send out a pitch directly to the prospective hire. 
Features:
Email alerts for compatible leads
Subscription can be cancelled anytime
Price Point: There's a 7-day free for trial, $35 per month and a discounted rate of $21 per month, if paid annually
1.23 Dynamite Jobs
Dynamite Jobs is a customer-funded remote job board that caters to companies with a remote-first culture and job seekers in the remote space. Its distributed global team aims to provide unique remote opportunities.
Features:
Price Point: A single job post costs $249.
1.24 Hubstaff Talent
Hubstaff Talent is a rapidly growing freelance and remote job board and free marketplace that also offers paid software solutions for employers to create, manage, and track remote teams. Serving 34000 businesses in 18 countries, this portal is run entirely by a remote team
Features:
Access a wide selection  of freelancer time tracking software through paid plans. 
The platform syncs job posts with other job boards and sites.
Job postings stay active for up to 60 days and can be posted again at no charge
Price Point: Hourly rates are as low as  $2.00 per hour.
1.25 WFH
You can find a wide range of sales, marketing, customer support, digital and tech related jobs on this remote job board and marketplace. The WFH portal addresses the issues of low candidacy response, lack of quality applicants, and lack of skilled talent through its endeavour to provide the most compatible matches for global tech jobs. 
Features:
All global remote job opportunities are verified and then listed.
Has a bias reduction option that includes gender-equal salary offer recommendations along  with photo and name removal from search results.
Price Points: Choose from Flex, Essential and Enterprise paid packages to access features and add-ons.
2. FAQs
What is the best job site for remote work?
Among all the remote job boards out there, FlexJobs is one of the best job sites for its comprehensive listing of full-time, part-time and freelance opportunities besides a suite of other related offerings. 
What is the best way to search for remote job
Besides doing a basic Google search for remote companies and their career sites, one of the best ways is to explore relevant remote job boards such as the ones listed above.
Why is it hard to find a remote job
The primary reason that makes it hard to find a remote job is the competition to get the same kind of jobs. You need to be aware of relevant remote job boards, float your CV through the right channels and use some creativity with your job applications.