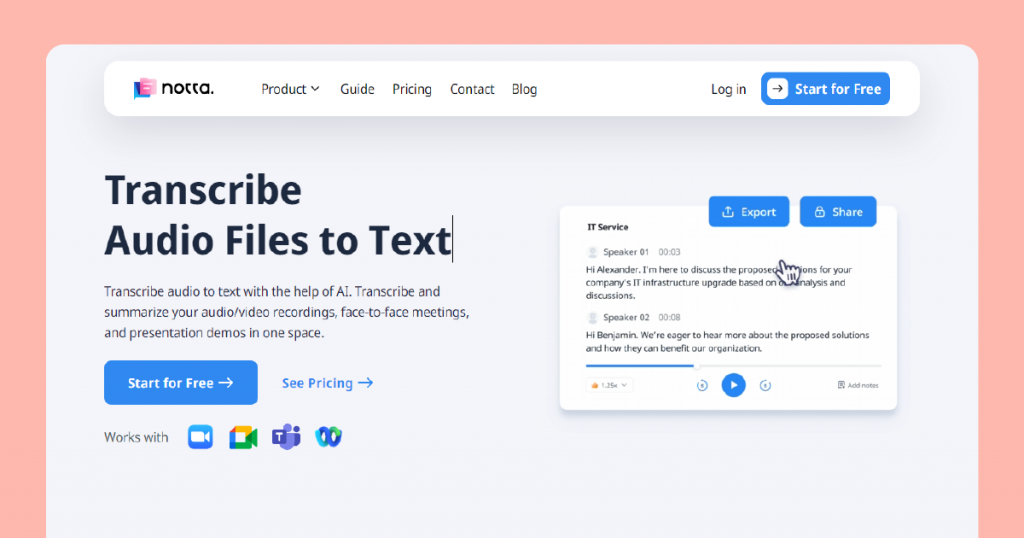 Notta is the all-in-one conference recording and transcription software for remote teams. It is a powerful transcription tool designed to enhance business communications. Powered by AI, Notta is widely used to transcribe and translate live conversations and pre-recorded content, generate transcription summaries, and more.
One of Notta's standout features is its support for over 100 languages, making it an excellent choice for businesses interacting with global leaders in various foreign languages.
Notta offers versatility by providing mobile apps for Android and iOS, as well as a web-based version for computers. It also seamlessly integrates with major web conferencing apps such as Google Meet, Microsoft Teams, Zoom, and Webex.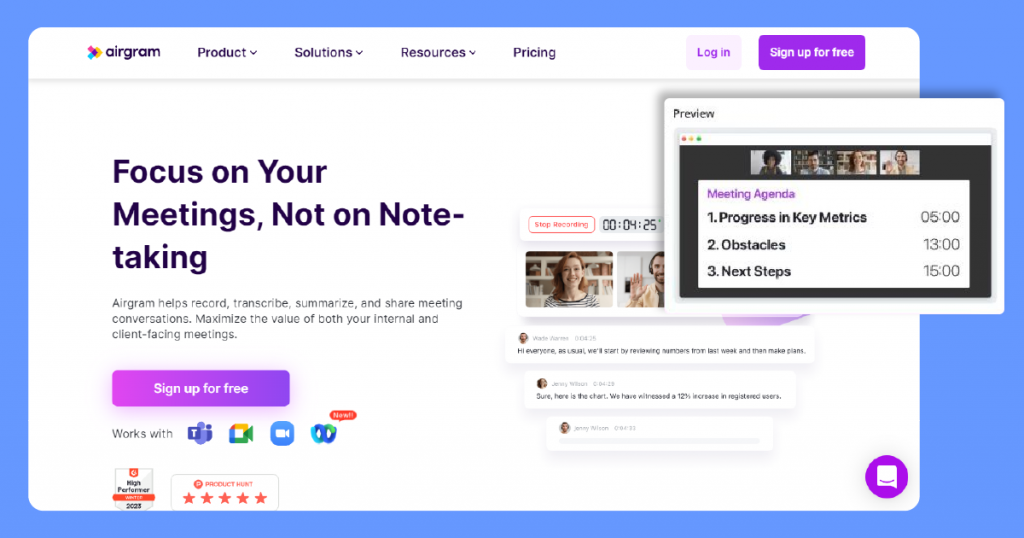 Airgram is an AI meeting assistant designed for remote teams, offering many meeting templates. This tool can also record, transcribe, share, and summarize meeting conversations, maximizing the value of your client-facing, internal, and virtual meetings.
Airgram allows users to keep permanent records of client meetings, coaching sessions, online calls, customer feedback, and more. Plus, this remote work tool ensures high-quality audio and video recordings, promoting collaboration and inclusivity among your team members
This AI-generated transcription tool easily converts recorded speech into editable and searchable text documents that are easily exportable to Slack and Notion. This allows team members to focus and prioritize listening to conversations rather than scribbling down notes.
Team members can also collaborate with Airgram's single dashboard and template for everyone.
3. Zoom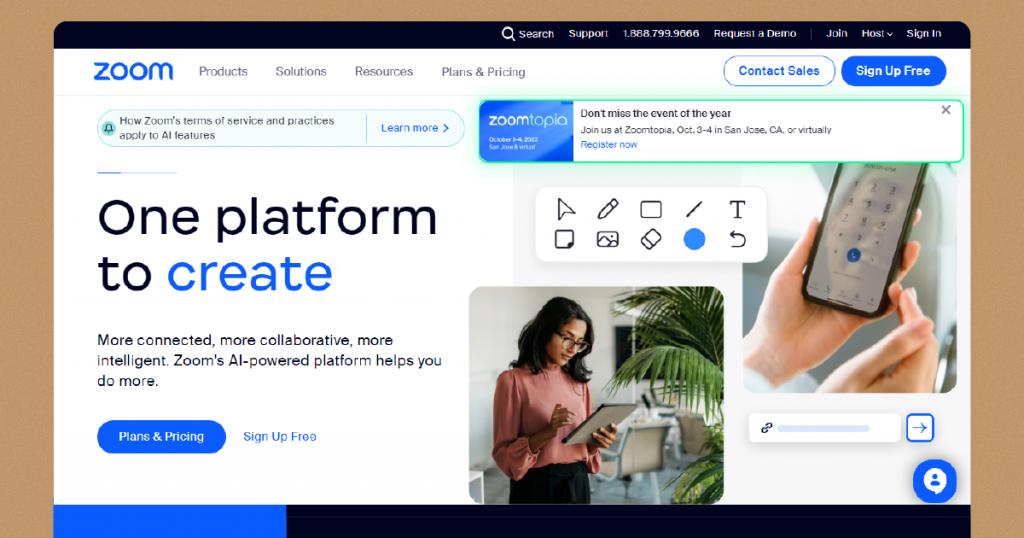 Zoom is one of schools' and businesses' most popular video conferencing apps. This affordable and easy-to-use platform has been the go-to remote work tool for meetings, conferences, school orientations, and more.
Zoom features a simple and highly intuitive interface, allowing users to use the platform as a digitized conference room. Users can host at most 100 participants with the free version. Zoom also allows individual collaboration, where users can create small breakout rooms for smaller interactions or group discussions.
To safeguard meetings and sensitive data, Zoom has implemented robust security measures, including password protection, waiting rooms, and end-to-end encryption. You can also record sessions for future reference on Zoom.
Additionally, this platform can also automatically transcribe spoken content during meetings to enhance searchability and accessibility.
4. Asana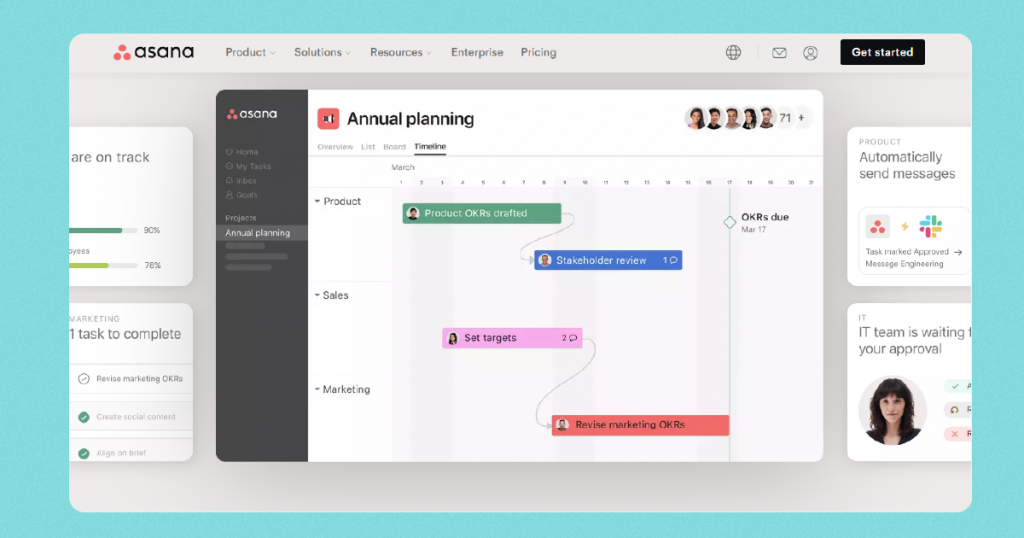 Asana started out as a minor list-based project management tool before becoming one of the frontrunners in comprehensive task management. Today, several teams and creatives worldwide have started utilizing Asana to streamline their workflows and business operations.
Asana promotes proper work assignments by evenly distributing tasks and other objectives among specific team members. It also promotes communication, ensuring all tasks are efficiently organized and accomplished.
With Asana's single dashboard, teams have access across all calendars and project boards, ensuring everything is right on track. Your team can also effortlessly view project milestones and collaborate by sharing essential files on this all-in-one task management tool.
5. Zight (Formerly CloudApp)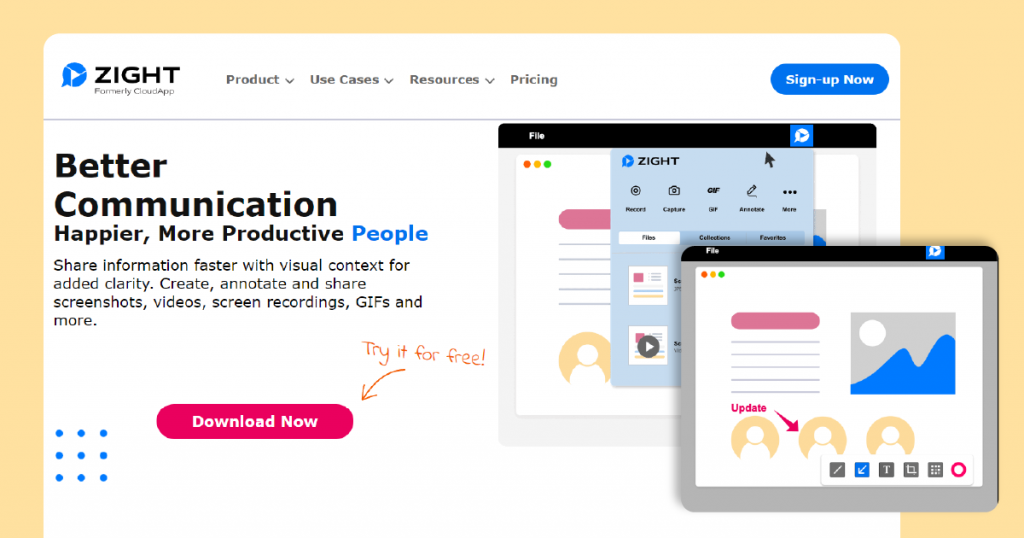 CloudApp, or Zight as it's now called, is a versatile visual communication and collaboration tool that empowers users to create, share, and communicate efficiently. It allows users to capture and record their screens effortlessly to create tutorials, share software issues, or communicate more effectively.
This remote work tool also facilitates seamless file sharing, allowing users to send files and documents easily. On top of that, you can access shared content with a single click. That gets rid of the need for cumbersome email attachments — less stress for users.
Zight is available on multiple platforms, including Windows, macOS, and iOS. You can also access it as a web app, ensuring that users can communicate and collaborate from whatever device they like. Zight also has extensive support and resources, including tutorials and documentation, to help users make the most of its features.
6. Slack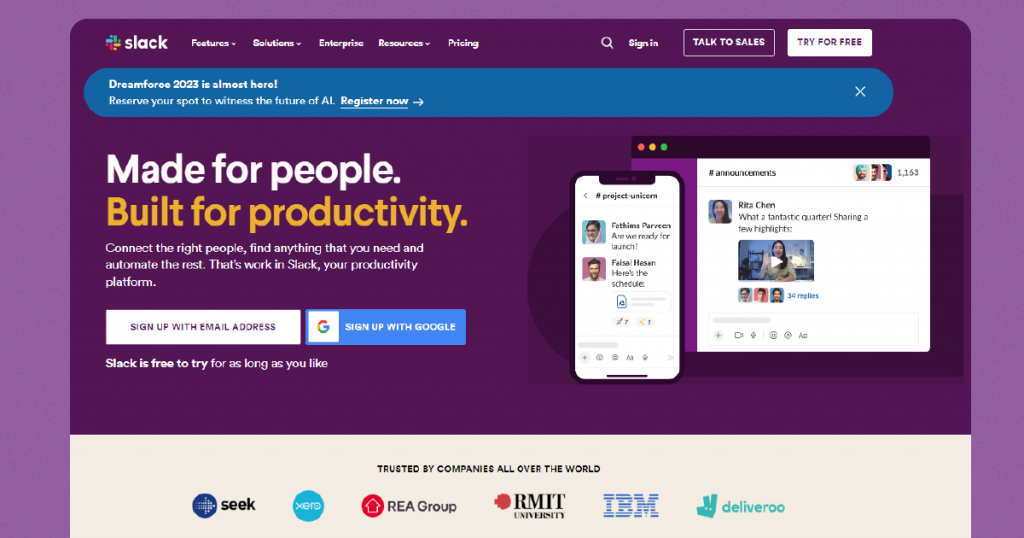 Slack works like Facebook Messenger, except you can use it for work! It's an all-in-one work messaging platform and features file sharing, real-time communication, screen-sharing, voice calls, and searchable archives. These features allow remote workers to collaborate and communicate easily whenever and wherever.
Slack allows users to organize communication channels based on topics, projects, and team categories. Its search feature also lets you look for the information you need. Plus, Slack guarantees privacy in conversations and uploading files.
Slack promotes seamless integrations with other remote tools, including Google Docs, Trello, Hive, Friday, and more.
7. Trello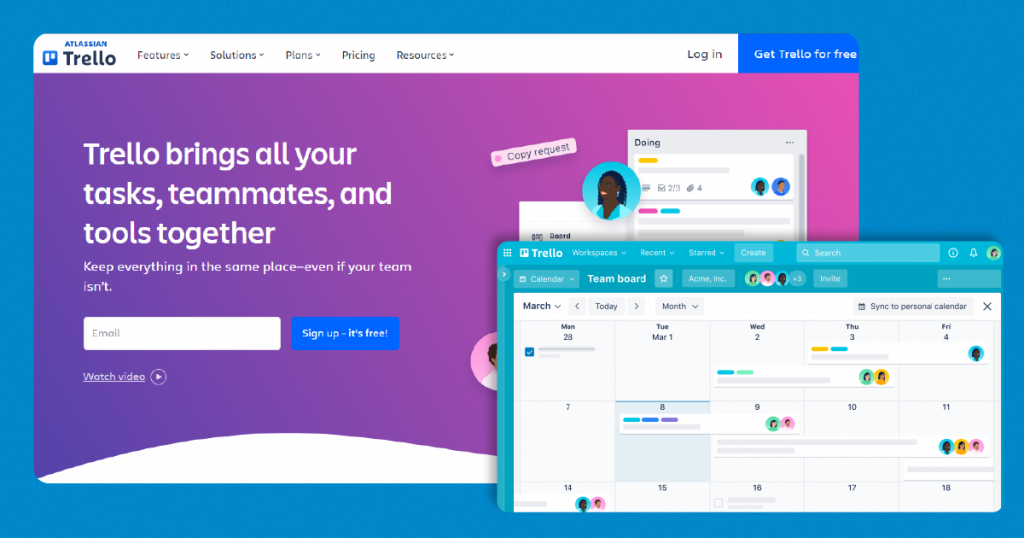 Trello is another famous visual remote work collaboration platform for small businesses. It's a simple web-based tool that creates a shared management space to promote team collaboration in Trello's flexible, friendly, and fund user interface.
Users can get as creative as possible in creating and organizing cards on various boards on Trello. This empowers them to work together more seamlessly, especially when companies are in a hybrid work setup.
Cards serve as visual trackers, allowing your team members to track your progress and organize priority tasks easily. Trello also features a convenient mobile app, perfect for remote workers.
8. Loom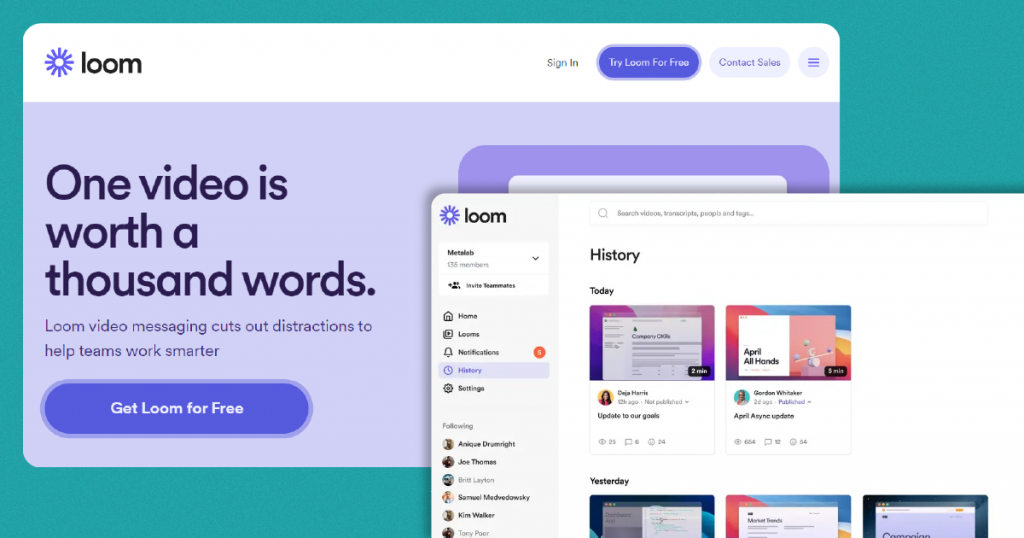 Loom is a video-sharing app, that allows your team members to record their screen and share the video recording with your company's other employees through a public link. What sets Loom apart is that there's no need to create an account to watch and listen to the recording.
Loom is ideal for virtual teaching, graphical reports, and simple tasks like email writing. It's one of the leading visual communication remote tools that provides the option to embed videos directly into emails or websites, enhancing engagement and creating a more interactive communication experience.
Loom can also track viewer engagement, including when recipients watch videos and whether they've completed them, offering insights into the content's effectiveness. You can also find basic video editing tools within the platform, such as trimming and cutting, allowing users to refine content without needing external software.
Loom also promotes seamless integrations with popular productivity and communication tools like Slack, Google Workspace, and Trello, making it easy to incorporate into existing workflows.
9. Shift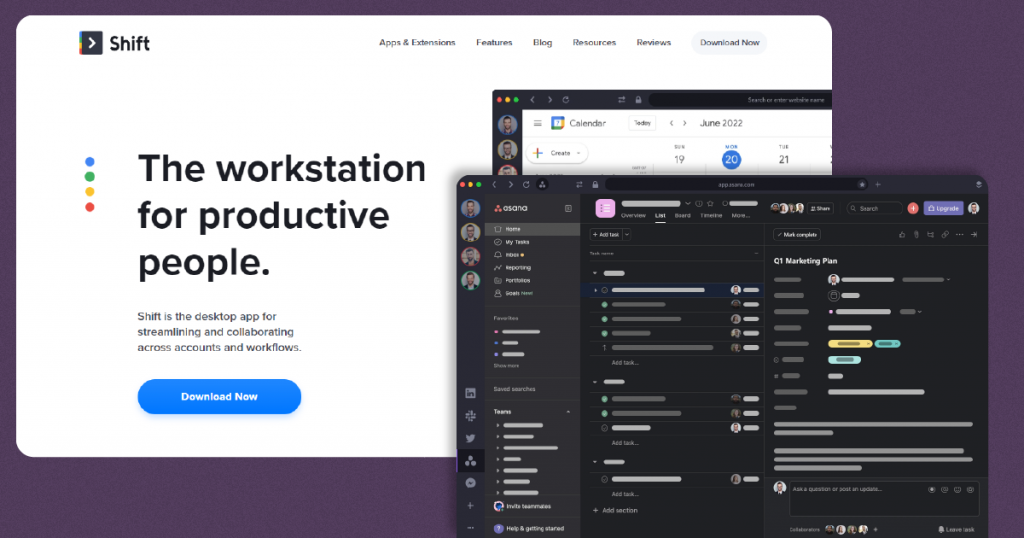 Shift is an all-in-one platform solution for saving all applications and email accounts, preventing problems encountered by logging in and out of your browser. It's one of the best tools for remote teams because of its easy connection with more than 1,000 applications.
Shift allows users to access and manage multiple email accounts, including Gmail, Outlook, and others, all from one central dashboard. This reduces the need to switch between different email clients or browser tabs constantly.
Whether you're on a Mac or a Windows PC, Shift works across these operating systems, ensuring a consistent and familiar user experience. Shift allows for collaboration for teams and businesses, too. That means that it's easier for you to work together on specific projects or to share certain tools.
The best part of Shift is that you can easily manage multiple email accounts and applications. This makes it a valuable tool for professionals, remote workers, and anyone looking to be more productive and get organized.
10. Instagantt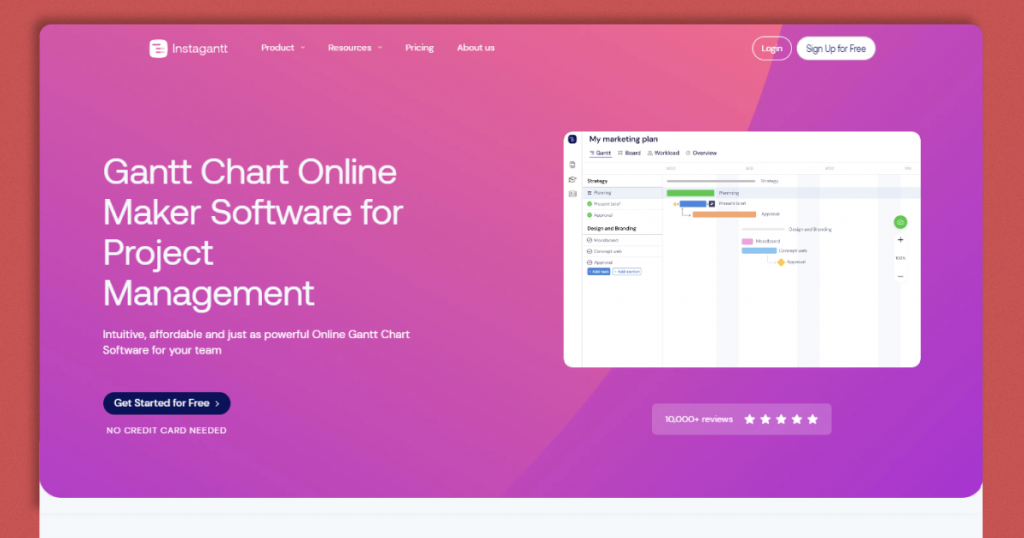 Instagantt is a project management and Gantt chart software designed to help remote teams and individuals plan, organize, and track projects more effectively.
Users can establish dependencies between tasks, ensuring one task cannot start until its predecessor is completed. This feature helps maintain project sequence and accuracy.
Teams can allocate resources to tasks and monitor resource workloads to prevent overallocation or underutilization. It helps in optimizing resource allocation for efficient project execution.
Instagantt also supports collaboration by allowing team members to comment on tasks, attach files, and communicate within the platform, improving communication and team coordination.
11. How To Manage Remote Teams
Flexible work arrangements, including the remote setup, are permanent in the business culture. While tech tools and software exist to make your job easier, the power to ensure everything works and is in place depends on you. Here are valuable tips for managing remote teams and working efficiently.
Always practice proper communication. Ensure all your remote employees are kept in the loop with recent updates or announcements in the company.
Show you care. Constantly checking in with your remote employees will make them feel more valued and appreciated, which can also affect their work ethics, productivity, and performance.
Offer flexibility. Let your remote teams know they don't have to stick to a certain number of hours because this can lead to more fatigue and burnout.
Provide all resources. Even though your team is remotely working, you must ensure all members have the resources to work efficiently in their chosen location and increase productivity.
Keep all tech tools in check. We know tech tools can be a pain when they malfunction and start shutting down. This is why regular inspections are necessary. Always ensure your software and remote work platforms are working properly to avoid affecting your remote team's work.
12. Conclusion
Remote work has brought a significant transformation in the business landscape. Nevertheless, the flexibility of a remote setup comes with its own challenges, including communication issues and a disorderly work environment.
This is precisely why it becomes essential to leverage the support of top-notch remote work tools, enabling you to optimize your work processes and enhance overall productivity. We hope this guide helped you choose the best remote work tool and platform to boost your remote team's performance.