1. What are Travel incentive programs for employees?
Travel incentive programs for employees are a form of non-monetary rewards or bonuses given to employees as part of employee engagement and appreciation initiatives in an organization. These typically include paid or sponsored vacations. experiences or getaways that can be tailored for employees to motivate them in order to meet goals or exceed them.
2. What Is the Importance of Travel Incentive Programs for Employees?
Engaged employees who are appreciated and rewarded for their hard work and contributions tend to have higher productivity levels. Travel incentives offer employees a good deal of rest and relaxation, so they can come back rejuvenated and be more creative and productive at the workplace. Teams have a great time bonding through their travel experiences, and it also helps foster a more positive work culture besides lowering attrition rates.
By offering attractive travel incentives, companies too can promote a more positive brand image, inspire healthy competition among colleagues to get the best out of them and boost retention rates. When these programs are planned and implemented accurately, they can be quite budget-friendly and effective in boosting performance at the workplace.
3. What Are Some Good Corporate Incentive Travel Program Tips?
3.1 Plan the goal of your travel program
When you choose to create travel incentive programs for employees, you need to figure out why you need them in the first place. What specific actions or goals do you wish to achieve through a corporate travel program? Considerations could include the need to increase sales figures, achieve more client satisfaction scores, lower attrition rates over a set period or simply reward team members for a recent win so they continue to perform well.
With a sound plan to set in motion, you can then add certain performance parameters that need to be met in order for deserving employees to avail the benefits of such travel incentives.
3.2 Consult with incentive travel companies
Once you have decided to implement a few travel incentive programs for employees, you need to create a credible list of travel and tour companies or third-party vendors who are experts in doing all the planning and arrangement for group travels.
There are plenty of incentive travel companies that provide customized plans and facilitate corporate tie-ups so you can also take advantage of offers and discounts for bulk requests. Choose the best one based on their provisions for accommodation, transport, meals, unique experiences and proactive customer support.
3.3 Ideate with your employees
A good way to go about choosing the right destinations when it comes to executing travel incentive programs for employees is to ask the employee themselves! You could use surveys or your internal platforms to source creative ideas and suggestions on trending travel hotspots or out-of-the-box experiences that they would prefer instead of settling for the classic resorts or retreats nearby.
This way employees are encouraged to feel like a part of the company and will also look forward to enjoying these trips.
3.4 Stick to the budget
While your travel incentive programs for employees need not be run on a shoe-string budget, it's important to ensure you set a fixed amount, since these types of programs can run on the higher side considering factors such as meals, entertainment and transport. This calls for consistent monitoring of your budget to ensure optimum utilization of resources and returns on investment.
You can let employees know the budgetary stipulations as well, so they are aware and have the choice to buy add-on services by themselves.
3.5 Be flexible with multiple options
Create one that counts in varied opinions when it comes to designing a travel incentive program for employees. Since interests and preferences may differ from person to person, an engaging incentive program should make allowances for dietary preferences, cultural aspects, physical abilities, and more.
While choosing travel destinations, you should be able to pick places that are suitable for travel at that particular point in time, are receptive to tourists and safe to visit.
3.6 Offer travel resources and assistance
While you may have made all the arrangements and appointed overseers, it's important to provide additional support or assistance for employees in the event of ad hoc changes or sudden change in plans.
Arrange for support staff who can provide necessary information and guidance on passport or visa formalities and bookings, CDC advisories and medical policies, insurance, information on safety protocols, accommodation, food, local sightseeing and currency exchange. You could provide travel orientation sessions or share how-to-guides that will come handy before and during the trip.
3.7 Emphasize on team building activities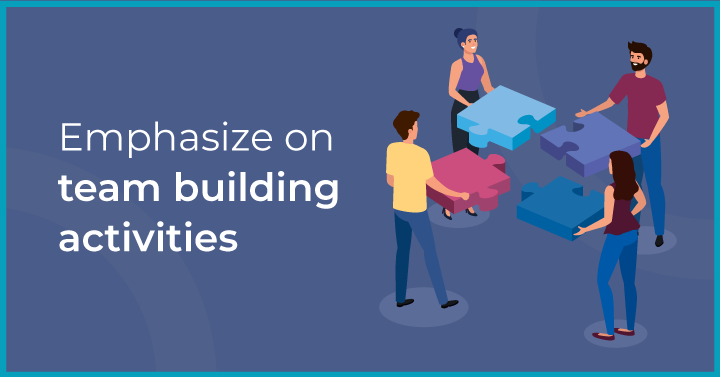 Corporate travel incentive programs are employee-centric initiatives that should cater toward developing and strengthening team bonds and promote a sense of unity. Consider engaging the services of professionals or rope in senior volunteers from within the team itself to arrange for creative team building activities at specific intervals through the trip.
Besides honing communication skills and enhanced collaboration, this ultimately works in the interest of the company as well since happy employees stay more productive.
3.8 Use various social media to market company culture
A great way to maximize the ROI of your travel incentive program for employees is to leverage the power of social media to create a positive brand image, influence team employees and generate more interest in your organization.
You can ask employees to fill in feedback surveys, share pictures on the company platform, tag the company on their social media handles, add reels, write a blog, create a podcast and more. Be sure to get some written testimonials on the trip so you can use it to post on your official company social handle too.
4. What are examples of Travel incentive programs for employees
4.1 Vineyard Visits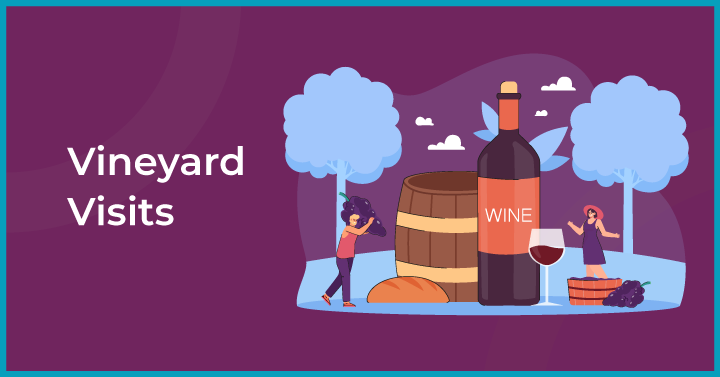 To get your employees in the right spirit, consider a trip to a vineyard. This is a great way to get insider access to how a winery works and educate employees on the finer aspects of making wine. Besides indulging in a little R&R, they also get to sample some fine quality wines and it's sure to be a memorable trip to savor.
4.2 Weekend stay at a beach resort
This one's a classic that's hard to skip. You can arrange for a beach resort getaway as part of your travel incentive programs for employees. The sun, surf and sand combo are a sure-fire way to get the conversation flowing and set the tone for some fun bonding.
You can mix in a couple of team building activities besides barbeque and cocktails to keep the momentum going.
4.3 Historical tour of ancient cities
Consider your employees thoroughly enlightened on a historical tour of important cities. Plug in places such as England, Italy, Greece or Egypt that are replete with rich history and fine works of art.
You can engage the services of a tour manager or local guide to help with the trip and create an itinerary that covers all major city attractions such as castle tours, museum visits and popular landmarks to offer a delightful cultural experience.
4.4 Hiking/Bungee jumping
Adrenaline junkies won't let this opportunity pass and it also gives the novices a chance to learn and hone their adventure-seeking skills. Choose popular locations and credible instructors who can help with the necessary training and safety measures especially for those trying it for the first time.
Besides offering a thrill, these activities will motivate employees to push their boundaries, open up to new experiences and channel their creativity.
4.5 Snorkeling/Scuba diving
Snorkeling and scuba diving can be wonderful team building activities that help in improving employee communication, group dynamics and creativity. Arrange for experienced instructors who can help with the essentials and basics for beginners.
For those trying it for the first time, exploring underwater marvels can be an unforgettable experience that's sure to leave them more than happy and motivated.
4.6 A stay in countryside
For that much needed rest and rejuvenation, a trip to the countryside is another tick on your list of travel incentive programs for employees. Teams will appreciate the fresh air, quiet ambience and mix of enjoyable activities that you can add in.
Have a local guide introduce them to the delights of simple rural life, take them on a visit to the farmer's market, arrange for fun rifle shooting or archery competitions and more. It's a great way to create some memorable experiences, boost morale and employee happiness.
4.7 A food tour
There are very few who can say no to great food and so a food tour can be a rewarding travel incentive. Indulge the foodies in your workforce with a trip that takes them on a tour to sample the best culinary delights in your local vicinity or abroad. These could be wine and cheese sampling, baking delights or something more exotic such as Pan Asian cuisine.
Mix in some DIY cooking and informational sessions on the history and culture of the food they sample to make it more engaging and fun. This will help them broaden their vision and be willing to explore new opportunities even at the workplace.
4.8 Visit to wildlife sanctuaries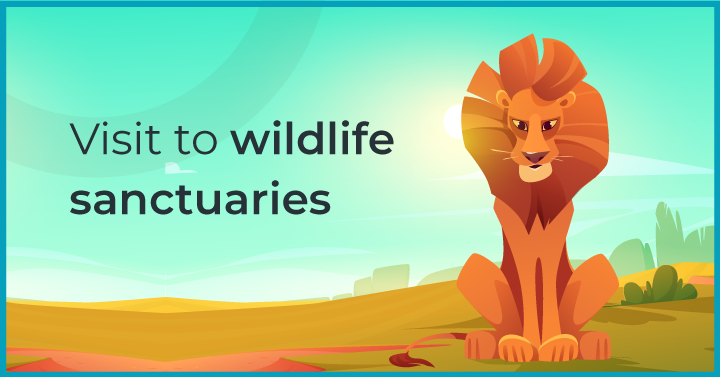 Another creative choice for your next travel incentive program for employees is a trip to a wildlife sanctuary. It's a great way to help employees reconnect with nature, explore a completely different environment and enjoy thrilling jungle safaris.
Have a tour guide assist with the booking arrangements, rides, and more to show them around. Employees will find plenty of time to bond and communicate and that in turn will show positively in their output at the workplace.
4.9 Company cruises
A luxury cruise is not exactly your regular run-of-the-mill reward and so this kind of travel incentive is the ideal way to reward a big win or outstanding performance. Engage a host who can hold an audience for a few hours on the ship and then arrange for a range of shipboard activities and other entertainment or shopping that they can do at port stops.
Cruise trips make for great team building platforms where employees can participate in water sports, play ice-breakers activities and get to know different team members.
4.10 Team building retreats
You can never go wrong with retreats of any kind when it comes to planning travel incentive programs for employees. These could range from holistic retreats, fitness retreats, digital detox retreats to spa retreats and more. The entire organization comes together as a single unit over the course of a few days to connect with each other in a relaxed atmosphere.
You can arrange for these in the city or in an outdoor location away from the hustle and bustle of city life. There are plenty of properties that offer services to host large-sized teams or groups and they make provisions for spa services, conference rooms, meeting rooms and more.
5. FAQs
5.1 What are the 4 types of incentives?
Travel incentives can be broadly classified as employee motivation, rewards and recognition, sales incentives and customer or client ratings
5.2 Why incentive travel is better than cash?
While cash is a given for salaries, bonuses and spot prizes, a travel incentive is a great choice when it comes to appreciating excellent performance on a large scale since it's more experience- focussed and stays memorable. Cash can be spent easily and is more individual centric, while a travel incentive stays relevant to both the company and employee in boosting morale, happiness and productivity.