Winter's here and everyone's getting out their box of Christmas decorations and ugly sweaters. The only difference here is that instead of decorating the office tree with all your colleagues, you'll be celebrating the holidays with them through some creative and fun virtual office Christmas party ideas.
Ever since the pandemic hit, both work and seasonal celebrations have moved online. But that shouldn't dampen your spirit, considering that you'll get to spend time with both family and colleagues before the office closes for the holiday season.
If you want to elevate your virtual celebrations, explore our interesting articles on virtual games on Google Meet that will inspire and empower you. Whether it is thrilling murder mystery team-building activities like - Bingo or escape rooms, amazing virtual holiday party ideas, or virtual wine tasting parties, we've got everything to create unforgettable memories with your team.
To make your virtual gatherings truly extraordinary, check out articles on Halloween Party, virtual dinner parties, New Year's Eve extravaganzas, and work anniversary celebrations.
In this post, I'll be sharing a few virtual office Christmas party ideas for fun team-building activities that will make the occasion memorable for everyone. Enjoy!
1. What Do You Do at a Work Christmas Party?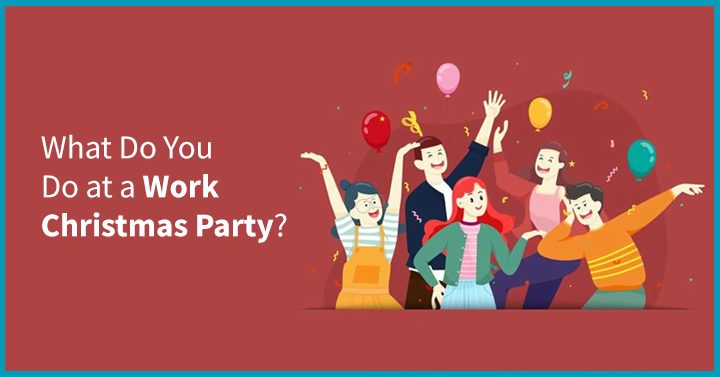 Holiday celebrations are a great way to bring your office together and show your appreciation for each other. When everyone is feeling exhausted from working at home for such a long time, a remote work Christmas party is the best way to unwind yourself and reconnect with coworkers over holiday-themed games and activities.
These ideas for office Christmas activities will help you celebrate the holiday season with your team and create new memories to treasure.
Dinner and drinks for all to celebrate the ho-ho-holiday season
Come together and decorate a Christmas tree with beautiful ornaments and fairy lights - it's also a great team-building activity
Rock around the Christmas tree with a fun-filled dance party
Organize a karaoke night and sing famous Christmas songs together
Host a potluck to taste delicious holiday treats cooked by your teammates
A bake-off between all employees to bring in the competitive spirit
If your team is still working remotely, and counting on a remote work Christmas party to socialize, here are a few virtual Christmas party ideas for your team to make the holiday celebration delightful.
2. Virtual Office Christmas Party Games and Ideas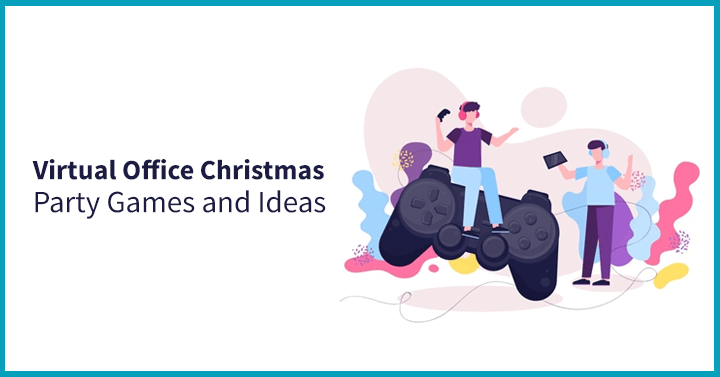 2.1 Virtual Ugly Sweater Christmas Party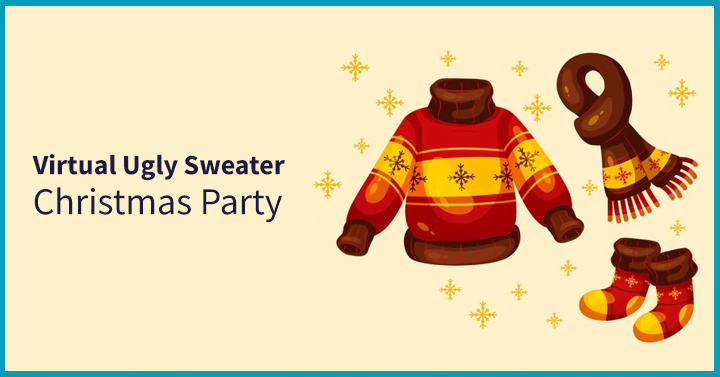 Wearing an ugly sweater has become an unspoken tradition at Christmas parties. It's always entertaining to see your coworkers in those tacky, bold, and fun ugly Christmas sweaters. Make an apparel item the centerpiece of your virtual office Christmas party, and let the fun begin.
Send an invite designed on an ugly sweater theme and ask your teammates to dress up in their sweaters for the party. Tell everyone to get creative with their ugly sweaters, better if they can do some DIY and design by themselves. Set a Christmas tree, Santa's workplace, or a fireplace as a background to give your virtual office party the X-mas touch. Create categories and vote for the Ugliest Sweater, Most Creative Sweater, Cutest Sweater, Most Christmassy Sweater, etc. Choose winners who get the most votes in these categories. Don't forget to click a group picture with funny faces to share on social media!
2.2 Plan Online Secret Santa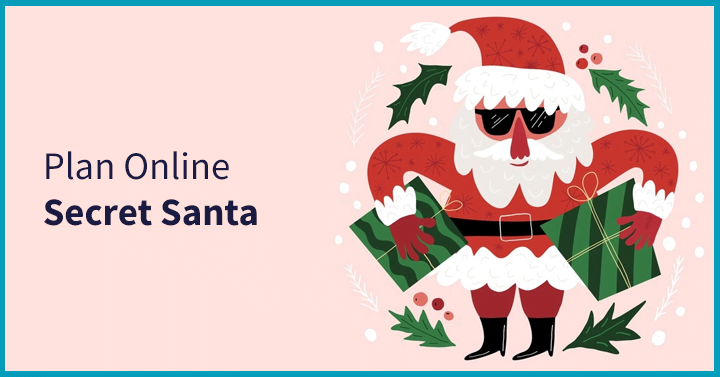 Did you know Secret Santa is also known as "Kris Kringle'' in some parts of the world? Call it "Secret Santa" or "Kris Kringle", no one will be averse to the idea of someone getting them something from their Christmas wishlist.
This classic gift exchange shouldn't be ignored even during the online Christmas party. Use Elfster to pair gift giver and receiver automatically. They can also buy their gift from hundreds of shops available on this platform. Everyone can open their gifts one by one at the virtual x-mas party and try to guess who their secret Santa is.
2.3 Organize a Holiday Trivia Contest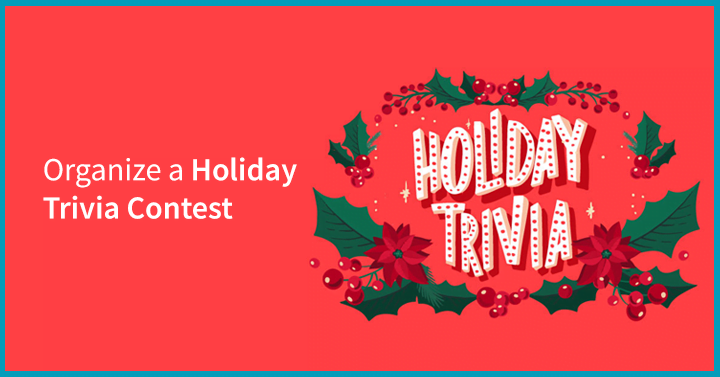 Make your virtual office Christmas party more exciting with Holiday Trivia Contest. This is the perfect time to impress everyone with your extensive knowledge of Christmas-related things.
Prepare a list of questions you want to ask during the Holiday Trivia Contents. Questions can be based on Christmas Traditions, Christmas Movies, Song or even folklores. With this Christmas Quiz, you can test how everyone knows about the most magical time of the year. Divide your coworkers into teams and declare a winning price for a winning team. To make it more interesting, you can also include a buzzer round to decide the winner between the top 2 teams. Here are a few questions for you to get started;
When and where was Jesus born?
Which was the highest-grossing Christmas movie of all time?
What did the other reindeer not let Rudolph do because of his shiny red nose?
Traditionally, what is put on top of Christmas trees?
When it comes to choosing a Christmas tree, what type of tree is most popular?
Which is the best-selling Christmas song of all time?
Who is the figure from English folklore that became associated with Santa Claus?
2.4 Online Christmas Caroling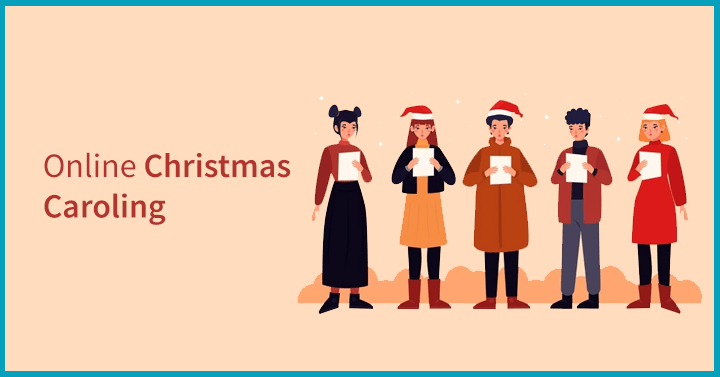 Keep the Christmas music tradition alive in your virtual office Christmas party with online Christmas caroling. There are a variety of ways you can enjoy Christmas caroling with your teammates virtually.
All your coworkers can decide and come up with a list of Christmas carols that they want to sing during the online Christmas party. They can also create their own version of Christmas Carol and perform it together. If your team loves Christmas caroling but don't want to butcher the songs with their killer voices, then leave the matter to the professionals and hire a virtual caroling troupe.
2.5 Virtual Cookies Decoration Session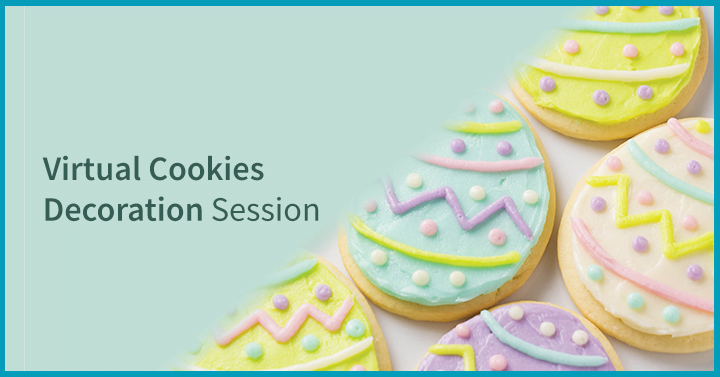 Celebrate the holiday season with your team over some traditional gingerbread cookies and a glass of milk. It's fun to decorate gingerbread houses with your coworkers, and you can continue doing it during your virtual office Christmas party.
Mail a gingerbread house kit to all your employees' houses. Make sure all your coworkers are ready with the required material before the event. Invite everyone to participate in an online event to decorate their ginger houses together over a video call. Once everyone is done with their masterpieces, vote for the best-decorated gingerbread house and announce a winner. We're sure you'll laugh together as everyone struggles to keep their gingerbread house steady and tries to get work done with sticky icing.
2.6 Christmas Photo Booth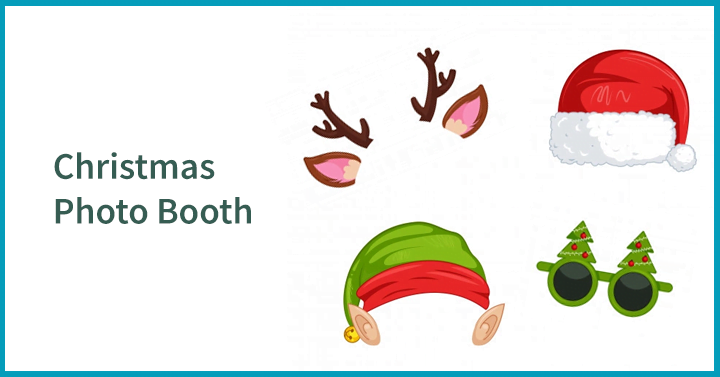 Office parties with photo booths are always a hit. Click a series of team photos to upload on a group channel and have everyone pick their favorite to go up on an official company newsletter. It's a fun way of letting your subscribers and clients know the people behind the roles!
Buy some assorted holiday props like Santa hats, Elf hats, Sparkly Glasses, reindeer antlers, etc., and get it delivered to your teammates' houses in advance. Or send them the printable festive accessories so they can get ready with them during the virtual Christmas party. Everyone can dress up with their favorite holiday prop and share selfies on your communication channel. Use the group photo from the online Christmas party for the virtual holiday card and send it to your team as a memento of the celebration.
2.7 Online Christmas Market Tour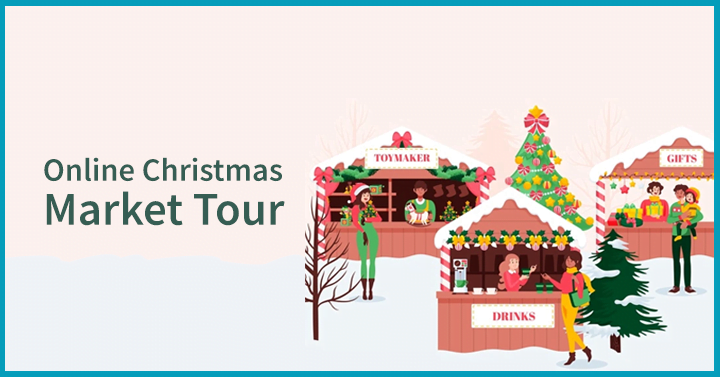 Christmas markets are the highlight of the holiday season. Many of us can't enjoy this magical experience this year due to social distancing. But thanks to modern technology, now it is possible to experience the festivity with your team with an online Christmas market tour.
Don't let your team miss the fun of traveling with virtual tours. Take a look at these amazing virtual Christmas markets and light shows from around the world you can enjoy with your team;
2.8 Christmas Dance Party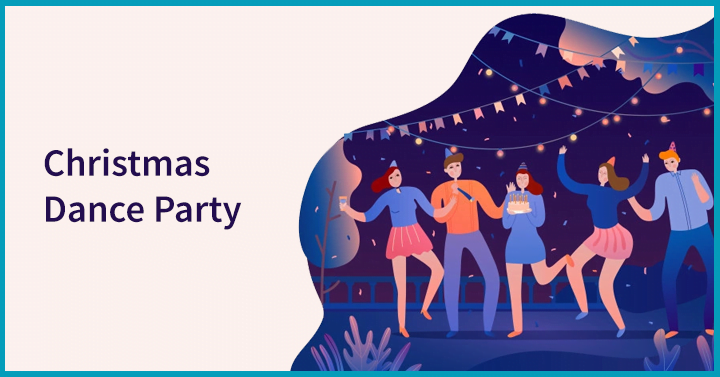 If you got the moves then this is your time to shine. Let loose and groove to the beats of music to leave all the worries behind and welcome the new year with a bang.
Set up the right party mood with upbeat party music. It doesn't matter if you make your own mix or use an online playlist that everyone enjoys. If someone has prepared a special performance for the night, put them in the spotlight so everyone can see their moves. Make sure that everyone's camera is on so that they can be part of the fun even if they opt-out of the actual dancing!
2.9 Costume Party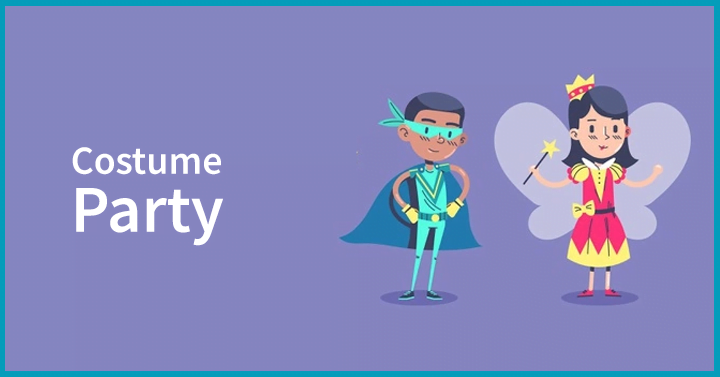 Without decorated desks, huge Christmas trees, gift boxes, and string lights; it is hard for some of us to get into the holiday spirit. Virtual Christmas party costume themes are the best virtual office Christmas party ideas to set the mood.
Ask all your employees to dress up as a famous character associated with the holidays. Step up the level by dressing up as a team. You can be a Santa and ask your team members to dress up as elves. Or someone else can dress up as baby Jesus and their team can dress up as Mary, Joseph, and villagers. If you want to make the experience even more exciting, you can hold a costume contest and hand out prizes for the best dressed.
2.10 Christmas Theme Netflix Party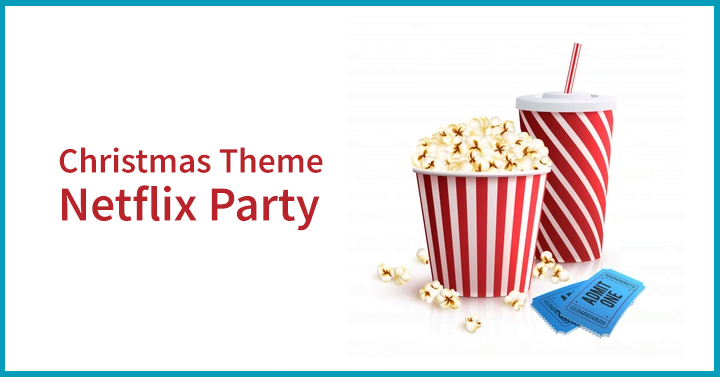 Warm fuzzy blanket, a cup of hot chocolate with marshmallows, and a Christmas movie marathon - sounds like a perfect plan! Plan a Netflix party with your team members and watch the famous Christmas movies together.
Start your party with a lively debate over whether "Die Hard" is a Christmas movie or not. You can also discuss your holiday plans with each other and get ideas for office Christmas activities from others to make your holiday more interesting and fun. Decide which movies you all are going to watch in advance.
Sync all your team members' screens together using apps like Teleparty to watch any movie together. This app also allows your team members to chat during the movie. Here are some most famous Christmas movies you can choose from for your next Christmas Theme Netflix Party;
Home Alone Series
The Grinch
The Nutcracker
The Polar Express
Jingle All the Way
2.11 Holiday Cocktail Party
Cheers to the time you all spent together during the year. Organize a virtual holiday party with a bartender host.
Send your team members the list of ingredients before the event. Hire a professional mixologist for a night and learn to make holiday-themed cocktails like White Christmas Martini and Cranberry Old Fashioned professionally that you can enjoy with your team later. A professional bartender can also juggle around some bar tools and liquor to entertain you all with his tricks.
2.12 Play Holiday Themed Games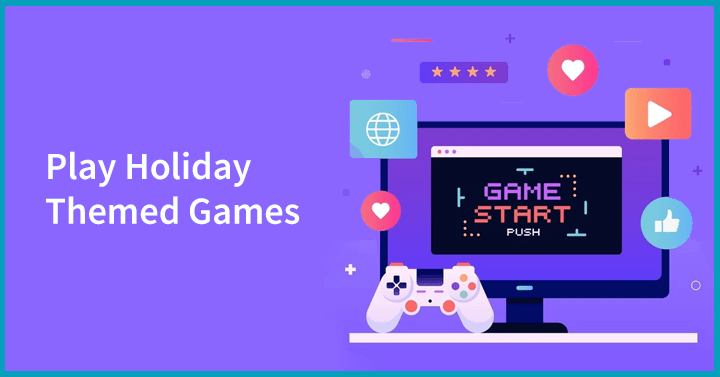 No virtual office Christmas party is completed without playing some holiday games with your team. These games give you an opportunity to connect with your teammates and learn more about them.
Virtual Holiday Bingo: Bingo is one of the most famous holiday games. Virtual bingo is also a great team-building activity for big teams. Search for a holiday-themed bingo card online and send it to everyone. The host will call out one of the activities from the card, and players who have that activity in their card can cancel it out. The first one to cancel out all the activities from their card wins the game.
Never Have I Ever - Naughty or Nice Edition: Start the game by asking your team members to hold up all their fingers. Prepare a list of activities and call out each activity with a starting statement, "You are on Santa's naughty list if you have…". If a team member has done that activity before they'll lower down their one finger. Whoever has all their fingers up will win the game.
Virtual Office Flued: It's a classic game with a virtual twist. Divide your team members into two teams and guess the top response of public surveys. Let the teams compete with each other as they race to collect more points than others in a Virtual Office Flued.
2.13 Virtual Holiday Card Exchange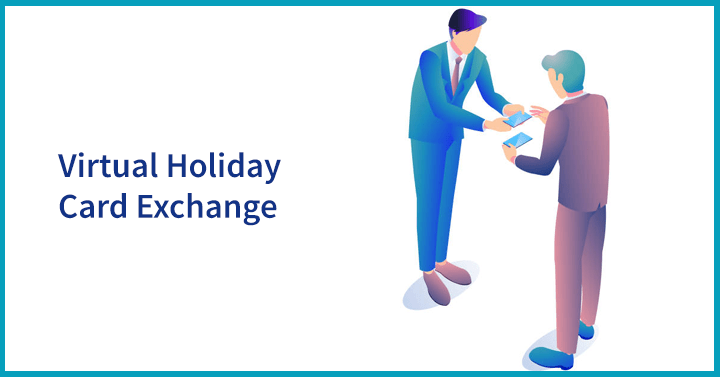 Ecards are the best way to relay your holiday greetings to others without wasting paper. With virtual holiday card exchange, your team can also prevent unnecessary paper waste.
Design your own holiday greetings cards for your coworkers using Canva Templates. Or they can also use sites like Blue Mountain or American Greetings to send readymade Ecards. There are many other platforms that offer this service at a minimal cost. Your team can exchange their holiday greetings with each other without harming the environment.
2.14 Holiday Fundraising Event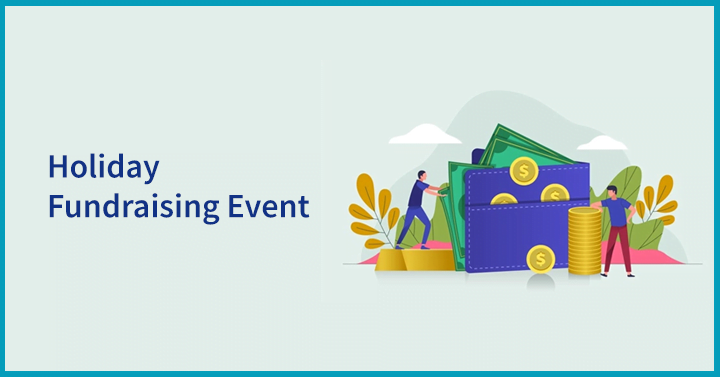 This holiday season, be a Santa in someone else's life. Host a virtual fundraising event to help a charity or organization and make their holidays merry.
You can ask all your teammates to contribute a small amount and then donate the raised fund to the charity organization you all want to contribute you. Or everyone can buy some new clothes and toys and donate them to the orphanage. Organizing a game night is also a good idea to raise funds for charity. 
2.15 Virtual Holiday Decoration Contest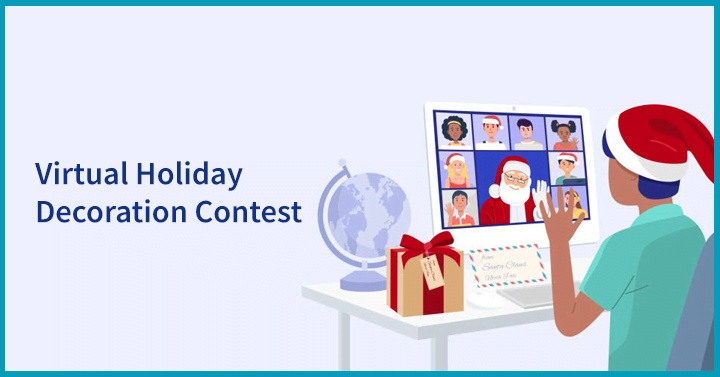 Even when you work remotely, you can enjoy decorating Christmas trees and desks with your team virtually. You can send festive decorations like jingle bells, string lights, and wreaths to everyone's home so all can decorate their trees and homes together. Gather everyone on a video call and start decorating your Christmas tree and home desk. Ask everyone to click a picture with their Christmas tree and desk decorations and share it at work with your group. Vote for the best decorations and select the winner for the contest.
3 FAQs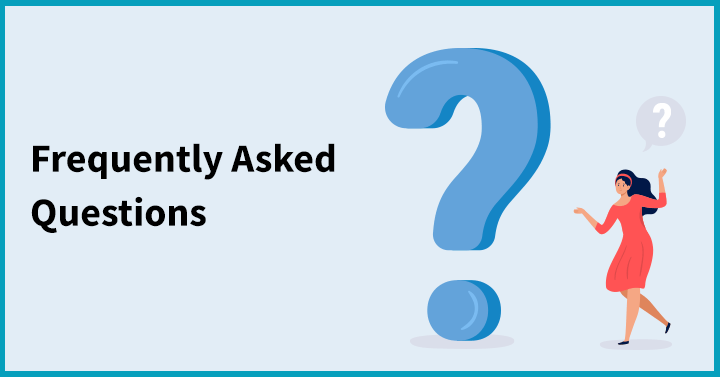 3.1 How Do You Make a Virtual Christmas Party Fun?
You can make your next virtual Christmas party fun with these virtual office Christmas party ideas;
Organize a costume party
Host a dance night
Play holiday-themed games
Watch movies together
Sing Christmas carols over a video call
Decorate Christmas trees and cookies with your team
3.2 How Do You Celebrate Christmas Party by Zoom?
To celebrate the Christmas party on zoom, first design an invite and send it across to all your team members. Don't forget to mention the party date and zoom meeting invite in the invitation. Plan some fun activities and games to play with your team. Here are some activities and games you can plan together with your team for the Christmas party;
Online bingo
Virtual Christmas celebration tours
Online chocolate-making seminar
3.3 How Do You Do a Secret Office Virtual Santa?
To organize a virtual office secret Santa, you can take the help of an online platform to decide gift giver and receiver or you can also do it by yourself. Once everything is decided, send out the gift receiver's mailing address to the gift giver so they can send them the gift in advance. During the virtual office Christmas party, everyone can open their gift and try to guess their gift giver's name. 
3.4 What are the best virtual Christmas party costume themes?
Some of the best virtual Christmas party costume themes are - holiday costume dress-up,  holiday sweaters, DIY ugly sweater parties, holiday scavenger hunts, winter wonderland, ladies' Elf outfits, and roast turkey costumes.