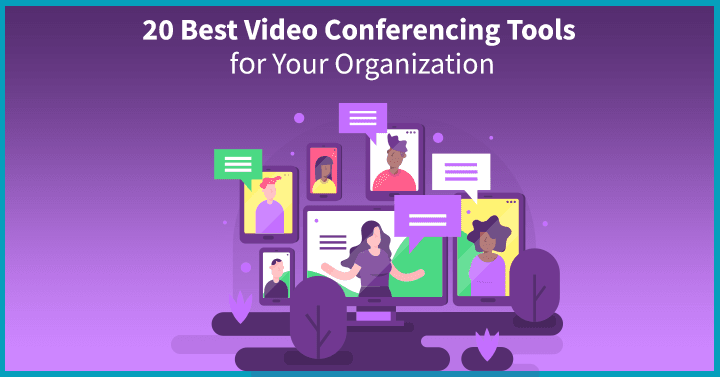 With the rise of remote and distributed teams as a consequence of digital transformation, effective communication and collaboration is now not restricted to brick-and-mortar meeting rooms or conference tables. As evidence to that line of thought, a recent study by Global Market Insight identified video calling as a $14 billion industry with a 20% projected CAGR till 2027.  Companies are spoilt for choice with a slew of video conferencing tools that have been available to them. 
We decided to cover 20 of the best video conferencing tools for your company so you can make a more well-informed choice.
"To explore various kinds of remote team management software that can serve as catalysts to boost organizational efficiency at the workplace, read our informative article that covers it all here."
1. 20 Best Video Conferencing Software for Your Company
1.1 Zoho Meeting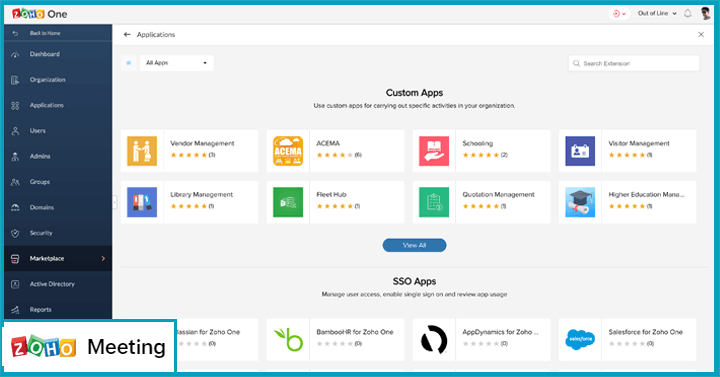 Zoho Meeting is a secure online meeting platform and webinar solution that's designed for effective remote collaboration. Users can use this software solution to host interactive audio and video web meets, share screens and facilitate remote access for shared content. It's ideal for small and medium businesses. 
Key features
Simple to use and easily scalable to meet different enterprise needs and business goals
Interactive web meeting tools make meeting more engaging and visually appealing
Round the clock support for user to troubleshoot and problem solve for smooth functioning
Why we hit the like button on this: This one's on the list of best video conference tools as its browser-based so users do not have to download apps and can easily connect from any compatible device.
1.2 Microsoft Teams
Microsoft Teams is one of the best video conferencing tools designed for today's modern workplace. It enables remote collaboration through video calls, meetings, chats, file sharing and more all at one place. Remote employees can work conveniently through secured meets, conduct high-quality video calls, access data or information through built-in cloud storage and work on documents through file sharing.
Key Features:
Free 60-minute meetings that can host up to 100 participants 
Segregated channels for different groups to help stay organized 
Integrated dashboard lets you organize shared photos, files, links, images, and more for quick and convenient access.  links—so you don't have to spend time looking for things. 
Why we hit the like button on this: Whether you are using a phone,tablet or laptop, it's so convenient to find everything you need all at one place. This best free video conferencing tool or all-in-one app teams up calling, chat, meetings for faster and more efficient collaboration.
1.3 Google Meet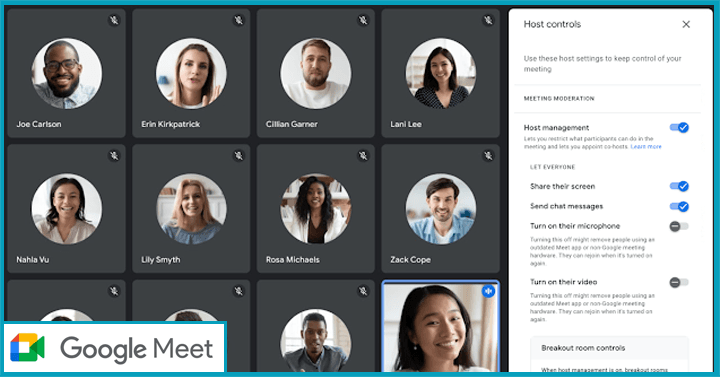 Another one among the best video conferencing tools is Google Meet that can be used to host securely encrypted meetings even on the go. Users can join in using a browser or when they download the app. This tool also offers an upgradable service called Google Workspace Enterprise for individual business owners to enjoy advanced features such as advanced security, live streaming, attendance reposts, and more. 
Key Features:
100 participants can be hosted for upto 60 minutes per meeting.
Live captioning during meetings for clear and crisp communication
Options to choose various kinds of layouts that offer a view of up to 16 participants at one time along with the presented content. 
Why we hit the like button on this:  Channeling the power of AI, Google voice control for Google Meet hardware functions on simple voice commands to help you start and end video meetings.
1.4 Blue Jeans
Optimized for hybrid working, BlueJeans is an emerging choice on the list of best video conferencing tools. Its range of features provides an immersive video conferencing experience. This mobile video conferencing tool allows users to host or participate in meetings, town halls and conferences from both Android and Apple mobile devices. 
Key Features
Dolby Voice ensures excellent audio clarity by amplifying the speaker's voice and minimizing unwanted background noise.
Intelligent Bandwidth Management automatically identifies low network connections and offers suggestions on how to deal with potential disruptions
BlueJeans Mobile lets in-room meeting attendees use their phones as controllers  to begin meetings, and to share the entire calendar with the room system to create a personal room
Why we hit the like button on this: This video conferencing tool's meeting scheduler makes it so simple and easy to schedule a BlueJeans Meeting, even if you hit the road. It enables hosts to distribute invites that automatically share all the necessary information to join.
1.5 Cisco Webex Meetings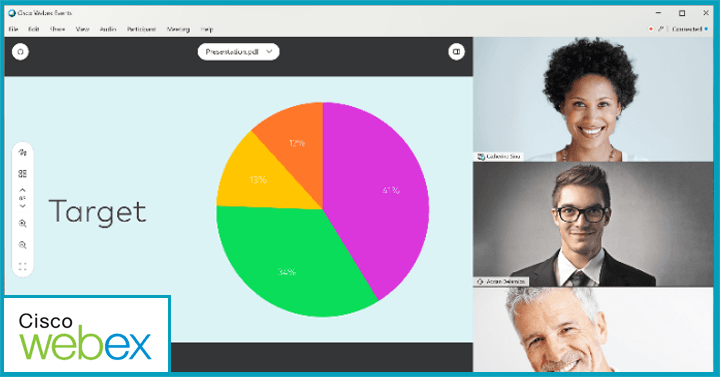 The next in line on the list of best video conferencing tools is Cisco Webex that offers an advanced range of video conferencing features such as recording and transcriptions of meetings, AI-powered meeting assistance, screen sharing and lots more. Whether you are at one end of the world or remotely based from your home office, Cisco's strategically located data centers ensure high bandwidth transmissions for seamless video conferencing sessions minus network lags, ensuring effective collaboration. The tool can be run on desktops and Android, Mac or iOS devices
Key Features:
Customizable layouts can be used to enhance the visual aspect of meetings and make them more engaging. of participants regardless of their number. 
Versatile use across multiple cross-platforms, functionalities and and geographic locations
Integrated apps with tools such as Excel and others for enhanced productivity.
Desktop and file sharing  makes it easy to work on projects. Users can powerpoint presentations, videos, files, attachments, screenshots and the desktop 
Video sharing during live meetings so participants with attached webcams can be made visible as they speak. 
Why we hit the like button on this:  Intuitive AI integration functionality makes this one perfect for engaging collaborations through closed captioning, transcription, language translation and  facial recognition.
1.6 Zoom
Designed to meet all your communication news is Zoom's popular video conferencing platform. This is one of the most streamlined and best video conferencing tools that syncs your calendar with online events, meetings, webinars, phone and chats to delivers enterprise-grade conference sessions from mobiles, desktops, and specific Zoom for Home Devices. The best free video conferencing tool 
Key features 
Easy to start, join, and collaborate across any device with quick adoption of meeting functionality across multiple devices.
To make meetings more interactive, multiple screens can be shared simultaneously
Designed to schedule or start meetings from Outlook, Gmail, or iCal.
Stores meeting records with searchable transcripts locally or to the cloud
Why we hit the like button on this: Zoom Whiteboard is a great way for individuals and remote or hybrid team members to ideate and work on projects conveniently. With features like templates, adding images, expandable canvas, and touch support, presentations are a breeze.
1.7 Skype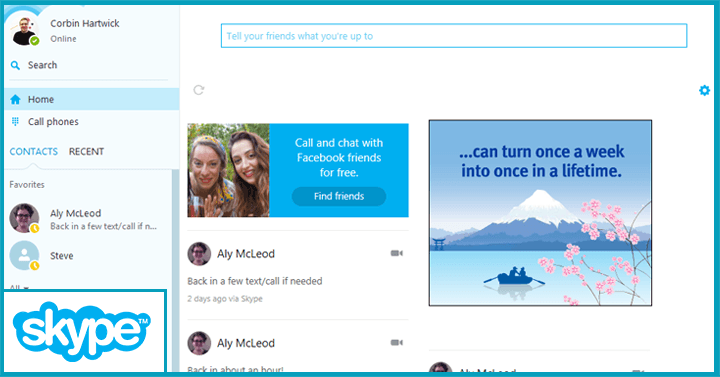 While Skype as a platform for group chats has been around for a long time, it's also very much one of the easiest video conferencing apps to use.  Easily host conferences with up to 50 people at one time using mobiles, computers or laptops. 
Key Features
Record notes or key decisions and use live subtitles for clear communication
Share images, files and  presentations easily for effective collaboration
Participants can use a single link to join and need not download apps separately
Why we hit the like button on this: Skype offers spoken word translation in real time that's perfect for clear and crisp communication.
1.8 GoTo Meeting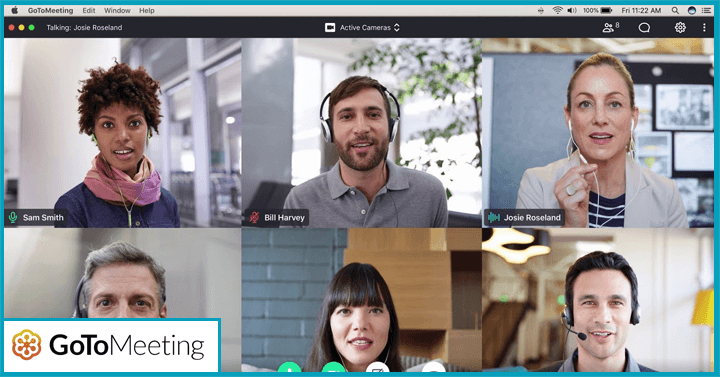 This web-hosted video conferencing tool by LogMeIn works as a comprehensive online meeting, desktop sharing, and video conferencing software solution for users to interact and collaborate with colleagues, clients or customers.
Key features:
Commuter mode for mobile meetings helps to create a distraction-free zone when traveling. The mode transforms the entire phone screen into a color-coded audio/mute button requiring  90% less bandwidth. 
The Call Me function from GoTo Meeting automatically calls the listed phone numbers when a scheduled meeting is about to begin 
Records multiple presentation slides and organizes them in chronological order within shareable PDFs.
Why we hit the like button on this: This video conferencing's Smart Meeting Assistant does away with the old method of note taking for you. It automatically labels meeting highlights, marks actionable items and transcribes meetings. 
1.9 Slack Video Calls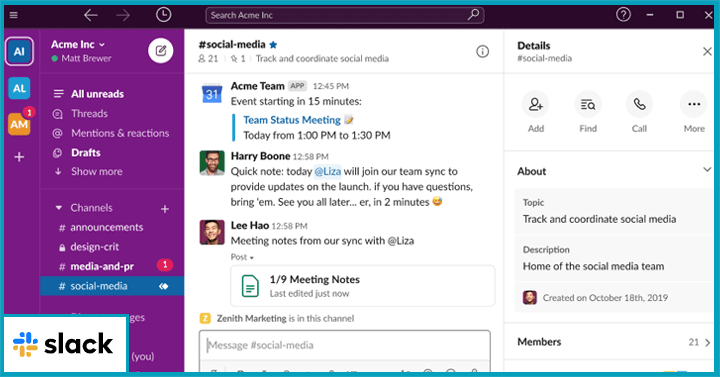 Designed to foster effective workplace communication, Slack is another leading video conferencing tool that makes it simple for users to connect and collaborate easily. With dedicated channels that can be segregated by work type, divisions, locations and more, teams find it convenient to organize work projects and follow channels that suit their interests.
Key features:
One-click to start a video call with 1-14 other people from within the Slack interface. 
Mute and screen sharing of screens for quick navigation during meetings.
No time limit on video calls so you can have uninterrupted 
Why we hit the like button on this: Video calls can be made within the Slack interface so you do not have to jump out of Slack in case of impromptu meets or ad-hoc calls.  
1.10 Join.me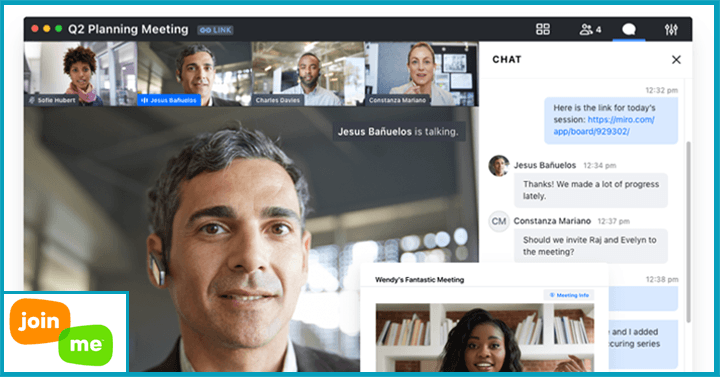 Another addition to the list of best video conferencing tools is Join.me that's suitable for small to medium size businesses. This web conferencing software provides 1-1 virtual meetings and screen-sharing using the broadcast button. You can customize and share video conferencing links based on topics or other business needs. 
Key Features:
High quality video and audio for a enriching video conferencing experience
Customizable video layouts for more visual appeal
Integrated collaborative tools such as co-annotation, chat and meeting scheduling and more help to boost efficiency.
Why we hit the like button on this: Join.Me lets you create tailored URLs and customize your meeting links.
1.11 Click Meeting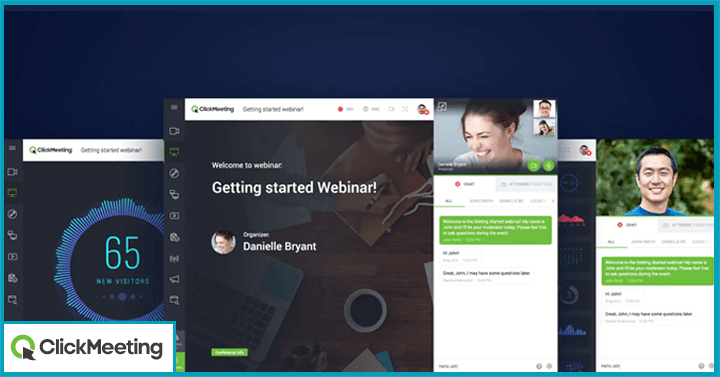 ClickMeeting's video conferencing solutions are designed  for businesses of all kinds. This popular video conferencing platform is designed to help run webinars smoothly, conduct meetings and provide important analytical insights at the same time. For $25 a month, ClickMeeting services can host up to 25 attendees with two presenters, up to four video streams and four hours of recording.
Key Features:
Whiteboard presentations help to make meetings more interactive and actionable.
Multiple moderated chats can be used for interaction during events for great communication among varied audience types
Customer support through live chat and email support through seven days a week
Why we hit the like button on this: ClickMeeting offers comprehensive and budget-friendly solutions that are perfect for businesses looking to scale live streaming and webinars.
1.12 Free Conference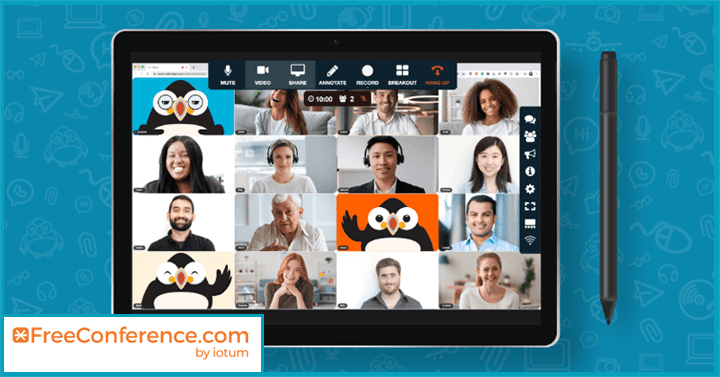 With FreeConference.com's video conferencing software, users can host up to 100 participants, using browser-based web conferencing. Easy to run without the need for downloads or set-ups makes this a great choice for remote team collaboration. 
Key features:
Online Address Book enables you to import contacts and record their contact information for convenient setting up of online meetings. 
Integrated functionality with Google's free online calendar for effective planning and organizing of meetings. 
Integrated online meeting software with free video conferencing, 
Why we hit the like button on this: Their simple free screen sharing feature  makes it easy for teams to share information and work on projects.
1.13 Intermedia AnyMeeting
Featured  on PC Magazine Editor's Choice for Video Conferencing as a frontrunner in video conference tools, this platform is designed to enhance the quality of everyday work communication. AnyMeeting video conferencing has integrations with third-party applications such as Google®, Microsoft Office 365®, Microsoft Outlook®, Teams and more. It provides access and tools to share content to create more engaging meetings. With a range of features such as AI capabilities, interactive collaboration tools and excellent HD audio and video quality, 
Key Features:
Enhanced security with Meeting Lock, Meeting Knock, Request Entry, and Custom Meeting Passwords
Screen sharing and annotation for smooth collaboration on work projects.
Recording of meeting and notes in real-time using unlimited cloud storage with the PRO version
Why we hit the like button on this: AI assistant does away with the manual task of note-taking for memos post meeting, by capturing notes and sends it automatically to attendees maximizing on time-efficiency 
1.14 Ring Central Video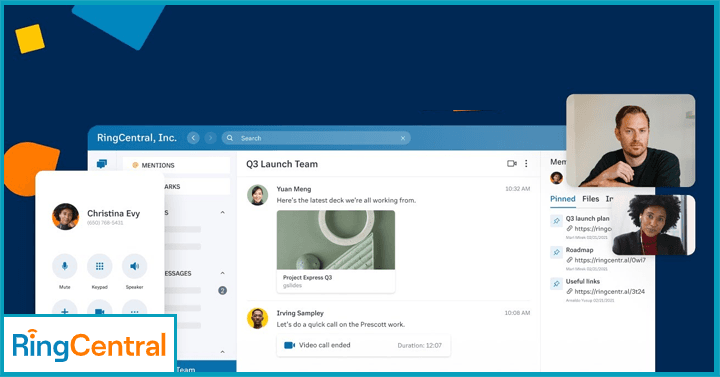 RingCentral is a voice-first platform whose enterprise-grade video conferencing software, RingCentral MVP™ is intuitive and easy to use.  Designed with an induction specialist for smooth onboarding, this platform makes it easy to interact, share content and enhance productivity from any location and any device. 
Key features
Interactive meetings can be hosted with up to 500 people 
Screen sharing and co-annotation for boost in productivity
Store files and data conveniently in local or cloud storage such as Box and Dropbox™
Why we hit the like button on this: RingCentral's platform lets hosts create up to 50 breakout sessions so it's easy to split large groups and focus on different work agendas and activities. All attendees can then return to the main session at anypoint making this an excellent choice for workshops, business meets and more. 
1.15 Chanty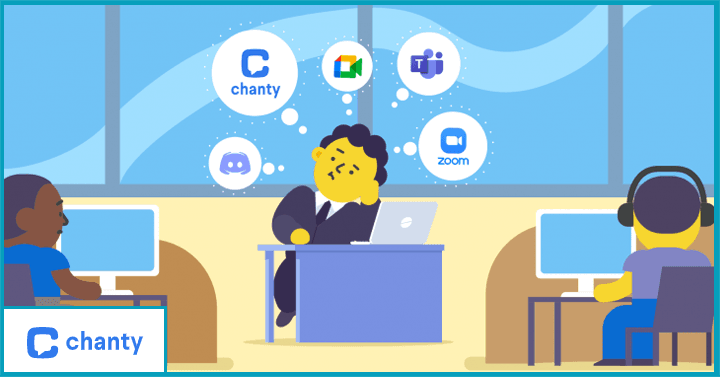 Chanty is a comprehensive award-winning collaboration platform with advanced video conferencing capabilities besides providing services for communication, task management and audio calls. Go from making audio calls to video meets with a single click on any device, 
Key Features:
Host up to 30 attendees on group video calls for collaboration on work and other projects. 
Integrated services with third party apps such as Google Drive, Dropbox, Onedrive, Github, Gitlab, and more
Back-end storage for shared content through screen sharing and chats
Why we hit the like button on this: Chanty can support up to 1000 video participants and 49 videos on screen for a truly larger-than-life 4K video conferencing experience 
1.16 Lifesize Go
Whether it's pre-planned or adhoc, Lifesize Go's video conferencing platform makes it very easy for efficient collaboration in one-to-one or group sessions on any device.
Key Features:
Unified 4K Lifesize meeting room system platform and cloud video conferencing software for smooth functioning 
Host meetings from any Lifesize room system 
Supports numerous devices through its BYOD (Bring Your Own Device) policies and user preferences through apps for Android and iOS phones or tablets,Chromebooks™ or PC and Mac computers.
Why we hit the like button on this: The Lifesize mobile app can be accessed from anywhere to facilitate seamless mobile video conferences. It comes loaded with features such as listen-only mode, zoom presentation, and HD audio quality 
1.17 Jiminny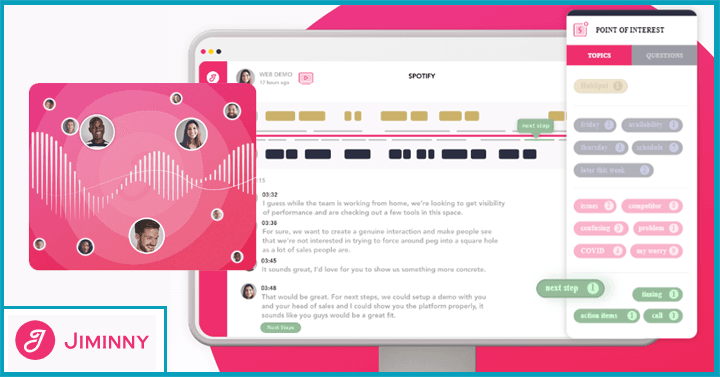 As a software company, Jiminny designs video-conferencing software for small to enterprise level businesses.They offer advanced video-conferencing features through its paid plans to enhance the quality of conversation intelligence for accelerated growth and boost sales performance.
Key Features:
Accessible audio and video recorded insights, transcripts and recordings for reviews and strategic planning
Screen-sharing and co-annotation for interactive collaboration
Functionalities like reviews, notifications  and scorecards provide analytical data for enterprise scalability
Why we hit the like button on this: Jiminny supports leading third-party trading platforms providing access to worldwide markets
1.18 Dialpad Meetings (Formerly known as UberConference)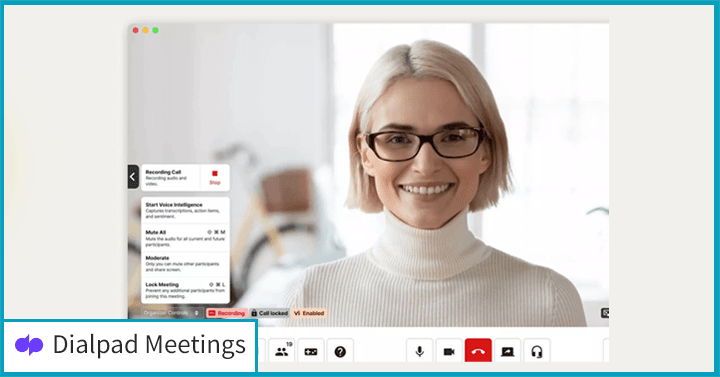 Dialpad Meetings offers a unified communications platform to communicate and collaborate through its cloud video conferencing solution that comes Equipped with screen sharing, whiteboard, secured meeting systems and lots more.
Key Features:
Can be integrated with a range of go-to apps to plan meetings using your Microsoft or Google calendar and  create activity logs in Salesforce
Screen sharing for full screens, browsers or specific tabs and apps ensure uninterrupted collaboration on work projects
Host and join meetings on any device with a single click for convenient access
Why we hit the like button on this: With video conferencing platforms that are fully integrated such as this one, it's so simple to switch from a call to a video conference in minutes.
1.19 Flock Connect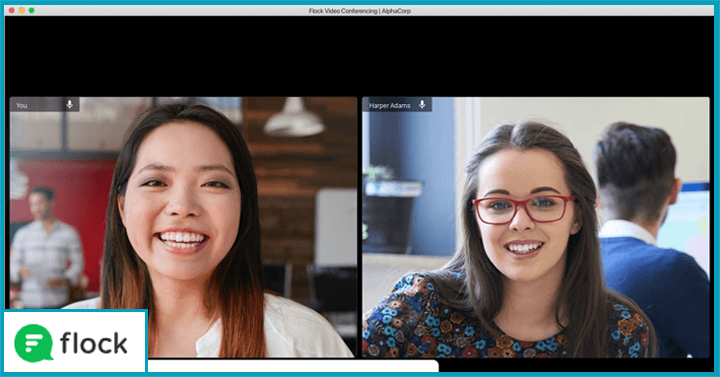 Another popular one on the list of best video conferencing tools is Flock Connect. Flock's video conferencing platform is designed to align remote teams and business processes for enhanced productivity and streamline work goals. 
Key Features:
Connect with large groups up to 20 people with Flock Pro from a single Channel with no time limit.
Easily host meetings from any compatible device with a single click that converts audio to video meets.
Screen sharing to connect with colleagues, customers and clients for work-centric discussion and presentations.
Why we hit the like button on this: Access Zoom meeting through Flock's integrated functionality that lets you schedule Zoom calls within the Flock app with the press of a button.
1.20 U Meeting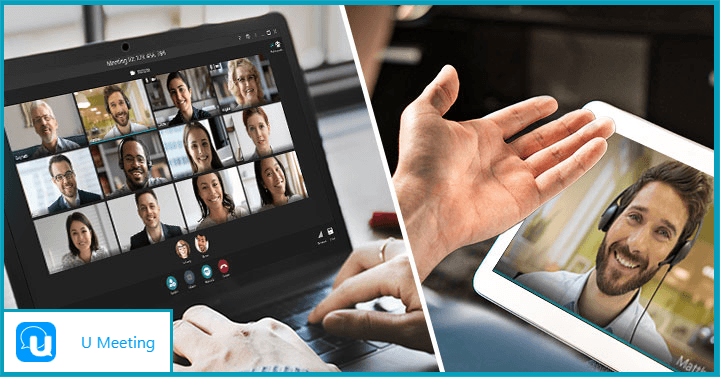 CyberLink U Meeting provides a cloud-based video conferencing tool to facilitate business communication through online webinars and video meetings on any device or browser. 
Key Features:
Desktop sharing and virtual whiteboards for easy presentation and co-annotation  with other attendees.
Host  up to 200 participants and view up-to 12 video streams for more focussed work distribution, 
Recorded sessions of meeting to share, replay and discuss vital aspects.
Why we hit the like button on this: U Meeting's broadcast feature allows you to manage attendees and segment them as participants or as viewers for webinars and broadcasts.
2. FAQs
What are the tools used for video conferencing?
The right video conferencing tools such as Zoom, Google Hangouts, Dialpad Meetings, and Lifesize Go. combine the best of advanced AI integrated capabilities, chat, sharing functionality, recording and device support. are typically integrated video conferencing platforms that also form a part of cohesive collaboration suites
Which video conferencing app is best?
Zoom is one of the best free video conferencing tools that comes equipped with a suite of conferencing functionalities for businesses of all sizes and types.