'Tis the season to be jolly, so why not go ahead and share that good cheer with your coworkers? Christmas wishes for colleagues are a pleasant way to acknowledge the people who work alongside you every day of the year, so why not take the opportunity to spread a bit of holiday happiness throughout the office?
Sometimes in a workplace, it can be hard to find the right moment or the appropriate words to address an encomium to the people with whom you spend the majority of your waking life. In this blog, we'll provide you with some universally apt examples to get you started. Yule won't be sorry!
Don't stop at Christmas, you can also send messages to staff for other annual festivities, such as Thanksgiving. Individualized recognition is a good way to improve staff morale, so make sure to check out our articles on thank you messages and compliments for coworker as well.
1. What Do You Say to a Coworker at Christmas?
During the most wonderful time of the year, it is not only considerate but also politic to express admiration and gratitude to colleagues, managers and department heads. The question is, how do you wish someone a happy holiday professionally? There are many different modes of expression, some of which we'll discuss here.
It's important to remember that in some places, wishing somebody a Merry Christmas may be considered culturally insensitive. Always take the time to understand the beliefs of your coworkers or the customs of your geography beforehand, in order to avoid placing yourself in a false position. If in doubt, simply say "Happy Holidays!" Even if someone doesn't celebrate the concept of Christmas, they may still appreciate having a nice, celebratory message.
2. Christmas Wishes for Colleagues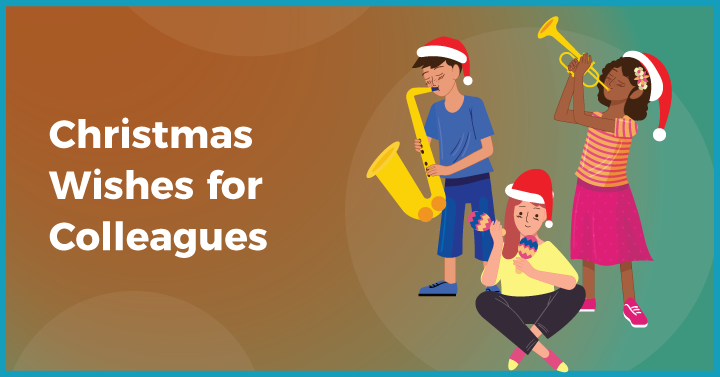 "Wishing you a Merry Christmas and a Happy New Year!"
"May your holidays be filled with peace and love."
"Thank you for being an amazing colleague. Merry Christmas."
"Merry Christmas everybody! It's been another great year working with all of you."
"Have yourself a merry little Christmas. Let your heart be light."
"Your supportive attitude and positivity always make the office a wonderful place. Merry Christmas!"
"I hope you have a very Merry Christmas with your family and a Happy New Year with your friends."
"To everybody on the team, I hope you have a wonderful holiday season filled with joy and merriment. I look forward to many more years of collaboration."
"Season's Greetings! I wish you and yours the very best this Christmas season."
"Sending you the warmest wishes this December. Merry Christmas."
3. Christmas Wishes for Colleagues Who Are Friends
"When we succeed, our thoughts turn to those who have been part of our success. Thank you for always being a brilliant colleague and a great friend. Merry Christmas!"
"Thanksgiving is a time to be grateful. Christmas is a time for love and cheer. I'm grateful for all the love and cheer you've given me throughout this year. Have a great Christmas."
"Having coworkers like you make the office a wonderful place to work, I thank my lucky stars we're in it together! Merry Christmas!"
"Each of us hopes to hit a home run, but you inspire everyone by achieving touchdowns. What I mean to say with these mixed metaphors is, Merry Christmas!"
"Just a note to say you are simply the best in whatever you do, and I have learned a lot from you as a colleague. Merry Christmas to you!"
"I really love the things that you do. Oh, you're my best friend. Happy Holidays!"
"During this time of celebration, I feel blessed to have a coworker like you. Wishing you a Merry Christmas and a Happy New Year!"
"To my fellow dog lover and partner in crime in the office, I hope you have an awesome Christmas this year. Pugs and kisses!"
"The office can be a serious place, but you always manage to brighten it up with your sparkling wit. I hope your Christmas is as bright and colorful as your personality."
"Yes, this is going to sound cheesy, but the best present I have had this year is having you as a colleague and friend. Merry Christmas."
4. Christmas Wishes for Senior Colleagues
"I want to express my best wishes to you and your family in this holiday season. Have a very Merry Christmas and a Happy New Year."
"Thank you for all your guidance and support over the past year. You have been a continuously insightful and informative boss, and I look forward to gleaning more from your experience in the new year. Merry Christmas!"
"Warmest wishes to you and your family this Christmas. Thank you for your advice and support over the past 12 months."
"When I first joined this company, I never imagined I would ever work with such an amazing, inspiring manager. Your eagerness to always impart wisdom and provide constructive criticism has helped me to grow as a person Merry Christmas!"
"Merry Christmas to the best boss anyone could wish for. The past few months have been hard work, but thanks to your support and advice, it's been one of the most instructive, enjoyable experiences of my life."
"I'm grateful to have been lucky enough to have had a boss who cares as much as you do for their employees. It has been, and continues to be, a privilege to work for you. Merry Christmas!"
"You have been the warmest, most generous mentor I could possibly wish for. Under your guidance, I feel I've become a better, more professional person who can handle all the challenges that this job can throw at me. Thank you and Merry Christmas."
""To my much-admired colleague this Christmas, I wish you a very happy holiday. Thank you for giving me the chance to spread my wings and fly over the past few months. The opportunity to take on a more senior role within the team has been an incredible experience. I look forward to working alongside you further in the New Year."
"In the spirit of Christmas, I would like to express my whole-hearted gratitude for the understanding and wisdom you always show your team. You are the star atop the Christmas tree. Happy Holidays!"
"Coworkers like you are the reason I still want to come into the office every day. Merry Christmas."
5. Funny Christmas Wishes for Colleagues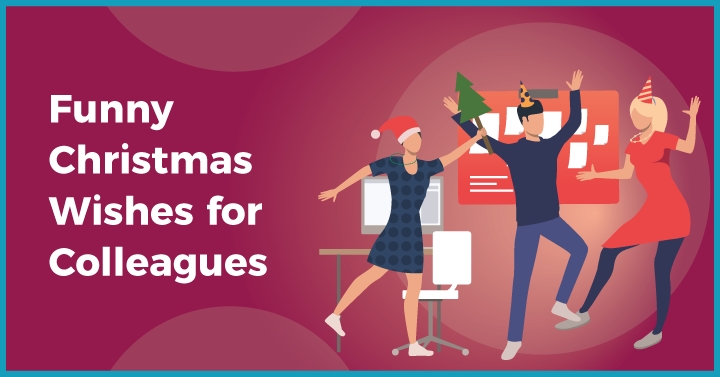 "Even when it seems like you're behaving like a rebel without a Claus, it inevitably turns out you're sleigh-ing it. Always believe in your 'elf."
"You often call me a workaholic because you say I spend too much time in the office and not enough time enjoying recreational activities. Well, it takes one to snow one! At least we're in it together. Merry Christmas!"
"Merry Christmas! May your arguments be merry and right this holiday season"
"You've been tree-mendous all year, so thank you for gracing us with your presents."
"You better watch out, you better not cry, you better not pout, I'm telling you why: we may still have to work with each other for many years to come and at least one of us has to stay unemotional and objective with clients! Happy Holidays!"
"May your fun be large and the bills small this year. Cheers!"
"I'm generally Claus-trophobic, but seeing your smiling face in the office every day has filled me with Christmas spirit. Here's to hoping you continue to graciously take the rough with the smooth, the holly with the ivy."
"Oh deer, has it really been another year? As anyone will tell you, there's snow place like home for the holidays, and I hope you have a magical time with your family. Merry Christmas!"
"To the person who always cheers me up when I feel down, have your 'elf a merry little Christmas."
"As the boss, I always have the final sleigh. So Merry Christmas and a Happy New Year. I don't want to see any of you until 2023!"
6. FAQs
What Is a Nice Holiday Message to Colleagues?
Even expressing the most basic Christmas wishes for colleagues, like 'Happy Holidays' or 'Merry Christmas and a Happy New Year,' shows a degree of courtesy and consideration that can only help to build camaraderie in a company. The trick is to express your own personality in the messages while also keeping things merry and bright. A nice holiday message is one that is timely, appropriate and original.
What Are Some Nice Christmas Messages?
The best Christmas wishes for colleagues take into account individual interactions you've had with the person. Try to tailor your season's greetings to the individual as much as possible, as this personalization will be given much greater value than a generic email that is copy and pasted for every single member of staff.
How Do You Wish Someone a Happy Christmas Professionally?
You can send out Christmas salutations while still keeping things professional. Crafting a holiday message while maintaining a stringent air of decorum is a tricky thing, so consider keeping things short and sweet. Remember to retain language that is formal, while still adding a degree of personalization. Yes, that may seem challenging, but that's why crafting the perfect Christmas wishes for colleagues is such an art.