Companies with a 4-day work week are becoming increasingly common. Huge businesses like Microsoft and Unilever as well as nation states like Iceland and Spain have all experimented with reducing hours without cutting pay, and more and more studies seem to suggest that there are tangible benefits.
A study conducted by Gallup, for instance, found that US companies with 4-day work week had significantly higher rates of thriving well-being as well as lower reported incidence of burnout. An article in Forbes, meanwhile, linked 32-hour work weeks to greater productivity and reduced overheads. 
1. 25 Companies With a Successful 4-Day Work Week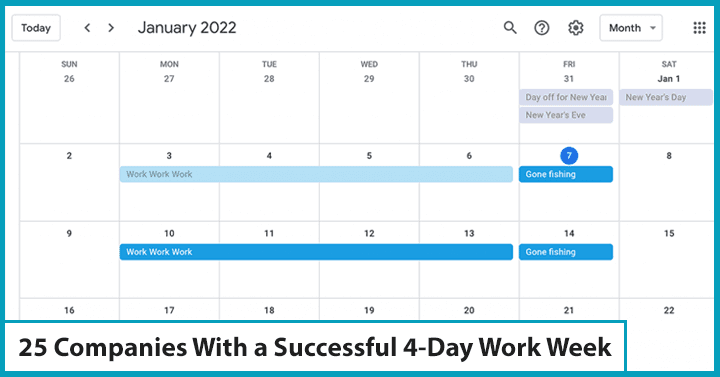 Statistics provide a helpful top-level overview of the benefits, but there are also numerous case studies to examine. So, what companies have a 4-day work week?
2.1 Abstract
A design workflow platform focused on enabling version control and collaboration, Abstract is a 100% remote company that made the permanent move to a 4-day work week last year. The company currently alternates between working Monday to Thursday, and Tuesday to Friday.
2.2 Bolt
The biggest obstacle in Bolt's future was burnout, according to Executive Chairman Ryan Breslow, which is why he elected to move the company to a Monday to Thursday work week in January. Following the switch, the company, which specializes in deploying a digital one-click checkout product for retailers, saw a 30% spike in job applications.
2.3 Buffer
Companies with a successful 4-day work week include Buffer, which first tried the concept in 2020. The social media marketing tool reported that 91% of their employees were happier and more productive following the company-wide rollout, with the remaining 9% 'neutral' about the change.
2.4 Basecamp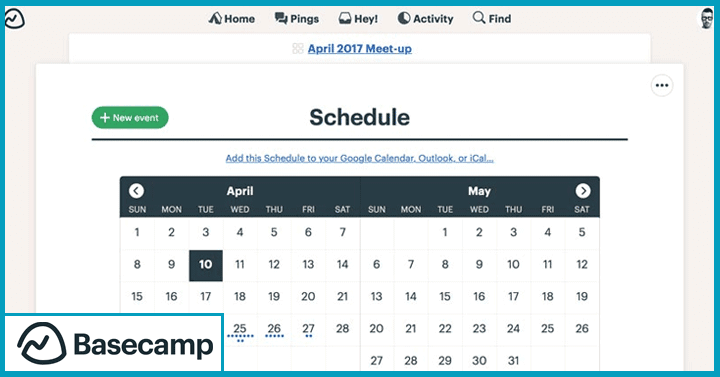 A project management tool designed to help teams stay organized, Basecamp is a pioneer when it comes to companies with 4-day work weeks in the US. The business has been encouraging employees to work 32-hour weeks every summer since 2008, though during the colder winter months the traditional hours still apply. 
2.5 GooseChase
Calling their 4-day work week Flock Friday, GooseChase CEO Andrew Cross has praised the positive impact on productivity and wellbeing the initiative has had. Last year, the app, which helps people create and run real-world scavenger hunts, revealed that 100% of employees said their productivity had at least remained the same, with 78.6% indicating an improvement.
2.6 Panasonic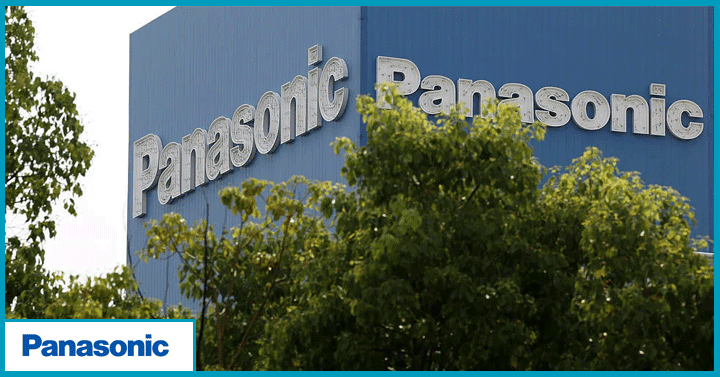 When Panasonic opted to implement a 4-day work week, the company's president, Yuki Kusumi, was keen to emphasize the benefit to mothers with small children, highlighting how more flexible schedules could attract skilled workers who might not be able to manage the traditional 5 days. The announcement of an optional 32-hour week by the electronics giant came following Japanese governmental advice that encouraged businesses to introduce the idea.
2.7 Administrate
Administrate is one of several companies with a 4-day work week in the UK. The training management platform has offered employees the option to work either Monday to Thursday, or Tuesday to Friday since 2015, with CEO John Peebles recently highlighting "more focus on results, less focus on hours worked" as one of his top trends to track concerning the future of the workplace.
2.8 Atom Bank
"Our adoption of a four-day working week has been a huge success," according to Atom Bank's chief people officer, Anne-Marie Lister. One of the largest companies with 4-day work weeks in the UK, the retail bank began trialing the concept in November, citing as reasons improved work-life balance, reduced environmental impact and an increase in productivity.
2.9 G2i
G2i, a hiring platform for software developers has pinpointed talent retention, more high-quality work and a competitive advantage when recruiting top talent as some of the reasons it has joined companies with 4-day work weeks and remote working. 
2.10 DNSFilter
Unlike other companies with 4-day work weeks, DNSFilter utilizes an alternating system, so that employees can enjoy 32-hour weeks every fortnight. "This allows us to maintain full customer support and incident response coverage, while giving everybody at least two 3-day-weekends per month," according to Asim Baksh, the people operations lead at the cybersecurity firm.
2.11 Volt
Flex Fridays at Volt give employees the option to take Friday off, do some light work or get caught up on administration. "Sure, I end up doing some work on Fridays (just like I do on most Saturdays and Sundays), but the day is mine to do with what I wish," noted the fitness training app's CEO, Dan Giuliani.
2.12 Bit.io
Cloud database company Bit.io has had 32-hour work weeks since it was founded in 2019. Founder Jonathan Mortensen wrote last year: "Our team is just as productive in four days as they were in five, and have time to spend time with their families, work on creative projects, and travel."
2.13 CIB Group
Since joining the ranks of companies with 4-day work weeks, CIB Group has "noted a decrease in absences during working hours for private procedures or medical appointments, since employees now try to use Fridays for these matters," according to a spokesperson for the commercial insurance recruiter. An added benefit? More applicants for job postings.
2.14 Close
Many companies have gone down the more tentative and conservative route of allowing employees to choose between 5-day weeks on full pay or 4-day weeks at 80% pay, including Close. The business offers customer relationship management software for startups and SMBs, including a call and email automation platform.
2.15 Coconut Software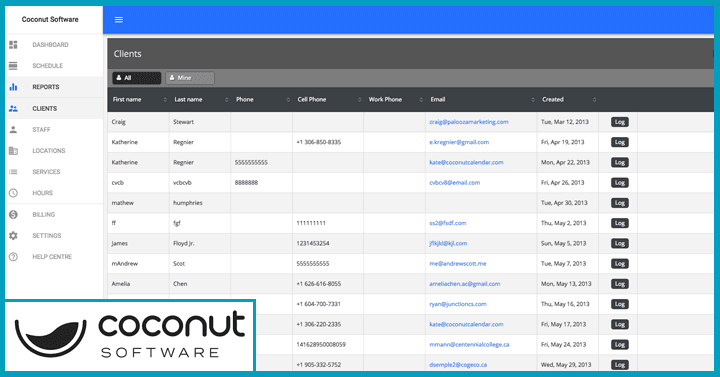 Leading the charge for companies with 4-day work weeks in Canada, Coconut Software permanently implemented the change following a trial last year. CEO Katherine Regnier commented that in-house data showed performance and productivity remained strong after the decision. Coconut Software works with banks and credit unions to deliver more seamless appointment scheduling for customers.
2.16 Uncharted
Several companies on this list were inspired to give 4-day work weeks, a try during the pandemic, including Uncharted. The social impact accelerator piloted the program two years ago and has continued it ever since, with its co-founder, Banks Benitez, pointing out that the move had helped employees prioritize which tasks are truly urgent and which tasks are only perceived to be urgent.
2.17 The Financial Diet
The founder of The Financial Diet, Chelsea Fagan, tweeted last year about how joining other companies with a 4-day work week positively impacted both revenue and wellbeing. The Financial Diet provides a forum for women to talk about money, fostering a community via articles and social media.
2.18 Elephant Ventures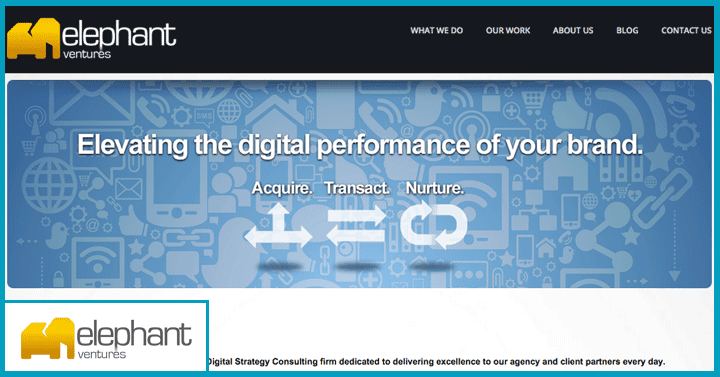 Some businesses have gone down the route of offering 4-day work weeks with 10-hour days, including Elephant Ventures. The software engineering studio specializes in finding innovative ways to digest and present data, including using data to develop roadmaps and building APIs for easy sharing of data visualizations.
2.19 Encore
Encore has an unusual arrangement in that they offer their workforce the choice between 4-day weeks or 1 day off a fortnight. The musician marketplaces also lets employees choose which day of the week they take off for even greater flexibility.
2.20 Firmsy
Targeting female-led law firms that want to attract new clients and increase revenue, Firmsy's niche is scaling up smaller practices through a combination of automation software and tailored strategy and coaching programs. Their innovation also extends to their policy on 4-day work weeks at 100% pay.
2.21 Headspace
As a company that sells a meditation and wellness app, it's hardly surprising that Headspace is among the companies with a 4-day work week. Employees get a day off every fortnight, while the other Friday in the two-week period is set aside purely for meetings-free work.
2.22 ICE Group
ICE Group joined other Irish companies with 4-day work weeks in 2019. CEO Margaret Cox revealed last year that productivity had gone up 27% since the change. ICE is Ireland's leading independent training provider, as well as offering recruitment and outsourcing services.
2.23 InDebted
It takes time to adopt a 4-day work week into company culture, according to InDebted CEO Josh Foreman, who first piloted the idea last year, then slowly phased it in, department by department, across his business. The digital debt collection service has found the concept has made it much easier for them to scale globally, as they can attract more talent.
2.24 LAB Group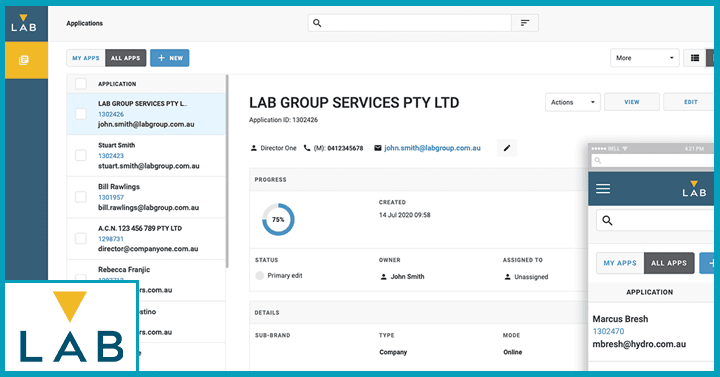 Five digital agencies in one, the LAB Group is among companies with optional 4-day work weeks in the UK. They also incorporate remote working as part of their business philosophy to give employees a greater degree of flexibility.
2.25 Monograph
One of the companies with a 4-day work week that's been in place since the very beginning, Monograph's founders originally envisioned employees taking Wednesdays off, so that people didn't get midweek burnouts. The organization vends proprietary project management software for architects, making it easier for them to track tasks and invoice clients.