As more and more organizations begin to incorporate hybrid working, it has become increasingly important to organize company getaways. A corporate retreat benefits an array of different issues thrown up by having distributed teams that don't often get to meet face to face.
While stressbusting is a core aspect, it's possible to give a corporate retreat meaning beyond simply providing a fun holiday, as we'll discuss below.
ol class="menu_list">
1 What Is a Corporate Retreat?
A corporate retreat is an employee engagement initiative that takes place in a hotel, resort, or retreat center. Usually, this is done to foster better team dynamics. It is also an opportunity to clarify goals and strategize in a more relaxed environment. Corporate retreat ideas can focus on fun activities where the goal is to boost morale and help a team destress. Alternatively, they can lean more towards skills-building and motivational talks. Some corporate retreat packages last just a day, while others can last as long as a week.
2 Why Are Corporate Retreats Important?  
In recent years, companies have had to deal with a surge in employee burnout, in what McKinsey has described as "the great exhaustion." The consultancy's research suggests that almost 50% of people today feel some degree of burnout. One of the major corporate retreat benefits is that it is an excellent way to combat this issue, giving staff a chance to let off steam and bring them together at a time when remote and hybrid working has sent people spinning apart. 
Corporate retreat statistics from Forbes suggest that 81% of millennials find meeting with colleagues in real life more effective than virtually. Job site Indeed, meanwhile, surveyed staff to find that 73% miss in-office socializing. Both these problems can be alleviated to some degree by corporate retreats, while still maintaining the new status quo of hybrid and remote working.
3 What Are Corporate Retreat Benefits?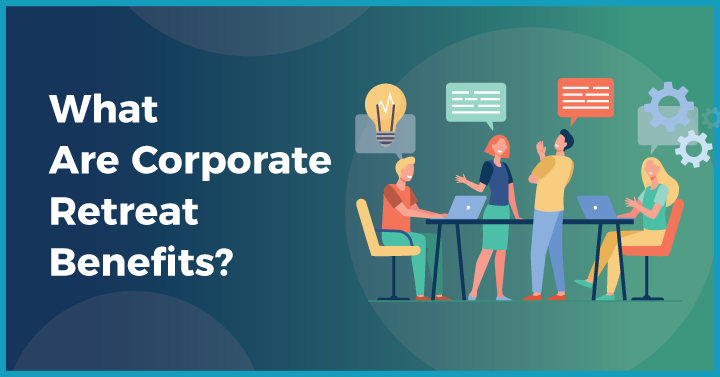 3.1 Helps Foster Trust
Building bonds with coworkers is an important aspect of creating a high-functioning, productive workplace. A corporate retreat benefits people by providing a structured environment for them to get to know one another and develop relationships that can result in dividends on future projects.
The confidence an employee has in an employer is just as important. Whether or not an individual trusts their manager or company has been shown to have an impact on engagement, commitment, loyalty, and advocacy. While it is possible to foster this online, many companies are still struggling to get the modus operandi right, which is why offline activities like corporate retreats often still have a role to play. 
3.2 Improves Communication Between Employees
Corporate retreat benefits include improving communication between employees who don't get the opportunity to meet face-to-face very often, or who usually limit their conversations with colleagues strictly to the tasks at hand. 
The relaxed conditions of a company getaway can help staff reach a more convivial relationship with one another, which down the line can yield significant positives. This might relate to increasing their ability to problem-solve effectively together, but it can also mean feeling comfortable flagging any issues that arise without fear of causing offense.
3.3 Helps with Employee Engagement
Studies have demonstrated time and again that there is a correlation between highly engaged workers and overall retention, as well as individual productivity and company profitability. There are also strong links between employee engagement and wellness, which can mean fewer sick days and reduced absenteeism.
Corporate retreat benefits employee engagement by acting as a motivational tool. Consider incorporating inspiring guest speakers to boost company morale. Additionally, you could ask a senior executive to make a speech outlining the future direction of the business, as the more staff feel like stakeholders in an organization, the more switched on they'll be at work.
3.4 Provides a Platform to Develop Creative Thinking
A change of scene can mean a change of perspective. Taking people out of the normal work environment and away from their day-to-day responsibilities provides an opportunity for them to just focus on blue-sky thinking. While they are fulfilling their everyday responsibilities, it's often not possible to really devote time to creativity and brainstorming.
You may want to use your corporate getaway as a means to solve particular recurring issues or to come up with innovative ways to move the business forward. The more informal atmosphere of a retreat can make everyone feel comfortable spitballing ideas, which is a surefire way to engender some unorthodox problem-solving. 
3.5 Demonstrates That You Care about Employee Happiness
Another benefit that holding a corporate retreat brings to a business is that it shows how much an organization is willing to make an investment in its staff. Don't forget that even conservative research has indicated that employee happiness has a significant impact on productivity.
Work-life balance is something that all companies should attempt to foster, in order to prevent burnout down the line. You can use activities like corporate retreats to demonstrate that you're not just paying lip service to the idea, but actively encouraging downtime – even if it's on the company's dime.
3.6 Acts as a Great Stress Buster 
While some corporate retreats focus on keynote speeches, problem-solving sessions, or developing useful skills, others are just about letting off steam and having fun. There are a whole host of activities to choose from in this regard, from nature hikes and other sporty pursuits to company karaoke and scavenger hunts. Even just choosing a picture-perfect holiday destination where people can kick back and casually socialize with their team is a great way to destress.
Investing in employee mental health is in any case an important consideration. Stress makes employees more prone to error, burnout, poor performance, and workplace conflicts. Organizing a regular corporate retreat benefits well-being and offers something for staff to look forward to.
3.7 Adds to the Company Culture
What is your company all about? How do you intend to achieve the stated overarching objectives? What is management's vision for the organization going forward? Corporate retreats are the perfect setting to update everyone on the direction of the business and give a collective pep talk. 
These kinds of group gatherings build a sense of unified purpose. While not everyone may have a say in the direction a company is going, they can at least be made to feel invested and involved in the future. When people embrace shared goals, it can help bolster trust and confidence at a firm.
3.8 Motivates High-Performing Employees
Sometimes high performing employees can suffer from fatigue, especially if they've been pushing themselves particularly hard. Corporate retreats are an opportunity to hold motivational talks designed to boost morale and inject a burst of energy into your staff. 
They can also be utilized as a part of a scheme to incentivize employees. An annual or even seasonal escape can be an attractive perk to a potential hire or existing member of staff. Sure, it won't be the sole deciding factor, but often it's the add-ons that have an outsized impact on whether a person joins or stays with a company.
Additionally, you may decide to tie the lavishness of your organization's company retreat ideas to the profits or successes the team has been able to achieve over the past year or quarter. This way, there is a more tangible relationship between their performance and the corporate retreat being offered.
4 Best Corporate Retreat Venues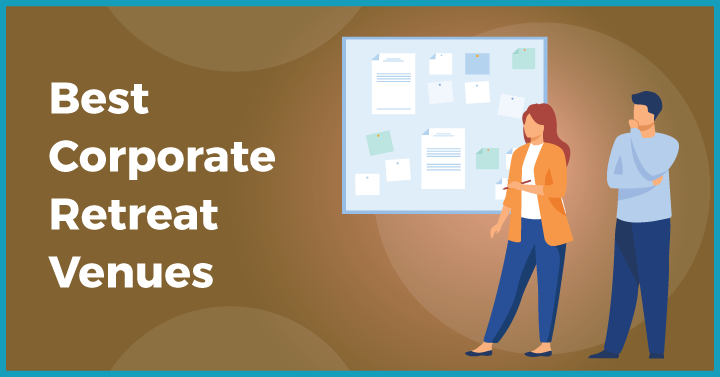 4.1 Los Angeles, California
For corporate retreat ideas revolving around classic camp activities straight out of childhood, Camp No Counselors is an excellent option. They offer three-day getaways in a forested location that's just 1.5 hours from downtown LA. Activities include things like archery, hiking, rock climbing and yoga, as well as various arts and crafts. They also have spaces where you can hold team meetings and host keynote speeches.
For a corporate retreat dripping in luxury, The Langham's outpost in Huntington, Pasadena, is a fantastic venue. The 50,000 square feet of both indoor and outdoor space includes 21 event venues, from a ballroom with a capacity of 1,000 people to breakout rooms where individual teams can split off for more niche discussions. 
The Offsite Co. specializes in organizing corporate retreats, with options ranging from wilderness survival to ziplining. If you're looking for just a single-day getaway, for example, they can arrange for a fully catered excursion to the beach, complete with kayaking, a bonfire, beach Olympics, and surf lessons.
4.2 Austin, Texas
Hyatt Regency Lost Pines Resort and Spa
Situated in suburban Austin, less than half an hour from the airport, the Hyatt Regency Lost Pines is a sprawling property with meeting rooms for every size of a corporate retreat. A perfect space to balance brainstorming sessions with recreational activities, the venue offers archery, horse riding, and an 18-hole golf course to guests.
Perfect for a downtown staycation, the boutique Inn Cahoots has a sizable rooftop deck with skyline views, a small swimming pool, and a variety of meeting space options. The hotel is divided into different units, which lends any corporate retreat an Airbnb-style intimacy.
During a hot Texas summer, there's nothing more refreshing than escaping to Lake Austin for some water sports. The Lake Austin Spa Resort only hosts one corporate getaway at a time, ensuring all their focus is on your event. Hold creative breakout sessions on the water or on land, followed up with cooking classes, paddleboarding, or kayaking. The luxury spa adds that final ingredient for perfect rest and relaxation.
4.3 Honolulu, Hawaii
For small-scale team retreats, the Kahumana Retreat Center has a program of health and wellness activities to destress. Located outside of Honolulu, in the west of Oahu, the facilities consist of a yoga and meditation studio, a solar pavilion and a conference room. Produce from the on-site organic farm is used to cook fresh meals.
Situated north of Honolulu, Kualoa is a nature reserve that offers half-day and full-day packages across a variety of different terrains. Team-building activity options include kayak races, paddle boarding and tug of war, alongside amenities such as table tennis, volleyball and snorkel gear. 
Four Seasons Resort Oahu at Ko Olina
Hold a corporate retreat in style at the Four Seasons Oahu. Organize a barbecue on the oceanfront lawn, conduct a conference in the ballroom or hold breakout sessions in the smaller meeting rooms. Once the business aspect is taken care of, relax with cooking classes, ziplining and canoe rides
5 FAQs
What Are the Goals of a Company Retreat?
That's entirely up to you. A corporate retreat can have concrete goals, such as learning and development or brainstorming future initiatives. It can be about reinforcing the company culture of the business. Alternatively, it can just be about rewarding employees for their hard work with a sunny destination holiday or a bit of fun and games. There is a whole range of corporate retreat benefits, it simply depends on what you feel is most important for your organization.
What Happens at a Corporate Retreat?
Team bonding, skills building, general destressing – all these are facets of what can occur at a corporate retreat. One of the beauties of the concept is that it can be adjusted based on what you want to place a focus upon, whether that's an annual day when the whole company comes together to feel reinvigorated, or a staff retreat for small staff numbers divided along departmental lines.