Corporate retreats are one of the best ways for a company to bring together different departments, boost morale and elevate the company culture. The main benefit however is the fact that you can facilitate bonding and planning in a relaxed environment allowing for better communication and coordination between employees. Corporate retreat locations in Texas have been gaining a lot of attention for good reasons. Whether it's a picturesque location or amenities like a spa or a golf course, all-inclusive corporate retreats in texas have got you covered. 
So, without further ado, let's take a look at some of the corporate retreat locations in Texas that you should consider for your company. 
1 What Is the Purpose of a Corporate Retreat?
The purpose of a corporate retreat is to help acquaint your employees with the company's goals and objectives outside of the company's office. Additionally, a corporate retreat also helps improve the morale of your employees, making them one of the best investments that you can make as a company. Some retreat venues in Texas include activities like going to the spa, golfing, and yoga. 
2 Best Corporate Retreat Locations in Texas
2.1 Still Waters Retreat Texas, Springtown
If you are looking for nature-focused corporate retreat locations in Texas, then Still Waters Retreat Texas is a good choice. Located in Springtown, this retreat is the place to go if you are looking to reconnect and relax. It is the perfect setting for small to medium sized companies who are looking for a close setup to help foster team spirit. 
The retreat includes an event center to help you host meetings and activities, a pool to help rewind, a stocked pond for sightseeing, hiking trails for the more adventurous people of the organization, a putting green, and a life chess board for a fun afternoon and also a small basketball court. All these amenities will help you curate a unique experience for your employees. 
What SIWOM Loves: For us, it is the cozy setup offered by the retreat that is perfect for helping employees reach out and communicate better. One of the most important aspects of a retreat is to give people a chance to get to know each other and this is one place that will allow employees to do so. 
2.2 The Retreat at Balcones Springs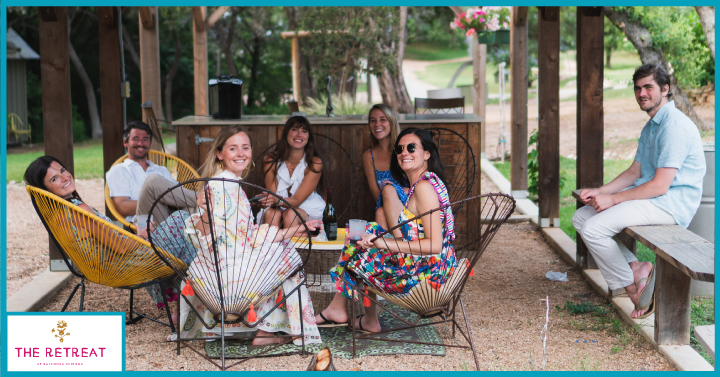 The Retreat at Balcones Springs is the place you should head to if you are looking to recreate a camp-like experience for your employees. This is one of the best corporate retreat locations Austin Tx. The whole property is customizable so you can easily create an itinerary full of activities that most of your employees enjoy. The company can hold around 145-160 guests making them a great option if you are a small-medium sized business. 
They offer a number of activities on the property. One of the most famous ones is their Almost Adults camp which replicates the same activities that your employees must have enjoyed during their summer breaks. The only addition that they have is a better spread of food and drinks. 
What SIWOM Loves: This place is located in the scenic Texas Hill Country and is the ideal place to make your way to if you are looking to connect offline. Activities like fishing, canoeing, paddle boarding, and golf are available on the property to help your employees get out in the open air and move.  No matter what the size of your LLC in Texas, this retreat is bound to invigorate and rejuvenate your employees.
2.3 Hill Country Casitas, Dripping Springs 
If you are looking to hold a small training session or an annual retreat for your small business, then Hill Country Casitas is a great place to do so. They offer a tranquil environment that makes it the right place for both relaxation and productivity. The property offers on-site lodging for 47 people. 
One of the most offbeat activities that the property offers is birding or birdwatching. So, if your group comprises some nature enthusiasts you can enjoy this activity. Other activities available include Star gazing, hiking through Oak Grove, Swimming, and Volleyball.  Another great aspect of this property is that you can allow people to get their pets on the retreat thus allowing for more people to be able to enjoy the retreat. 
What SIWOM Loves: This is another property that provides an opportunity for your employees to indulge in team activities. They provide specialty lodging and each casita or room comes with a large porch to help people get together and enjoy relaxed conversations. 
2.4 Horseshoe Bay Resort
Horseshoe Bay Resort has lakefront meeting venues (yes, multiple) allowing you to create a curated experience that best aligns with your brand. After all, a retreat needs to be a representation of your brand for your employees. This is the perfect venue if you are a medium to large-sized business. 
You can host a number of team-building activities on their three Golf Courses and a full-service marina that will help your employees bond and build leadership skills. If you are looking for something a little more relaxing for your team, they have a spa on the property giving your employees a chance to unwind and relax in a way that might not always be possible. If you are looking to host your own presentation you can do this with the help of their state-of-the-art audiovisual equipment. 
What SIWOM Loves: This is one of the all-inclusive corporate retreats in Texas which means that you can pick a package that takes care of everything from transportation to catering, thus helping you mitigate a large portion of the planning part and allowing you to concentrate more on the events and activities that are to take place at the retreat.
2.5 Hyatt Regency Lost Pines Resort & Spa, Austin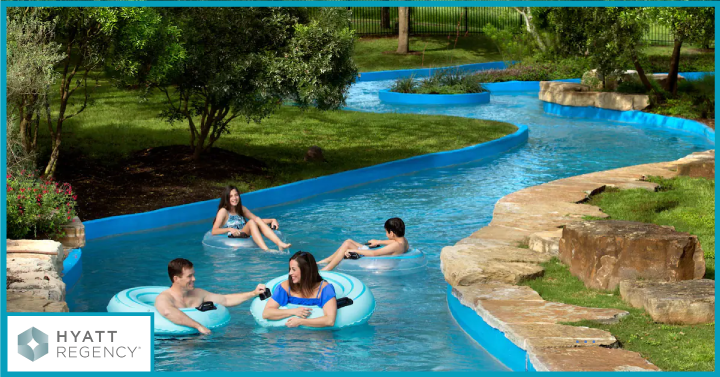 In our search for corporate retreat locations in Texas we came across Hyatt Regency Lost Pines Resort & Spa. Situated across 405 acres of land, this is the place to check out if you are looking for corporate retreat locations in Austin TX. All rooms are designed in a manner that enhances the surroundings that you are in. Every one of the 491 guestrooms have a lovely view of the rolling hills that surround the property.
When it comes to recreational activities, you can choose from horseback riding, archery, an 18-hole golf course, and even a water park. These activities in amalgamation with the nine restaurants and bars available on the property will give your employees a chance to truly relax, unwind and get to know one another.
What SIWOM Loves: This place offers the perfect balance between luxury and nature. Every amenity that one could possibly need is located on the property in addition to recreational activities like bonfires, basketball, and even s'more around the fire. The sheer number of options gives you a chance to create a one-of-a-kind experience for your employees. 
2.6 Wildcatter Ranch & Resort
Considering the fact that we are curating a list of corporate retreat locations in Texas, there is no chance that we could have done it without including ranches for corporate retreats. Wildcatter Ranch perfectly fits the bill of a ranch getaway. It is rustic while boasting of upscale western accommodations. They have 41 guestrooms on the property and are the perfect way to host small executives as well as large-scale retreats. 
They offer a number of activities on premises like Horseback riding, sunset trail ride, clay shooting, archery, tomahawk throwing, and jeep tours. They also house a steakhouse that will allow your employees to sample classic Texas cuisine along with some wine. 
What SIWOM Loves: The ranch exudes the charming hospitality that Texas is famous for. Almost all of their activities are guided by local Texas cowboys. This is a serene, picturesque getaway for your team that is bound to help them relax and recharge.
2.7 Lajitas Golf Resort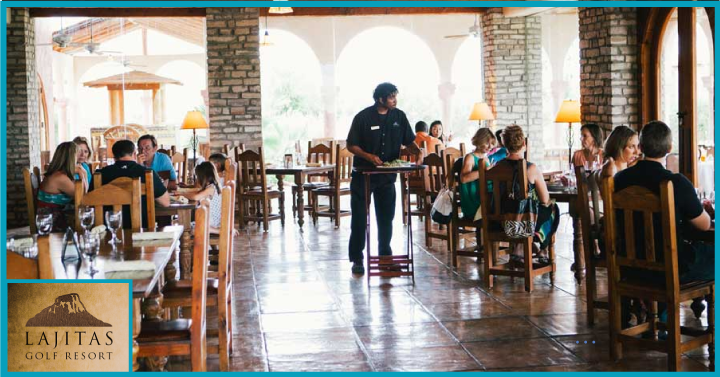 No list of corporate retreat locations in Texas can be complete without Lajitas Golf Resort. This famous Golf resort is located right in the middle of Texas and is rich in Old West History. It offers a mix of three unique offerings- gorgeous golf views, a world-class business center, and a full slate of amenities to help elevate your retreat.  
There is a plethora of activities one can pick from. For people who are looking for relaxation make your way to the Agave Spa, the swimming pool, or catch up on a movie at Flat rock theater. People with a more adventurous bent of mind can hop on the zip lines, horseback trail rides, play a couple of holes at the golf course, or do some mountain biking. 
What SIWOM Loves: There are a lot of options to choose from if you decide to go to this resort. Apart from the activities we also like the dining options that cater to everyone, whether you are looking for a casual meal or a complete 5-course dining experience. 
3 FAQS
What are company retreats called?
Company retreats are also often referred to as "corporate retreats", "team retreats", "work retreats" and even "team building retreats.
How much should you spend on a company retreat?
The amount you spend on a retreat is determined by factors such as your company size, the duration of your stay, and the location that you choose. On average, a retreat can cost about $300- $350 per person.