1. How Company Retreats Can Rejuvenate Employees

Corporate retreats are one of the mechanisms companies can use to make staff feel appreciated and rewarded for their hard work, leading to a boost in morale. This, in turn, can lead to an increase in employee engagement, job satisfaction, and productivity.
Taking staff outside of the office environment can inspire fresh ways of thinking, leading to more fruitful ideation sessions. Some company retreats in Australia are specifically designed to encourage creativity through the use of on-site art workshops, stimulating the imaginative parts of the brain.
Corporate retreats improve communication both directly and indirectly. On the one hand, you can incorporate training courses and team-bonding games into the getaway to improve communication skills. At the same time, simply bringing staff together in a more informal setting will naturally improve interpersonal connections, which can then have a positive influence back at work.
Strengthens company culture
Retreats are an opportunity to remind everyone about your company's overarching values, which can become obscured by the everyday bustle of a business. Arrange for inspirational speeches from senior staff, complemented by light-hearted activities that reinforce core values.
Taking staff away from their day-to-day business tasks every now and then is a great way to reduce stress and avoid employee burnout. A corporate retreat to nearby rainforests, beaches or vineyards relaxes the body and the mind, leaving staff refreshed and motivated to get back to achieving their job objectives.
2. Top 12 Company Retreats in Australia
2.1. Turon Gates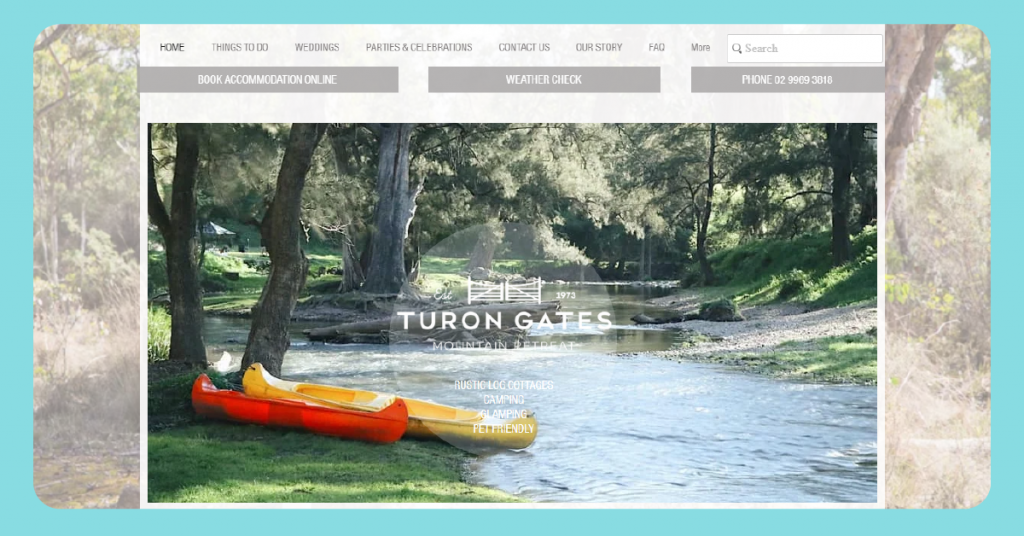 Located 2.5 hours from Sydney, in the foothills of the Blue Mountains, Turon Gates offers log cabins, glamping tents, and camping sites within a scenic landscape. Visitors have plenty of nature-related activities to explore, from horse riding and mountain biking to fishing, kayaking, and swimming.
Turon Gates doesn't have facilities designed specifically for corporate retreats, but it is an excellent place to go if your goal is to get the team relaxed and recharged. Sign up for the A$14,000 campground package, and you'll have private access for two nights to your own campsite, which comes with showers and other bathroom facilities. The package also includes a white marquee that can hold up to 120 people.
2.2. Krishna Village Eco Yoga Community

Not many of the corporate retreats NSW has to offer are better for health and wellness than Krishna Village Eco Yoga Community. The site is only able to accommodate a relatively small number of visitors at any one time, so it's best for smaller companies or teams.
There are a few lodging options, ranging from the campsite (A$66 per person) to private guest cabins (A$150 per night). As one of several company retreats in Australia that are all-inclusive, the cost of a stay includes two yoga lessons a day, three solid vegetarian and/or vegan meals, and complimentary workshops. Alternatively, you can sign up for one of the courses that take place throughout the year, from art retreats to meditation training.
2.3. Iluka Retreat & Glamping Village

One of a handful of corporate retreats Australia has on the picturesque Mornington Peninsula, Iluka Retreat can host up to 100 people. The owners are amenable to renting out the entire site for corporate events, including the two group lodges and glamping tents (pricing available on request).
Iluka Retreat has meeting spaces with flat-screen TVs where you can give company presentations, as well as on-site activities like paddleboarding and raft building. Additional wellness and creative workshops can be arranged through Iluka with local providers.
2.4. Bangalay Luxury Villas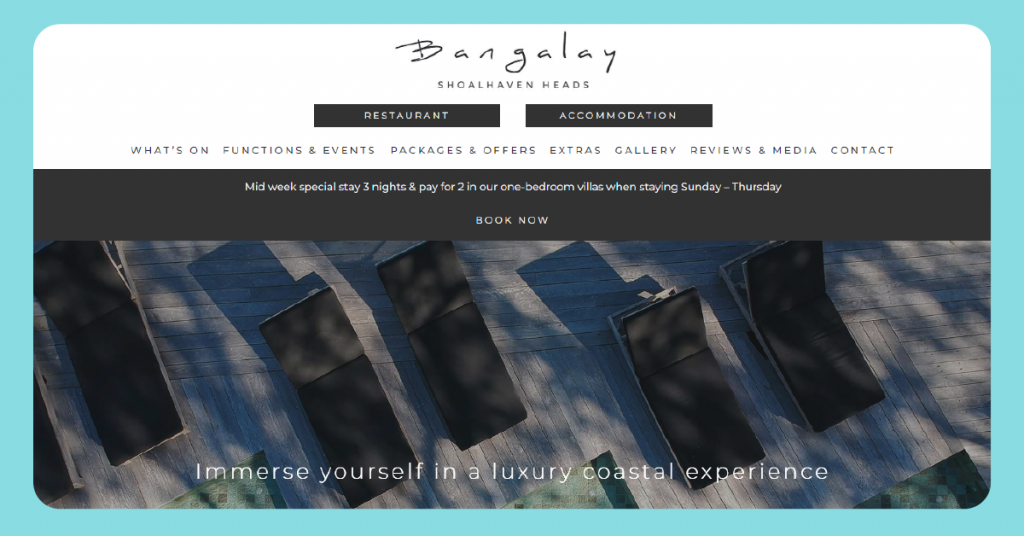 Located right on the coast, Bangalay boasts luxury corporate retreats Sydney dwellers can reach in just a couple of hours. Best for small groups, the site houses 14 1-bedroom villas (from A$490 per night) and a pair of 2-bedroom villas (from A$600 per night), as well as a restaurant space that can be adapted for conferences and meetings of between 30 and 120 (depending on the setup style).
The resort is able to organize yoga and meditation sessions (from A$15 per person), golf (from A$35 per person) and group wine tours to the local vineyards (price on application), among other activities for corporate guests.
2.5. Elements of Byron

As the name suggests, Elements of Byron is situated on Australia's famous Byron Bay. One of the most stylish company retreats in Australia you could possibly hope for, the site boasts two swimming pools, an in-house spa, several restaurants and bars, and, of course, the nearby sandy beach.
Luxury villas (from A$515 per night) are complemented by a couple of different conference spaces, including the 100-person capacity Banksia Pavilion, which features a breakout courtyard, two high-resolution video walls and state-of-the-art audiovisual functions.
2.6. Nature Domes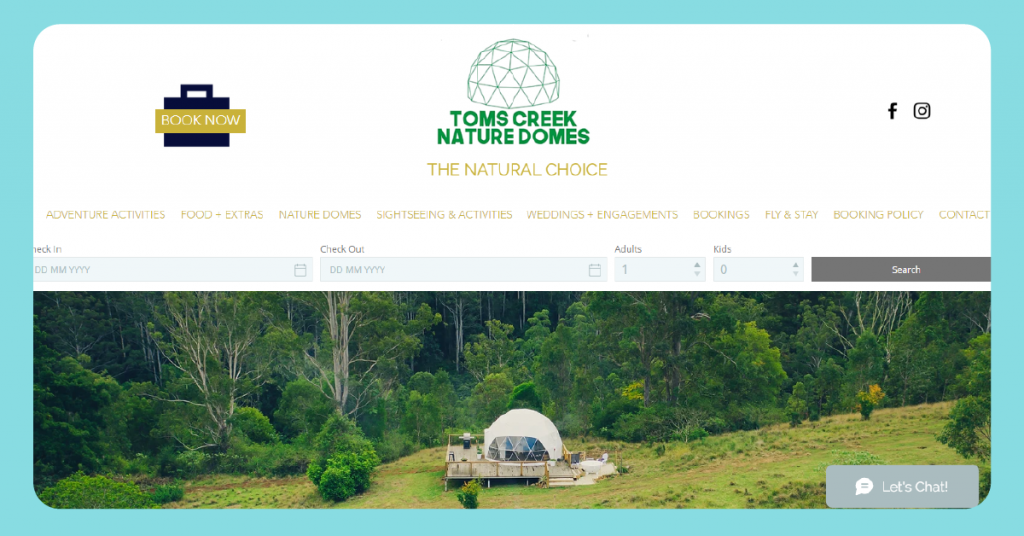 Almost halfway between Brisbane and Sydney, surrounded by scenic beauty, the Toms Creek Nature Domes generally focus on attracting the wedding crowd, but the gorgeous location works equally well for corporate events. The owners can set up a rustic-style gathering space for small to medium-sized groups, including meals – just don't expect any technological equipment.
Accommodation is limited to two geodesic domes, so this is one for those looking for a conference venue or team-building location rather than a multiple-day retreat.
2.7. Cedar Creek Lodges

Situated in 114 hectares of subtropical rainforest and woodland, Cedar Creek Lodges is a natural getaway that also contains business facilities. Aside from the obvious natural splendor that will surround your teams, you can organize adventure pursuits, such as treetop ziplining, as well as team games like laser tag.
Stays at Cedar Creek can take place in self-contained private lodges, communal lodges, or glamping tents, with overnight stays starting at A$249 per person, including a choice of conference rooms, AV equipment, and meals (breakfast, lunch, and a pizza buffet dinner).
2.8. O'Reilly's Rainforest Retreat

Just 2 hours outside of Brisbane, O'Reilly's Rainforest Retreat is a pristine natural habitat in which to hold your corporate retreat. The property has several different conference venues to choose from where you can hold your business events, as well as a full repertoire of activities, including e-bike tours, morning yoga, guided walks, and stargazing.
As company retreats in Australia go, this one is well equipped, with a plunge pool, spa, and on-site vineyard where teams can engage in wine tastings or picnics. Corporate retreat packages are available on request, but as a guide, room rates start from A$199 during the offseason.
2.9. The Langham Gold Coast

Another Brisbane-adjacent option for a corporate retreat, the Langham Gold Coast occupies a prime slice of beach real estate on one of Australia's most desirable coastlines. This luxurious hotel offers superior rooms from A$369 per night, which provides access to the property's swimming pools and health club.
In terms of meeting rooms, the Langham Gold Coast has 11 event venues, from the Diamond Ballroom (capacity 576) to smaller breakout rooms. To address your staff's wellness needs, there are yoga, Pilates and meditation classes, as well as a top-notch spa.
2.10. Halcyon House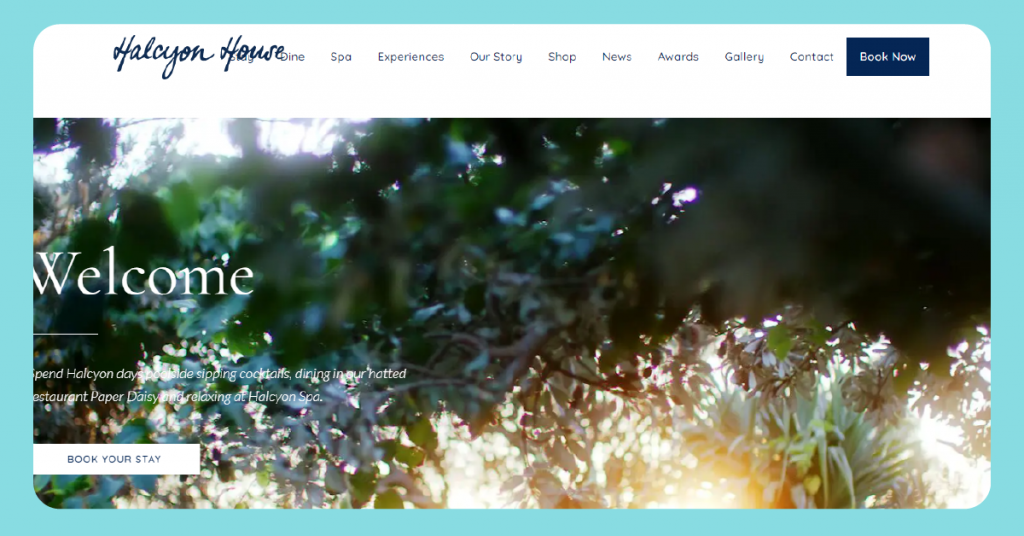 A boutique spot with just 19 rooms, 2 2-bedroom suites, and 1 1-bedroom suite, Halcyon House is sandwiched between the Gold Coast and Byron Bay along a stretch of sandy coast known as Cabarita Beach.
The guest service agent can arrange a range of activities for corporate groups, including stand-up paddle boarding, kayaking, horse riding, and beach fishing. There are also several hiking and cycling routes guests can take to explore the Tweed Coast. Rooms start from A$1,090 per night.
2.11. The Barn

The Barn has been specifically designed to be one of the top company retreats in Australia. Located in the hamlet of Coolgardie, in the hinterland of Ballina and Byron Bay, the grounds are a mixture of cattle pasture, orchards, and protected rainforests. The site encompasses an open-plan meeting space with projection equipment, a freshwater plunge pool, and a pottery wheel, balancing practicality, relaxation, and creativity.
Ideal for relatively small teams, there are 6 deluxe rooms and glamping space for an additional 10 people. Pricing is available on request and varies depending on the onsite and offsite activities you select.
2.12. Crystalbrook Byron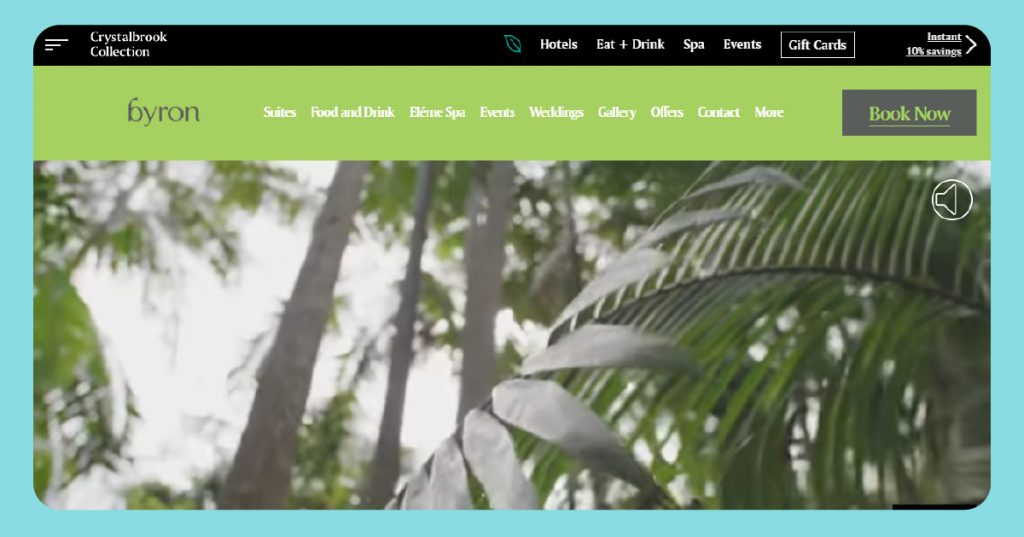 Just a short drive from Byron Bay, Crystalbrook Byron is an all-suite retreat with rooms nestled amidst lush rainforest – some actually in the treetops themselves. For relaxation, there's a pool and spa, while for business needs, the venue has several different sizes and styles of event space.
An ideal place to go if you want a corporate retreat based around wellness and relaxation, Crystalbrook Byron offers guided sound healing, a rainforest and gin tour, clay therapy, palm weaving and an indigenous smoking ceremony experience. Rooms start from $311 per night.
3. FAQS
3.1. What makes a successful work retreat?
One of the most important foundations of a successful work retreat is to have clear objectives from the outset. Once you have defined the parameters, the next step is to ensure everything is carefully planned in advance so there are no unexpected issues with the venue, travel or other logistics.
3.2. What is the goal of a retreat?
A company retreat can have multiple goals. For some companies, corporate getaways are a useful reward mechanism to demonstrate employee appreciation. For others, the principal aim is to provide relaxation and avoid staff burnout. Still others use a retreat as a means to get out of the strictures of the day-to-day work environment and into a more creative, problem-solving mindset.