Our articles will help you discover the perfect backdrop for productive and enriching retreats. We have a list of the best corporate retreats in New York, Virginia, Ohio, Georgia, Colorado, Hawaii, Utah, The Midwest, California, Florida, Oregon, Maryland, Louisiana, Texas, Arkansas, and Wisconsin.
Looking for more exotic locales? We have also corporate retreat guides to locations like Queensland, Sydney, NSW, Vietnam, Bali, Indonesia, Thailand, Australia, and Singapore.
1. 6 Must-Know Company Retreat Locations in Malaysia

1.1 Sinar Eco Resort

Location: Johor, Malaysia
Capacity: 50 to 100 people.
Nestled amidst the captivating landscapes of Johor, Sinar Eco Resort is an eco-friendly resort center in Malaysia that blends nature with modern comforts.
With lush gardens and well-designed facilities, this retreat location sets the stage for team-building workshops, outdoor adventures, and moments of relaxation.
Interestingly, Sinar Eco Resort takes pride in its sustainable practices and eco-conscious initiatives. From solar-powered amenities to eco-friendly construction, every aspect of this resort is designed to minimize its carbon footprint, providing an immersive eco-experience for your team. So, you and your team can relax and enjoy everything this corporate retreat location has to offer without worrying about your carbon footprint.
Sinar Eco Resort offers tailored packages to suit your team's needs — from activities and workshops to dining and accommodation. You'll also find that their pricing is competitive, offering excellent value that easily places this location on our list of the top company retreat locations in Malaysia.
1.2 Borneo Beach Villas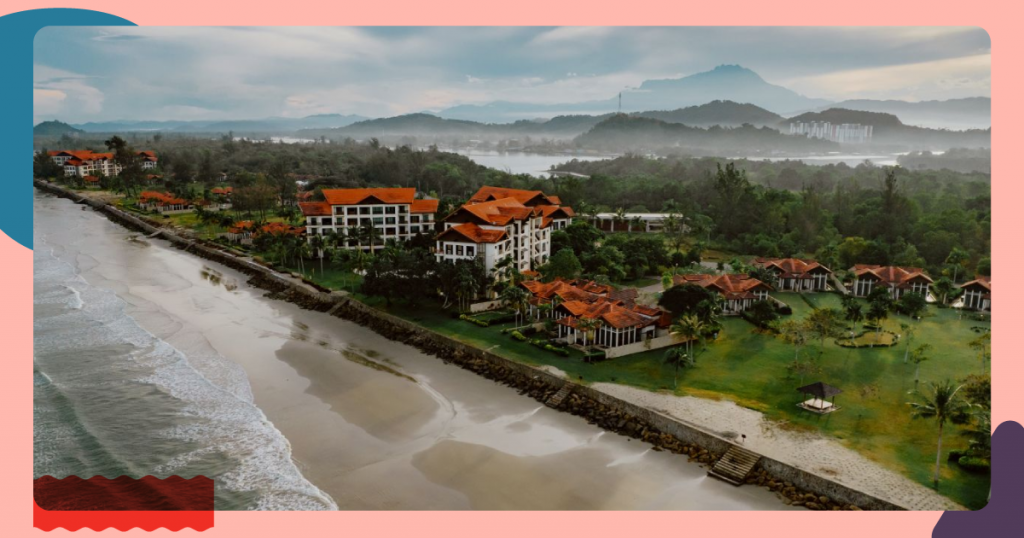 Location: Sabah, Malaysia
Capacity: 50 to 100 people
This luxurious beachfront haven is situated on the mesmerizing Karambunai Peninsula, which offers you and your team the ultimate relaxing and unwinding experience.
In addition to the breathtaking view and ambiance, the Borneo Beach Villas offers a myriad of exciting activities, including water sports and horseback rides, to elevate your corporate retreat experience. You can also take advantage of rejuvenating spa treatments in this corporate retreat location in Malaysia.
If you're a fan of fishing, Sabah's waters are teeming with marine life. So, you and other fishing enthusiasts can spend some time trying to bring in the biggest reel of the day. You may also get to see playful proboscis monkeys swinging through the trees!
1.3 Villa Tiga

Location: Kedah, Malaysia
Capacity: A maximum of 4 guests
Located at the foothill of Machinchang Mountain, this center provides a peaceful setting for teams to unwind and bond, making it a top option for a team-building retreat in Malaysia for smaller team sizes.
Villa Tiga takes pride in its intimate and secluded ambiance, allowing your team to focus on building relationships and fostering a sense of unity. The picturesque gardens and natural beauty enhance the overall experience, promoting relaxation and rejuvenation.In addition, the location is a mere 5-minute drive to attractions like Telaga Harbour, Cable Car, Telaga Tujuh, and Temurun waterfalls. You can also enjoy a scenic bicycle ride under a canopy of trees to reach Pantai Kok and Pantai Pasir Tengkorak.
Finally, Villa Tiga boasts its orchard farms, featuring jackfruits, rambutan, mangosteen, and even a herbal farm. So, if you're a food enthusiast, you can savor the flavors of home-cooked meals or even take a local food cooking class.
1.4 Asmara Blue Retreat

Location: Kuala Lumpur, Malaysia
Capacity: 50 to 100 people
Asmara Blue Retreat is located in the heart of Kuala Lumpur and offers its guests a unique blend of urban charm and serene surroundings. This corporate retreat location in Malaysia provides a peaceful oasis for teams to engage in meaningful discussions and strengthen their connections.
Asmara Blue Retreat stands out for its urban retreat concept, allowing your team to experience the best of two worlds — the vibrancy of Kuala Lumpur and the tranquility of a retreat center.
You'll find that the retreat location is only a stone's throw away from exciting attractions in the city, such as the iconic Petronas Twin Towers, and a plethora of dining options to satisfy your taste buds.In addition, the retreat center offers comfortable and stylish accommodations, creating a cozy space for your team to unwind after a day of productive sessions.
However, the best part of the Asmara Blue Retreat deal is its customizable packages. Basically, you'll only pay based on the specific amenities and activities that you want for you and your team.
1.5 Earth Park Resort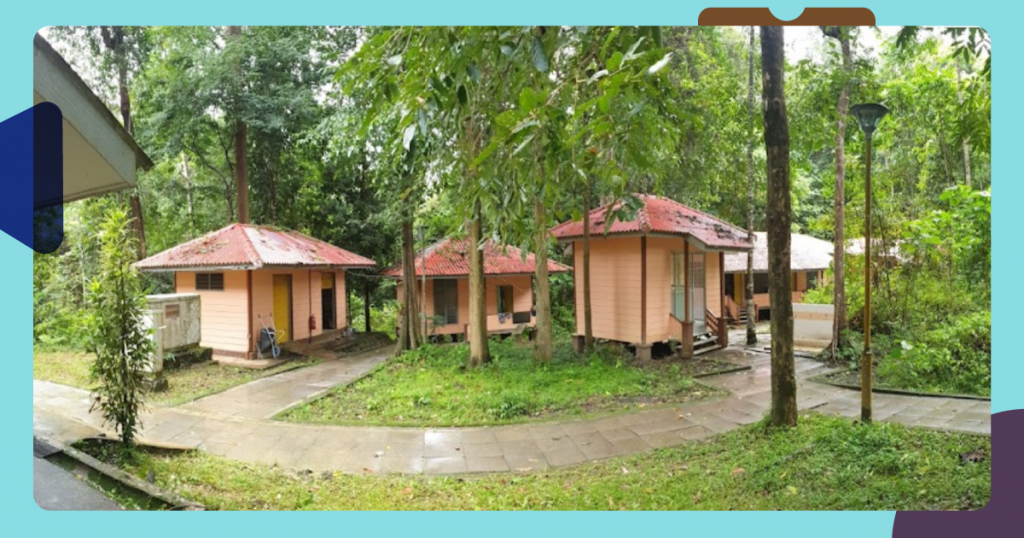 Location: Sabah, Malaysia
Capacity: 50 to 100 people
Escape to the natural wonderland of Sabah, Malaysia, and immerse your team in the breathtaking landscapes of Earth Park Resort. This eco-friendly corporate retreat location in Malaysia offers a sanctuary for team bonding and exploration, providing a unique backdrop for your corporate retreat.
Earth Park Resort is renowned for its eco-conscious approach and commitment to sustainability. With nature as your backdrop, engage in activities such as hiking, fishing, and ziplining, connecting with your team in the heart of the great outdoors.
Located in Sabah, Earth Park Resort is easily accessible, making it a convenient choice for teams looking to escape into nature. At this corporate retreat location in Malaysia, your team will reconnect with nature and with one another, forging unforgettable memories in the heart of Sabah.
1.6 Dusuntara Jungle Retreat
Location: Selangor, Malaysia
Capacity: 50 to 100 people
Many locals call the Dusuntara Jungle Retreat the "Seven Wonders Retreat.'' While the nickname seems like a far reach, there is no doubt that Dusuntara Jungle Retreat is quite an attraction for many, including corporate teams looking for a retreat.
Surrounded by lush tropical forests, teeming with fauna, birds, and animals, all within a well-fenced and naturally undulating valley spanning over 3 acres of breathtaking beauty, this enchanting corporate retreat location in Malaysia offers an escape where your team can disconnect from the daily grind and reconnect with one another.
Dusuntara Jungle Retreat stands out for its enchanting jungle surroundings, providing the perfect setting for team-building activities and outdoor adventures, like obstacle courses, scavenger hunts, and several other games.
2. FAQs
What do you do at a company retreat?
At a company retreat, teams engage in team-building activities, workshops, brainstorming sessions, and strategic planning. It's a time for employees to bond, rejuvenate, and foster collaboration.
Why do organizations hold retreats?
Organizations hold retreats to strengthen team dynamics, improve communication, boost morale, and enhance productivity. Retreats also provide a break from the routine and allow for focused discussions on goals and objectives.
How do you plan a successful company retreat?
To plan a successful company retreat, define clear objectives, choose the right location, tailor activities to team interests, coordinate logistics, and communicate the agenda effectively. Encourage participation and feedback to ensure a meaningful and enjoyable experience for all.