1. Top 7 Corporate Retreat Locations in Florida to Know

1.1. Amelia Island

Location: Nassau County, Florida
Capacity: Up to 1000 people
Price: Available upon request
Picture yourself walking along miles of pristine, sandy beach or getting to explore luxuriant coastal islands. Amelia Island offers you that serene experience and is one of the best corporate retreat locations in Florida! Located off the northeastern coast of Florida, this island charms people with its idyllic setting. With 13 miles of undeveloped beaches, a wealth of native animals, and crystal-clear waters, Amelia Island has cemented its reputation as an amazing vacation spot.
One of its best features is the untouched natural beauty providing the perfect experience that will leave you and your team feeling immersed in nature, refreshed and ready to take on new challenges by the horn. You can also participate in water activities like kayaking or paddleboarding, or take a picturesque boat tour to see the island's abundant marine life.
Want to ramp up the fun? Take part in theshrimp challenge where you and your team can visit participating restaurants and then order signature shrimp dishes to receive the check-in code and earn points. You can then use your points to buy shrimpy trinkets from the prize shop! A free fun experience!
This attractive corporate retreat location in Florida offers a range of accommodation choices, from modest lodges to luxurious beachfront hotels.
Pro tip? Visiting Amelia Island in the peak of summer may mean higher prices.
1.2. Naples Bay Resort & Marina

Location: Naples, Florida
Capacity: 40 to 80 people
Price: Available upon request
Try to find the perfect definition of luxury and you get Naples Bay Resort and Marina! This corporate retreat location in Florida literally screams luxury, serenity and convenience — these three musketeers guarantee an unforgettable experience for your team! Nestled along the waterfront of Naples, Florida, this resort offers an exquisite setting that seamlessly blends luxurious lodgings, first-rate services, and breathtaking harbor views.
However, it stands out for its magnificent marina, where you can immerse yourself in the maritime ambiance and take part in a variety of water sports. From the marina, you can set out on a scenic cruise, go fishing, or hire a boat to explore the glistening Gulf waters at your own pace. In addition, Southwest Florida International Airport is conveniently located only about 30 miles from Naples Bay Resort & Marina, making it quite an easy destination to reach.
1.3. Naples Grande Beach Resort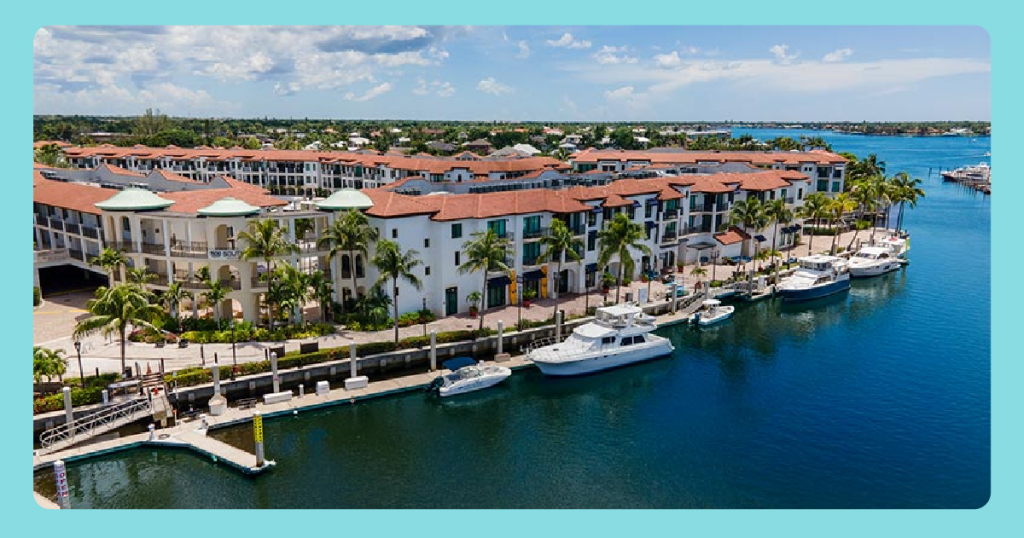 Location: Naples, Florida
Capacity: Up to 1500 people
Price: Available upon request
Nestled along the pristine shores of Naples, this corporate retreat location in Florida offers the ideal destination for all-inclusive corporate retreats.
Naples Grande Beach Resort resort combines upscale accommodations, breathtaking natural beauty, and world-class amenities to offer an unforgettable escape for your team.
Naples Grande Beach Resort's immediate access to a spotless three-mile stretch of white sand beach is one of its distinctive attractions. In addition, you get an award-winning dining experience, an 18-hole championship golf course, and a quiet spa where you can relax and refresh your body and mind.
Naples Grande has a variety of accommodation options to meet your needs. Each area, from opulently furnished guest rooms to roomy suites with private balconies, is created to offer comfort, relaxation, and a feeling of indulgence. Additionally, Southwest Florida International Airport is conveniently located within driving distance, ensuring easy accessibility for both domestic and international travelers.
1.4. The Phoenix Retreat

Location: Orlando, Florida
Capacity: Up to 1000 people
Price: Available upon request
The Phoenix Retreat is a destination that offers an exciting chance to take a break from your hectic routine and reconnect with nature, your team members, and yourself. However, you should note that The Phoenix destination getaways revolve around hiking. But each one is specially crafted to complement the destination of choice. You can expect a mixture of restorative yoga, quiet thought, mindful exercise, time in nature, and healthy plant-based food.
The Phoenix Retreat's emphasis on overall well-being is one of its unique features, which explains the packages they offer. The center provides a range of activities and programs that support stress reduction, personal development, and self-discovery.
Whether you're looking for team-building activities, health workshops, or concentrated group sessions, Phoenix Retreat is easily one of the best retreat centers in Orlando, Florida.
1.5. Miami Beach Convention Centre

Location: Miami Beach, Florida
Capacity: Up to 2500 people
Price: Available upon request
The Miami Beach Convention Center is a bit different from all the other options on this list. While it is not a destination location itself, it offers you unique integration for business and pleasure as it is located in the thriving metropolis of Miami Beach.
It's perfect if you're taking the much needed break but will still like to engage in some work activities — such as brainstorming or even appreciation events.
The Miami Beach Convention Center is home to modern amenities, cutting-edge technology, and adaptable event spaces that ensures top-notch experience for your business retreats, seminars, and events as one of the region's top convention facilities.
But once you're done, you can step out and enjoy the rest of the beach.The Miami Beach Convention Center is distinguished by its ideal position in the center of Miami Beach. You and your team can explore Miami's famed bustling nightlife, top-notch restaurants, and cultural activities from this location, which is only a few steps from South Beach.
There are several places to stay close to the Miami Beach Convention Center, from opulent beachfront hotels to quaint inns.
1.6. Center Court Key West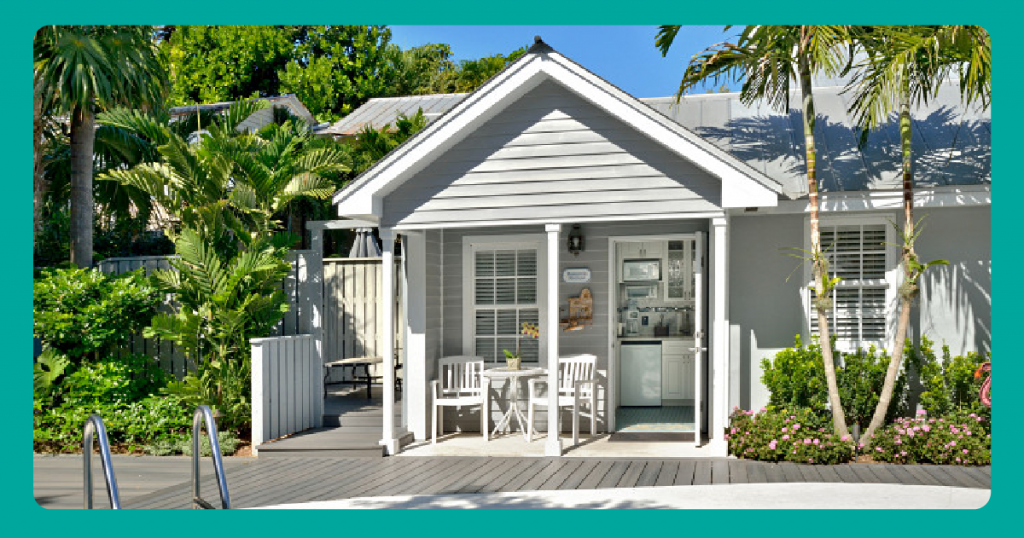 Location: Key West, Florida
Capacity: Up to 50 people  
Price: Available upon request
Center Court, located in the center of buzzing Key West, provides a distinctive and alluring retreat experience.
As a corporate group looking for a balance between business and play, you and your team will find an intimate setting at this corporate retreat location in Florida, which is surrounded by the island's distinctive appeal.
The Center Court Key West is distinguished by its enviable position in Old Town Key West. The island's ancient sites, bustling cultural scene, and legendary nightlife are all conveniently accessible to visitors. For instance, you can choose to take a sunset cruise, stroll through Duval Street, or tour the Ernest Hemingway Home and Museum.
With comfort and leisure in mind, this corporate retreat location in Florida offers a variety of accommodations, including roomy suites and inviting guest rooms that capture the island's tropical ambiance.
1.7. Kadampa Meditation Center Florida

Location: Sarasota, Florida
Capacity: Up to 50 people
Price: Available upon request
If you and your team are on a quest for self-discovery and tranquility, the Kadampa Meditation Center Florida provides the perfect escape.
Nestled amidst the serene landscapes of Sarasota, this corporate retreat location in Florida provides a serene retreat environment that emphasizes mindfulness and meditation.
The tranquil setting of the Kadampa Meditation Center Florida is one of its distinctive features as it allows visitors to escape the bustle of daily life and find inner serenity. The center provides direction and support for anyone looking to advance their meditation practice through a variety of meditation sessions, workshops, and retreats offered by skilled teachers.
As a meditation facility, Kadampa provides a range of lodging choices that are designed to encourage a quiet and introspective retreat experience. Each option, from cozy guest rooms to tranquil retreat cottages, is thoughtfully designed to foster a place when you relax and meditate.
2. FAQs
2.1. What is a corporate retreat?
A corporate retreat is a planned event organized by a company for its employees or team members. It typically takes away from the usual workplace, and is designed to provide a focused and immersive experience aimed at achieving specific goals — including relaxation, team building, or even getting inspiration for work.
2.2. How do you organize a corporate retreat?
It is important to have a clear understanding of your objectives before planning a corporate retreat. You should also have a budget, choose a location, design an agenda, plan the schedule, reserve lodging, handle logistics, and engage with guests.
2.3. What is the purpose of an office retreat?
The perfect site for a business retreat should have all the services that are required, pleasant lodging, as well as extras like leisure activities, seclusion, flexibility, and friendly personnel.