1. 7 Best Company Retreat Locations in Singapore

1.1. Siloso Beach Resort

Located at: Siloso Beach, Sentosa Island, Singapore
Accommodates: 500
The Siloso Beach Resort is the only company retreat locations in Singapore's Sentosa Island that prides itself as an eco-resort. It is the ideal location for teams to get together and collaborate in a relaxing setting away from the office. The resort supports many sustainability initiatives you can learn about on their Eco Tour.
The multiple event spaces can easily accommodate your team for your conference, meeting, and other such events. If you're planning an overnight stay, there are many suites and villas to choose from. The Eco-Alfresco Cafe is their on-site dining area that caters to all your needs, offering all guests healthy and sustainably-sourced meals.
You can lounge next to the 85m landscape pool or take a healing dip in the hot water spa—there's lots to enjoy for everyone. And there are plenty of attractions nearby that you can check out.
1.2. Sentosa Island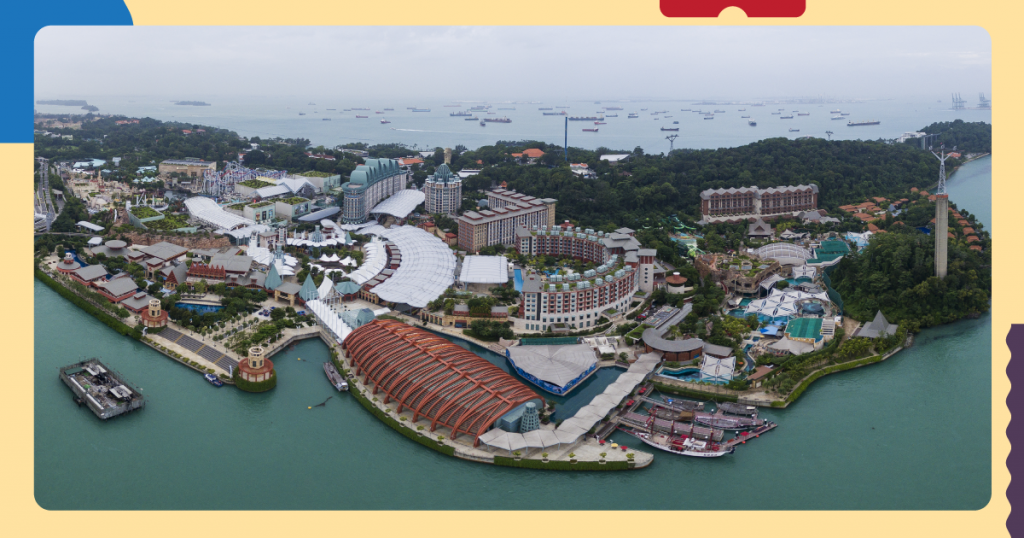 Located at: Sentosa Island, Singapore
Accommodates: 3,000+
A short 15-minute trip from the CBD will bring you to Singapore's top getaway island, Sentosa. Spread over 500 hectares, this Island has themed attractions, sandy beaches, luxurious residences, award-winning spa retreats, and more. It easily tops the list of company retreat locations in Singapore.
There are 18 lush tropical stays to choose from! You and your team can enjoy one of the 28 indoor and outdoor event spaces to host your meetings and conferences. And the dining solutions are just as varied, with over 90 restaurants, cafes, and bars.
The wide variety of attractions, shopping centers, spas, and tours ensures your agenda will be fully packed. You can go and meet some dolphins, relax by the beach, have fun at the waterpark, or experience indoor skydiving. Needless to say, your employees will have a hard time resisting this retreat!
1.3. Orchid Country Club

Located at: 1 Orchid Club Road, Singapore
Accommodates: 75 rooms, 1500 event capacity
Are you looking to host a large group for your annual meetup? The Orchid Country Club is the perfect company retreat locations in Singapore for you. It is a premier Golf and Country Club only an 11-minute drive from the Seletar Airport (XSP).
From indoor suites to outdoor garden venues, you can host any type of business event, meeting, or workshop at the Club. The 75-room resort hotel features thoughtfully designed rooms to maximize guests' comfort and relaxation. All accommodations are equipped with modern amenities, and guests can enjoy the gym and multiple pools.
There is a 9-hole golf course and bowling center on the premises for socializing or team-building. We also love its vicinity to nearby attractions, which provide a lot of options for recreation.
1.4. Changi Cove

Located at: 351 Cranwell Road, Singapore
Accommodates: 100+
A restored and modernized heritage site, Changi Cove is a serene oasis-like company retreat locations in Singapore. Only four kilometers away from Changi Airport, it's a quick getaway from the bustle of the city.
Situated on four hectares of lush natural greenery, this location promises your team a refreshing experience. The configurable spaces are specifically designed to help create the best environment for promoting creative expression and collaboration. The venue can accommodate a variety of seating arrangements depending on your event type and meeting needs.
From on-day support to event planning, they can assist you in all steps of preparation to ensure its success.Apart from event spaces, Changi Cove also covers your overnight stay and meals. And while there's a lot to explore on-site, those looking for more adventure will find plenty of options within accessible distance.
1.5. One Farrer Hotel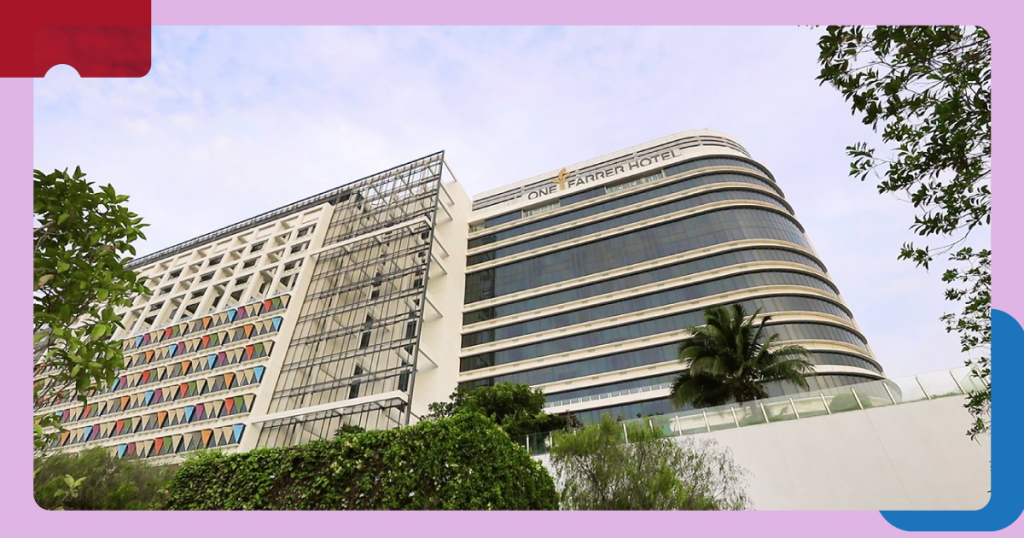 Located at: 1 Farrer Park Station Road, Singapore
Accommodates: 252 rooms, 21 event spaces
With Farrer Park MRT station at its doorstep, One Farrer Hotel is an easy-to-access company retreat locations in Singapore. It is designed to provide guests with the best of lifestyle hospitality in Singapore.
The property has a state-of-the-art conference center with multiple discussion rooms, three meeting rooms, and a grand ballroom. For your overnight stay, there are over 250 beautifully designed rooms spread across three hotels.
With multiple dining outlets, you and your team can feast on international favorites while seated in the best settings with breathtaking views.
The best part is its vicinity to Singapore's top attractions, such as Gardens by the Bay and the Orchard Road shopping belt. Of course, you can also spend the day doing laps at the Olympic-sized swimming pool or working out at the fully-equipped gym.
1.6. Conrad Centennial

Located at: Two Temasek Boulevard, Singapore
Accommodates: 500+
Located 12 miles from the Changi International Airport, the Conrad Centennial is the perfect spot to experience the best of Marina Bay. The venue offers curated local experiences so you can explore the best of Singapore's shopping, entertainment, and culture with zero worries or hassle.
Need a small meeting room for a private discussion? Or a large conference space for your organization's annual meeting? You can choose from Conrad Centennial's 17 meeting rooms that can be arranged in various layouts based on your needs.
The venue also provides a wide variety of luxury accommodations where you can recharge comfortably after a long day of discussions and recreation. And enjoy the best local flavors and international cuisines with their top-notch dining offerings.
1.7. Capella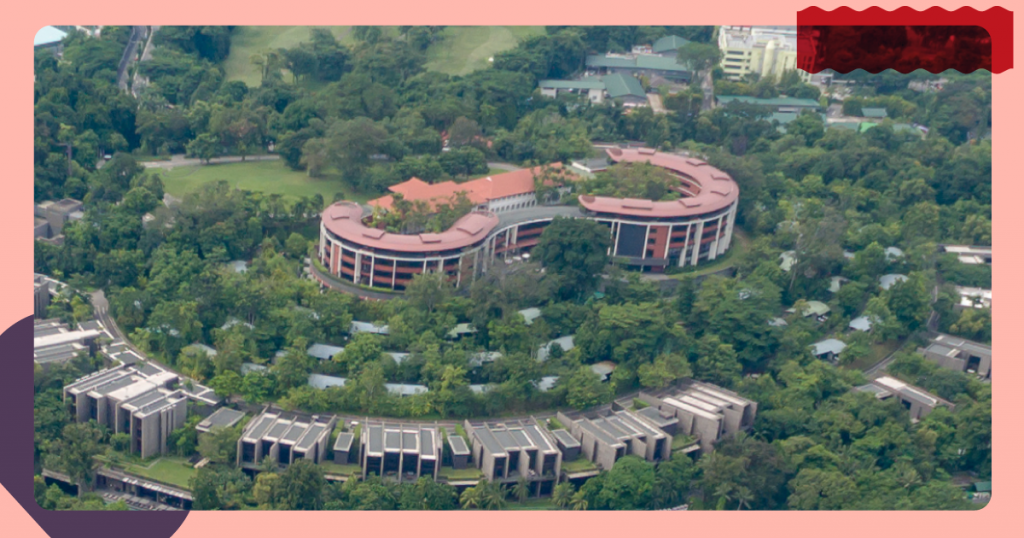 Located at: 1 The Knolls, Sentosa Island, Singapore
Accommodates: 500+
Another Sentosa Island gem, the Capella is an award-winning company retreat location in Singapore. Situated on 30 acres of vibrant rainforest overlooking the South China Sea, it is a delightful escape from the work desk.
Designed to be a wellness retreat, the Capella features a spa, fitness center, and swimming pool. It has some of the most extravagant meeting and conference spaces, plus elegant accommodations and dining spaces.
Make sure to try out the curated local experiences by Capella Culturists to get a taste of the Island's culture and history.
2. FAQs
2.1. Why Do Organizations Hold Retreats?
Holding retreats helps organizations bring their employees together for collaboration and recognize their contributions. They can help companies boost morale, break down barriers, and give their employees a break from work.
2.2. How Do You Organize a Company Retreat?
The task of planning and organizing a company retreat can be divided into three simple steps. The first is setting goals, creating an attendee list, and researching retreat locations. Following this, it is essential to prepare transport, book the retreat center, and set an agenda for the retreat. And finally, you can get everyone on board and set out for the event.
2.3. How Do You Plan a Successful Company Retreat?
To ensure your company retreat is a success, outline the goals you wish to achieve. Develop an agenda around your goals and set ground rules to keep everyone focused. In addition, allow all team members to participate and engage with their colleagues. Lastly, leave some room for recreation and flexibility.